This post may contain affiliate links.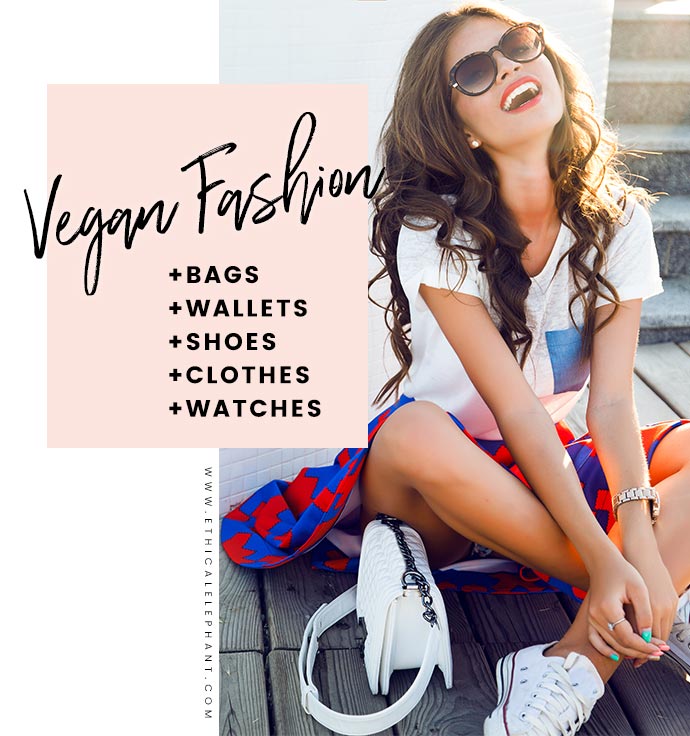 No animals harmed in the making of these cruelty-free and vegan shoes, bags, clothes, and accessories!
With so many cruelty-free, sustainable, and ethical alternatives to animal-derived materials, there's really no need for us to be using and wearing animal skin nowadays!
To prove it, I've compiled a comprehensive list (with updates!) of over 200 animal-free, vegan fashion brands and organized them according to categories for vegan shoes, vegan bags & wallets, vegan clothing, and vegan accessories.
What is Vegan Fashion?
I define "vegan" as clothing, handbags, wallets, shoes, and accessories that were not made from animal skin, hair, feathers or any other animal-derived materials whatsoever and that includes fur, leather, down, silk, wool, suede, mohair, angora, cashmere, calfskin, alligator, shearling, etc.
But what about sustainable fashion? or ethically made and fair trade fashion? or made locally in the US and Canada? or recycled and zero-waste?
I hear ya loud & clear! All very great points and important issues that we should consider in the fashion industry. Since my goal with this list is to show you the countless options for 100% vegan fashion brands from all around the world, I only focused on animal-free as a criteria as an apparel chain to be included on this list in order to make it as comprehensive as possible.
As I expand this list, I will definitely consider finding a way to note which vegan brands also focus on sustainability issues!
Vegan Fashion Brands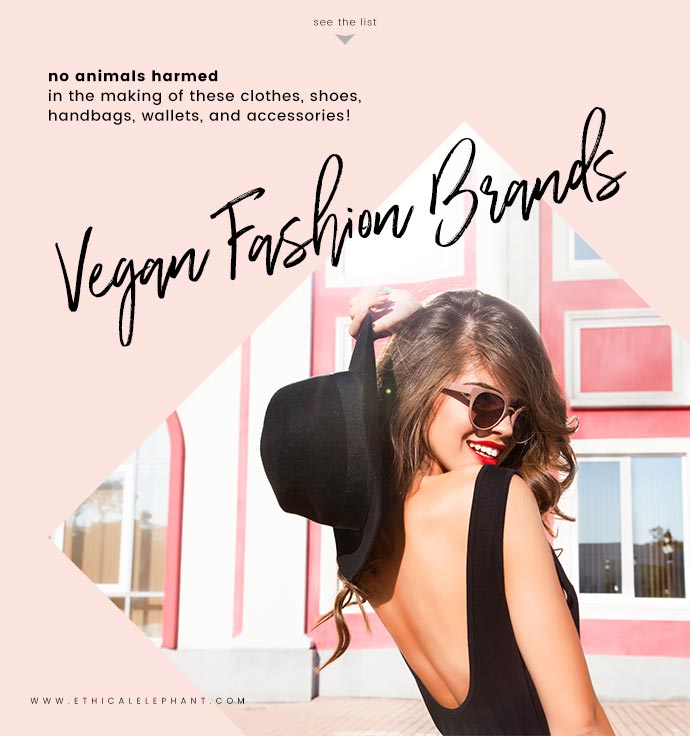 Featured Vegan Brands
Vegan Bags & Wallets
Airosa
Alexandra K.
Angela Roi
Animalista
Brave GentleMan
Canopy Verde
Ceibo
Collection & Co
Corkor
Cri de Coeur
Denise Roobol
Deux Lux
Doshi
Ethique212
Eve Cork
Fablou
Filbert
FruitenVeg
Golden Ponies
GUNAS
HENTIES
Hipsters for Sisters
Hozen
Izzy & Ali
Jeane & Jax
Jill Milan
JW PEI
L. YUCEL
LaBante
Lee Coren
Lux and Nyx
MÄRSS
MANIWALA
Marsi Bond
Mary Point
Matt & Nat
Ministry of Tomorrow
Miomojo
Mechaly
MeDusa
Nella Bella
NOAH Shoes
Pack Lite
Pixie Mood
Prene Bags
Samara
SANS BEAST
Svala
The Lovely Things
Thea & Theos
Toyko Bags
Tragwert
Urban Expressions
Urban Originals
VeganWear
Vegetarian Shoes
Veggani
VElove
Vilma Boutique
VOE
Wilby
Will's
ZTUDIO 8B
Vegan Shoes
Ahimsa
Animalista
BAHATIKA
BC Footwear
Beyond Skin
BHAVA
Bohempia
Bourgeois Boheme
Brave GentleMan
By BLANCH
Collection & Co
Cri de Coeur
Cult of Coquette
Ethletic
FAIR
Fera Libens
Golden Ponies
Good Guys
GUNAS
holster
huntd
Keep
Love Sofie
Matt & Nat
Merry People
MINK
Minuit Sur Terre
NAE
NAK Fashion
Native Shoes
Nemanti
NICORA
NOAH Shoes
NOHARM
Olsenhaus
PAWJ
RAFA
Risorse Future
Rungg
Scotti Vegan Shoes
SUSI Studio
Sydney Brown
Tastemaker Supply
Veerah
Vegans For Life
Vegetarian Shoes
Vyom London
Will's
Zette Shoes
Vegan Clothing
Alba Paris Art
Always Hungry
Anticarnist
Anxious Potatoes Co
Arm the Animals
Bazaar de Luxe
BCLVA
BEETxBEET
Bleed Organic Clothing
Boldly Vegan
BOLI + CHIP
Boss Vegan
Brave GentleMan
Cara Cheung
Chiaralascura
Compassion Co
Compassionate Closet
Conscious Tee
Crazies and Weirdos
Dauntless Clothing
Embassy of Bricks and Logs
ETHCS
Ethically
Faunapparel
Fauxgerty
FTLA Apparel
Get Infected Fashion
Go Vegan Tees
Grape Cat
Groceries Apparel
Hand in Love
Happiness Animals
Harm Less Threads
HeartCure
Herbivore Clothing
HoodLamb
House of Lily Rose
iApparel
In The Soulshine
James & Co
Lettuce Amor
Little by Little IC
Living Beings
Meaningful Paws
Merry People
Miakoda
Mighty Vegan Apparel
Misfit Market
Modern Compassion
Moral Minority
NICORA
Noize
Noumenon
NOVA FERNES
Outcast Agenda
Plant Faced
Planteeful
PLNT BSD
Raw Apparel
ReLove Plan.et
Robin Le Riche Apparel
Róka
Rude Fruit
Sassy Spud
Save the Duck
Spirit of Kinship
Svala
Talk Vegan to Me
Tantamount Apparel
Tees for Change
The Dharma Store
The Veganz
Threads for Love
Unreal Fur
V Shirts
Vaute Couture
Veag
Vegan Apparel
Vegan Couture
Vegan Gamers
Vegan Monster
Vegan Police
Vegan Power Co
Vegan Rex
Vegan Scene
Vegan Spirit
Vegan Supply Co
Vegan Terms
Vegan Vibes
Vegan Veins
Vegan, What?
Veganized World

coupon code: ETHICALELEPHANT

Vegans For Life
Vegetaryn
Vigilant Vegan
VivalaRiva
Viva La Vegan
VOE
WAWWA
Wilddtail
Wholesome Culture
Wully Outerwear
Yazahi
Vegan Accessories
CPTN Wathces
Fjordson – Watches
Hurtig Lane – Watches
I Heart Threads Co.
Jaan J. – Ties
JACKPINE – Socks
Lian & Mez – Watches
NoAni (No Animal) – Belts
Nox-Bridge – Watches
The Vegan Collection – Belts
TIVC (Time IV Change) – Watches
Truth Belts
Votch – Watches
---
What are some of your favorite vegan fashion brands?