This post may contain affiliate links that at no additional cost to you, I may earn a small commission.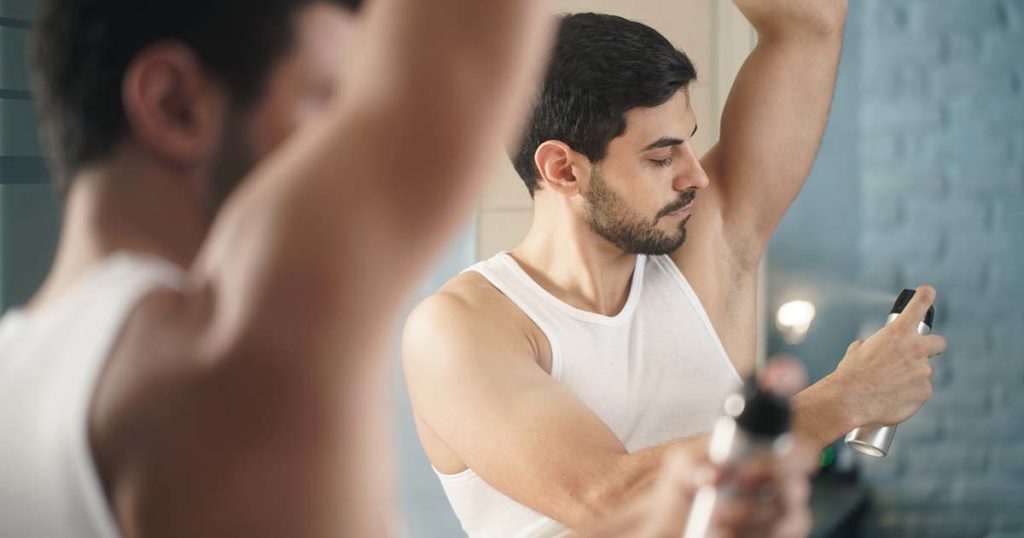 Chances are the men in our lives are still using the same brand of deodorant since they were in high school and sadly, most drugstore personal care brands for men are still testing on animals to this day. I'm looking at you… AXE, Old Spice, and Degree!
Luckily, there's been an explosion of cruelty-free and ethical men grooming brands available now and to make it easier to navigate through the endless options of deodorants.. I've created this list of cruelty-free and vegan deodorants for men.
Although anyone, and not just men, can use these deodorants (or any other deodorants, for that matter). I personally know the men in my life tend to purchase or use personal care products that are marketed to men. So this list is intended for those who are looking for male-targeted deodorants.
I also included a list at the bottom of this post of men's deodorants that are not cruelty-free and are from brands that do test on animals.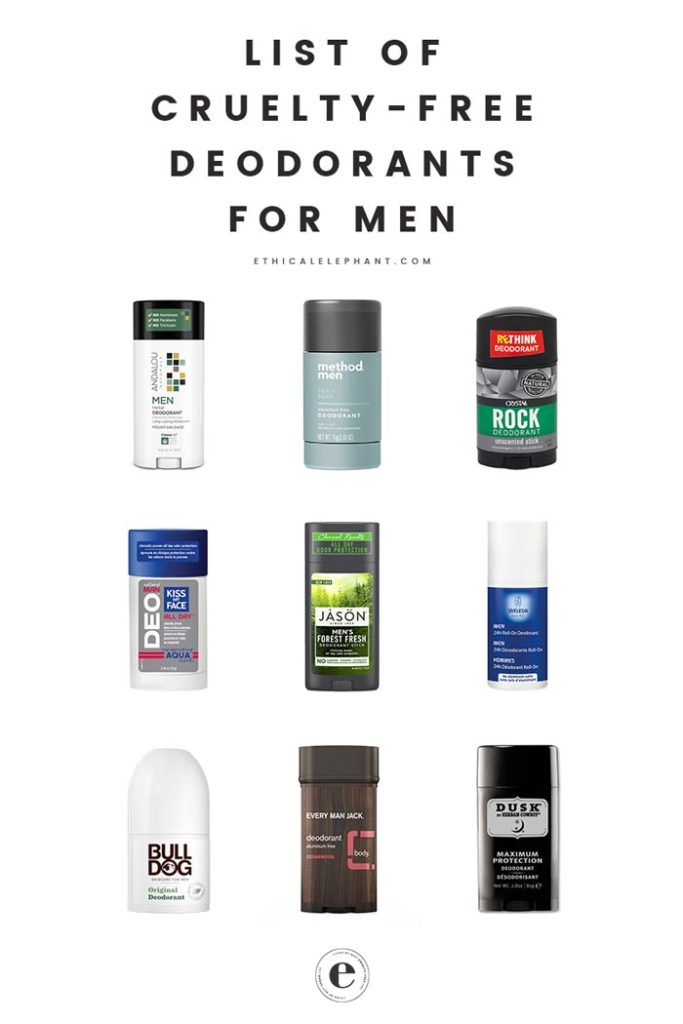 List of Cruelty-Free Men's Deodorant Sticks
I tried my best to find vegan and cruelty-free deodorants that are available at the drugstore or on Amazon so that they're affordable and accessible. Below is a list of deodorants targeted "for men" (but really, they're for anyone!) from brands that don't test on animals and none of these cruelty-free deodorants contain animal-derived ingredients, making them also vegan!
Andalou Naturals Men Herbal Deodorant in Mountain Sage ($7.99) – a long-lasting, solid deodorant that neutralizes odor with CannaCell® super antioxidants, organic hemp seed oil, and vegan probiotics.
Method* Men Aluminum-Free Vegan Deodorant ($9) – packed with plant and mineral-based odor fighters, Method Men's vegan deodorant has no added aluminum, parabens, or phthalates. What it does have is effective, 12-hour protection, and a fabulous, fresh fragrance that your pits will love to bits.
Crystal Body Deodorant's ROCK Deodorant Wide Stick ($5.59) – an effective unscented mineral deodorant, this powerful one ingredient mineral stick with a wider application surface eliminates and blocks odor before it starts without harmful or harsh chemicals—offering long-lasting, natural mineral protection for up to 24 hours.
Kiss My Face Natural Man Deodorant ($4.99) – made with odor absorbing Antioxidant Defenders and works all day (or all night), goes on clear, and smells great! The invigorating aqua scent is a nice manly smell but it is not too overpowering.
JASON Men Forest Fresh Roll-On Deodorant Stick ($4.10) – Enjoy the carefree feeling of all-day odor protection you can rely on. JASON Natural's clinically tested formula of Zinc Ricinoleate, Corn Starch, and Baking Soda neutralizes odor, while Grapefruit Seed Extract, known for its antimicrobial properties, helps fight odor-causing bacteria.
Weleda Men's 24 Hour Roll-On Deodorant ($8.27) – The licorice root and witch hazel provide long-lasting odor protection without preventing the skin from sweating—its innate cleansing process. This easy-to-use roll-on doesn't contain any aluminum salts or synthetic preservatives and fragrances.
Bulldog Original Deodorant for Men ($8.07) – made with natural ingredients, Bulldog Skincare products for men never contain artificial colors, synthetic fragrances, or ingredients from animal sources. Their Original Roll-On Deodorant does not contain aluminum.
Every Man Jack Aluminum-Free Deodorant ($5.59) – available in 5 scents and an unscented option. Get long-lasting odor protection with this 99% naturally derived deodorant. Cotton extract and witch hazel absorb wetness. Lichen extract—a natural antibacterial agent—helps control odor-causing bacteria. 99.0% Naturally Derived
Herban Cowboy Sport Deodorant – ($7.97) – Long-lasting protection without dyes or harsh synthetics. Dusk scent. Free of propylene glycol, aluminum, and triclosan.
---
[accordions] [accordion title="Men's Deodorants to Avoid – Tested on Animals" visible="no"]
Below is a list of deodorant brands for men that test on animals and should be avoided:
AXE
Arm & Hammer
Arrid (Church & Dwight)
Calvin Klein
Degree (owned by Unilever)
Dior
Dolce & Gabbana
Gillette
Giorgio Armani
Givenchy
Hugo Boss
Lab Series Skincare for Men
Mitchum (owned by Revlon)
Mont Blanc
Old Spice
Ralph Lauren
Right Guard
Speed Stick (owned by Colgate)
[/accordion] [/accordions]