This post may contain affiliate links that at no additional cost to you, I may earn a small commission.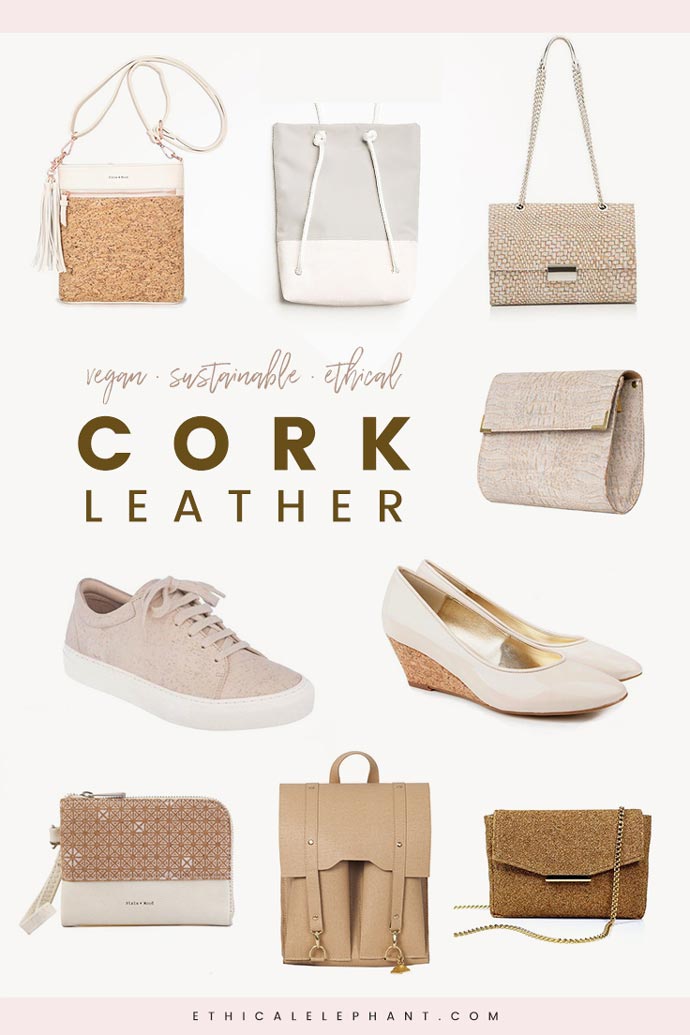 We're so over animal leather in 2018! With plenty of quality, durable, and sustainable vegan leather options available now, there's really no need for us to be supporting or buying shoes, bags, and fashion accessories that came from a dead or living animal!
In an effort to make more ethical and informed purchases in 2018, I've been looking into vegan alternatives to leather and what makes them better than animal leather when used as materials in shoes, handbags, belts, and accessories.
So let's talk about, cork leather!
I'm used to seeing cork used in corkboards and used to seal wine bottles. On the runway, I've only seen cork used in the heel of cork-wrapped wedges and used in the cushioning sole of Birkenstocks.
In my research, I quickly learned the cork used in shoes, bags, and fashion accessories is a lot different from the cork we see and use in our homes.
What is Cork Leather?
The cork used as materials or fabric for shoes, bags, and fashion accessories comes from the bark of the cork oak tree, mostly grown in Portugal and Spain.
Cork oak trees have their bark removed by skilled labor men every 7-9 years without damaging the trunk. The bark then grows back and is reharvested making it a truly sustainable product.
How is Cork Better than Leather?
For starters, cork leather doesn't involve the killing of an animal so it's completely cruelty-free and 100% vegan!
Unlike leather, it's 100% natural, water repellent, stain and scratch-resistant. (Corkor)
It can be made into a variety of colors and patterns.
Cork has naturally occurring anti-mildew and anti-bacterial qualities as well as water-resistant properties!
Unlike the heavy chemical processing of leather, cork leather production is chemical-free. (Corkor)
How to Clean Cork Leather:
I especially love how low maintenance and easy it is to care and clean cork leather! All you need is water and soap, more on how to clean cork leather here.
---
Cork Fashion Products
I wanted to share some of the beautiful pieces of handbags and shoes made from cork, all the products I mention are 100% vegan.
I especially love the chic appearance of using cork with light or neutral hues. I'm in awe with seeing all the delicate patterns that cork leather can be transformed into! I couldn't believe that some of these vegan bags and shoes were made from cork material!!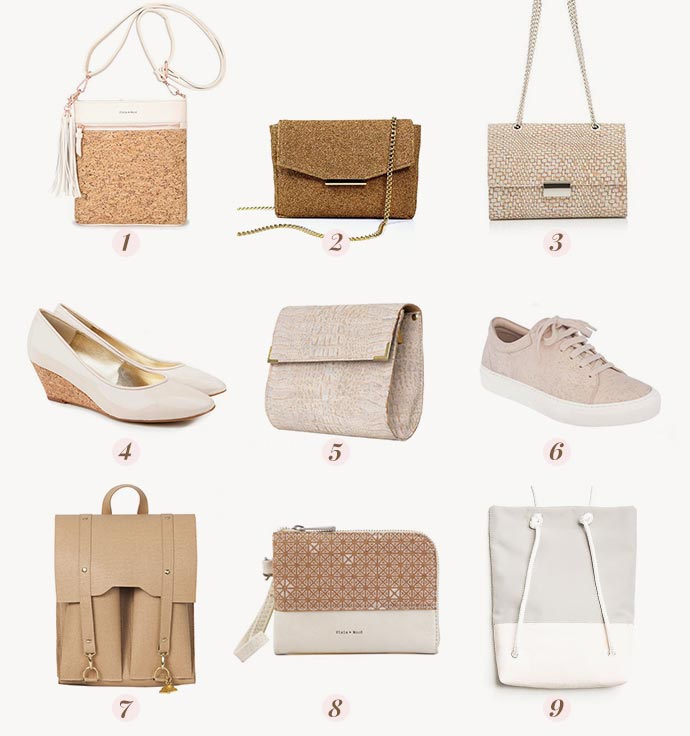 I am also loving cork leather in textured dark colors with accents of silver or antique brass hardware or the look of cork's natural brown paired with some black vegan leather. I've included some vegan products where traditional cork material is used as a footbed or sole for shoes as I really do love the look and durability of them!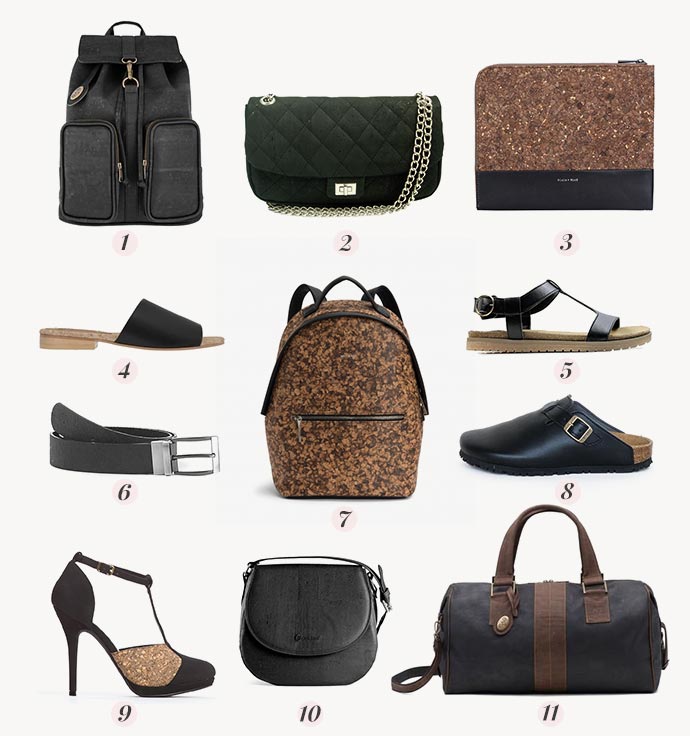 Grande Genesis in Black by Eve Cork – made from highest quality cork fabric ($179)

Tavira Cork Purse by Marla Pais – made with cork quilted for an elegant look ($159)
Abby Travel Clutch in Dark Cork by Pixie Mood – made with cork and polyurethane ($50)
Flat Slide in Black by Sydney Brown – faux-nappa upper and synthetic liner, cork covered recycled-fiber insole ($210)
Black Footbed Sandals by Will's – made with Italian microfiber and faux suede liner over a cork cushioned footbed ($91)
Reversible Cork Belt by Pelcor – comes in black or brown with a metal buckle ($119)
Munich in Natural Cork Backpack by Matt & Nat – part of Matt & Nat's Cork Collection ($170)
Gena Black Veg Leather Clog by Good Guys – made with microfiber upper and a cork footbed ($110)
Arden Wohl x CDC Eastlake T-Strap Stiletto by Cri de Coeur – made with faux nubuck upper and covered cork ($75)
Cork Saddle Bag in Black by Corkor – made from cork and PETA-certified animal-free materials ($144.50)

Preston in Black by Eve Cork – made from highest quality cork fabric ($219)
---
References & Resources