This post may contain affiliate links that at no additional cost to you, I may earn a small commission.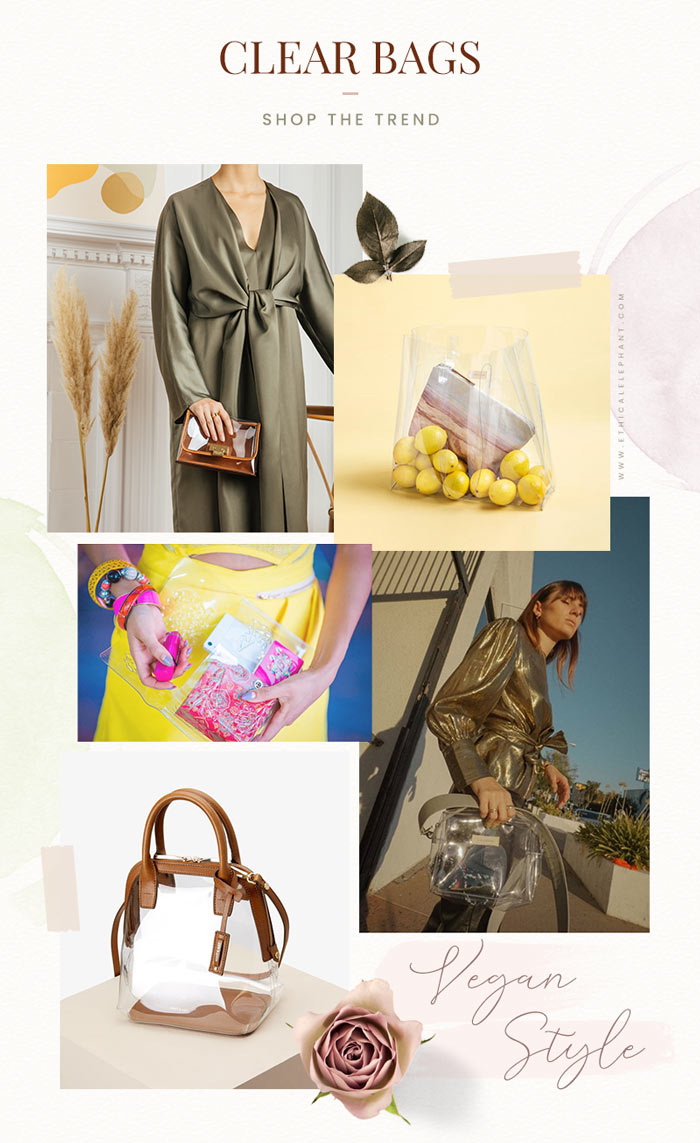 See-Through, PVC, Transparent, Clear Bags, whatever you wanna call them, they're clearly so hot right now. I am excited to announce that I'm bringing back the Shop the Trend series!
I'm quite fascinated with the clear bag trend because it's counter-intuitive and unexpected. I mean, the point of bags is to conceal and safely stow our personal belongings so why would anyone want to willingly broadcast to the world (and to potential thieves) the contents and valuables we carry with us? Answer: Because fashion.
Clear Bag Trend: Love It or Hate It?
Instead of hiding and concealing the contents in your bag, the clear bag trend makes it so that what you put inside your bag is now part of your outfit. How cool is that?!
I also love watching "What's in my bag?" videos on Youtube and the clear bag trend feels like the real-life version of it.
In some ways, the trend happens to be very practical. If you find yourself always digging through the bottomless pit of your bag to find your keys, wallet or spare change, a clear bag will solve all your woes.
In addition, clear bags have started to pop up due to the increase security measures at public events. Some venues have restrictions prohibiting event-goers from bringing a bag unless it's clear and you can visibly see all the contents inside the bag. Ariana Grande had a clear-bag policy on her recent tour.
The policy did allow patrons to bring freezer bags of their personal belongings, but let's not make freezer bags into a thing now, for obvious reasons.
Many designers have embraced the clear bag trend in recent years with Nordstrom now offering 100+ clear bags! On the flip side, there are some who oppose the clear bag trend, explaining they're just purely fun to look at but not very practical or reasonable to buy. I'd love to know, what do you think about the clear bag trend? Share your thoughts in the comment section down below!
A Note on PVC Clear Bags
I do want to make an important note here that PVC is a plastic material, made from petroleum and in no way am I claiming PVC to be a sustainable material. But here on ethical elephant, we explore beauty, fashion, and lifestyle trends with a focus on finding vegan and animal-free alternatives. So I admit PVC clear bags are not a sustainable option however the point of our Shop the Trend series is to help consumers discover and choose from available options that are free of animal products.
We understand not everyone is fully-vegan or only purchase sustainable products so we strive to find options for everyone in all walks of life, but our core mission is to always and forever promote only products that do not contain animal products.
We do highlight vegan, ethical, and sustainable products and brands in many of our other guides, lists, and posts.
List of Vegan Clear Bags
Let's now get into the list of options for clear vegan bags. PVC itself is a non-animal material, so it is vegan. However some clear bags may contain some leather detailing or handle which was from animal hide making the bag not vegan. Below is list of options that were not made from animal leather and instead are made with synthetic materials.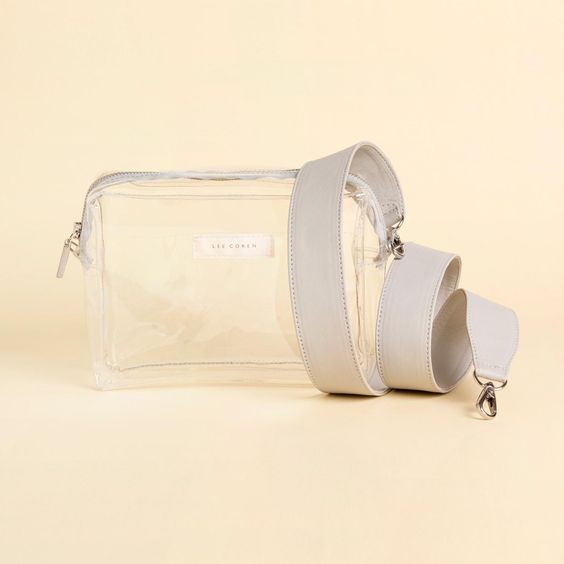 Lee Coren Clear Purse (US$120) – Enjoy your day, hands-free; the box crossbody is the perfect bag to carry all your essentials through mid–day gatherings, urban strolls and nights out. 100% handmade. Lee Coren vegan handbags are designed and crafted ethically and locally from vegan materials.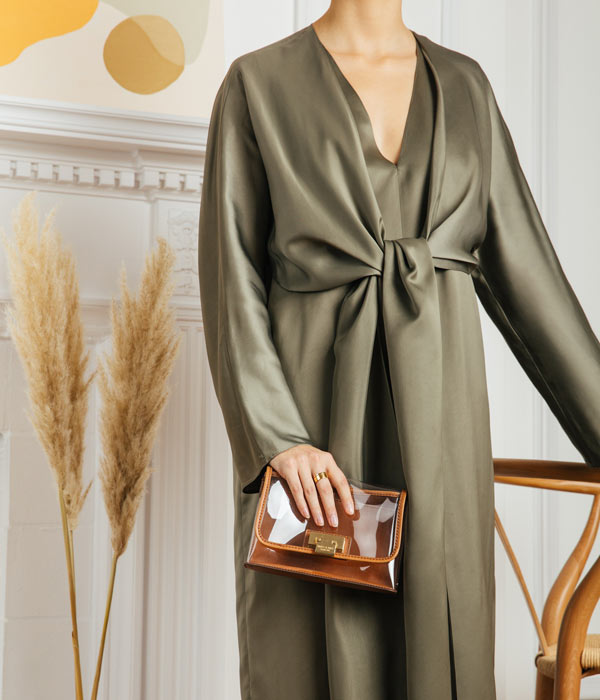 Matt & Nat CIEL in Clear Chili (US$195) – This bag can be converted into a belt bag or an evening clutch. The vegan leather trim and adjustable/removable belt strap, along with the gold clasp closure add such an elegant touch of grace and luxury to the classic PVC bag.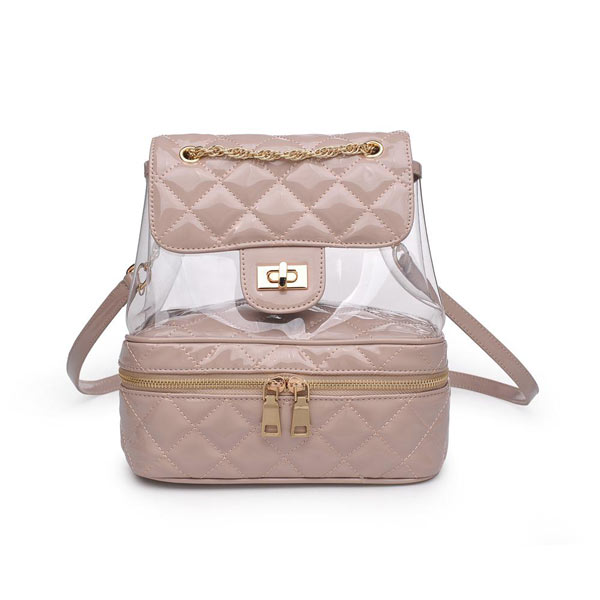 Urban Expressions, Janet Backpack (US$90) – Pack your everyday essentials in this chic clear backpack, the bottom half of the bag is perfect for storing your items you don't want others to see. This is a similar design inspired by the popular Chanel PVC backpack. Available in multiple colors.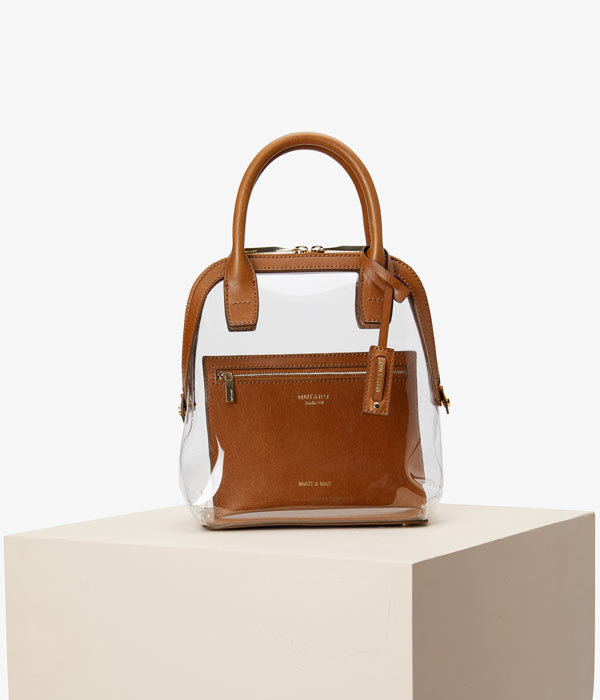 Matt & Nat GRESSI SM in Clear Chili (US$270) – This small clear satchel comes with a removable zippered pouch to hold your necessities, detachable shoulder straps, a removable branded ID tag, and protective metal feet. A high-quality transparent bag that can be worn casually or dressed-up.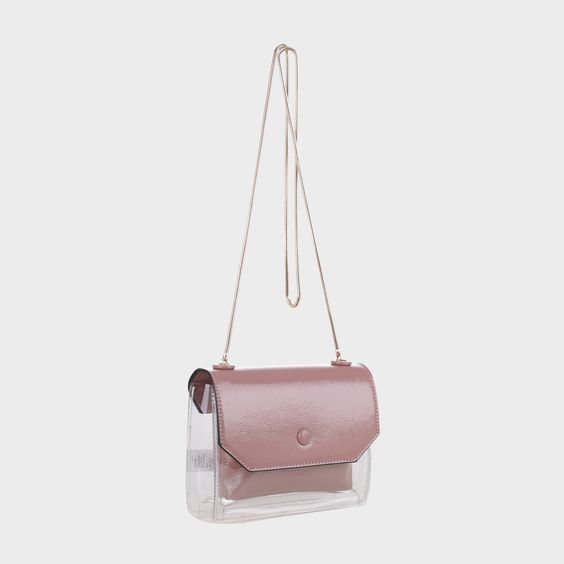 Izzy & Ali Bolanzo Crossbody ($45) – I don't like to pick favorites but I definitely got my eyes set on this transparent vegan crossbody bag from Izzy & Ali. Encompassing a gold-tone chain, removable inner zip pouch, magnetic closure, and dark blush PU vegan leather to elevate the clear bag trend into one that is modern and elegant.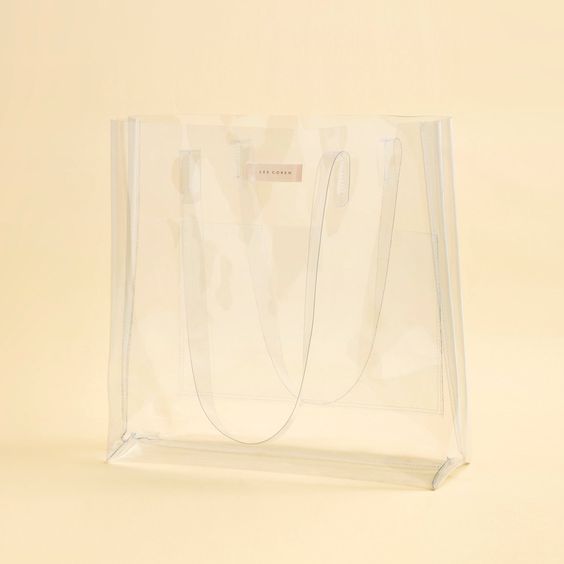 Lee Coren Clear Tote Bag (US$90) – Switch it up from sandy beach time to chic brunch meetings in the city; The Claro tote was designed with a timeless silhouette – it's not a fashion statement but a wardrobe staple. The material, thick, sturdy & easy to clean, along with thoughtful construction, assures these bags will stay in shape for years to come. Made of durable clear vinyl.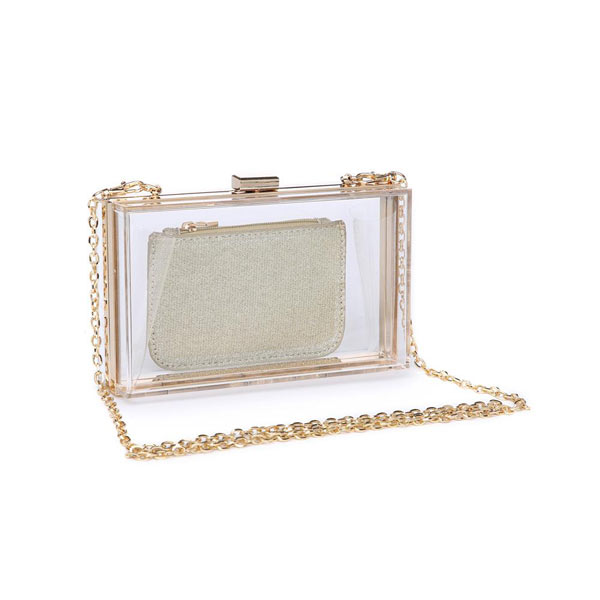 Urban Expressions, Lady Clear Clutch (US$65) – Perfect for an evening out or an elegant occasion, this clutch with a snap closure and a mini zipper pouch compartment will definitely turn heads and it's under $100!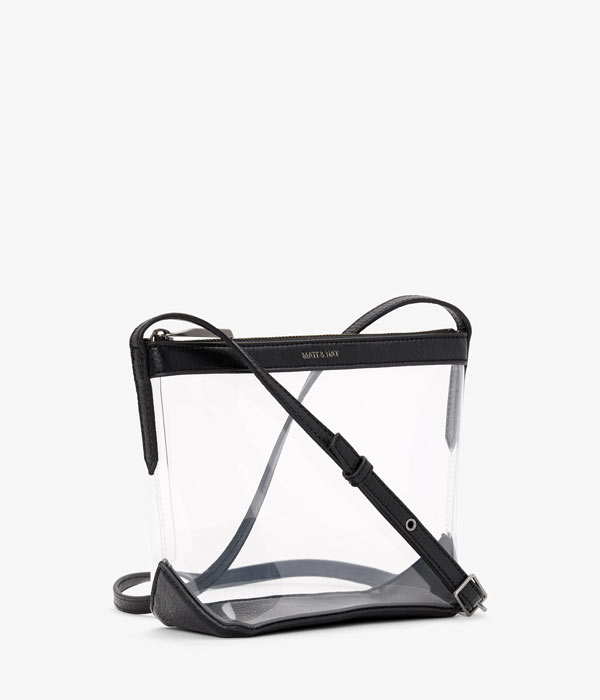 Matt & Nat SAM in Clear Black (US$75) – Elevating a basic crossbody bag into one that will have people talking! This is perfect for everyday wear and if you ever wanted to change it up, simply change up what you put in the bag from bright colored scarves to luxury card holders or designer sunglasses, the options are endless!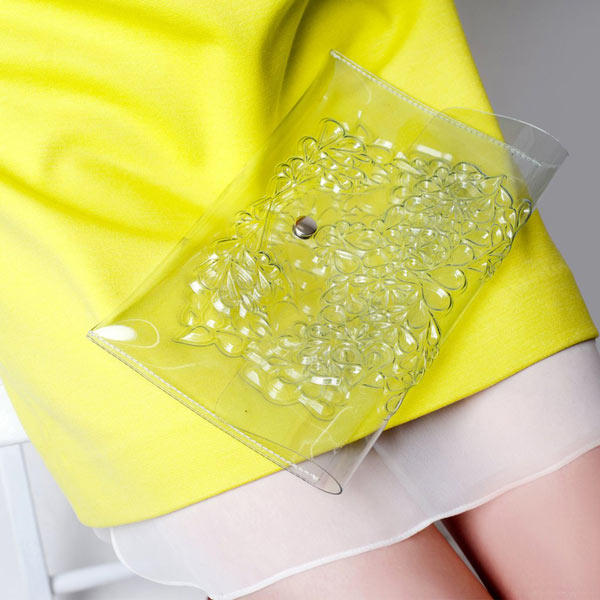 Me–Dusa Clear Cosmetics Envelope Clutch (CA$60) – This embossed vegan clear cosmetic envelope clutch has a revolutionary floral print that is appropriate for day and evening wear. It is slim in size and huge in presence. The perfect size for storing small items and cosmetics.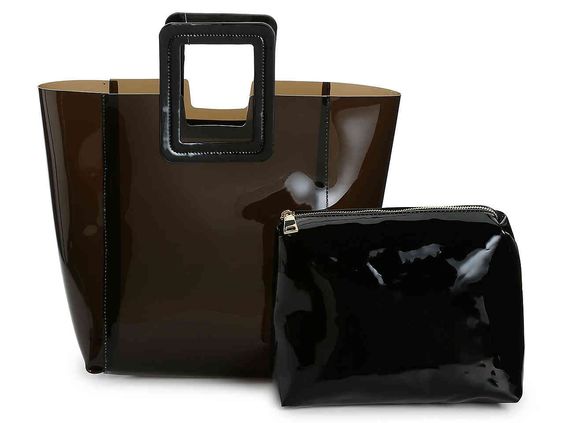 Urban Expressions Black Clear Tote ($35) – If you wanted to be a little more discreet, opt for a clear tinted bag instead! Like this one from Urban Expressions that comes with a smaller pouch inside to mask any personal essentials. This handbag is fashioned with square handles and a lucite construction that will give off mod monochrome vibes.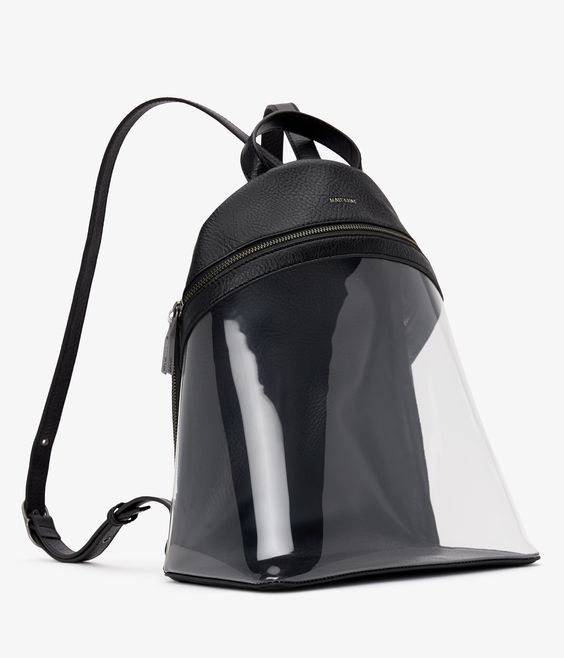 Matt & Nat ARIES in Clear Black (US$135) – A futuristic looking backpack featuring a curved top zipper closure with adjustable straps. Don't let the curvature fool ya, this backpack can impressively fit an iPad Pro and all your essentials.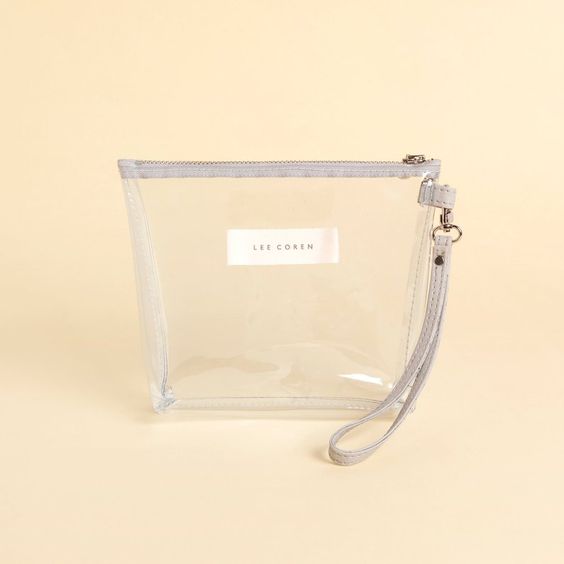 Lee Coren Small Clear Zip Pouch Wristlet (US$36) – Function and form with endless possibilities. Use this fun wristlet as your purse, or to hold your cosmetics and essentials inside your bigger bag. The Claro line is handmade in small batches, using high–quality materials and fine construction, to ensure long lasting durability.