This post may contain affiliate links that at no additional cost to you, I may earn a small commission.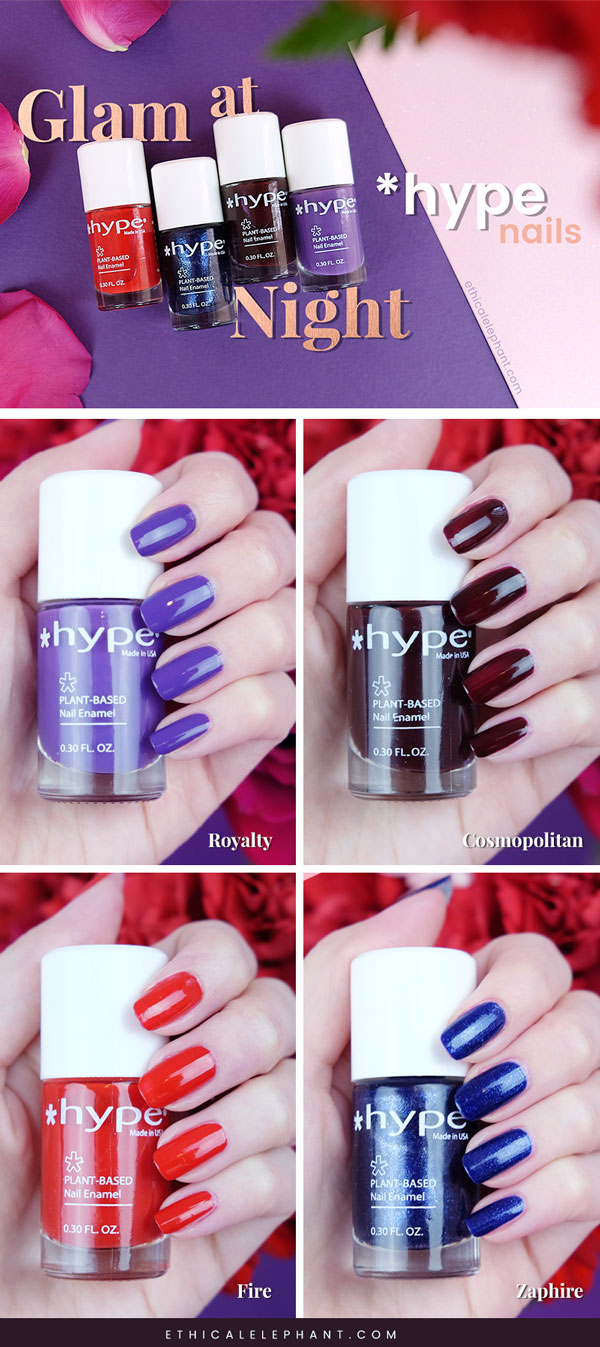 *Hype Nails has a bunch of nail polish gift sets available, each of their sets includes 4 of *Hype nail polish and for this week's #VeganManiMonday, I'm trying out *hype nail's Glam at Night nail polish gift set.
All of *hype nail products are:
Cruelty-free; not tested on animals
Vegan; no animal-derived ingredients or animal by-products
5-Free: free of 5 known toxic chemicals (Toluene, Dibutyl Phthalate, Formaldehyde, Tosylamide and Camphor)
Made from up to 85% plant-based ingredients; derived from potatoes and corn
Made in Miami, Florida
Glam at Night Set -*hype nails
The Glam at Night set by *hype nails contains 4 gorgeous vegan and 5-free nail polish colors that'll "make your evening look even more glamorous."
Royalty was the most opaque out of the four nail polish in this set. Cosmopolitan, Fire, and Zaphire required 2 coats and I found the consistency of these 3 to be a little runny compared to other *hype nail polish I've tried before. But thanks to *hype nail's BIG brush, it applied evenly and smoothly so you end up with a glossy high pigmented finish.
My favorite is Zaphire. Pictures and swatches of this nail polish shade doesn't do it justice! It has these tiny pearlescent shimmery specs in it that really make the deep blue color pop!
---
Which nail polish color are your favourites from *hype's Glam at Night set?