This post may contain affiliate links that at no additional cost to you, I may earn a small commission.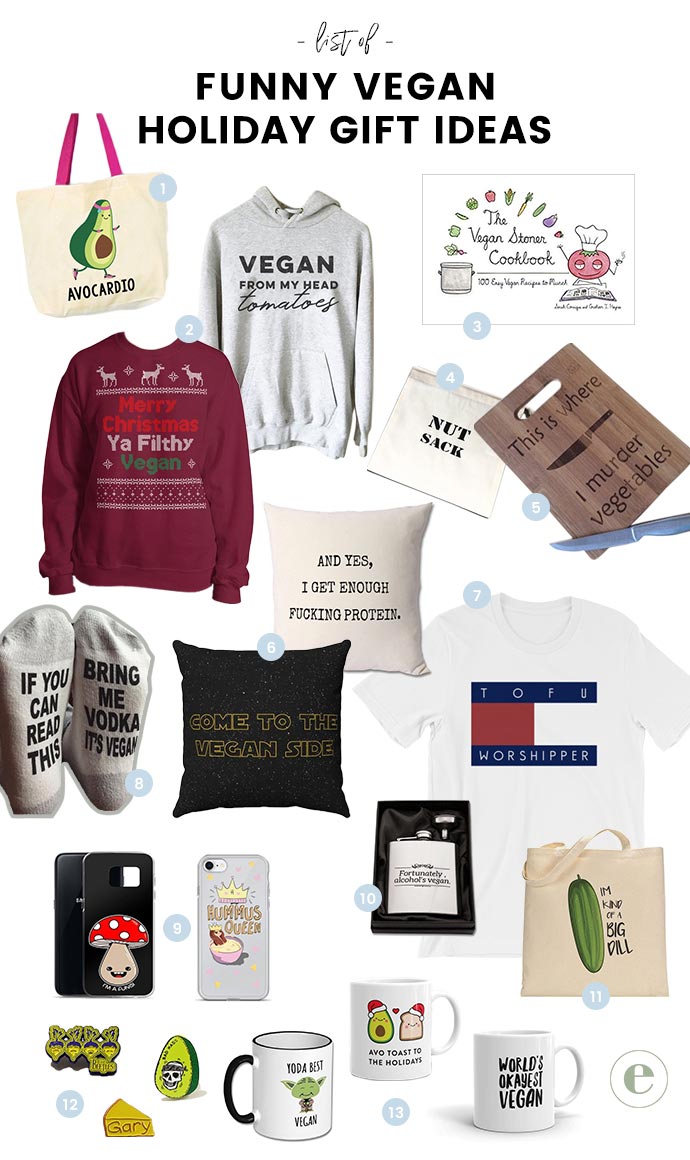 There are so many spectacular products out there that it can be hard to find one or two perfect presents to give your friend or family. Luckily, there are sites like NoveltyStreet.com that help you find the coolest presents to buy! However, when the gift receiver is vegan, we know this can make finding the right gift even hard – so we've made this guide for you!
So, whether you need funny vegan gag gift ideas for a white elephant gift exchange or just funny vegan gift ideas for your vegan friends or family, look no further!
We've rounded up some hilariously clever and punny AF vegan gift ideas that'll have you ROFL this holiday season!
If you're also looking for some vegan Christmas or Holiday Greeting Cards, I have a round-up of some of our favorites here.
1. Avocardio Tote Bag
2. Vegan Sweaters: Merry Christmas, Ya Filthy Vegan | Vegan From My Head Tomatoes
3. The Vegan Stoner Cookbook
4. Reusable Snack Bag | Nut Sack
5. Vegan Cutting Board | This is Where I Murder Vegetables
6. Vegan Pillows: And Yes, I Get Enough Protein | Come to the Vegan Side
7. Tofu Worshipper Vegan T-Shirt by Veganized World | Use Code: ETHICALELEPHANT to receive $5 off your order.
8. Vegan Socks | If You Can Read This, Bring Me Vodka, It's Vegan
9. Vegan Phone Case: I'm a Fungi (Fun Guy) | Hummus Queen
10. Vegan Flask | "Fortunately, Alcohol's Vegan"
11. I'm Kind of a Big Dill Tote Bag
12. Vegan Enamel Pins: The Beetles | Gary, The Non-Dairy Cheese | Bad Hass
13. Vegan Mugs: Yoda Best Vegan | Avo Toast to The Holidays | World's Okayest Vegan