This post may contain affiliate links that at no additional cost to you, I may earn a small commission.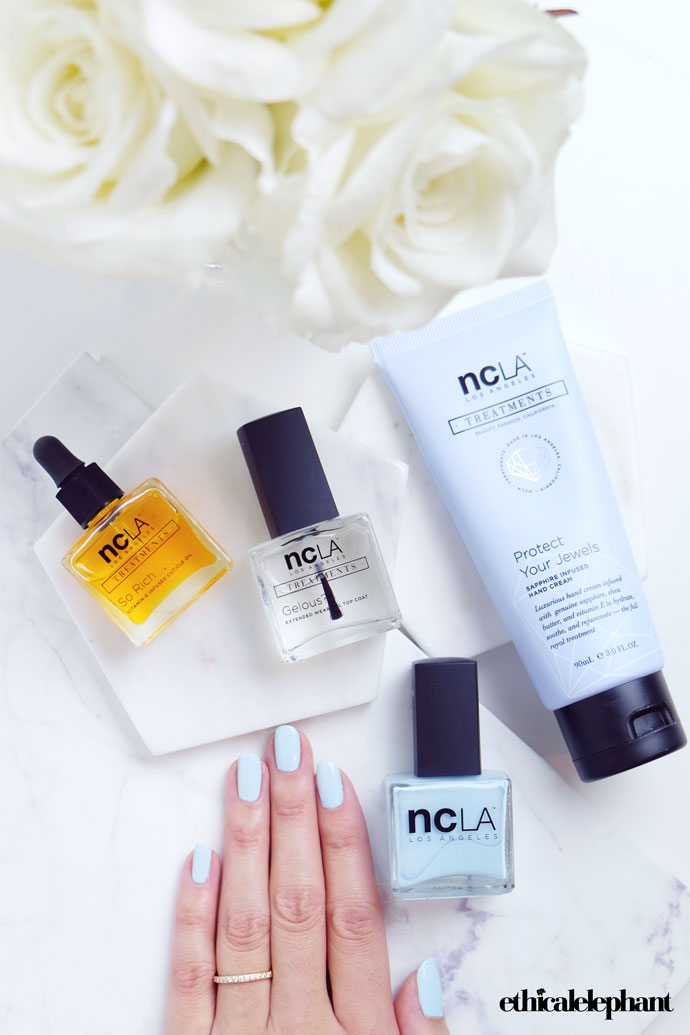 I wanted to share with you all my current nail care routine where I only use 100% cruelty-free and vegan products!
I get asked a lot about my nails and how I grow and care for them, so I wanted to share what I'm currently wearing on my nails, as well as, the daily maintenance I do to keeping my nails healthy, strong, and protected!
All the products featured in this post were provided by NCLA, a 100% vegan nail polish brand that I've been using for years, all of their nail polish are free of animal ingredients, not tested on animals, non-toxic and 5-free!
What I'm Currently Wearing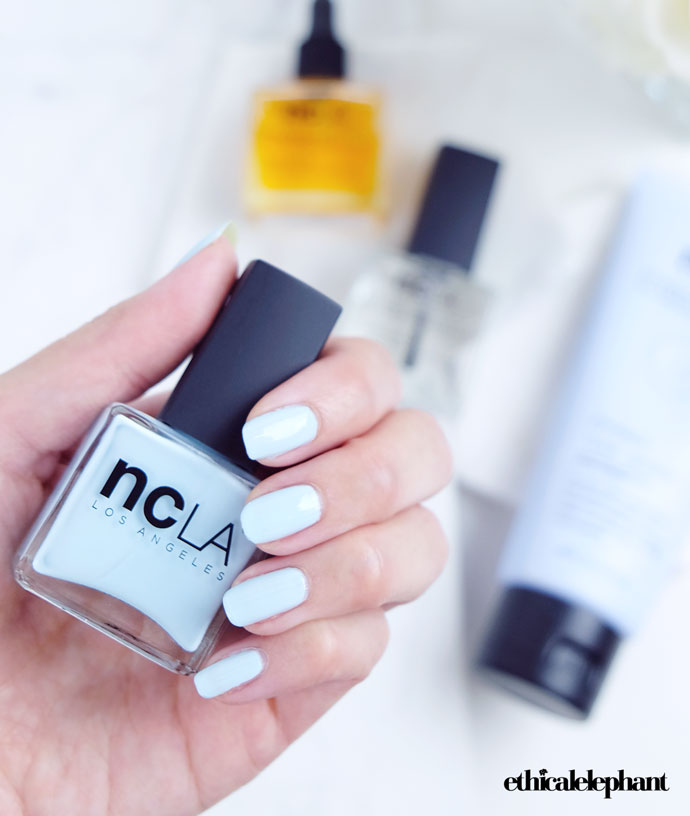 Let's Stay Forever – NCLA
Here's a close look at Let's Stay Forever by NCLA, a stunning pastel blue creme color. This is with two coats and NCLA's Gelous? Top Coat.
The polish applied beautifully with two even coats and didn't leave any streaks which usually happens with very pale and light-colored polish.
I was very impressed with how this color applied and looks on my nails!
NCLA Gelous? Top Coat
As soon as I tried NCLA's Gelous? Top Coat for the first time, I don't know how I lived without it! This is now my favorite top coat!!
As the name suggest, it's a gel-like top coat that leaves your nails looking glossy & shiny, and best of all, my nails don't chip nearly as fast when I use this top coat.
It's definitely extended a couple of days of wear for me. I really love the formula of this top coat because it's not nearly as thick in consistency as other gel-like top coats I've tried in the past but it'll achieve the same amount of shine as the thicker formulas. That means I find myself using less product so this bottle of top coat lasts longer for me too!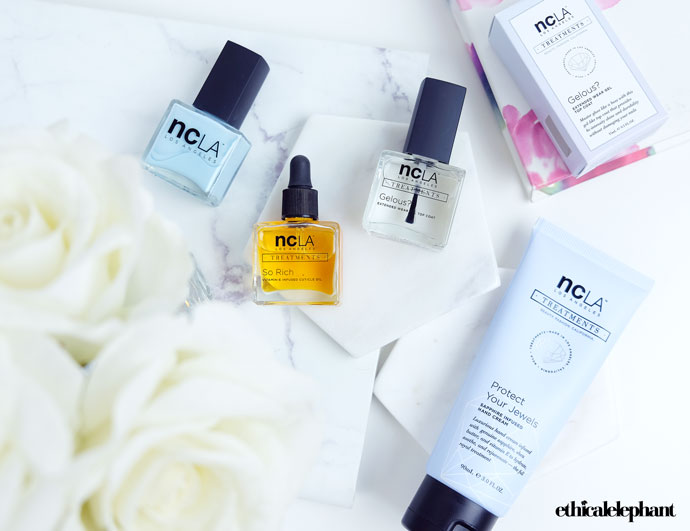 Daily Maintenance
NCLA's So Rich Cuticle Oil
I haven't been giving my cuticles much love in the past and it was totally out of laziness but as soon as I got into the habit of applying cuticle oil 1-2 times daily, I saw a huge difference in my nails!
They were growing faster and my nails weren't breaking as frequently, and I definitely think my nails are stronger and longer because I've been giving my cuticles the TLC that it deserves!
I've been using NCLA's So Rich Vitamin E Infused Cuticle Oil in the scent Pumpkin Spice. It smells seasonally delightful! The dropper makes application quick and painless where all you need is the smallest drop of oil and then massage it into your cuticles.
The cuticle oil dries fairly quickly so you won't have "oily" fingers afterwards and you best believe that your nails will smell like pumpkin spice after too!
Protect Your Jewels Hand Cream
I'm super picky when it comes to choosing a hand cream. Like most people, I'm always touching or grabbing things with my hands, whether it's typing on a keyboard for 8 hours a day or using my phone/camera, so I'm always on the hunt for the perfect hand cream that'll hydrate my skin but won't leave any greasy residue behind.
Protect Your Jewels by NCLA Hand Cream definitely ranks as one of the better cruelty-free and vegan hand creams I've tried. It contains shea butter and Vitamin E extract which leaves my hands feeling silky smooth. It has a slight scent of shea butter but I don't find that it lingers too long, which I prefer since I don't like it when my hands have a strong perfume smell to them.
So there you have it! My current nail care routine featuring 100% cruelty-free and vegan products!
I'd love to know, what's currently in your nail care routine?
---
Disclaimer: I received press samples in exchange for my honest review. I was not required to write a positive review nor was I compensated in any other way. All opinions expressed are always 100% my own.