This post may contain affiliate links that at no additional cost to you, I may earn a small commission.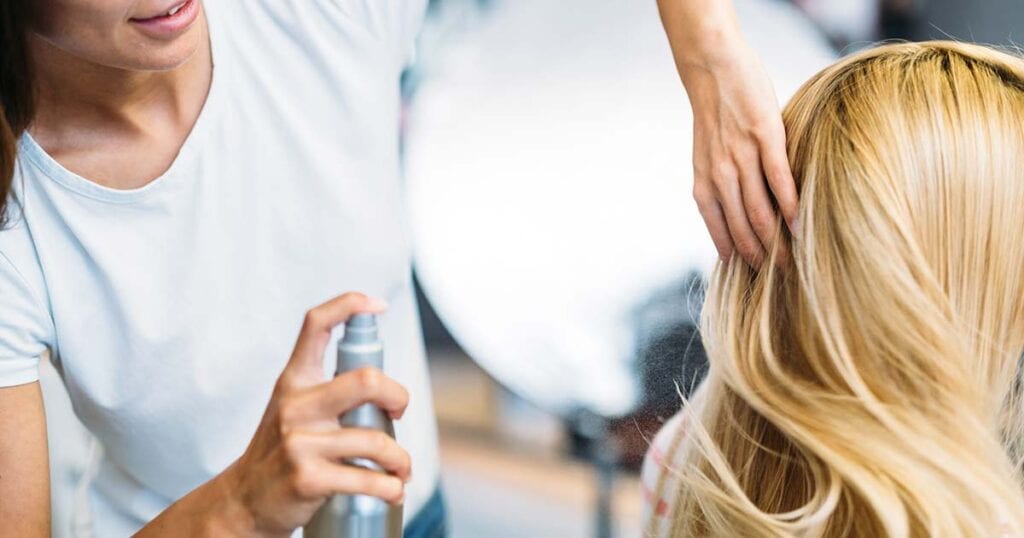 Looking for a vegan and cruelty-free hairspray that wasn't tested on animals or contains any animal-derived ingredients and one that'll most importantly hold your hairstyle in place, no matter how you wear your hair?
Whether you're looking for a cruelty-free & vegan hairspray for a flexible, strong, or maximum hold, or want extra lift and texture, there's something for you in this list of best cruelty-free hairsprays.
Unfortunately, most hairsprays available at the drugstore are from mainstream brands that continue to test on animals. Brands of hairspray to avoid that DO test on animals includes Tresemme, L'Oreal Paris, göt2b, Matrix, Pantene, Sebastian Professional, and Redken.
In addition to hairspray being tested on animals, some hairspray may contain animal-derived ingredients or by-products such as keratin and/or fragrance containing beeswax, making them not vegan.
So if you want a vegan and cruelty-free hair spray, you'll want to ensure it's from a brand that doesn't conduct, commission, or condone any type of animal testing on their products, ingredients, or formulations and that it doesn't contain any ingredients sourced from an animal.
I found 10 bestselling and most-recommended cruelty-free & vegan hairspray that are non-crunchy and non-flaky for every hair types and budget!
Vegan & Cruelty-Free Hairspray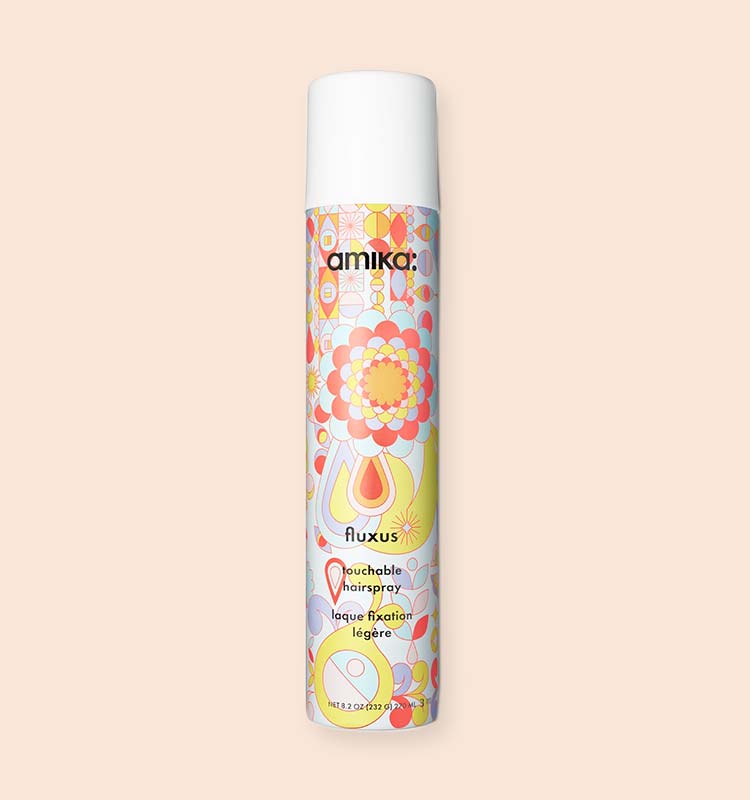 Best Overall: amika Touchable Hairspray
Vegan, Leaping Bunny Certified Cruelty-free, Free of sulfates, parabens, phthalates, gluten, silicone, mineral oil, sodium chloride, petrolatum + artificial colors
Price: $25
Claims: "A flexible working hairspray for stay-all-day style that you'll still be able to run your fingers through. Butyl Ester of PVM/MA Copolymer – protects hair against high humidity while leaving it with a natural feel; no stickiness or flaking"
---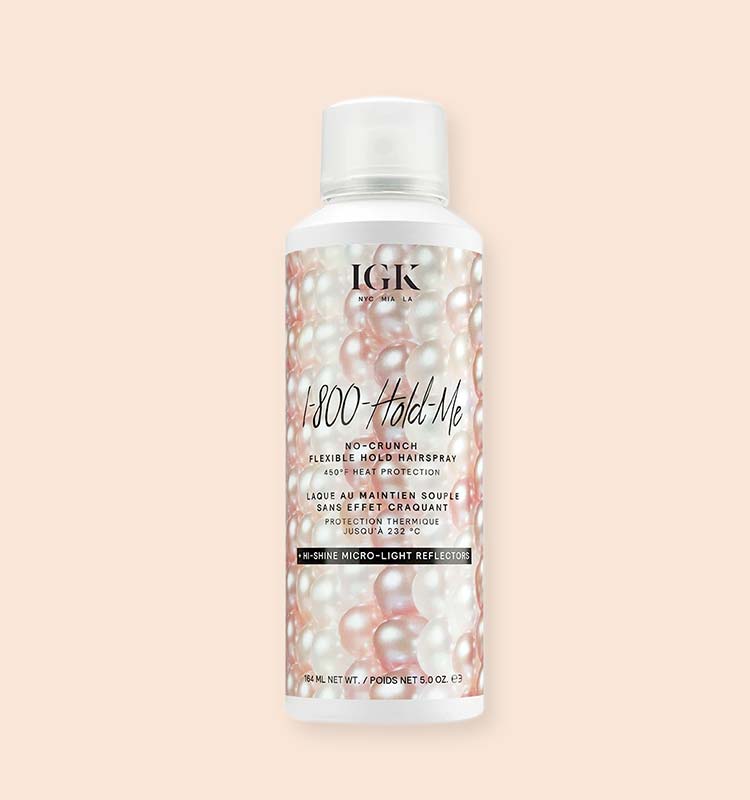 Best for Shine: IGK 1-800-Hold-Me Hairspray
Vegan, Leaping Bunny Certified Cruelty-Free, Gluten-free, No parabens or sulfates, Formulated without mineral oil
Price: $27
Claims: "Inspired by makeup setting sprays that give a dewy glow to the skin, this brightening flexible hairspray uses hi-shine micro-light reflectors to give a subtle, healthy glow to all hair types and colors. Medium-hold buildable hairspray gives all day hold, while staying touchable, soft and reworkable."
---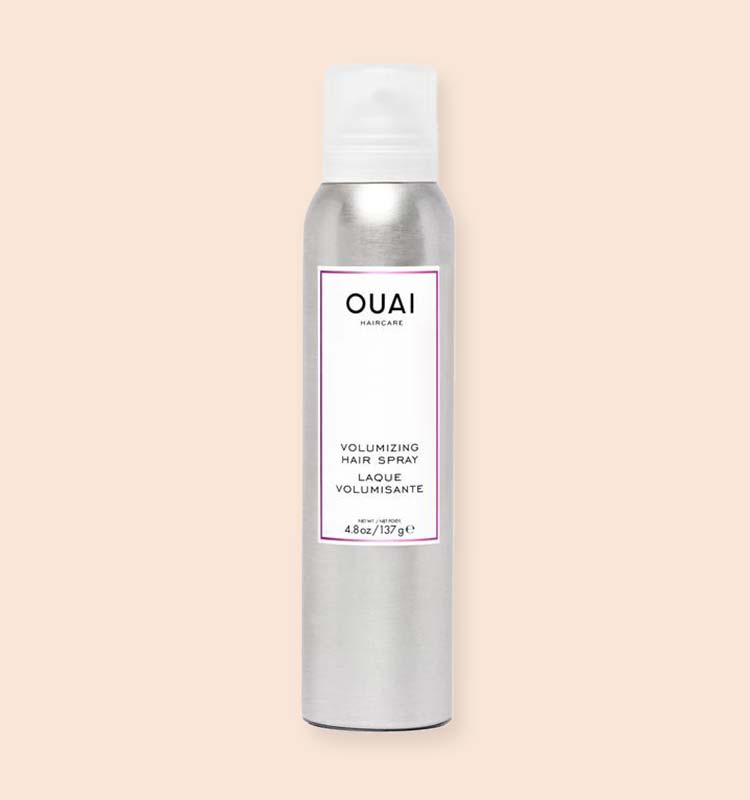 Best for Fine Hair: OUAI Volumizing Hair Spray
Vegan, Formulated without Parabens, Sulfates, Phthalates
Price: $26
Claims: "A tease in a can! Our amplifying hair spray combines a powerful blast of air with volumizing polymers that attach and thicken strands for volume that will blow you away."
---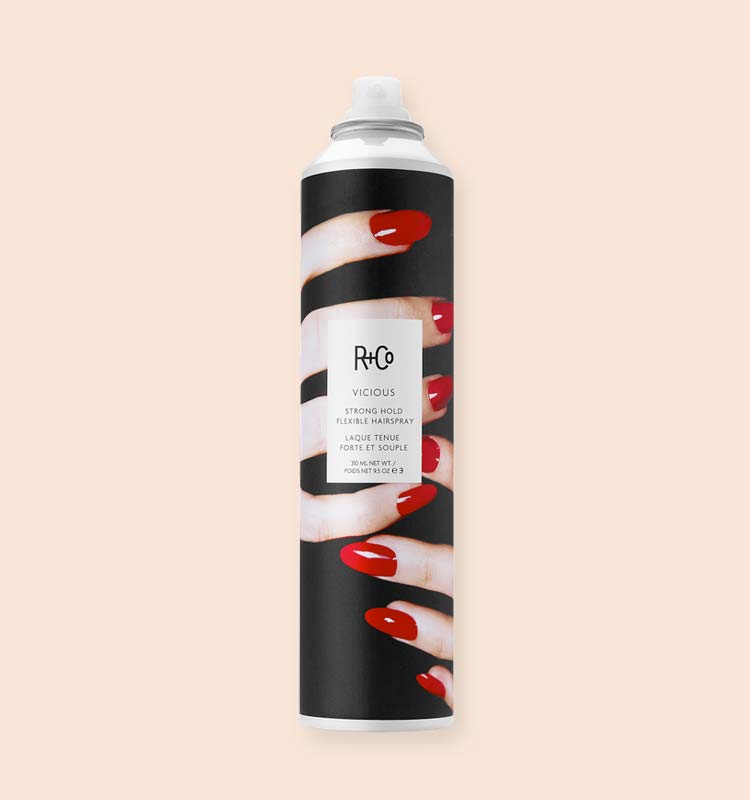 Best Strong Hold: R+Co Vicious Hairspray
Vegan, Leaping Bunny Certified Cruelty-Free, Gluten-Free, Paraben + Sulfate Free (SLS or SLES), Petrolatum + Mineral Oil Free
Price: $32
Claims: "Hold on tight with VICIOUS, the ultimate hair spray for a finished look. A seriously strong hold that you can brush through without cracking or flaking – and style and re-style all night-long."
---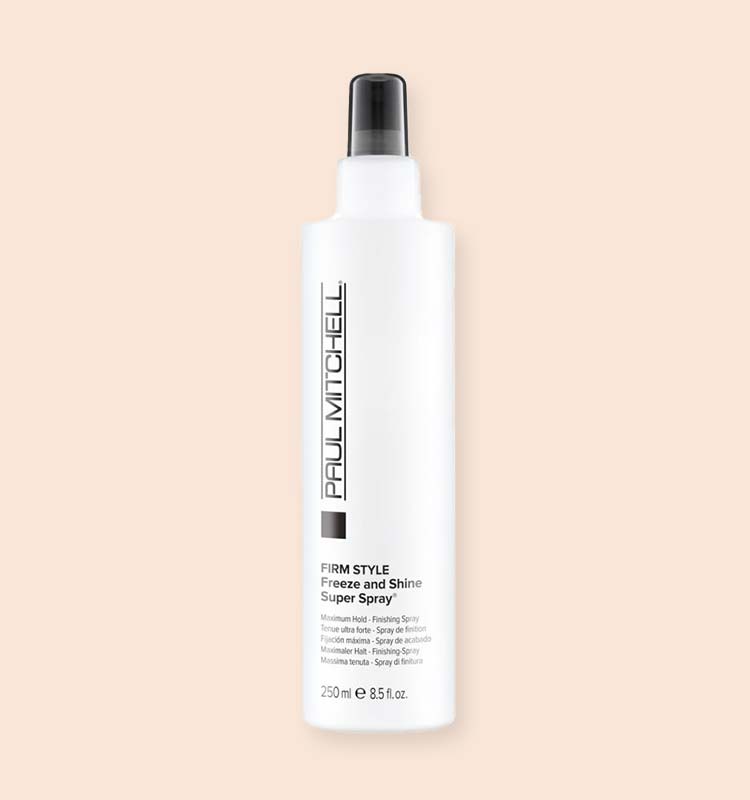 Best Max Hold: Paul Mitchell Freeze & Shine Super Spray
Vegan, Paraben-Free, Gluten-Free
Price: $12
Claims: "Give your style maximum hold and shine with Freeze and Shine Super Spray® from Paul Mitchell®. Great for coarse hair types, this hairspray provides powerful hold and memory, and creates a shiny finish. Firm-holding styling ingredients lock in any look."
---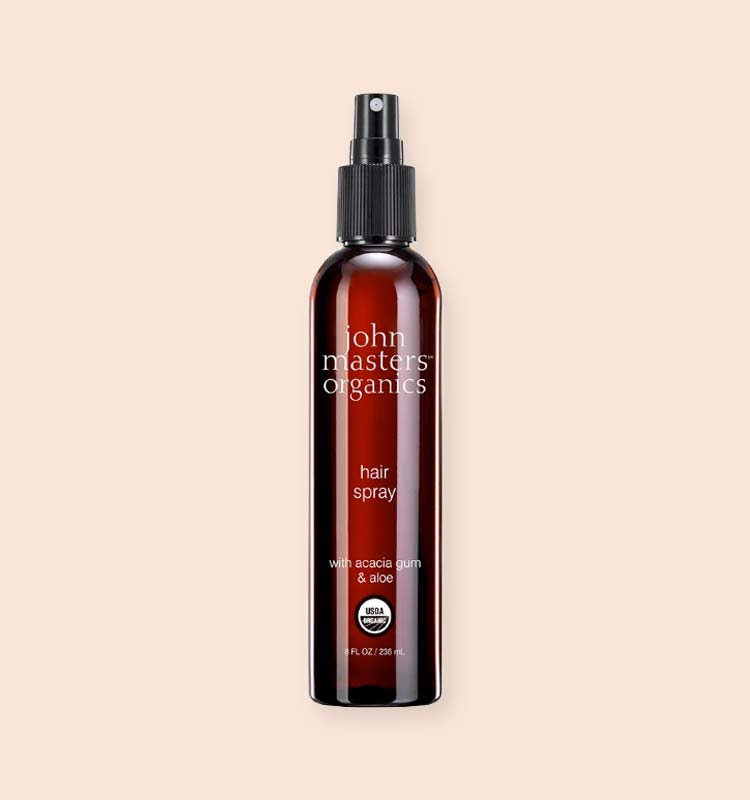 Best Organic: John Masters Organics Natural Hair Spray
Vegan, USDA Certified Organic, 95% or more organic content
Price: $24
Claims: "Hold onto your style with organic, natural ingredients, not synthetic polymers or plasticizing agents typically found in traditional hair sprays. John Masters Organics' certified USDA organic hair spray—one of the only certified organic formulas on the market—is powered by organic aloe leaf juice and acacia senegal gum for the most toucheable hold with no flaky residue, just soft styles that stay put all day."
Buy on Amazon or Petit Vour
---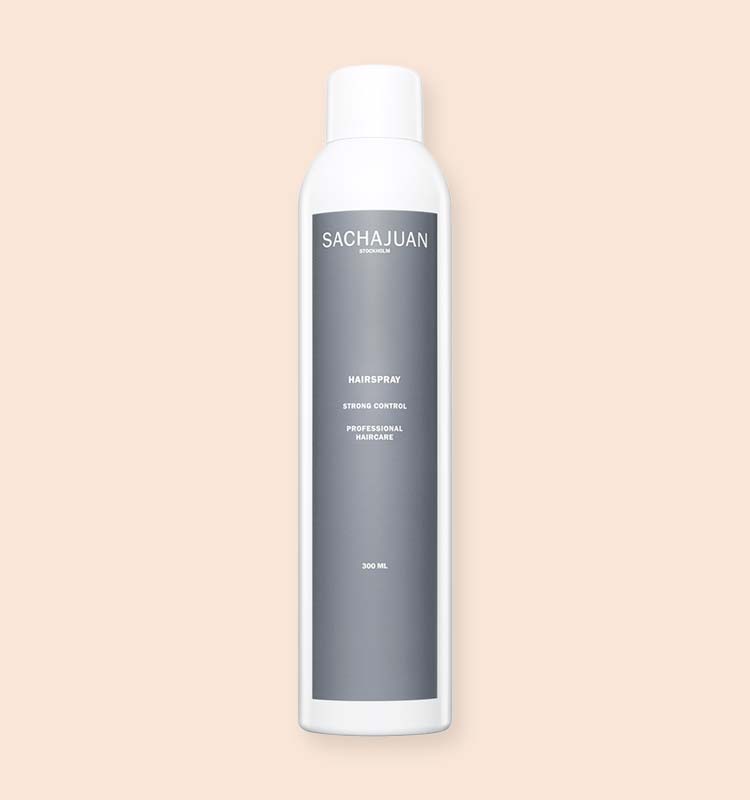 Best for Thick Hair: Sachajuan Strong Control Hairspray
Vegan, Paraben-Free
Price: $24
Claims: "Hairspray Strong Control is the ideal spray to finalize your look. Giving strong hold to any style without leaving hair sticky. Great for hair that is hard to hold. This spray will set your style from morning to night."
Buy on Amazon (UK) or Sephora (AU)
---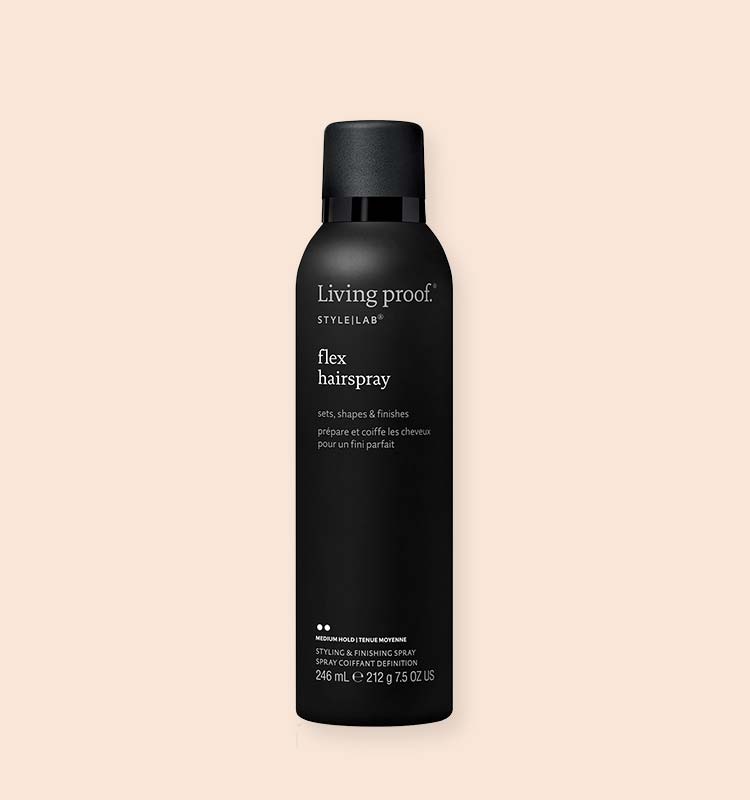 Best Flexible Hold: Living Proof* Flex Hairspray
Vegan, Paraben-Free, Phthalate-Free, Silicone-Free
*Note: Living Proof is cruelty-free but is owned by Unilever, a parent corporation that is not cruelty-free and tests on animals
Price: $27
Claims: "A multi-tasking medium hold hairspray that can be used on damp or dry hair to set, style and finish leaving hair feeling touchable and brushable."
---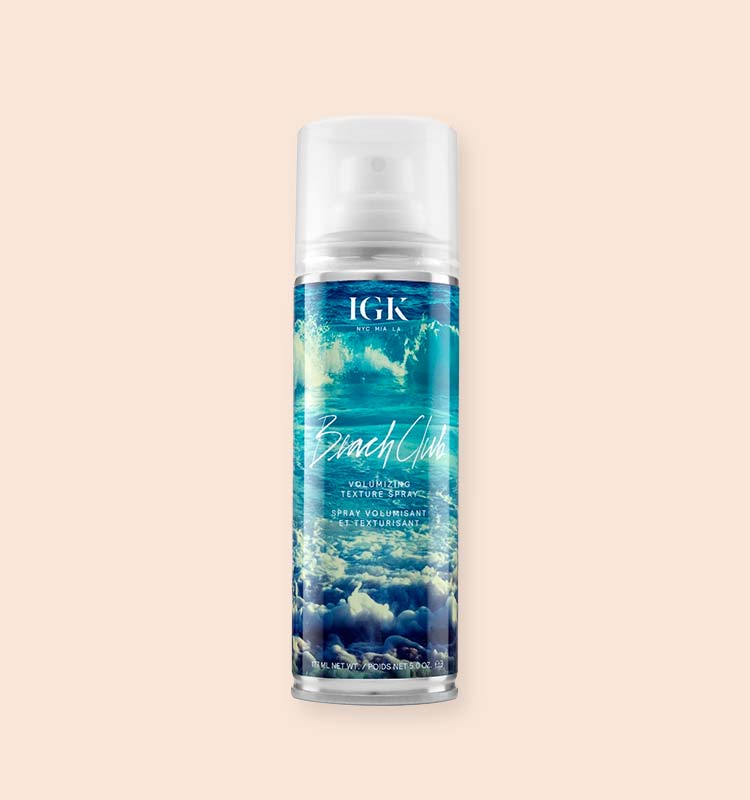 Best Texturizing Spray: IGK Beach Club Volumizing Texture Spray
Vegan, Leaping Bunny Certified Cruelty-Free, Gluten-Free, No Parabens or Sulfates, Formulated without mineral oil
Price: $29
Claims: "Want that surf-and-sand kind of hair? This breakthrough aerosol delivers that salty, windswept look in seconds without heaviness, stickiness or drying."
---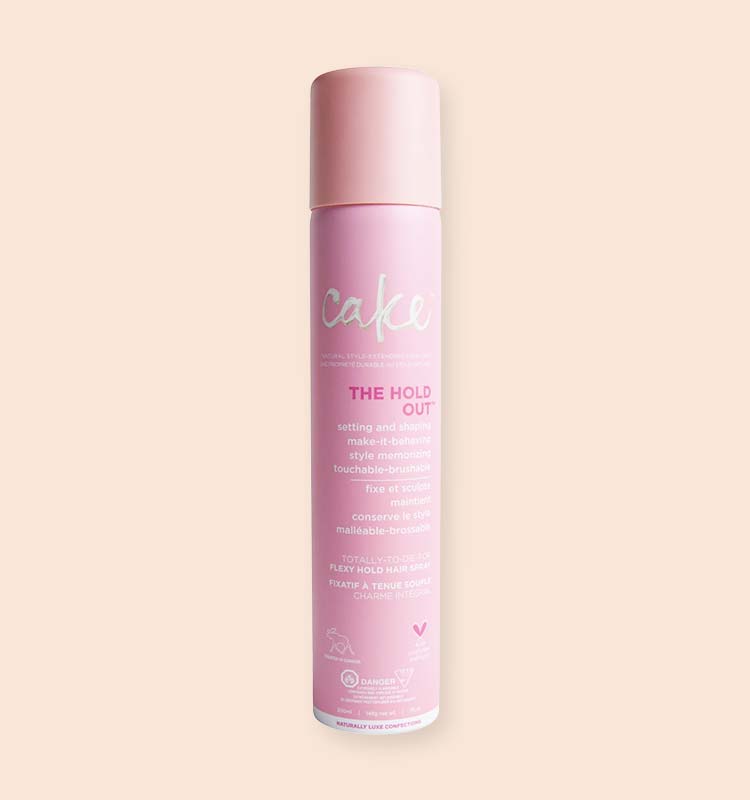 Best Budget: Cake The Hold Out Vegan Hairspray
Vegan, Formulated without Parabens, Sulfates, Phthalates, Made in Canada
Price: $11
Claims: "Show your locks who's boss with our flexible holding hair spray. Driven by beautiful natural ingredients, this light-as-air formula controls your style with touchable hold and soft volume. Style and spray to shape your desired look and hold it in place, or gently mist through your hair to add a burst of lasting volume. This natural look brushes out with total ease and maintains a memory of your sweet style even after brushing, without the harsh chemicals. Good hair days are in your control."
---
---