This post may contain affiliate links that at no additional cost to you, I may earn a small commission.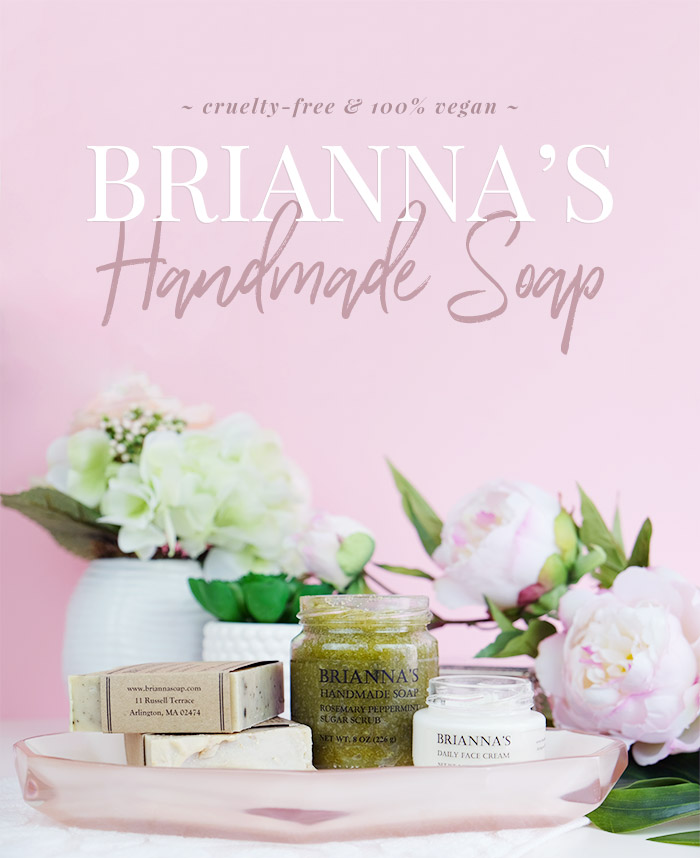 Something magical happens when you start to care a little more and that sparkle of magic is the creation and mission of Brianna's Handmade Soap!
After a spontaneous visit to a local animal farm sanctuary, Brianna decided to leave meat off her plate and soon thereafter, realized that animal ingredients (and a bunch of other not-so-good-for-you ingredients) should also be left out of our skincare and personal care products too!
And that's exactly why all of Brianna's Handmade Soap products are never tested on animals and 100% vegan where you won't find any type of animal ingredients in their products.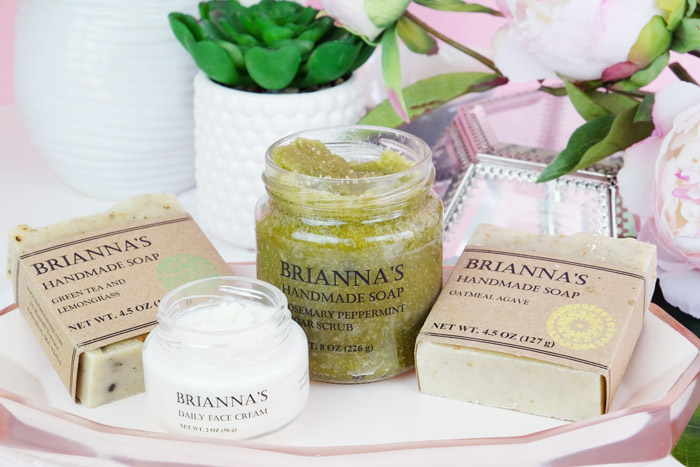 Brianna's Handmade Soap also supports and donates 5% of their profits to animal farm sanctuaries!
I've been fortunate enough to get the chance to try some of Brianna's Handmade Soap's vegan products. Keep reading for my review!
There is no reason why animals need to be harmed to create a high quality product! – Brianna's Handmade Soap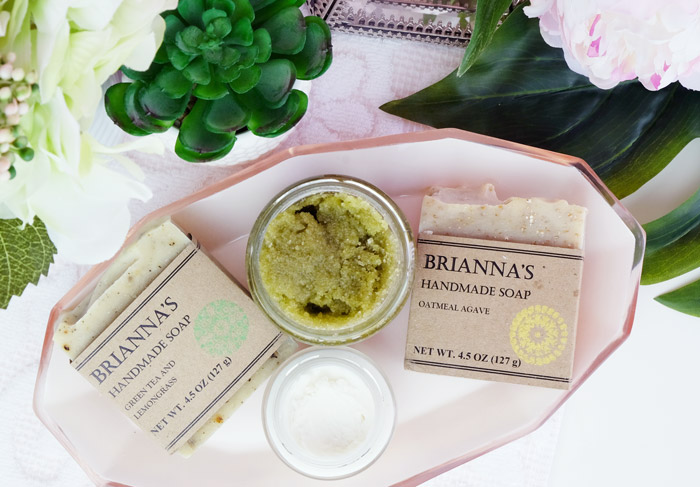 Brianna's Handmade Soap Review
Just the smell alone of Brianna's handmade soap is already an indicator to know these vegan soaps are way more natural and higher-quality compared to the 'soaps' you get at the store.
I put 'soaps' in air quotes here because the cheap ones you buy at the store aren't really soaps at all. They contain all kinds of synthetic and animal-derived ingredients (like animal fat!) that leaves your skin feeling super dry! Ever wonder why you always feel the need to slather layers of moisturizer as soon as you get out of the shower? It's your 'soap'!
What you won't find in Brianna's Handmade Soaps are any animal products, synthetic dyes, or fragrances.
These cruelty-free and vegan soaps contain only the good stuff; a blend of organic extra virgin olive oil, organic coconut oil, organic sustainably sourced palm oil, and a mix of essential oils.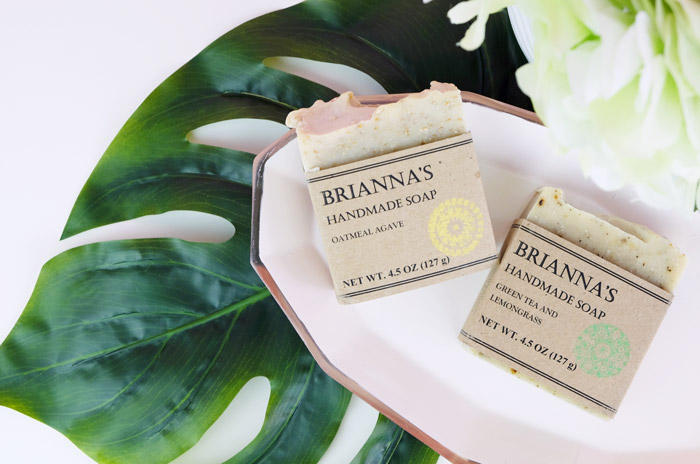 This Green Tea and Lemongrass soap is my favorite! I'm obsessed with the citrusy lemongrass smell of it, it's so soothing and relaxing to use in the shower… this will take your home spa to the next level!
The green tea leaves in Brianna's Handmade Soap provides a gentle yet effective exfoliation that is non-abrasive and pleasant to use all over your body! My skin is left feeling squeaky clean and moisturized.
Oatmeal Agave – Brianna's Handmade Soap ($5.95)
This one is equally aromatic, the smells reminds me of spicy chai tea! It's a balanced blend of sweet and spicy as it contains orange and clove essential oils.
I'm a lover of all things that contain oatmeal! The Oatmeal Agave handmade soap from Brianna's Soap is made with organic ground oatmeal to help soothe sensitive skin and is a very gentle exfoliate.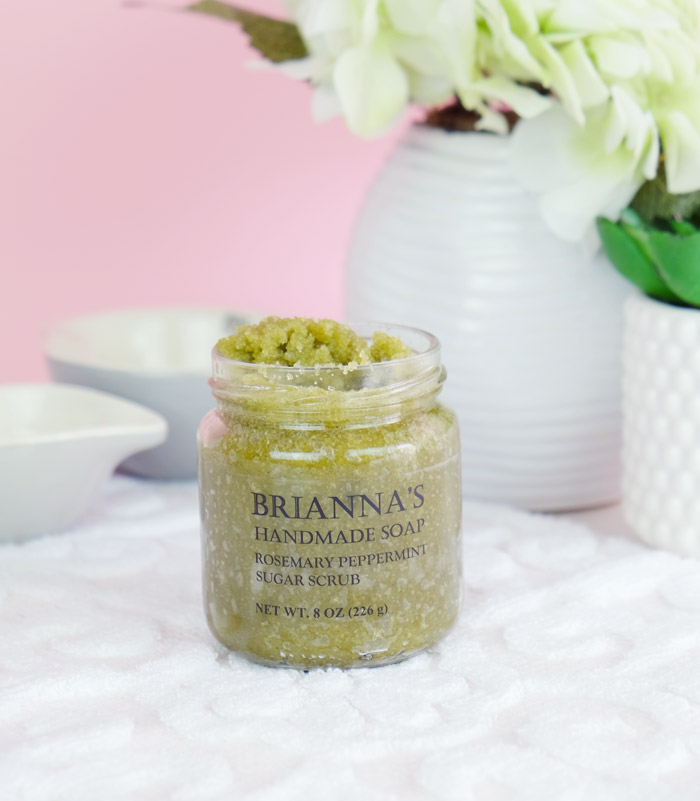 Say Bye, Felicia! to dull and dry skin with this Rosemary Peppermint Sugar Scrub by Brianna's Handmade Soap! It contains organic free-trade cane sugar which provides a gentle exfoliation but will get the job done of removing that top layer of dead skin cells, without being too abrasive or harsh. Perfect for all skin types.
After using this vegan sugar scrub, my skin felt silky smooth and ultra soft for days!! The base is organic coconut oil and I loved how this sugar scrub didn't make my bathtub slippery while and after using it and it doesn't leave an oily residue on my skin like other body scrubs I've used in the past.
Furthermore, this scrub does have an interesting smell to it. It sort of reminds me of a healthy green juice (that's probably the spirulina)!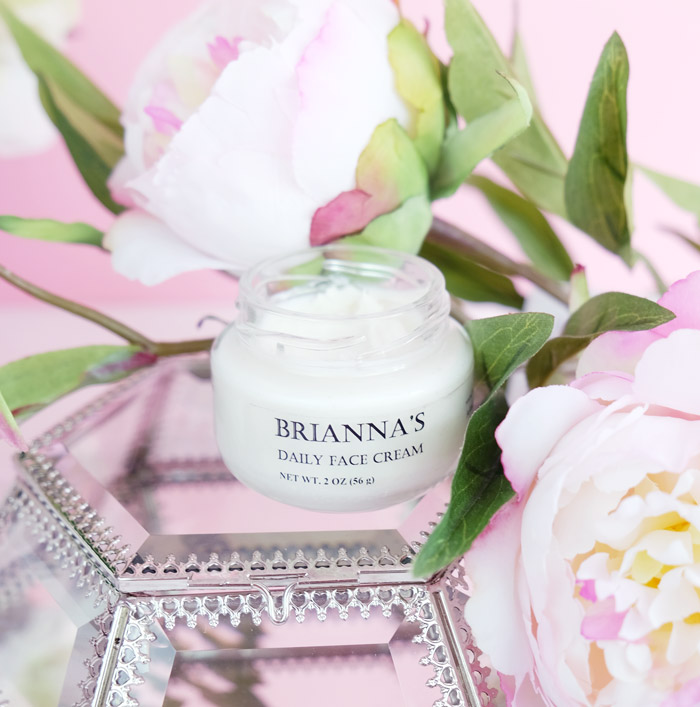 Daily Face Cream – Brianna's Handmade Soap ($11.95)
Finally! A truly fragrance-free and vegan facial moisturizer!! I've been on the hunt for a fragrance-free moisturizer for a minute now, and it's been an impossible mission trying to find one that is made with all-natural ingredients, vegan, cruelty-free, and most importantly.. one that doesn't have a smell to it!
Thank goodness for this Daily Face Cream by Brianna's Handmade Soap. It's everything I've always wanted in a fragrance-free face moisturizer! The texture is a light, airy, fluffy moisturizer that leaves your skin feeling so soft!
I've used it at night and in the morning and it also sits well underneath my makeup. The ingredients are all-natural and organic, which makes my oily and acne-prone skin very happy! This paraben-free and fragrance-free face cream is suitable for all skin types.
It's got some effective and nourishing ingredients to help smooth, hydrate, and repair skin like mango and avocado butter, carrot powder, and vitamin E oil.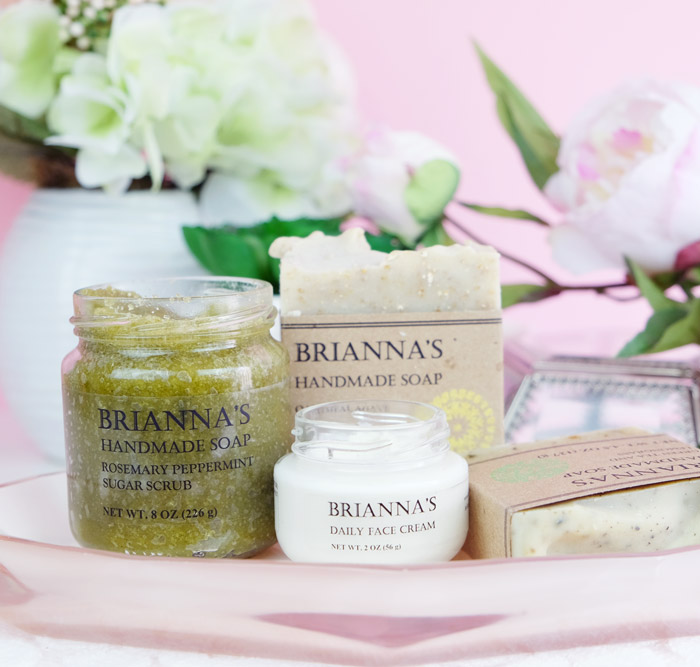 Final Thoughts
I was so impressed by the quality of Brianna's Handmade Soap vegan products! Made with all natural, organic, cruelty-free, and vegan ingredients! What more can a girl ask for!?
I also appreciated the eco-friendly packaging of all their products. The scrub and face cream came in glass jars and the soap bars are wrapped in paper, reducing excess packaging! Not to mention, it feels great to know that a portion of each sale is donated to an animal farm sanctuary too!
Want to try these products? Enter the giveaway for your chance to win all 4 vegan products from Brianna's Handmade Soap over on my Instagram.
Want to see more of Brianna's Handmade Soap? Check them out on Instagram here.
---
Disclaimer: This post was part of a sponsored opportunity. I received free product and/or payment in return for my honest review. I was not required to write a positive review nor was I compensated in any other way. All opinions expressed are always 100% my own