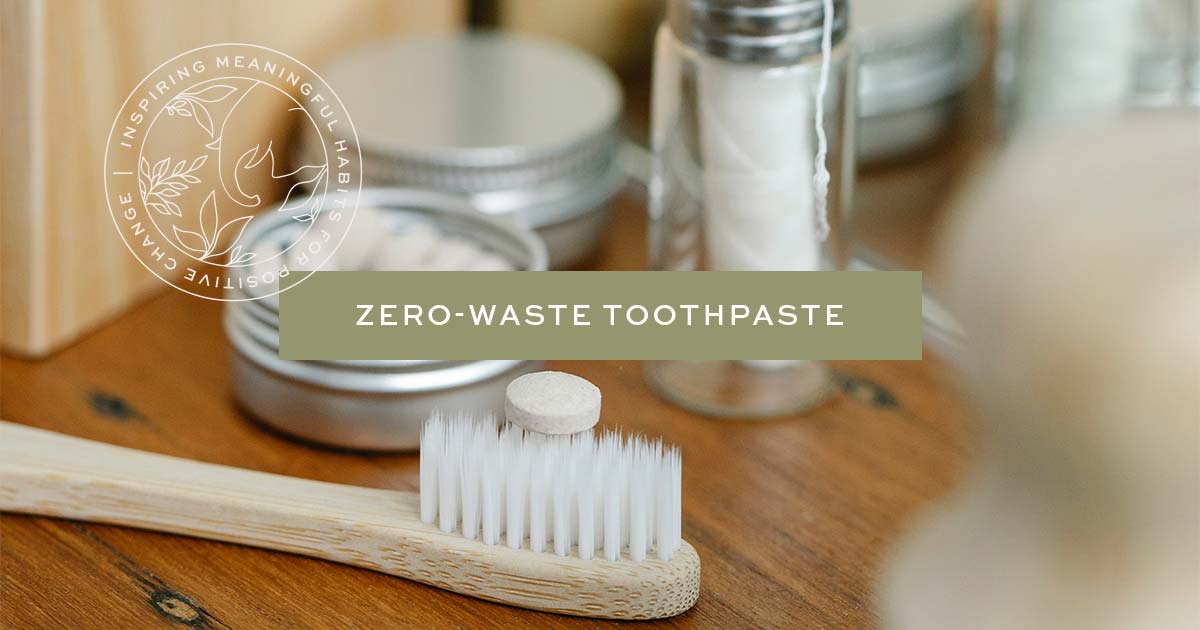 Using zero-waste toothpaste is a small but impactful step towards living a sustainable lifestyle.
Plastic toothpaste tubes can contribute to a significant amount of plastic waste that ends up in landfills and oceans. By choosing to buy zero-waste toothpaste, you can reduce your environmental impact, while still maintaining good oral hygiene.
In this eco-product guide, I share a comprehensive list of zero-waste and plastic-free toothpaste, all of which are verified cruelty-free and vegan.
Toothpaste Tablets
Toothpaste tablets are waterless toothpaste formula pressed into a pill-like tablet. To use, you simply pop a tablet into your mouth, bite and chew till it forms a paste, and then brush as usual.
Most toothpaste tablets come in plastic-free and zero-waste packaging that can be reused and refilled with any refills once you're done. Refills are usually packaged in compostable pouches. However, I noticed some companies don't offer refills where they'll send you a new jar when you repurchase. Something to keep in mind.
---
---
---
---
---
---
---
---
---
---
---
---
Recyclable Metal Tube Toothpaste
If you prefer a toothpaste that is as close to conventional toothpaste tubes, where you squeeze a pea-size amount out of the tube onto your toothbrush, then toothpaste packaged in these recyclable metal tubes may be for you.
Unlike conventional plastic toothpaste tubes made from multi-layers of plastic and cannot be recycled, these metal tubes of toothpaste are recyclable.
---
---
Toothpaste in Glass Jar
Taking a conventional toothpaste formula and putting it in a glass jar is another solution to eliminating plastic toothpaste tubes. To use, either scoop some toothpaste onto your toothbrush or dip your toothbrush directly into the jar and brush as usual.
---
---
---
Toothpaste Powder
Some may prefer to use a toothpaste that's in a powder format as research indicates that powder is more effective at removing stains and plaque than toothpaste. However, tooth powder usually doesn't contain fluoride.
From a sustainable packaging standpoint, unlike toothpaste in a jar or metal tube, tooth powders have refills available. That way, you can reuse and refill your glass or aluminum jar.
---
---
---
---
Why Zero-Waste Toothpaste Matters
Reduces Plastic Waste
Traditional toothpaste tubes are made of plastic and aluminum and are not recyclable. They take hundreds of years to decompose, contributing to the growing problem of plastic waste in the environment. Zero waste toothpaste, on the other hand, comes in sustainable packaging such as glass jars, metal tins, or compostable pouches. These packages are reusable, recyclable, or biodegradable, reducing the amount of plastic waste that ends up in landfills and oceans.
Natural Ingredients
Most traditional toothpaste contains chemicals such as Sodium Lauryl Sulfate (SLS), triclosan, and microbeads, which can be harmful to our health and the environment. SLS can irritate the skin and cause mouth ulcers. Triclosan is an antibacterial agent that can disrupt hormones and contribute to the development of antibiotic-resistant bacteria. Microbeads are tiny plastic particles that can be harmful to marine life when they end up in oceans. Zero waste toothpaste, on the other hand, uses natural ingredients such as baking soda, coconut oil, and essential oils, which are safe for our health and the environment.
Saves Money in the Long Run
Zero waste toothpaste may seem more expensive than traditional toothpaste at first glance, but in the long run, it can save you money. Most zero waste toothpaste comes in a concentrated form, meaning you need less toothpaste per use. They also come in larger sizes, reducing the frequency of repurchasing toothpaste. Moreover, some zero waste toothpaste brands offer refill options, allowing you to reuse the packaging and save money on repurchasing.
Conclusion
Switching to zero waste toothpaste is a small but impactful step towards living a sustainable lifestyle. It can reduce plastic waste, eliminate harmful chemicals, and save you money in the long run. By choosing a zero waste toothpaste brand that fits your needs and preferences, you can take care of your oral hygiene while taking care of the environment.