This post may contain affiliate links that at no additional cost to you, I may earn a small commission.
It's no secret that I love doing my nails with my weekly #VeganManiMonday posts but in an effort to go zero waste and live more sustainably, I'm trying to find ways on how I can reduce waste without giving up my nail polish addiction.
In this post, I'm sharing some zero waste and sustainable nail products that are better for the environment, including a list of non-toxic & vegan nail polishes I recommend, as well as, nail polish removers and reusable nail polish remover pads.
Zero Waste Manicure
The very first thing to going zero waste is to simply use up what you currently have! And when it's time to dispose of used or old polish, we need to be mindful of what happens to them after their life cycle.
So before we get into the list of eco-friendly nail products, let's first begin by answering.. is nail polish recyclable?
Are Nail Polish Bottles Recyclable?
Unfortunately, most curbside recycling programs don't accept nail polish bottles because they're considered hazardous waste and can't be recycled.
For example, in Vancouver, Canada, my local curbside recycling does not accept nail polish bottles and instruct they belong in the trash bin.
(If you know of any creative ways to reuse or upcycle old nail polish or their bottles, please let me know!)
Although you may be able to find a recycling facility in your area that accepts empty glass nail polish bottles but note that most nail polish lids and brushes aren't recyclable.
With that being said, it's best to look for non-toxic and sustainable nail polish bottles made with recyclable lids, or purchase from brands that have a recycling program.
Eco-Friendly, Vegan Nail Polish
Unfortunately, there isn't a zero-waste nail polish on the market as nail lacquer is essential a polymer aka plastic. So, if you want a truly zero-waste manicure, you may have to skip applying nail polish altogether.
I personally love doing my nails and it's not something I'm willing to give up yet. And from my research, there are some ways we can shop more consciously to minimize our environmental impact.
Buying nail polish that is non-toxic, vegan, and 10-free is one of the best ways to protect the planet, animals, and our health.
10-free nail polish means they are free from 10 harmful ingredients including formaldehyde, toluene, DBP, camphor, formaldehyde resin, xylene, parabens, fragrances, phthalates, or ingredients derived from animals.
You'll also want to avoid glitter nail polish, even if they claim to be 10-free and vegan. Glitter in nail polish are essentially micro-plastics that don't break down and end up in our oceans.
So, ditch the chemical and glitter nail polish and choose these non-toxic, vegan, and sustainable nail polish brands instead:
Wooden Cap Vegan Nail Polish Bottles
As mentioned earlier, nail polish bottle caps are not recyclable. Some cruelty-free & vegan nail polish brands have swapped out non-recyclable plastic lids with wooden caps that can be taken off and recycled.
Habit Cosmetics, Zao Organics and Nails Inc. offer non-toxic and vegan nail polish with wooden, recyclable bottle caps.
But Sienna is my overall favourite vegan & sustainable nail polish brand, reason's why I love Sienna: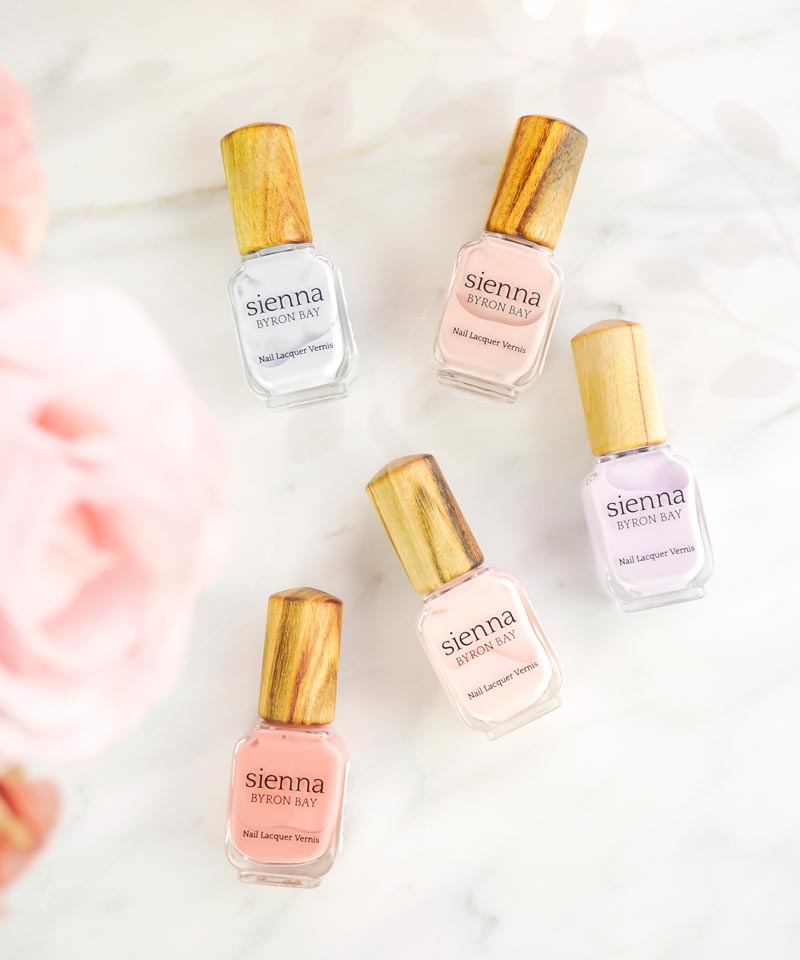 Sienna is a Certified B Corporation making vegan & sustainable nail polish. Their nail polish caps are made from a local, non-native weed wood. Sienna nail polish formula are non-toxic, vegan, and cruelty-free and they refuse to use micro-plastic and glitter in their production.
Their head office and warehouse uses 100% renewable energy and everything they produce is within Australia to keep their carbon footprint low.
Sienna's packaging is 100% recyclable, printed on 100% local recycled stock, and they also offer an in-house recycling program where customers can return their empty bottles.
---
Vegan Nail Polish Brands with Recycling Programs
In addition to Sienna offering a recycling program for their customers, I found some more cruelty-free & vegan nail polish brands that also offer their own recycling programs.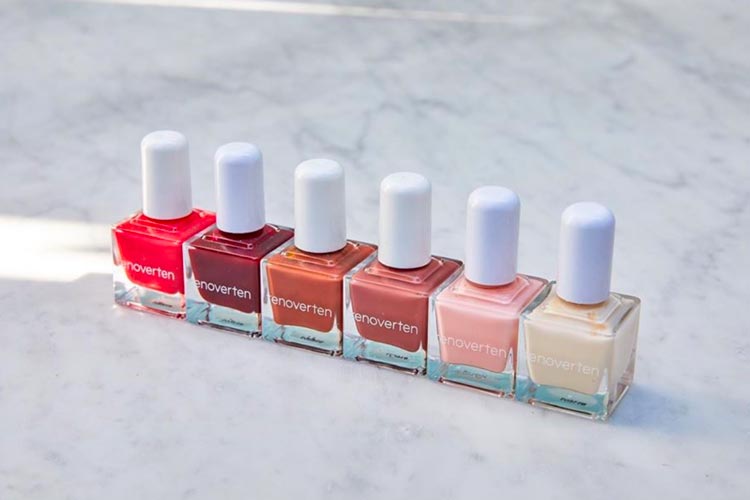 tenoverten is a female-owned, non-toxic nail salon with locations in New York, Los Angeles, and Austin. tenoverten also offers a range of 8-free, cruelty-free, and vegan nail polish.
In addition, tenoverten has partnered with Chemwise to recycle old nail polish bottles including plastic caps and brushes. Bring any old polish bottles from any brand to their salon and they'll recycle them for you.
Based in LA, Côte also offers its customers 10% off their next purchase when they bring in their used and old polish to be recycled.
During Earth Month, Zoya lets customers ship any brand's nail polish bottles to them and exchange it for a new Zoya nail polish with a $5 credit for every bottle exchanged.
---
Eco-Friendly Vegan Nail Polish Brands
If you're unable to find vegan & non-toxic nail polish with wooden or recyclable bottle caps or ones that offer a recycling program, then look for brands that are consciously doing business sustainably. Read the About section of their website and buy from brands that have a social and environmental policy like Kester Black.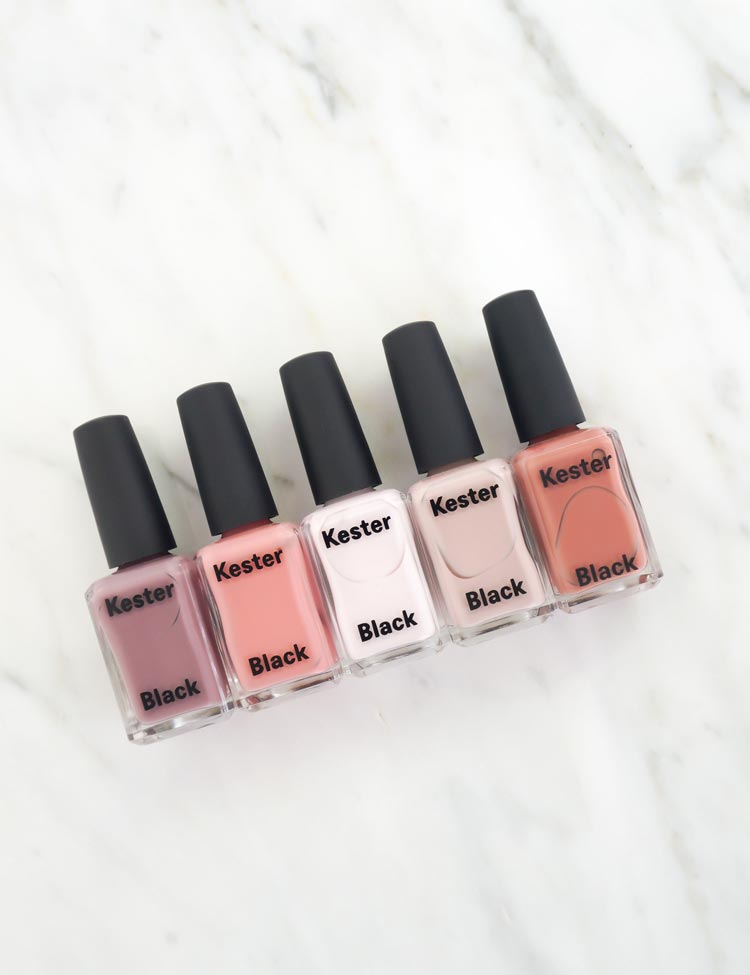 Kester Black is also a B Corp certified, sustainable, and vegan nail polish brand. The company and all of their products are 100% certified carbon neutral, cruelty-free, and vegan.
Their water-permeable and breathable nail polish are 10-free and do not contain formaldehyde, toluene, DBP, camphor, formaldehyde resin, xylene, parabens, fragrances, phthalates and animal derived or tested ingredients.
Kester Black designs with the end-life of their products in mind and uses as much recyclable packaging as possible, all of their shipping boxes are made of 100% uncoated recycled stock and printed with soy inks, and their shipping bags are made from recycled limestone.
In addition, Kester Black also donates 2% of all revenue to social causes.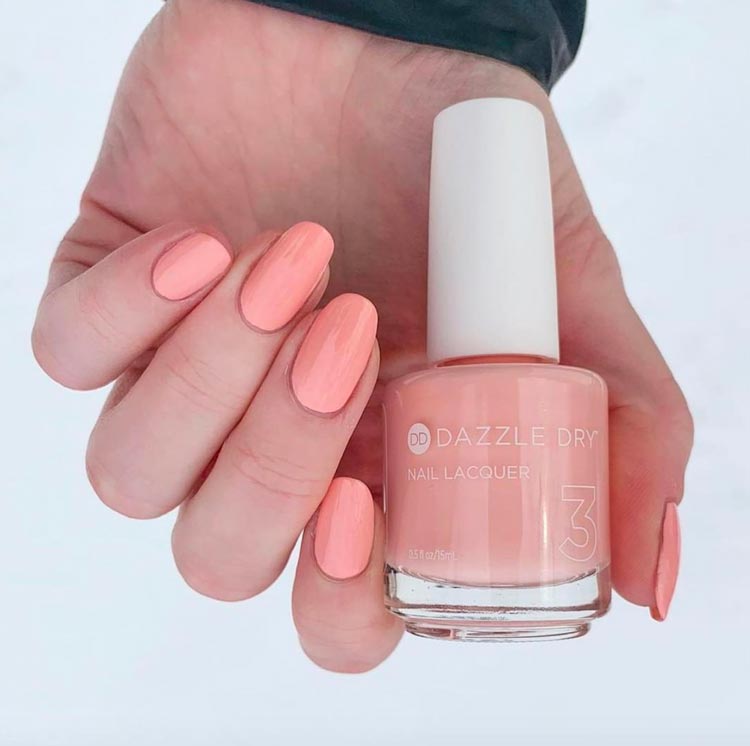 Dazzle Dry is also another brand I recommend, developed by a bio-organic chemist, their non-toxic and vegan nail care system is formulated without nitrocellulose meaning they will never expire so that you can use up the bottle till the very end thereby reducing unnecessary waste.
In addition, Dazzle Dry uses eco-conscious packing materials like biodegradable packing peanuts and their manufacturing facilities have rigorous recycling methods in place to reduce landfill trash. They're also phasing out single-use plastics and have partnered with WeForest Project where they plant a tree for every purchase made.
Mineral Fusion's CarbonFree™️ nail polish is another great eco-friendly option that I would recommend, especially because they're affordable and accessible where you can find their products at the drugstore. Mineral Fusion has partnered with CarbonFund.org to neutralize their impact on the planet.
By calculating the carbon emissions created when producing their nail polish, Mineral Fusion then contributes funding to energy efficiency, forestry, and renewable energy projects to offset their emissions.
---
Zero Waste Nail File – Glass File
My mom gifted me a glass nail file 8 years ago and I've been using it ever since. It's still holding up wonderfully and I haven't had to use or repurchase anymore nail filers since.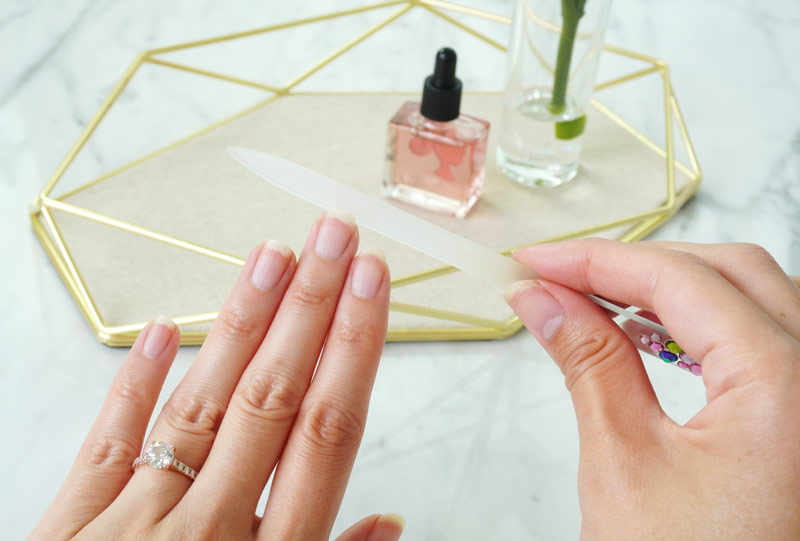 Glass files, also known as crystal files, are chemically-treated, tempered pieces of glass that gently buffs your nails down and seals the keratin layers at the edge of the nail, preventing breakage and chipping.
And unlike super-gritty nail files that can be too rough and end up tearing the edge of your nails, glass files are more gentle with its smooth but sturdy surface.
They're also super easy to clean with just soap and water so you can easily reuse your glass file over and over again.
Where to buy a crystal file? Amazon sells a bunch of glass files but note some come in excessive and/or plastic packaging.
If you're shopping on Amazon, try and find one with minimal packaging. Although it is glass, it's very sturdy and won't break so you don't need a plastic case.
I keep my glass file in a velvet-like pouch that it came with, similar to this one on Amazon.
Sienna Byron Bay also offers a zero-waste glass nail file.
---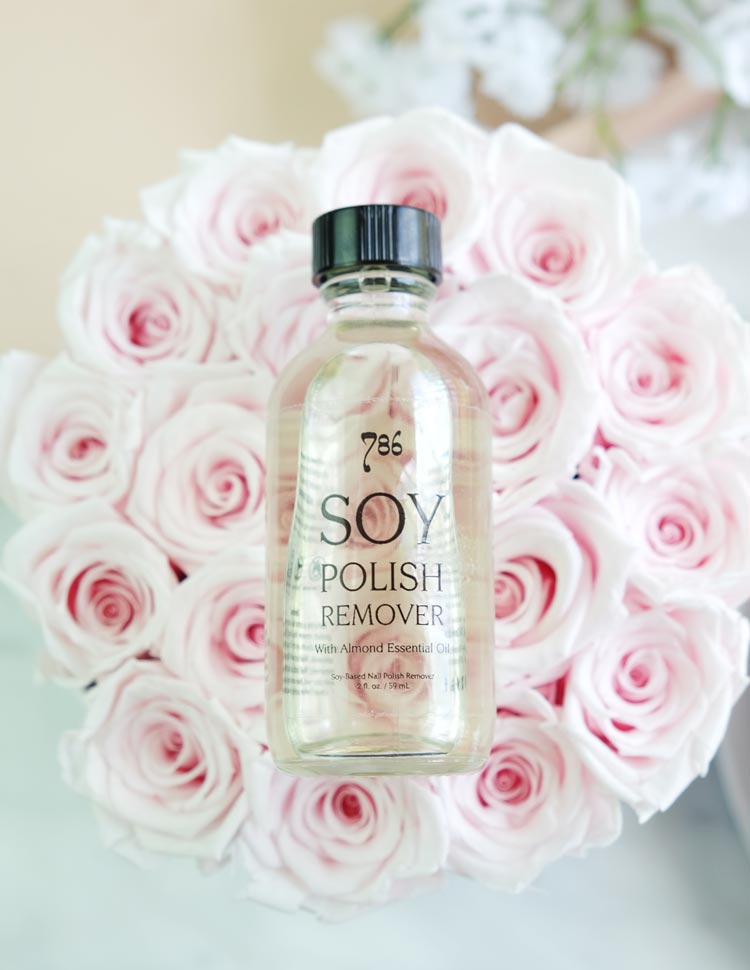 Zero Waste Nail Polish Remover
I've switched over from acetone nail polish remover to soy and water-based nail polish remover and my nails are much happier for it.
Although water-based, natural nail polish remover does take more time and patience compared to chemical and acetone nail polish removers, but they're way more gentle on my nails, doesn't dry them out, and they don't have that strong chemical smell too.
Look for soy and zero-waste nail polish removers packaged in glass bottles that can be reused or recycled, I recommend 786 Cosmetics, Karma Naturals, Sienna, and Priti NYC.
---
Zero Waste Nail Polish Remover Pads
Swap cotton pads and balls with reusable nail polish remover pads like the Bamboo Rayon Felt ones I recently got from Etsy.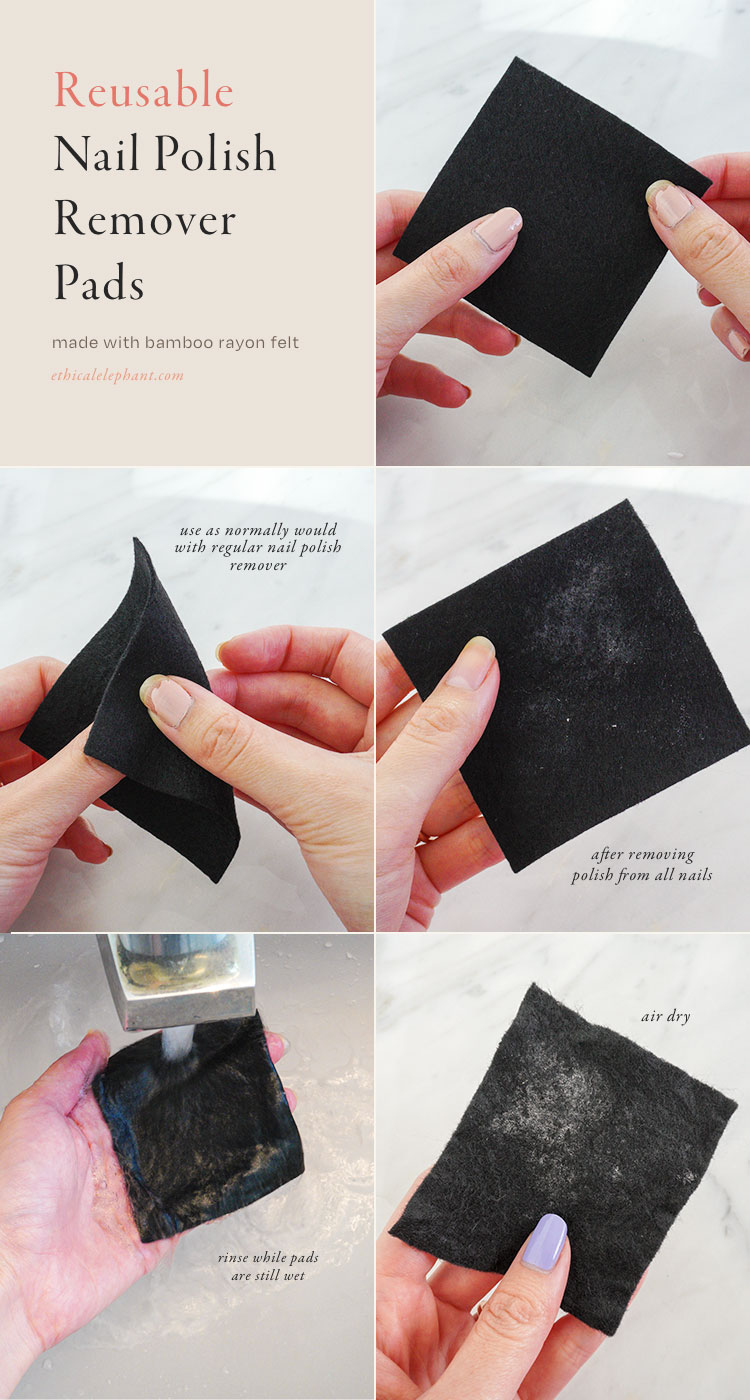 I've reused these zero-waste nail polish remover pads countless times and they're well worth it in my opinion as they've saved many single-use cotton pads from sitting in the landfill.
Use the reusable nail polish remover pads the same way as you would with regular cotton pads and then once you're done, rinse them under water without soap and let them air dry.
I've reused mine for well over a month now and although they may not look the nicest after several uses, they're still holding up perfectly fine and no one is going to see them but me.
Vegan Tip: Some reusable nail polish remover pads are made with wool felt, so be sure to look for ones made with other materials like bamboo rayon for an animal-free alternative.
---
So there you have it! Some of my zero waste tips and sustainable nail products that I would recommend to living your BEST ethical life!