This post may contain affiliate links.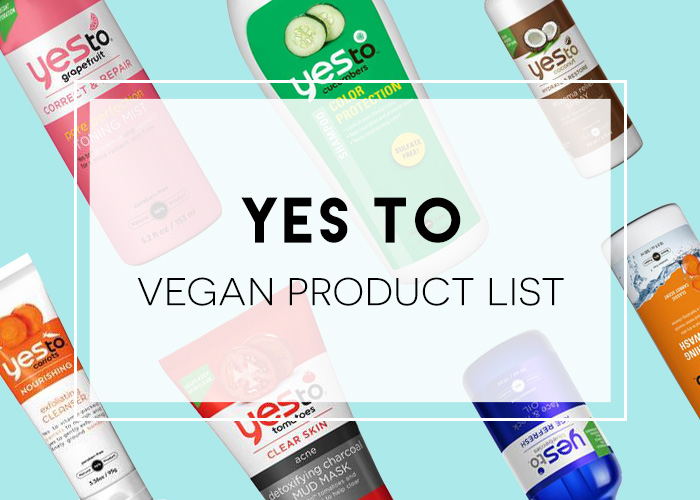 YES TO is an affordable cruelty-free skincare brand that is mostly vegan. They have 6 different product lines formulated to your unique skincare needs, including one just for babies! YES TO products are made with at least 95% natural ingredients, free of parabens, phthalates and SLS, and made with recyclable materials too!
YES TO Not Tested On Animals
YES TO is certified cruelty-free by Leaping Bunny. YES TO's animal testing policy taken directly from their website reads:
Our products are tested on YES TO employees, friends and family, but never (ever) on animals. We are against animal testing and ensure our manufacturers adhere to this same principle. YES TO believes in safe and effective testing alternatives, while ensuring product and consumer safety.
YES TO Product Lines
YES TO Carrots – for normal-to-dry skin and hair types
YES TO Cucumber – for sensitive skin types and color-treated hair
YES TO Tomatoes – for oily/combination skin types and fine/thin hair
YES TO Blueberries – formulated to fight the signs of aging
YES TO Grapefruit – to correct and repair
YES TO Coconut – to hydrate and restore
Where to Buy Yes To
You can find YES TO products at drugstores and supermarkets like Target, Walgreens, Walmart, CVS, Safeway and in Canada, they are only available at Shoppers Drug Mart. Check their store locator to find YES TO stockists in your country!
YES TO Vegan Product List 2015
I emailed the company asking if their products were vegan and they've informed me that "The only products in the Yes To lines which contain ingredients derived from animals are beeswax, honey and silk amino acids. These ingredients are derived naturally." 
Below you will find a list of Yes To products that do not contain any beeswax, honey, and silk amino acids and are therefore vegan-friendly!
YES TO Carrots
FACE
-Daily Cream Facial Cleanser
-Daily Facial Moisturizer with SPF 15
-Exfoliating Cleanser
-Fragrance Free Daily Facial Moisturizer SPF 15
-Fragrance Free Daily Cream Facial Cleanser
-Fragrance Free Exfoliating Cleanser
-Fragrance Free Wipes
BODY
-Super Rich Body Butter
-Intense Repair Hand Cream
-Daily Moisture Body Lotion
-Nourishing Body Wash
HAIR
-Nourishing Conditioner
Yes to Baby Carrots
-Baby Shampoo + Body Wash
-Baby Face + Nose Wipes
Yes to Blueberries
FACE
-Cleansing Facial Wipes
-Deep Wrinkle Night Cream
-Daily Repairing Moisturizer
-Daily Repairing Moisturizer with SPF 30
-Face & Neck Oil
-Foaming Facial Cleanser
-Intensive Skin Repair Serum
-Softening Facial Exfoliator
BODY
-Ultra Hydrating Body Wash
-Shea Liquid Hand Soap
HAIR
-Healthy Hair Repair Conditioner
-Healthy Hair Repair Shampoo
Yes to Grapefruit
FACE
-CC Cream – Light
-CC Cream – Light/Medium
-Brightening Facial Wipes
-Daily Facial Scrub
-Dark Spot Correcting Serum
-Even Skin Tone Moisturizer with SPF 15
-Pore Perfection Night Treatment
-Pore Perfection Toning Mist
-Pore Perfection Paper Mask
BODY
-Exfoliating Body Wash
-Basil Liquid Hand Soap
-Rejuvenating Body Wash
Yes to Cucumber
FACE
-Daily Calming Moisturizer with SPF 30
-Eye Makeup Removing Pads
-Cooling Hydrating Mist
-Gentle Milk Cleanser
-Calming Night Cream
-Soothing Daily Calming Moisturizer
-Daily Gel Cleanser
-Soothing Eye Gel
-Facial Wipes
BODY
-Natural After-Sun Serum (With Shimmer)
-Eucalyptus Liquid Hand Soap
-Soothing Body Wash
HAIR
-Color Protection Shampoo
-Color Protection Conditioner
Yes to Coconut
BODY
-Cleansing Wipes
-Coconut Oil Body Wash
-Eczema Relief Spray
-Polishing Body Scrub
-Protecting Hand and Cuticle Cream
-Ultra Light Spray Body Lotion
HAIR
-Curl Defining Hair Smoother
-Ultra Moisture Shampoo
-Ultra Moisture Conditioner
Yes to Tomatoes
BODY
-Acne Clearing Facial Toner
-Acne Control Gel Cleanser
-Blemish Clearing Facial Wipes
-Clearing Facial Mask
-Detoxifying Charcoal Cleanser
-Dexotifying Charcoal Mud Mask
-Daily Balancing Moisturizer
-Daily Clarifying Cleanser
-Daily Pore Scrub
-Daily Repair Treatment
-Roller Ball Spot Stick
BODY
-Acne Fighting Body Wash
-Activated Charcoal Bar Soap
Have you tried anything from any of YES TO's product lines? Let us know what you'd recommend!