This post may contain affiliate links that at no additional cost to you, I may earn a small commission.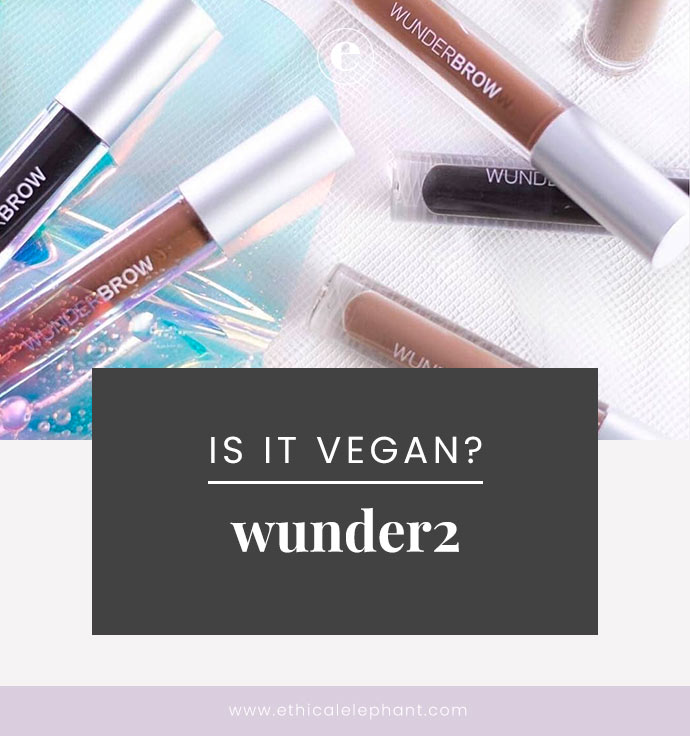 Wunder2, the makers of WunderBrow, offers long-lasting, waterproof, smudge-proof, and high-performance products to take the worry out of makeup. But is Wunder2 cruelty-free, vegan, or sustainable? I've got the answers here!
Is Wunder2 Cruelty-Free?
Wunder2 is Cruelty-free! None of Wunder2's ingredients, formulations, or finished products are tested on animals, anywhere in the world.
In addition, both WunderBrow and Wunder2 are certified cruelty-free by Leaping Bunny.
Wunder2 Animal Testing Policy
Wunder2 and WunderBrow are both certified cruelty-free by the Leaping Bunny Program. This means they have both verified with Leaping Bunny that none of their products or ingredients are tested on animals, by them or commissioned to a third party on their behalf, and they have verified with their manufacturers and raw material suppliers to ensure they're also not testing on animals.
Below is a screenshot of Wunder2's official animal testing statement: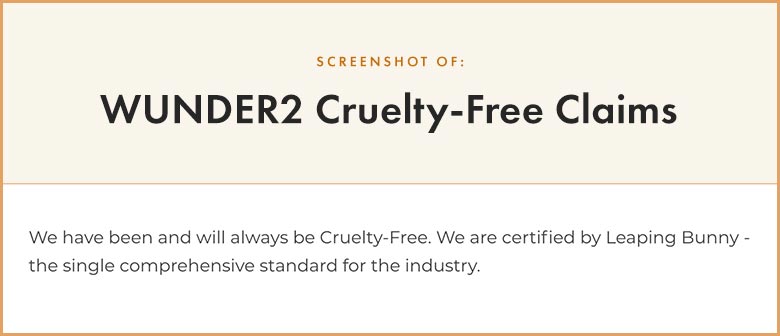 Is Wunder2 Sold in China?
Most imported cosmetics sold in mainland China are required by law to be tested on animals in 2021. However, WunderBrow and Wunder2 have confirmed they do not sell their products in retail stores in mainland China and therefore they are not required to test on animals.
WunderBrow and Wunder2 have met all of our criteria in our Cruelty-Free Checklist and is included on our List of Cruelty-Free Brands.
You can find their cruelty-free products at Ulta and on Amazon.
Is Wunder2 or WunderBrow Vegan?
Not all of Wunder2 products are vegan as some contain keratin, carmine, silk powder, beeswax, and/or other animal-derived ingredients. Some of Wunder2 makeup products are considered vegan and don't contain any animal-derived ingredients or by-products.
WunderBrow's most popular product, WunderBrow Eyebrow Gel is vegan!
Below is a list of Wunder2's vegan products.
The following is a screenshot of what's currently stated on Wunder2's official website about its vegan products: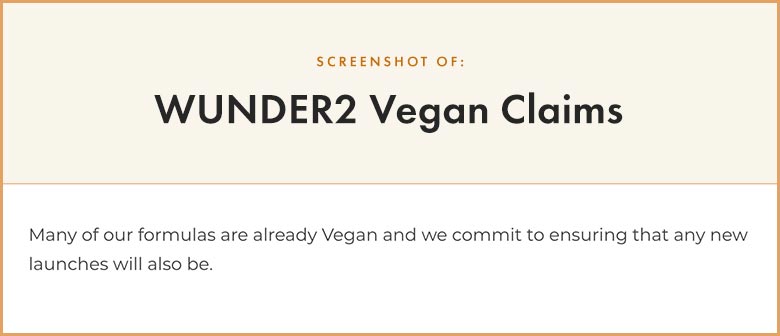 You can also find out which of their products are vegan as they're all marked accordingly on their website under each product description. See below for an example.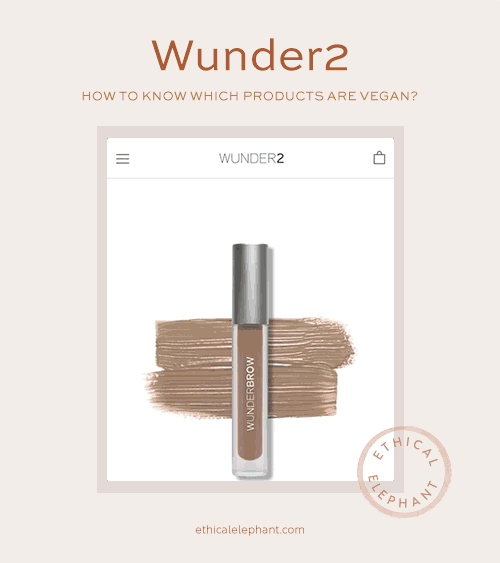 Wunder2 Vegan Product List
As of 2021, I will no longer be regularly updating this list of Wunder2 vegan products as all of their vegan products are now clearly marked. Check their website for the most up-to-date and accurate information on which products are vegan or not.
The following Wunder2 products are suitable for vegans and do not contain any animal-derived ingredients or by-products.
Not Vegan – Wunder2
The below Wunder2 products are not suitable for vegans as they contain animal-derived ingredients.
Fiber Filler (contains Hydrolyzed Keratin) – not vegan
Glitter Gelly – not vegan
Prime & Behold – not vegan
Pure Pigments (contains carmine) – not vegan
Super Stay Stick Eyeshadow (contains silk powder) – not vegan
Super Stay Liners – Essential Navy, Glitter Aubergine, Glitter Pink (contains carmine) – not vegan
Super Stay Liquid Eyeliner (contains carmine) – not vegan
WunderExtensions Volumizing (contains beeswax) – not vegan
WunderKiss Essential Lip Scrub (contains beeswax) – not vegan
WunderKiss Lip Plumping Gloss (contains Chondroitin and C10-30 Cholesterol/Lanosterol Esters) – not vegan
WunderKiss Professional Lip Plumping Gloss (contains Chondroitin and C10-30 Cholesterol/Lanosterol Esters) – not vegan
---
Is Wunder2 Sustainable?
Wunder2's headquarters is based in: UK
Wunder2's products are manufactured in: different locations, US and Italy are among them.
"We produce our products in a couple of different locations. The US and Italy are among them. Was there a particular product you are inquiring about?"
Wunder 2 does not claim to be a sustainable company.
Additionally, I wasn't able to find any available information on Wunder2's sustainability, environmental, and social initiatives.
Eco-Friendly Packaging Initiatives: "In 2020, we are relaunching our WUNDER2 product boxes, ensuring that they are RECYCLABLE."
Is Wunder2 Mica Ethically-Sourced? Wunder2 claims their mica is ethically-sourced without the use of child labor.
"Thanks for your inquiry, we are indeed very proud of our cruelty free certification, and our commitment to responsible production extends to our ingredients. Our suppliers source their mica through many means, but all of our suppliers warrant to us that they only obtain this mineral using ethically sourced manners, and all of our suppliers either directly subscribe to or follow in practice the Responsible Mica Initiative. While we do not undertake regular audits, we do engage them regularly to ensure that they don't stray from this policy."
---
I hope this article helped you to understand WunderBrow's cruelty-free and vegan status and by choosing cruelty-free together, we can help end animal testing for cosmetics once and for all!