This post may contain affiliate links that at no additional cost to you, I may earn a small commission.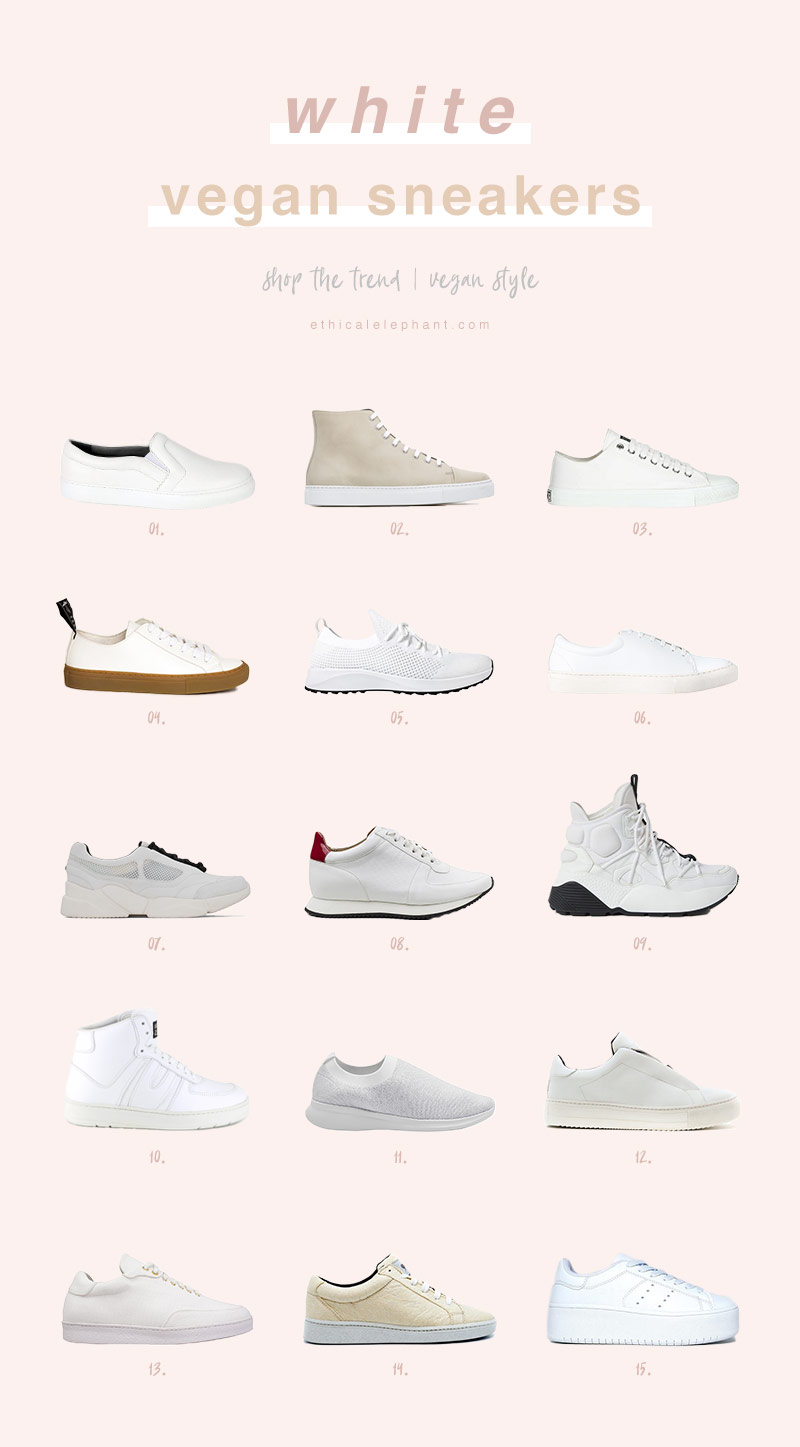 The white sneaker trend is turning out to not just be a seasonal trend after all and becoming more of a staple in our wardrobe. An all-white sneaker is practical as it is comfortable and incredibly versatile where you can pair them with jeans and a tee or a flirty dress. The styling options are endless when it comes to a pair of clean white sneakers.
White sneakers come in a variety of styles that can all be dressed up or down. Some sneakers are made with white leather that adds a touch of luxury and sophistication to a casual footwear while others are made with flexible and breathable materials like canvas and knit.
I definitely recommend investing in a good quality, made-to-last ethical and vegan sneaker as you'll find yourself wearing them often, they go with pretty much everything and anything in your wardrobe. So a great pair is definitely worth the investment in my books!
Other white sneakers on the market may not be vegan as they are made from materials derived from animal hide (aka leather). To help you find your next pair of white vegan sneakers, I've rounded up some of my favorite styles and created this list of 15 all-white vegan sneaker guide for every budget and style. Most styles are also unisex.
White Vegan Sneakers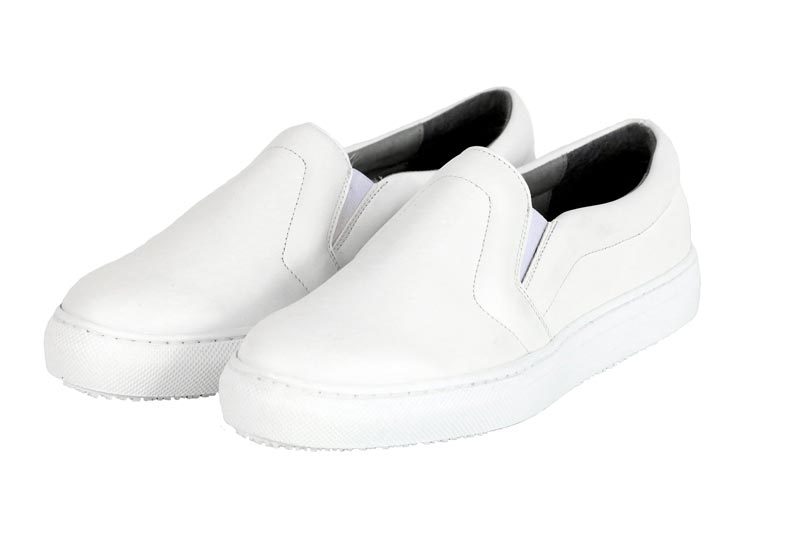 01. Malkia White, BAHATIKA (€89) – Ain't nobody got time for laces! These classic white slip-on vegan sneakers feature vegan leather upper and the inner lining consists of an antibacterial, sweat and breathable Microfiber material. Made in Spain.
02. Alex Ivory, Bourgeois Boheme (£78.00) – These off-white high-top vegan sneakers from Bourgeois Boheme was inspired by the classic basketball sneakers. "Hand–crafted in Portugal with full-grain vegan leather and set on a comfortable recycled rubber sole. A simple and streamlined silhouette for extreme versatility. Lined with Bio-Polyoils."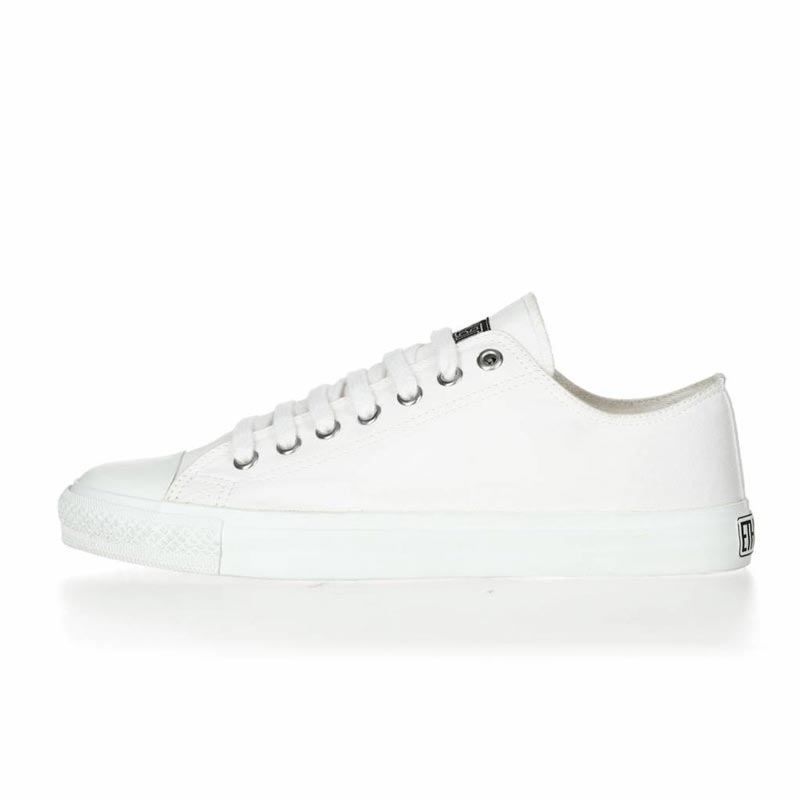 03. Fair Trainer White Cap Lo Cut, Ethletic Fair (€64,90) – A fair, vegan, and sustainable take on the classic Converse shoes, these all-white sneakers from Ethletic are made of organic cotton from small farmers in India and the sole are made of natural FSC-certified fairly traded rubber from small farmers in Sri Lanka. Ethletic products are made solely from resources of certified Fairtrade supply chains ensures that premiums are received by participating producers and manufacturers every step of the way. Ethletic products are made using only sustainable resources.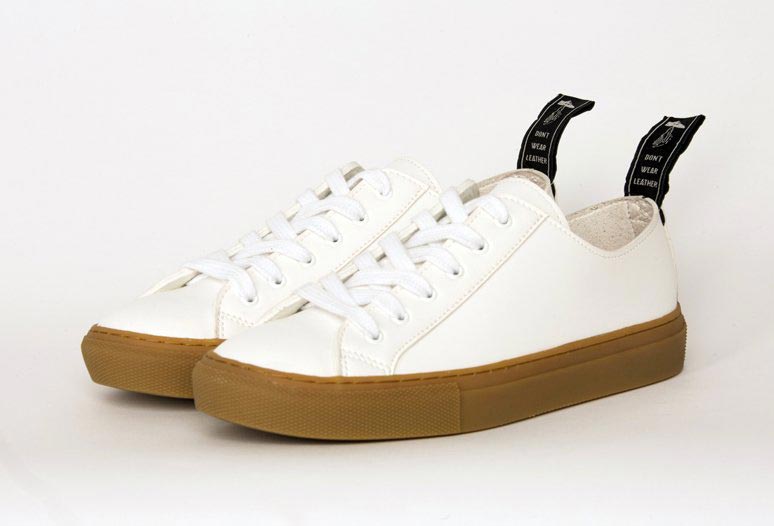 04. SAMO – White/Brown Sole Vegan Leather , Good Guys (€110) – Add some color to your classic white vegan leather lace-up sneakers with a brown rubber sole for a chic contrast.
05. Ultralite Knit Sneaker – Mercury, Native Shoes ($100) – "Take our proven Mercury formula, update the waste-free 3D knit construction with recycled threads and place a dreamy, kinetically superior Dynalite foam, add anti-microbial linings, and enjoy amongst friends."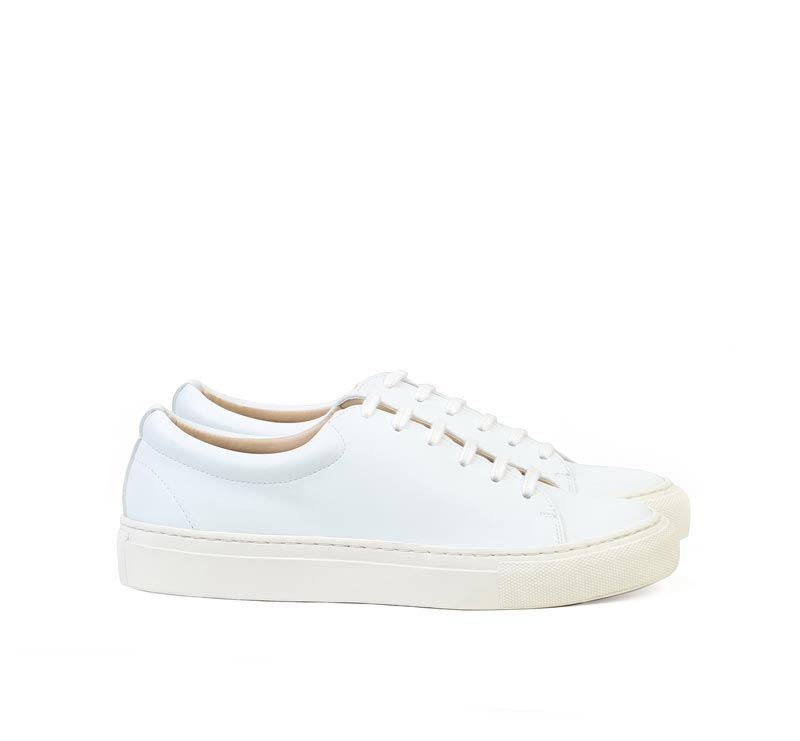 06. Low Sneaker White, Sydney Brown ($310) – A clean and minimal silhouette, these white vegan low sneakers are made with faux-nappa, organic cotton laces, synthetic liner made from recycled plastic bottles, and a cork-covered, recycled-fiber insole.
07. Lace Up Sneakers – GIA, Matt & Nat ($110) – If you love chunky kicks, these white vegan sneakers are for you featuring black contrasting laces and trim detail.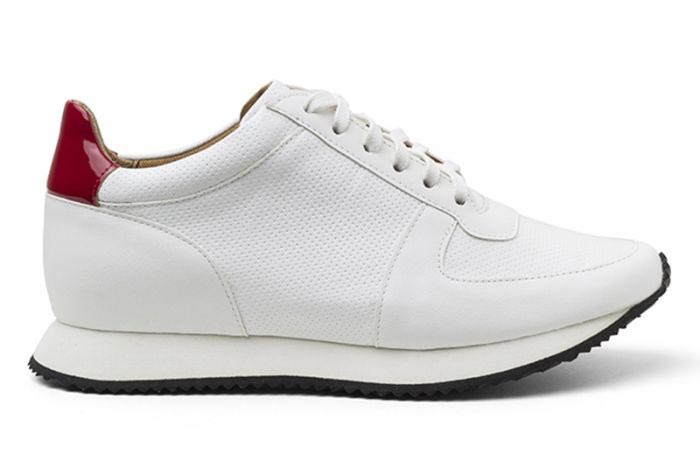 08. Paola, Ahimsa ($150, On Sale! $99) – "A casual sneaker, inspired on early jogging shoes. It combines different materials, and textures, to create a unique look. A light and flexible sole, adds practicality for everyday use. Vegan, ethically hand made with love in Brazil."
09. Eclypse High-Top Sneakers, Stella McCartney ($765) – We love all things Stella McCartney and these high top vegan sneakers are definitely on our wishlist. Made from 67% polyurethane and 33% polyester. Made in Italy.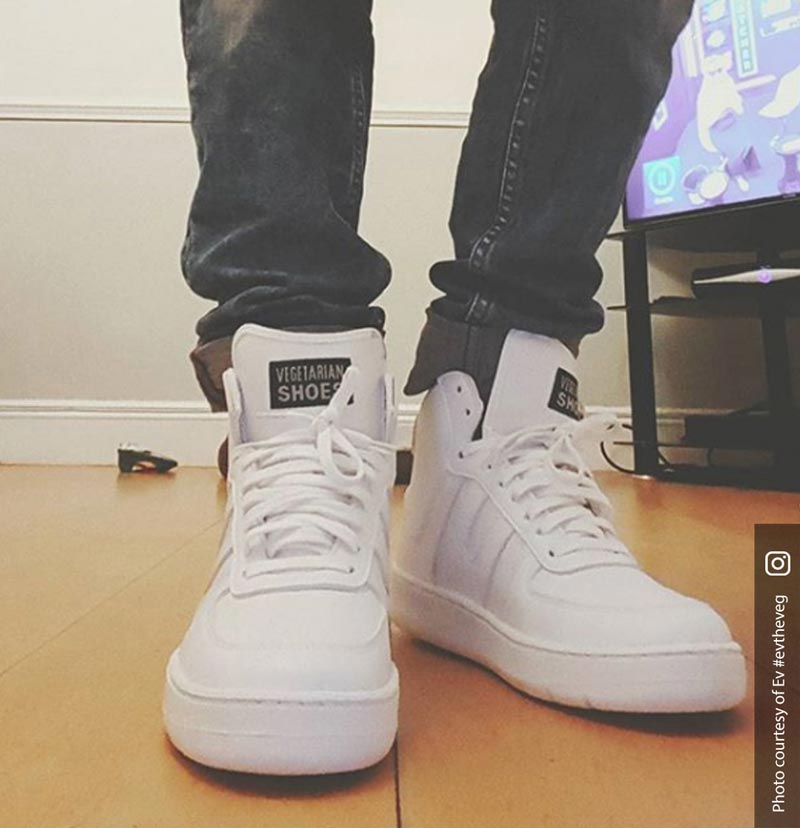 10. Veg Supreme Hi Top, Vegetarian Shoes (£69.95) – "High-top lace-up boot with stitched-on rubber 'Fanatic' sole. All white, highly breathable micro–fibre uppers with punch front and side panels for extra ventilation. Padded ankles to help protect against light knocks. Also with padded tongue and insole for comfort. Made in Portugal."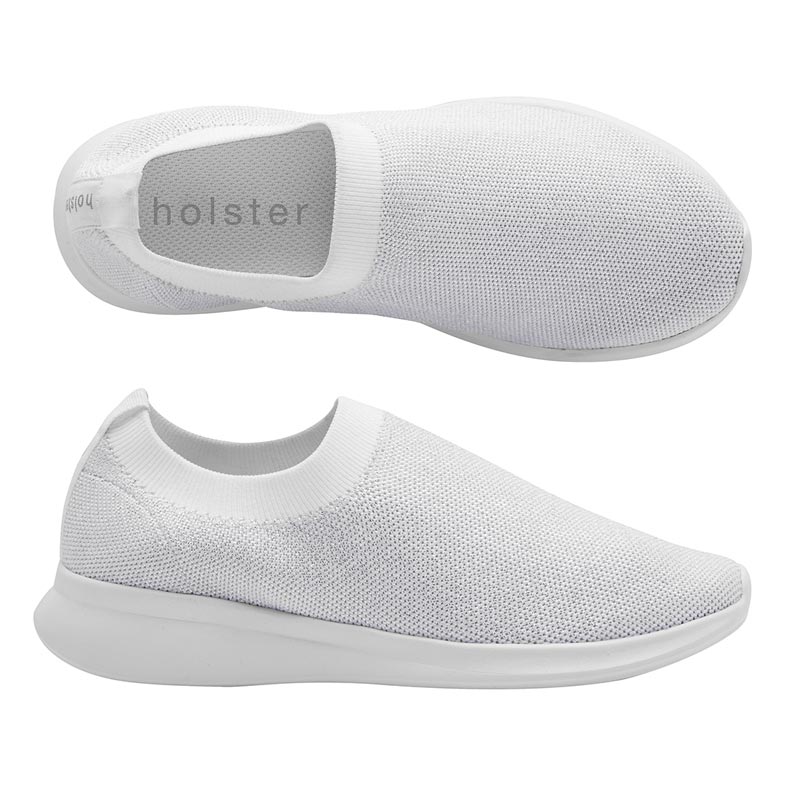 11. Blaze, Holster ($99, On sale $65) – "Walk on cloud nine with Holster's shimmering, metallic slip-on vegan sneaker. The soft, lightweight sole feels like you are walking on millions of tiny air bubbles and the breathable, flexible knitted upper moulds to the foot like a sock, making this style the most comfortable sneaker in the collection."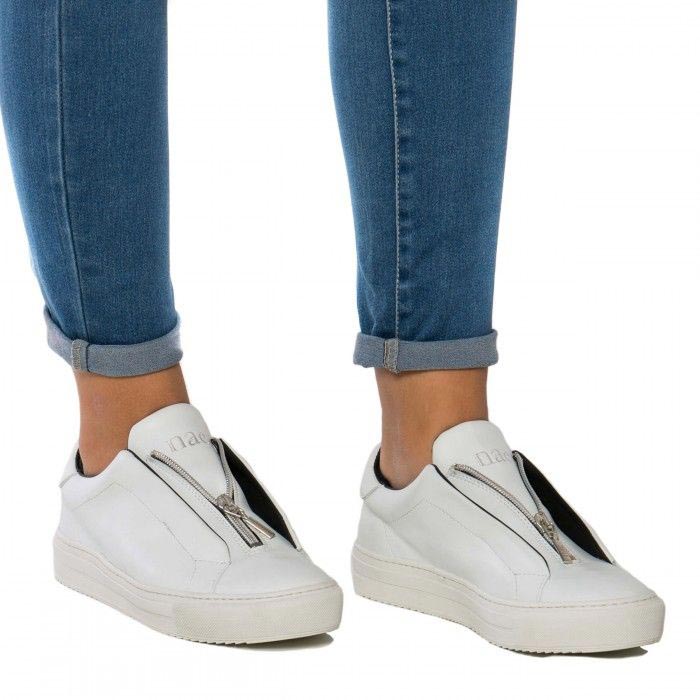 12. OnZip, NAE Shoes ($118) – These women vegan sneakers are a step-up from the classic white lace-up sneakers as it features a silver and nickel-free zipper on the front. Made of ecological and water–resistant microfiber. Made in Portugal.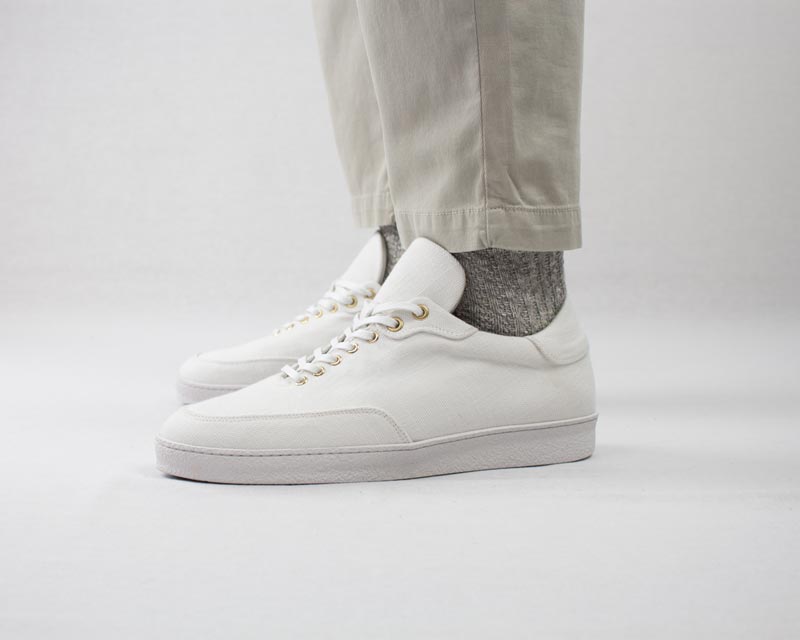 13. 87 Sea Salt, Ontems (€150, On Sale! €67,50) – These sleek and comfortable white vegan sneakers are made with GOTS certified reinforced organic cotton upper, flexible, durable textured natural rubber sole, 100% breathable German microfiber insole and interlining. Premium small batch production. Handmade in Portugal.
14. Basic White Sneakers Made with Pineapple Leather, NAE (£88) – As this being a round-up of ethical and vegan shoes, you know your girl had to include one made from Piñatex! And NAE knows sure knows how to make them! These unisex vegan sneakers are made from pineapple leaf fibres which are a natural, ecological and water resistant material. Made in Portugal.
15. Lace Up Platform Sneakers – Hero, J Adams ($35) – Add some height with these white platform vegan sneakers described as the new modern shoe to reflect your most excellent and personal style by adding a deeply unique touch to all your outfits. These sneakers are handmade from vegan materials and a synthetic sole making this pair a bona fide earth conscious product.