This post may contain affiliate links.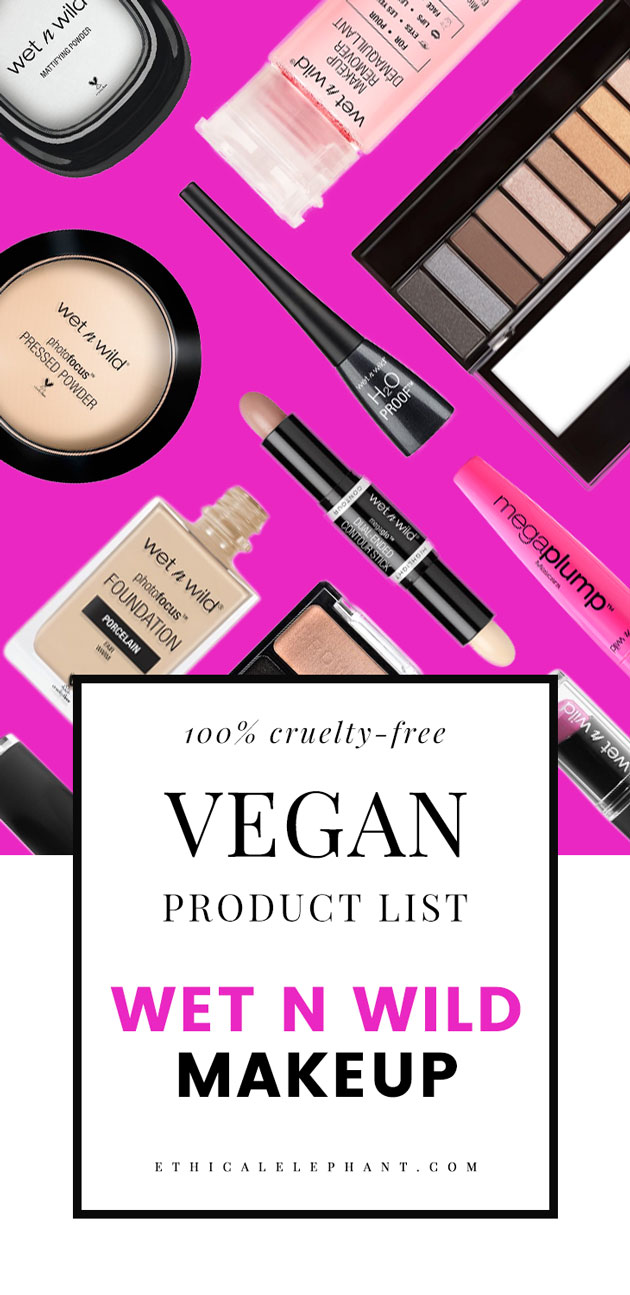 Wet N Wild is an affordable drugstore makeup brand with a whole product range of cosmetics for eyes, lips, nails, and face.
Is Wet N Wild Cruelty-Free?
Answer: Yes. Wet N Wild makeup is cruelty-free where none of their products or ingredients are tested on animals and Wet N Wild does not sell in markets that require animal testing (ie. Mainland China). Wet N Wild cosmetics is also certified cruelty-free by PETA's Beauty Without Bunnies Program. 

Is Wet N Wild Vegan?
Although not all of Wet N Wild makeup is Vegan but recently, their in-store displays clearly labels which of their products are vegan and do not contain any animal-derived ingredients. And until recently, customers who were buying Wet N Wild makeup online didn't really have a means of knowing which products were vegan.
Wet N Wild Vegan Product List (2018)
Thanks to a dear ethical elephant reader, I was recently informed that Wet N Wild updated their website to include a page listing all of their vegan products and shades!
I've reorganized the list to make it easier to navigate and figure out which of Wet N Wild makeup is vegan. Keep scrolling to find a list of Wet N Wild vegan makeup!
Face
Foundation
Concealer
Powder
Prime & Set
Highlight & Contour
Cheeks
Others
Eyes
Mascara
Eyeshadow
Eyeliner
Lashes
Alt-Fringe False Lashes – Shredding the Fringe, Shutter Stock
Brows
Lips
MegaCushion Matte Lip Cream

Bubblegum In Paradise, Doll So Hard, Melon It Like It Is

MegaLast Lip Color

Think Pink, Bare It All, Just Peachy, Rose-bud, Smokin Hot Pink, Wine Room, Mauve Outta Here, Sugar Plum Fairy, Red Velvet, Stoplight Red, In the Flesh, Sand Storm, Mocha-licious, Ravin' Raisin, Cinnamon Spice, Cherry Bomb, Vamp It Up, Cherry Picking, Don't Blink Pink, Dollhouse Pink, Purty Persimmon, Never Nude, Rose the Matter, Smooth Mauves, Violet's Kiss, Black Out


MegaLast Liquid Catsuit Matte Lipstick

Nudie Patootie, Nudist Peach, Coral Corruption, Pink Really Hard, Rebel Rose, Give Me Mocha, Berry Recognize, Nice To Fuchsia, Oh My Dolly, Flame of the Game, Missy and Fierce, Video Vixen, Goth Topic, Lavender Crown, Toffee Talk, Loose Change, The Shade is Teal, Caramel Cake, Behind the Bleachers, So Noir Cool


MegaLast Liquid Catsuit Metallic Lipstick
MegaSlicks Lip Gloss

Crystal Clear, Sweet Glaze, Crushed Grapes, Cotton Candy, Berried Treasure, That's My Jam, Wined and Dined, My Cherry Amour, Great Coral-ation

Perfect Pout Gel Lip Balm

Kiss, Tease, Shock, Play, Tell, Love, Rule

Perfect Pout Lip Scrub – Citrus Elixir, Pecker Up
Nails
Brushes
Note: Ingredients and formulations of cosmetics may change since the publishing of this list, please read list of ingredients to ensure products are suitable for vegans.
Have you tried anything from Wet N Wild before?
---
Disclaimer: This post contains affiliate links.