This post may contain affiliate links that at no additional cost to you, I may earn a small commission.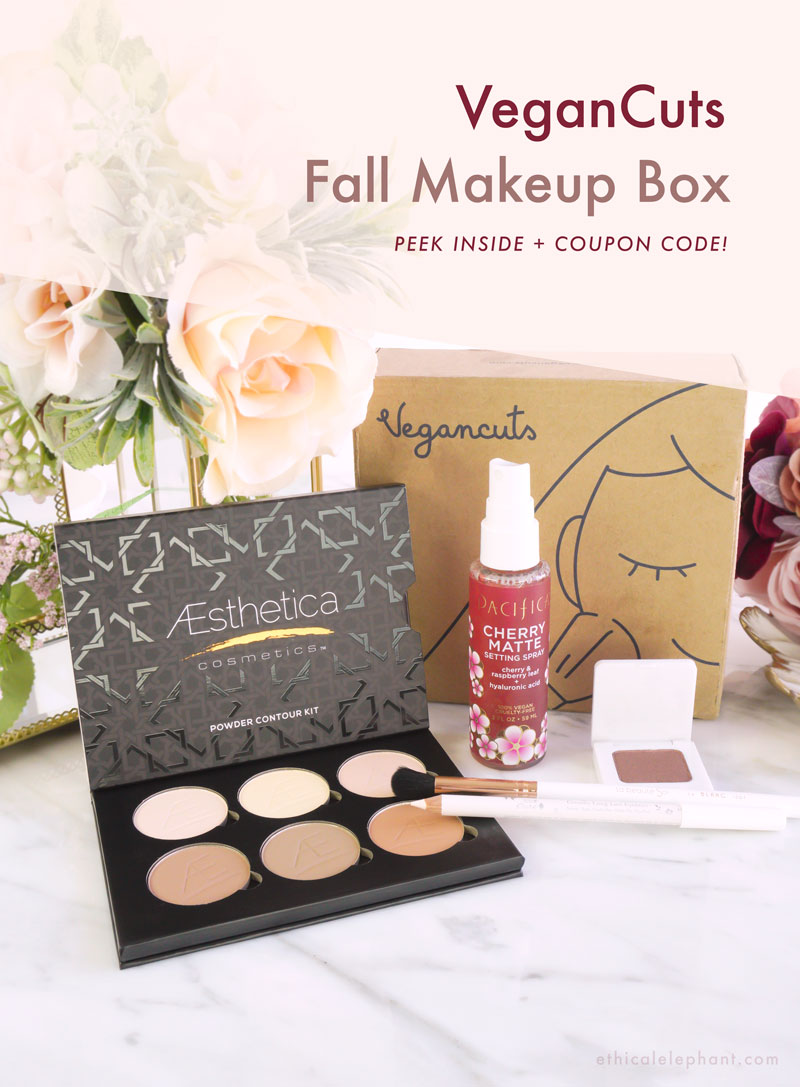 VeganCut's Fall makeup box is here! I also noticed VeganCuts Makeup Box got a little bit of a makeover and features a new design.
Whether you're new to cruelty-free and vegan makeup or you're like me and obsessed with trying out new vegan makeup products, then you'll love VeganCuts Makeup Boxes!
You really do get your money's worth in each season's box! Don't believe me? Have a peek inside this Fall's VeganCuts Makeup Box here!
The Fall VeganCuts makeup box supports Sofi and Friends at The Wildcat Sanctuary in Sandstone, MN.
VeganCuts Makeup Box
VeganCuts Makeup Box is a quarterly subscription service where you'll receive 4-5 full-size non-toxic, cruelty-free, vegan makeup products specially curated with each new season in mind.
The cost of each VeganCuts Makeup Box starts at US$39.95, they ship to US, Canada, and internationally.
Save $5 OFF your first VeganCuts box, use coupon code: 'ETHICALELEPHANT'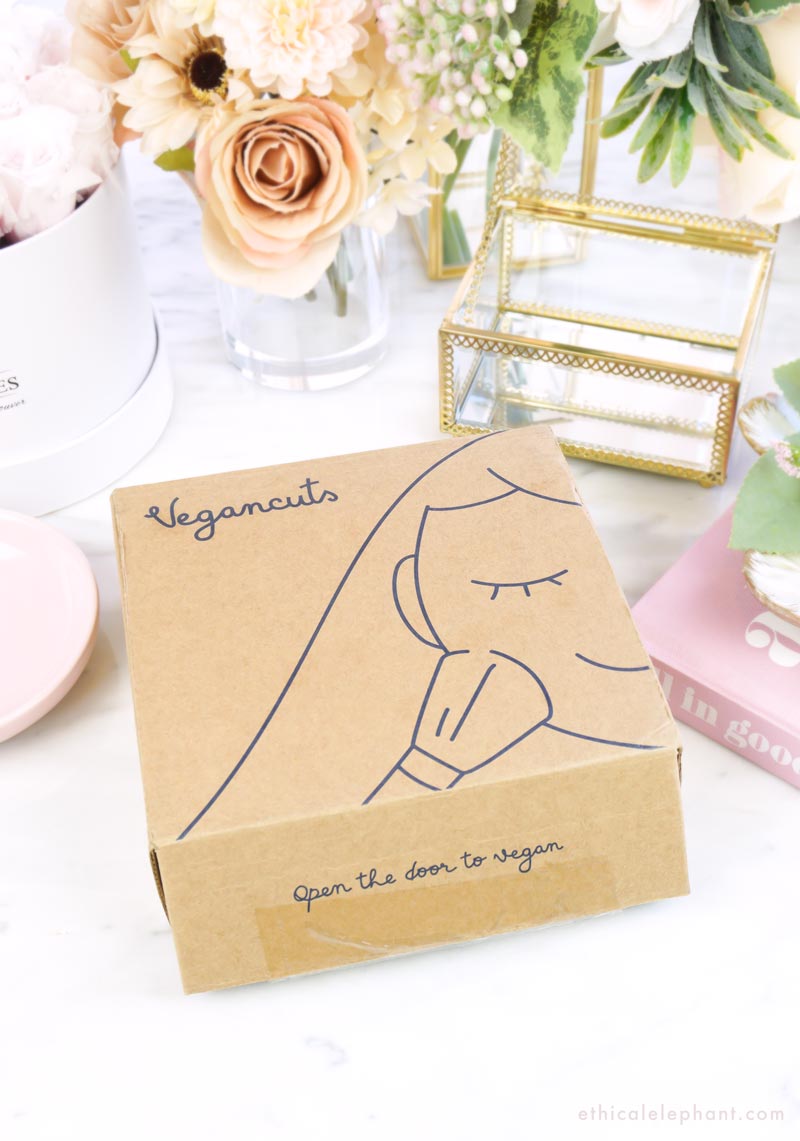 VeganCuts Makeup Box – Fall 2019
The VeganCuts Fall 2019 Makeup Box includes 5 full-size products and is all about minimalism and features.
This season, I wanted to bring you items that allowed you transition into fall without giving you a dark, gloomy look. All of these items will be buildable color for your eyes and cheeks, and help you seal the deal with a glorious mattifying spray.

VeganCuts
Let's get into each of the vegan makeup products included in this season's box!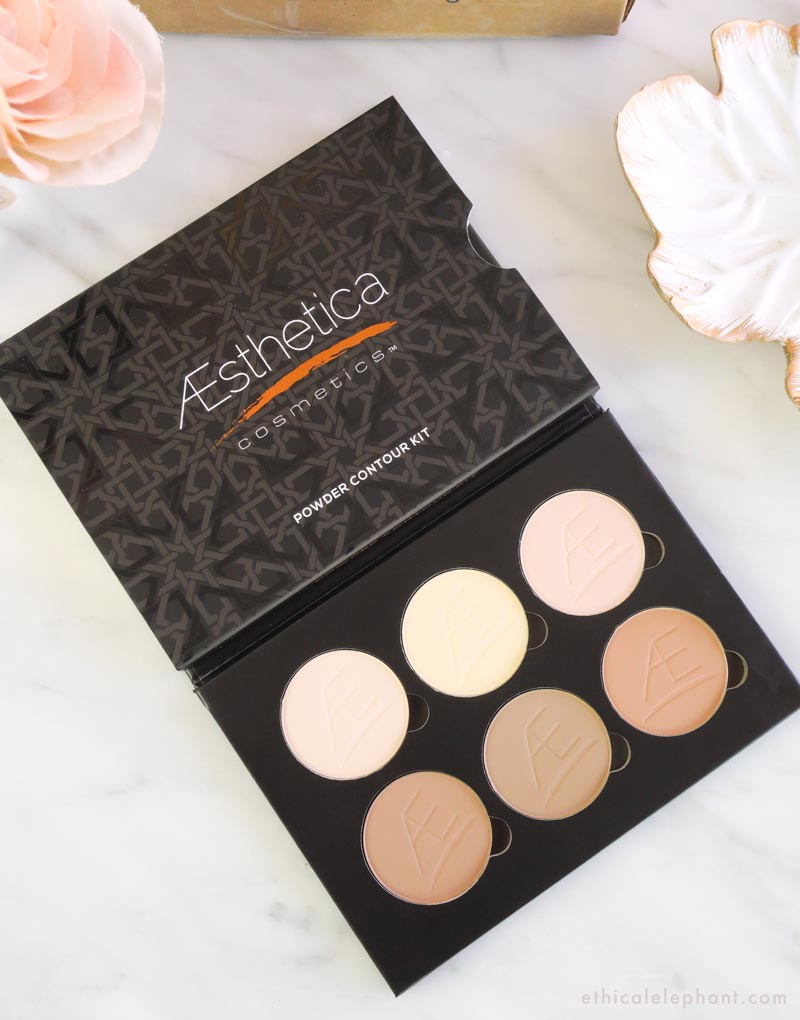 Vegan Powder Contour Kit from Aesthetica ($40) – Getting this palette in VeganCuts Fall Makeup Box covers the cost of the entire box alone, so this was definitely worth the value! I'm relatively new to contouring so I really liked how this palette included an instructional booklet with a face shape diagram to help guide me on how to best use this contour kit.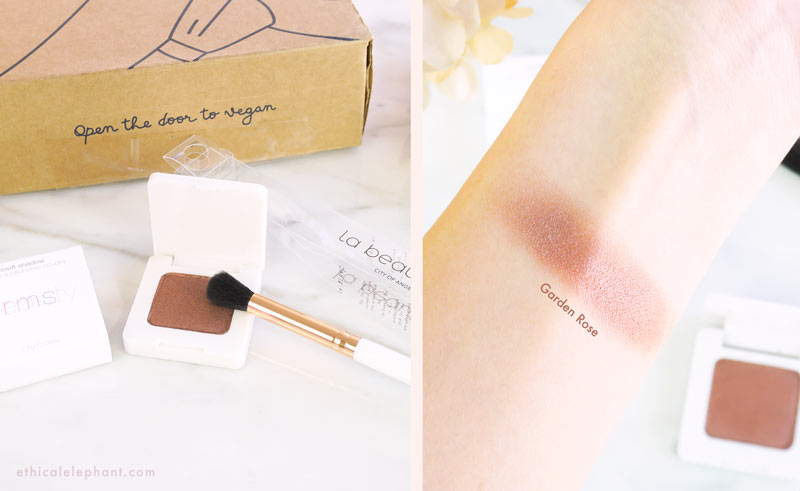 RMS Beauty Swift Shadow in the color Garden Rose GR-13 ($20) – This eyeshadow was one of the items we could customize and pick the color. I received Garden Rose GR-13, a rosy brown shade. I really liked this powder eyeshadow, it's pigmented, blendable, and has a beautiful shimmer to it.
VeganCuts Coupon Code: 'ETHICALELEPHANT' to receive $5 OFF your first order!
Eyeshadow Blending Brush by la beaute Soi ($4) – I appreciate how VeganCuts included a makeup brush that could be used with the RMS powder eyeshadow! I was surprised to see this vegan blending brush only cost $4 which is a great budget-friendly vegan option. However, I wasn't a fan that it was packaged in plastic and I found the brush to be a little too dense and firm for a blending brush.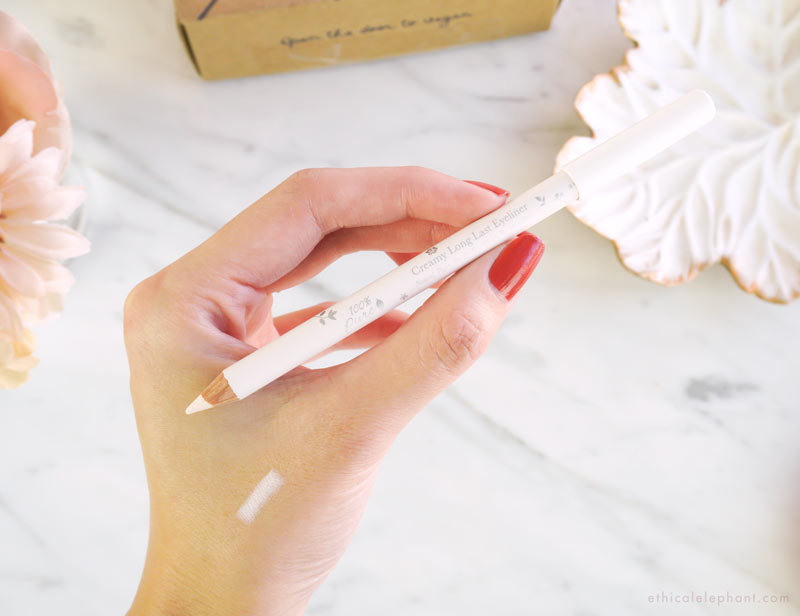 100% Pure Creamy Long Last Vegan Eyeliner in the color Bright Eyes ($26) – This was the second item that we could customize and pick from a number of color options. I chose a white pencil eyeliner because I've been meaning to test the theory of using a white liner on the lower waterline to make the eyes appear bigger and wider. And I was definitely not disappointed with this clean, natural, and vegan liner from 100% Pure; it glides on so smoothly and it's very pigmented.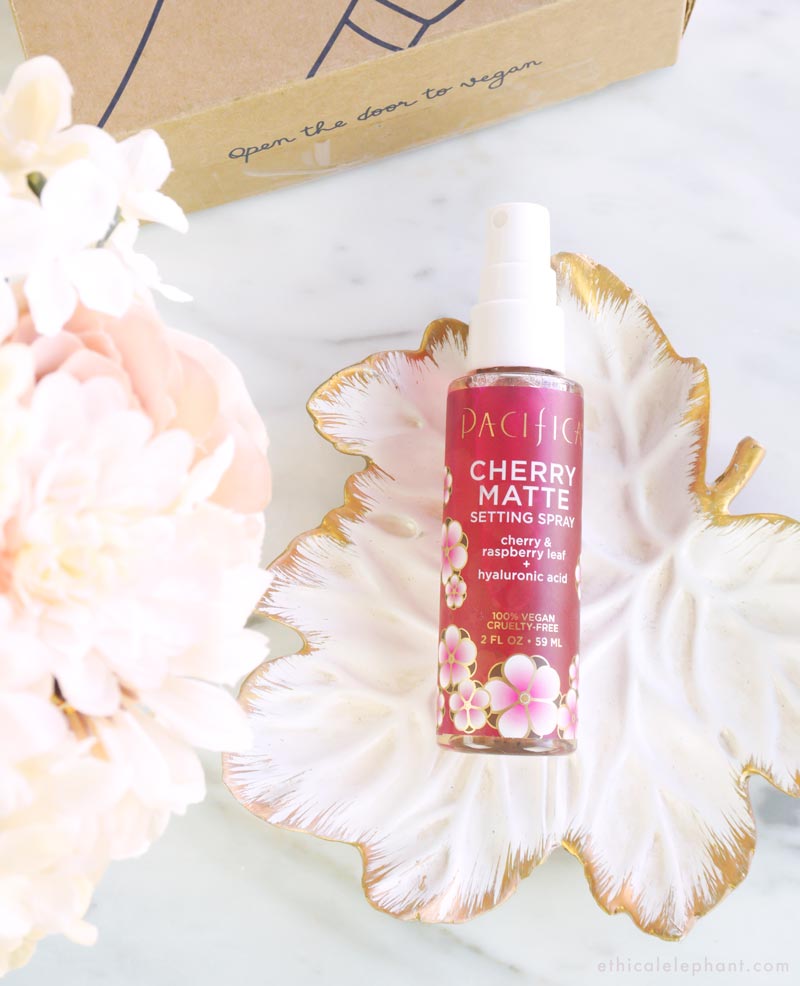 Cherry Matte Setting Spray by Pacifica ($10) – This setting spray smells so good! Feels like such a treat every time I use it. It's got such a heavenly and rejuvenating cherry and raspberry scent. Does the job of setting my makeup.
Final Thoughts: VeganCuts Fall Makeup Box
This Fall 2019, VeganCuts Makeup Box included 5 full-size products with a total value of $100. I liked the range of makeup products but would have probably liked to see a lip product included.
I'm familiar with all the cruelty-free brands except for Aesthetica so it's always nice to be introduced to new cruelty-free makeup brands!
I also liked how we got to pick and customize two of the items in this season's box; the RMS eyeshadow and 100% Pure eyeliner pencil.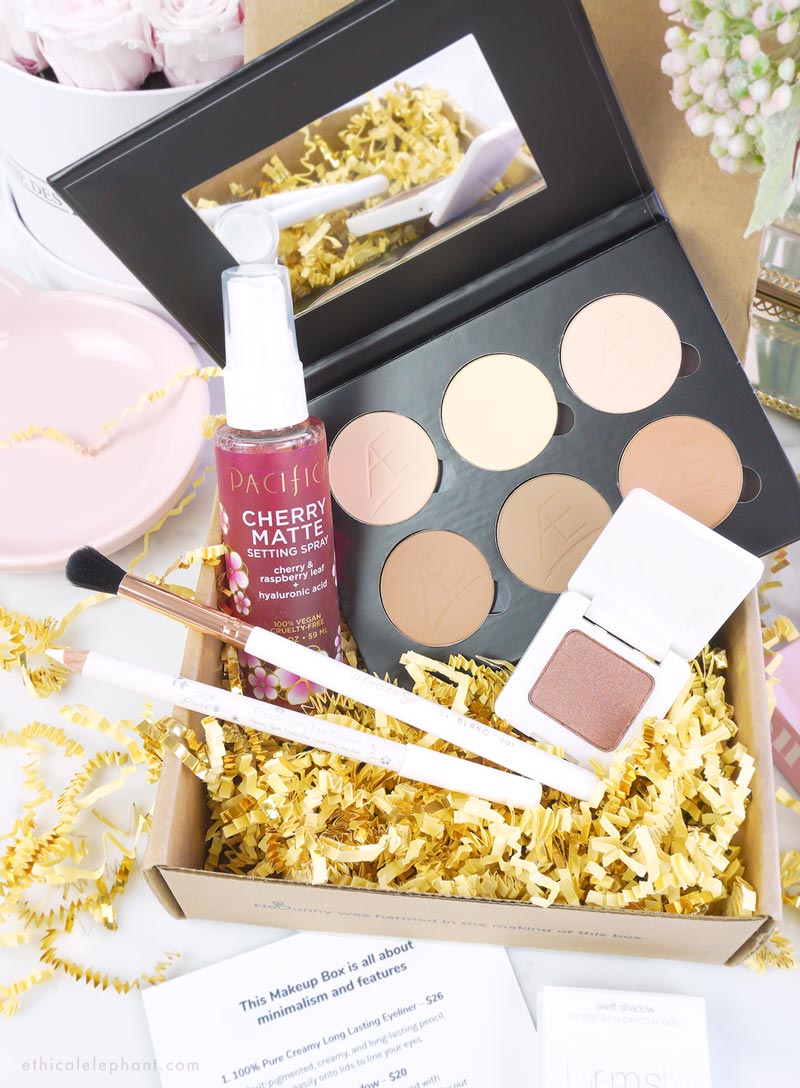 I really do think subscribing to VeganCuts Makeup Box, whether your a total newbie or an expert at makeup, is a great and fabulous way to try out new vegan makeup from new cruelty-free brands!
If you want to give VeganCuts a try and would like to save $5 OFF your first box, use coupon code: 'ETHICALELEPHANT'
In full disclosure, VeganCuts sent me their Fall Makeup Box to try. I was not required to write a positive review nor was I compensated in any other way. All opinions expressed are always 100% my own.