This post may contain affiliate links that at no additional cost to you, I may earn a small commission.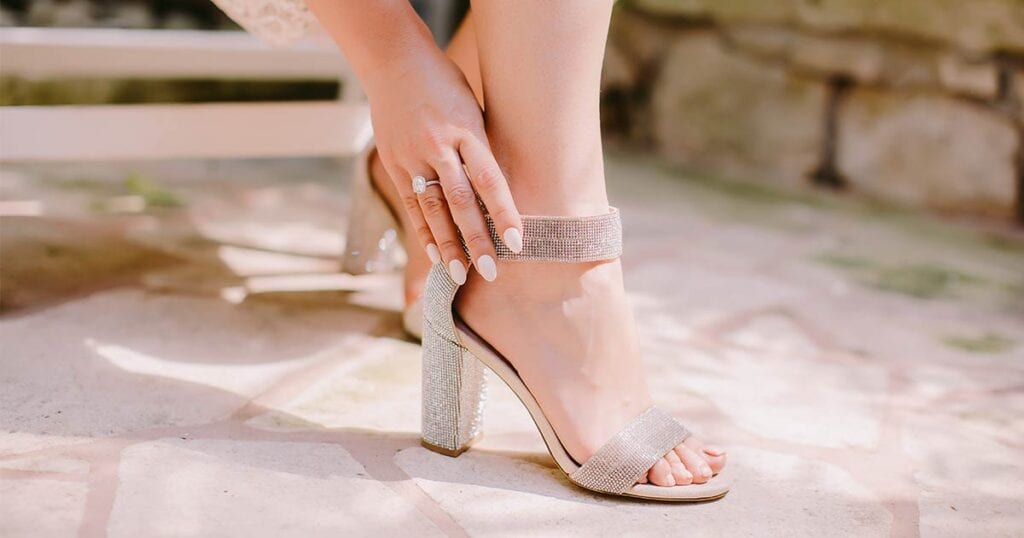 Looking for a pair of chic and elegant vegan bridal shoes for your special day or to gift? I've rounded up 28 of my favorite vegan wedding shoes for the bride in this post!
Whether you're looking for cruelty-free and vegan strappy heels, pumps, mid-heel, embellishments, sparkles, rhinestones, or fringe, you'll find a range of different styles and colors of vegan wedding shoes for every budget here.
First, let's ask the obvious question of what exactly are vegan wedding shoes?
What are Vegan Wedding Shoes?
Vegan wedding shoes are footwear made without animal materials that can be worn on your wedding day whether it's an elopement, physically distanced ceremony, or at the reception.
Leather shoes made from animal skin like cowhide or from exotic animal skin like alligator or snakeskin are not considered vegan. In addition, some wedding shoes are made with silk which is also not vegan.
Note that not all vegan leather are created equal, some are made from fossil fuels or contain toxic chemicals whereas some are made from sustainable, plant materials, or a combination of synthetic and bio-based materials. We encourage you to look behind the label and check the vegan leather materials used whenever trying to shop ethically.
List of Vegan Bridal Shoes
For the most sustainable vegan bridal shoes is one you may already own or a thrifted/borrowed/rented option. You can also opt for a style that can be worn again with other outfits or to another special occasion, I especially love the ones that come with add-on accessories like an ankle strap, bow-tie, or rhinestones that can effortlessly transform it into a totally different shoe!
But if you're looking for something new, below is a list of vegan wedding shoes made without animal materials, starting from $35 and up. Almost all of the vegan bridal shoes listed are made ethically and some are made with sustainable materials, however, I wanted to include a couple of options that were affordable as well.
Quick Tip: If the price is on the top of your priority list and you need shoes that are inexpensive, I would recommend checking out J. Adams (100% Vegan) and Lulus (Vegan Options) if you're in the US or Call it Spring (100% Vegan) if you're in Canada, and ASOS (Vegan Options) if you're in the UK.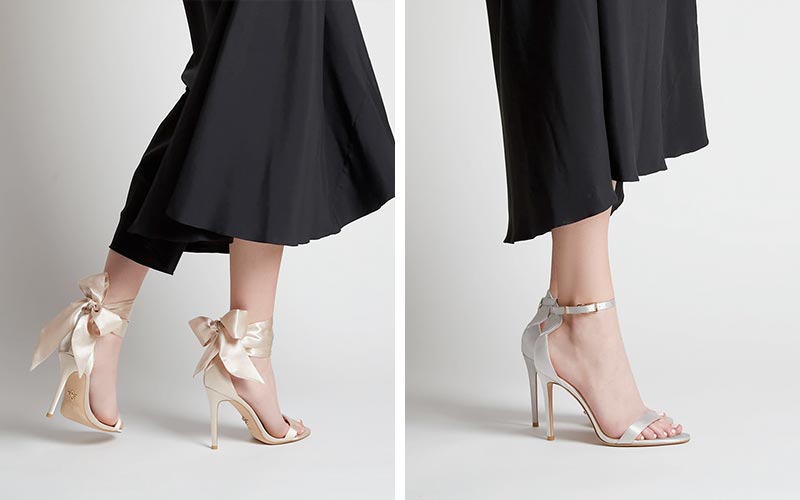 Veerah's Venus ($348) – Available in Gold Goddess and Silver Starlight, these elegant vegan strappy heels can be transformed into multiple styles, with an add-on bow tie scarf and the reversible glitter strap.
"Fashioned with cruelty-free uppers that look and feel like silk but are actually sustainably made from nine recycled plastic bottles." – Veerah
---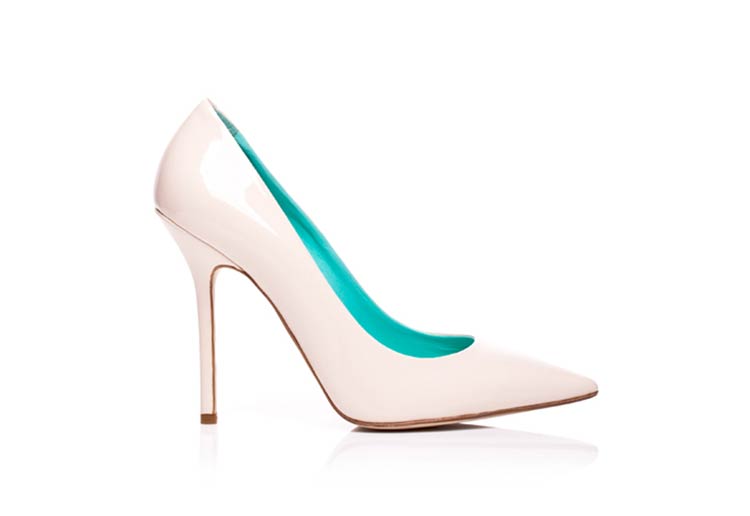 NAK's Jackie (£260, On Sale £130!) – Nude patent vegan leather stiletto pumps with NAK's signature blue interior makes this pointed toe heels your something blue. Also comes in black patent leather with a blue interior.
---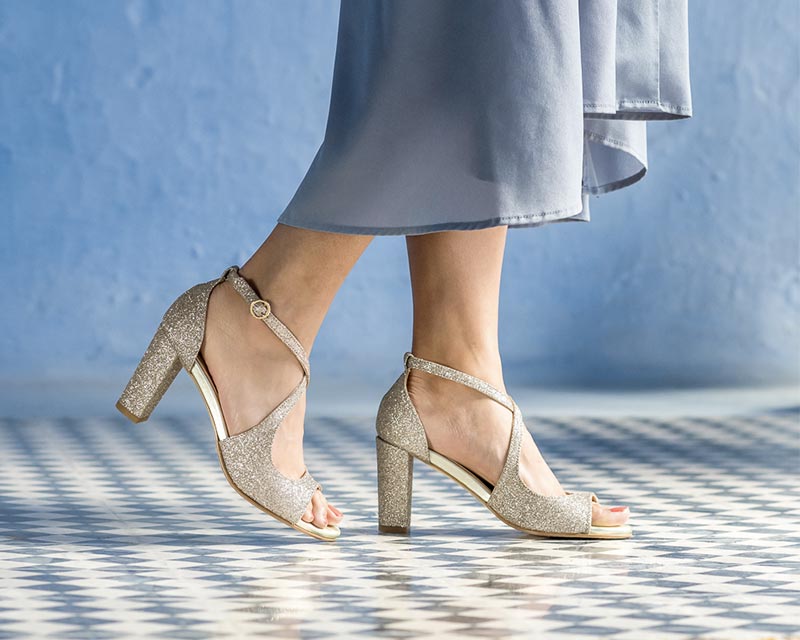 Minuit sur Terre's Agadir (€108) – Available in Gold, Rose Gold, and Red. Made in Portugal from Oeko-Tex certified eco-friendly material, these elegant glitter vegan sandals feature a comfortable 3″ block heel so you can dance all night long.
---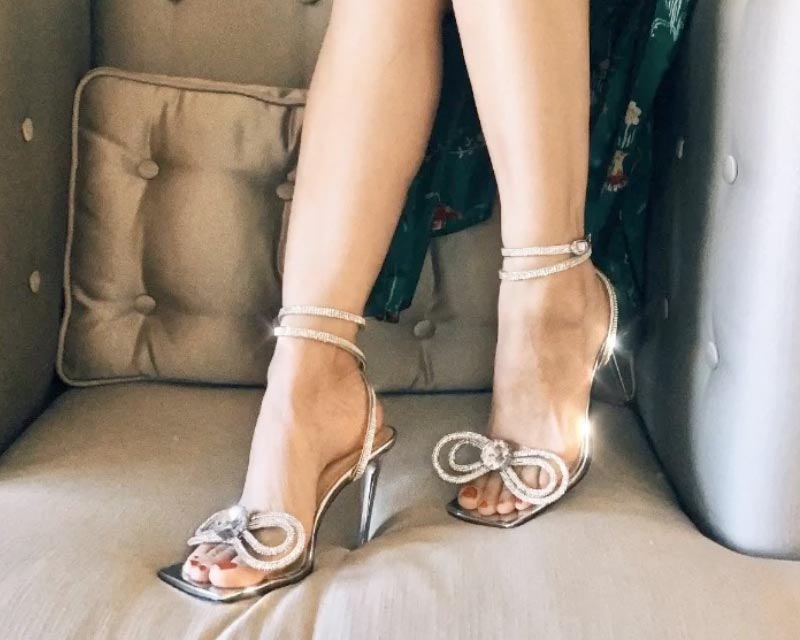 Cult of Coquette's Elizabeth ($195) – These glamorous vegan wedding shoes feature a sparkling double bow and oversized gem centrepiece with a mirrored silver insole and 4.5″ stiletto heel. Made from 100% vegan materials.
---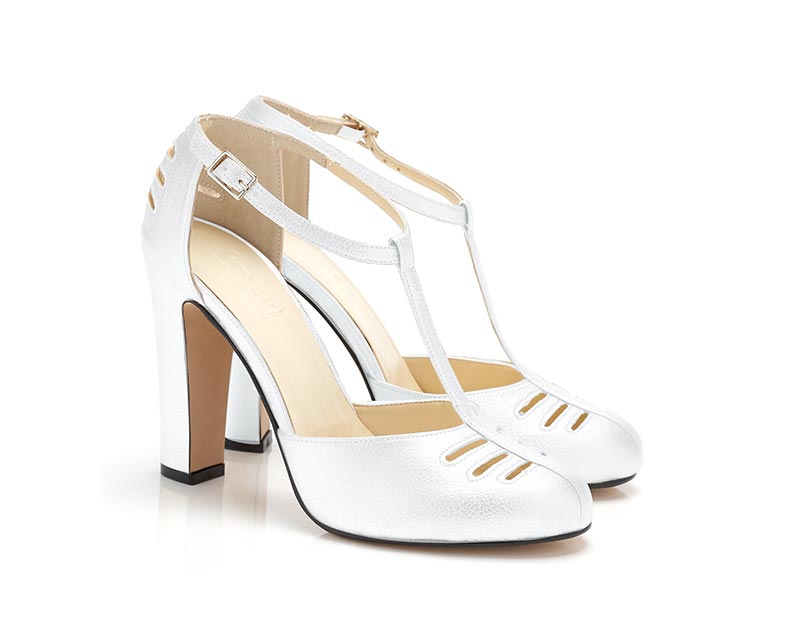 Beyond Skin's Fearne (£230) – Available in White and Gold. Vintage inspired vegan leather block heel sandals with T-bar and cut out detailing that were hand cut and beautifully handmade in Spain. Lining is made from 100% recycled materials.
---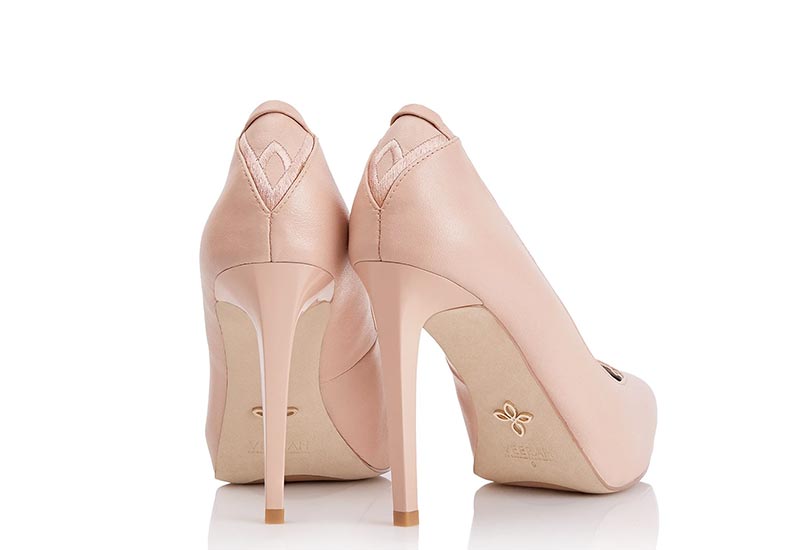 Veerah's Mulan ($278) – I love these classic and timeless vegan leather stilettos from Veerah crafted from soft, supple vegan nappa leather and features a hidden platform and asymmetrical low V-cut vamp to elongate and flatter your silhouette.
Available in Champagne Blush, Red, Emerald Green, Blue, Midnight Black, Plum Orchid, and Coral Orchid. These shoes can also be accessorized, see below.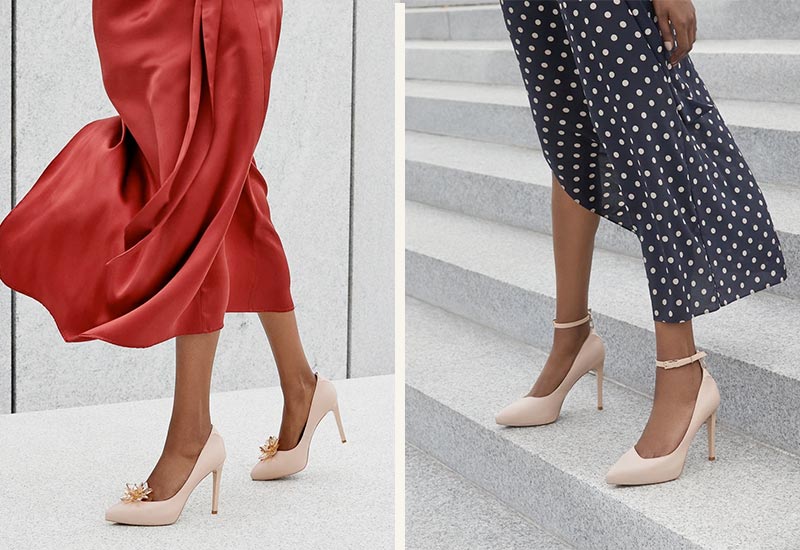 Veerah's Mulan Accessorized ($348) – Transforming Veerah's Classic Mulan Stilettos with some elegant accessories takes it from basic to exquisite! Seen in the photo above, these add-on accessories include an orchid blossom brooch that can be clipped onto the toe or back heel and a removable shimmering reversible strap.
---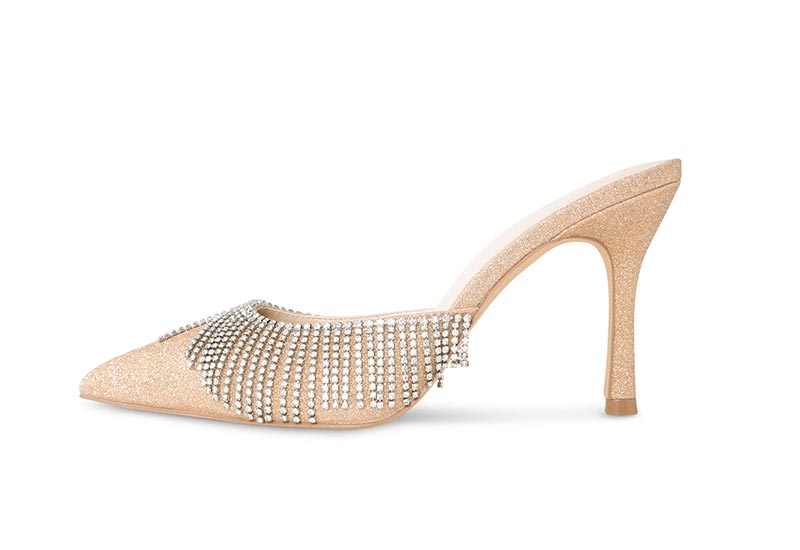 Cult of Coquette's Catherine ($219, On Sale $175) – Available in Champagne Gold and Pewter Silver. Sparkly pointed-toe mules with a 3.5″ heel and detailed with dangling rhinestone fringe, great for special occasions and weddings. Made from 100% cruelty-free and vegan materials.
---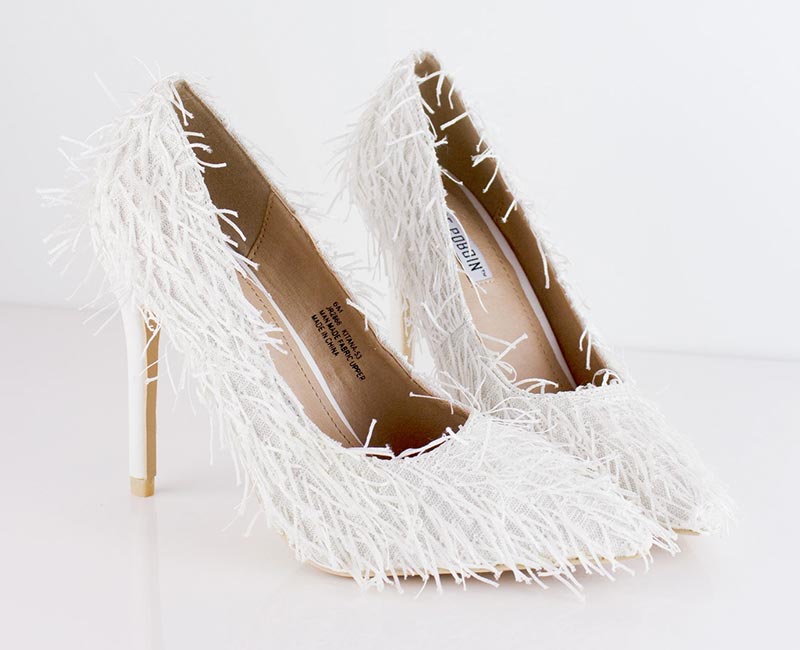 Blue District's Sprite Pumps ($44) – Adorned of satin fringes and a pointy toe, these statement white vegan wedding shoes features a 4.2″ heel. Blue District coupon code: 'ETHICALELEPHANT15' to receive 15% OFF your order.
---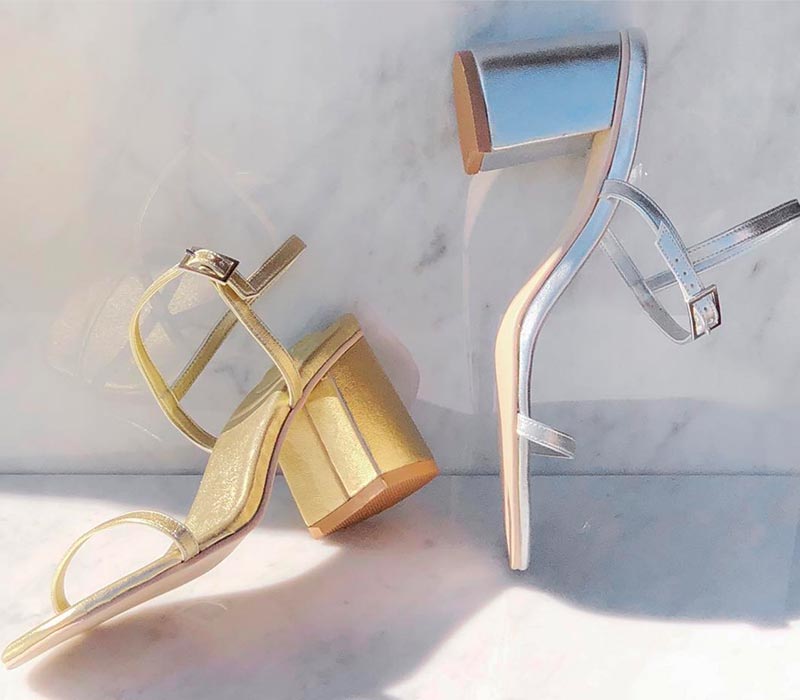 RAFA's The Simple Sandal ($250) – Available in a range of colors including Silver (Flash) and Gold (Ore). These chunky 3″ heel vegan sandals with a square-shaped toe are made from vegan recycled textiles and a dead-stock metal buckle, handmade in Los Angeles.
---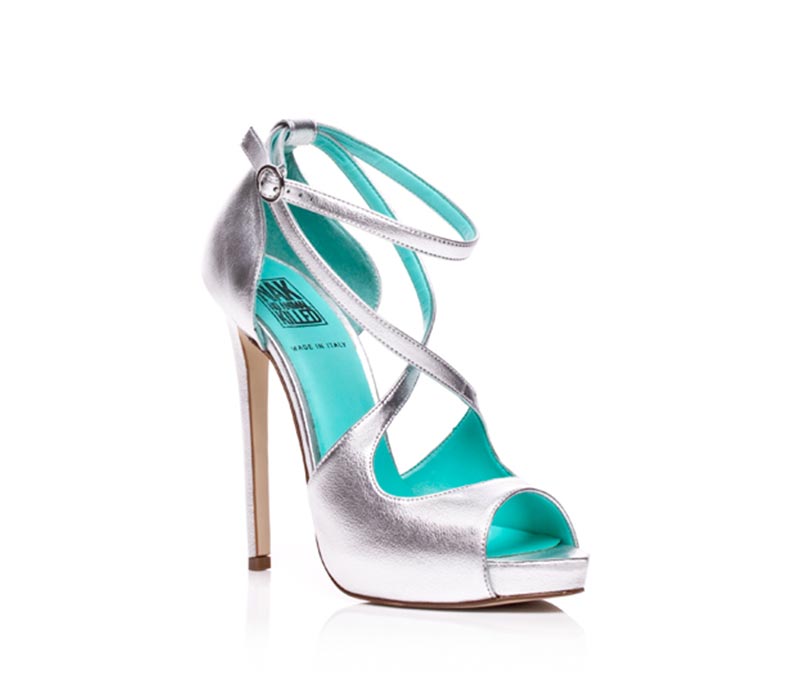 NAK's Serena Sandals (£320, On Sale £160!) – Available in Silver and Black with blue interior lining making this piece your something blue. Vegan open-toe sandals featuring a buckle fastening and a 12cm stiletto heel and inner platform for extra comfort. Made from patent vegan leather.
---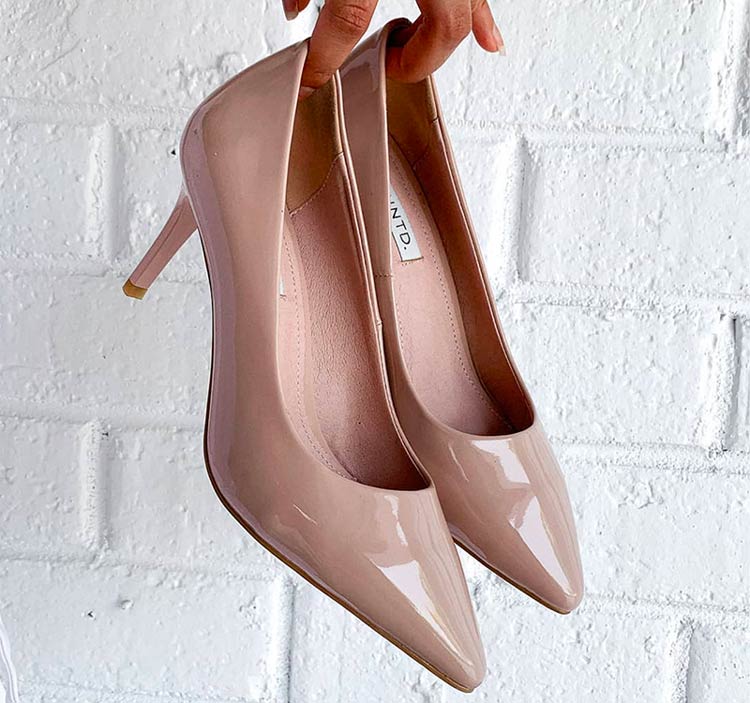 Huntd's Patent Nude Pointed Pumps ($129-$169) – Available in 7cm, 10cm, or 12cm heel height. These classic vegan patent leather pumps are the perfect accessory for your wedding day, made from vegan and eco-friendly materials. Every Huntd shoes also comes with their signature gold 'V' on the heel.
---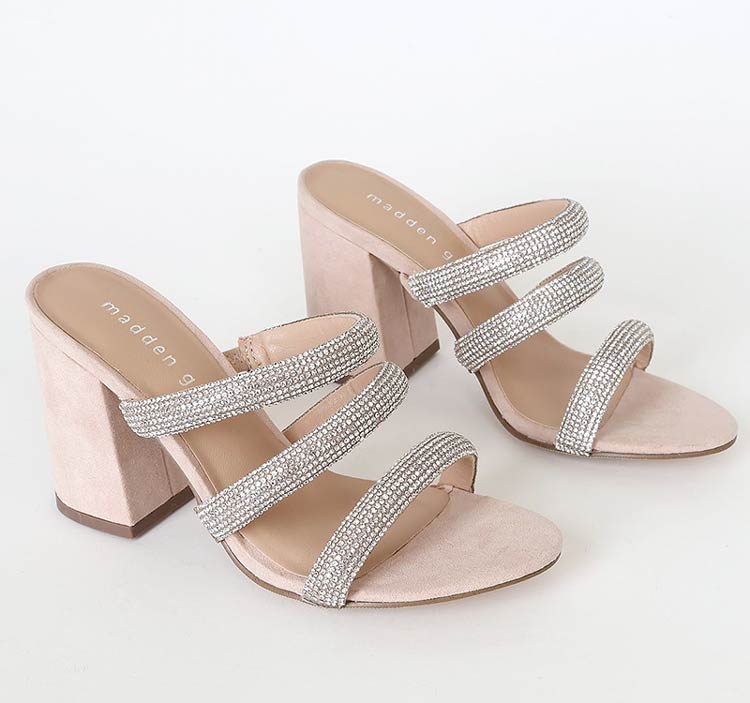 Madden Girl Dreamm Blush Multi Suede Rhinestone High Heel Sandals ($59, On Sale $35!) – "Soft vegan suede shapes these cute heels that have an open-toe upper and three rounded straps, adorned with shiny clear rhinestones. Chunky block heel makes these sandals easy to wear all day or all night!"
---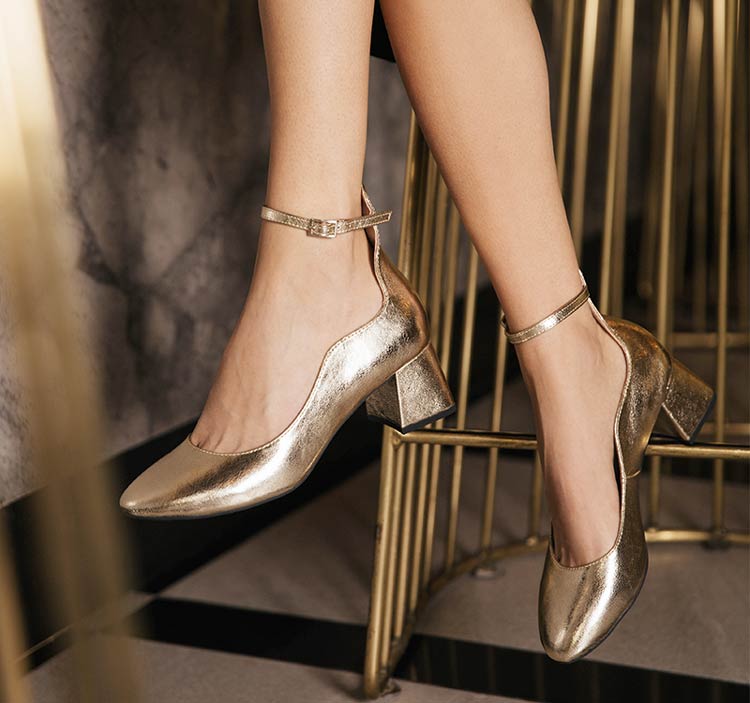 Matt & Nat's Olivia ($110, On Sale $66!) – Classy mid-heel block shoes with an ankle strap, made from metallic PU.
---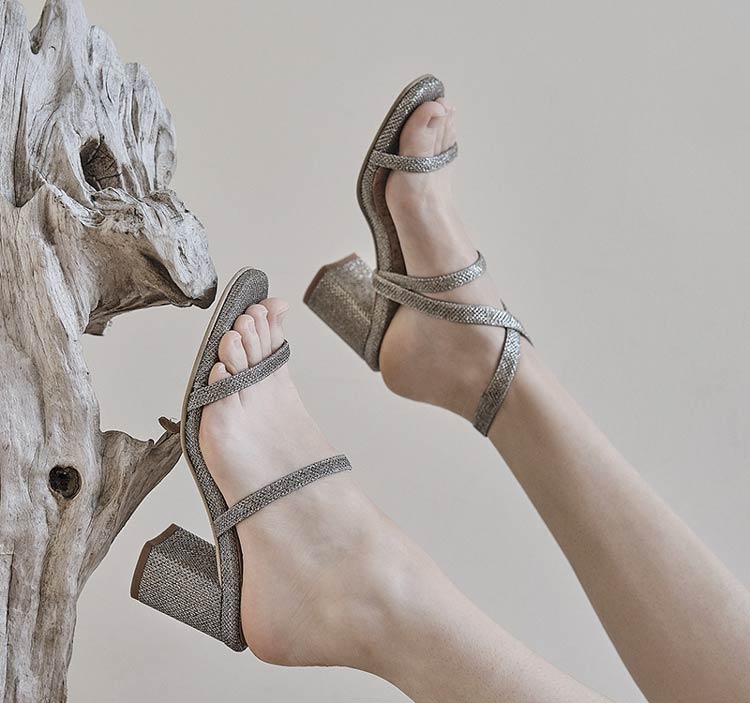 BHAVA's Ines Strappy Sandal ($255) – Available in multiple colors including these sparkly Stargaze colorway. At just under a 3″ inch heel height, these vegan strappy block sandals also includes a detachable ankle strap for those times you needs a little more support or change to your look.
---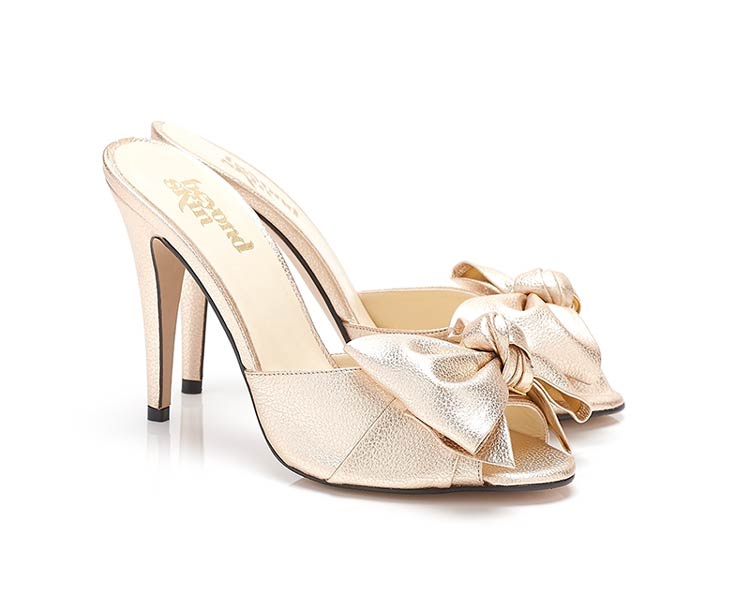 Beyond Skin's Otterlie (£240, On Sale £135!) – a vintage inspired 11cm stiletto heel mule in luxurious gold or silver faux leather, adds instant glamour to any outfit. Beautifully handmade in Spain from luxury Italian vegan leather and 100% recycled PU leather with plant-based coating lining.
---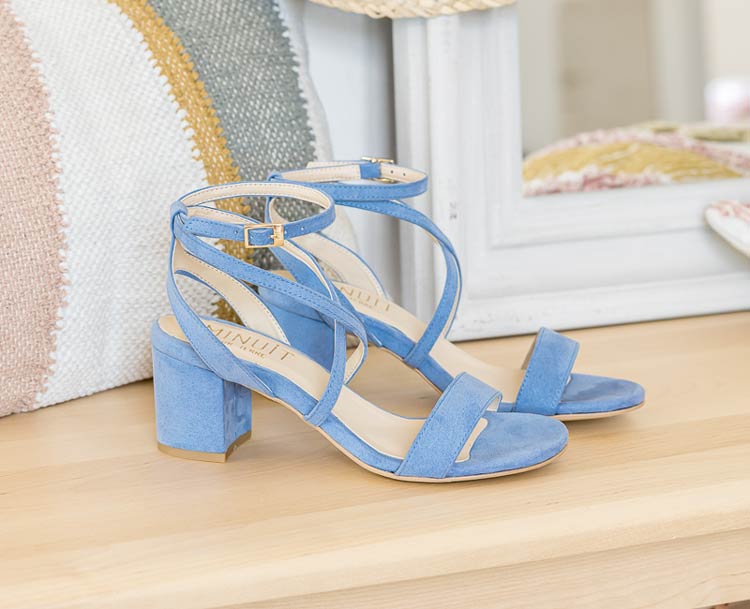 Minuit sur Terre's Sartene (€108) – Also available in Red, Gold, and Camel colors. Let these vegan bridal shoes be your something blue. Made in Portugal with Oeko-Tex certified eco-friendly materials, these strappy vegan block heel sandals are both chic and comfortable.
---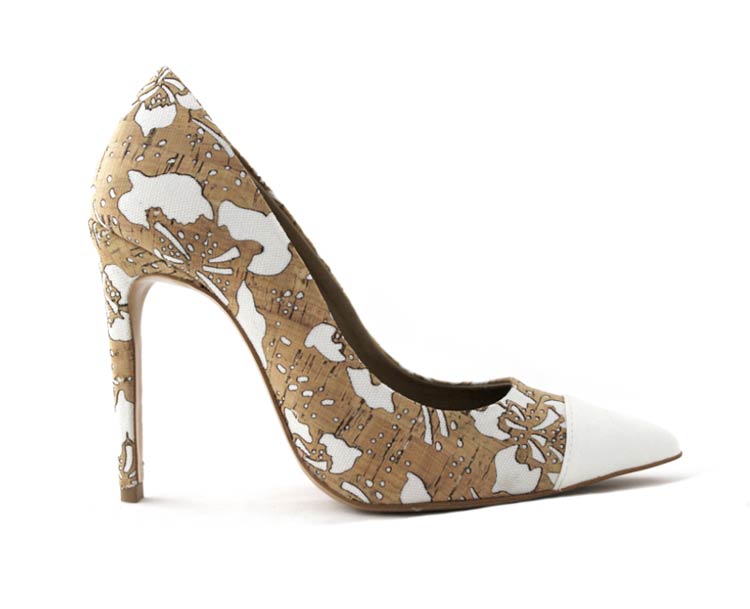 FAIR's Flower Cork Pumps (€150) – Looking for a pair of vegan wedding shoes that is uniquely NEW and sustainable? Check out these ethically produced 10cm heels made from sustainable and vegan materials like cork and canvas.
---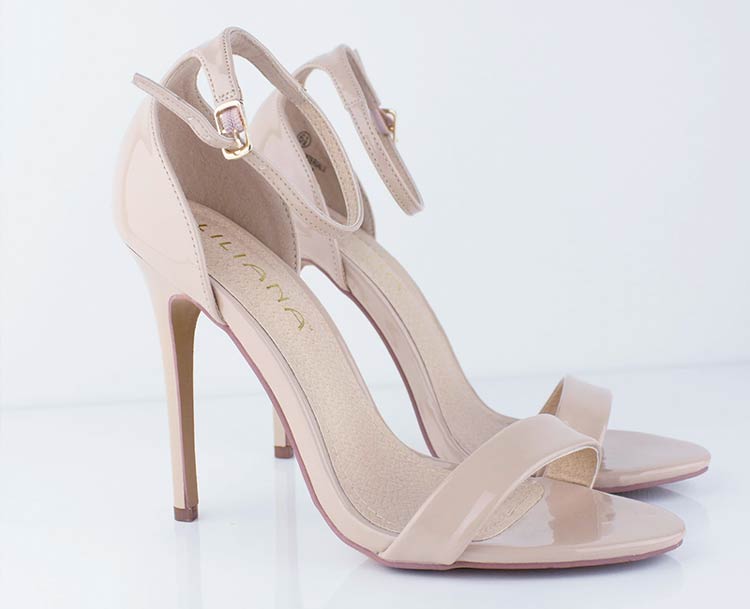 Blue District's Akoya Nude Sandals ($46) – Minimalist lines and fine shape, these 4.5″ stiletto nude heels are simply closed by an adjustable ankle strap. Made of vegan leather. Blue District coupon code: 'ETHICALELEPHANT15' to receive 15% OFF your order.
---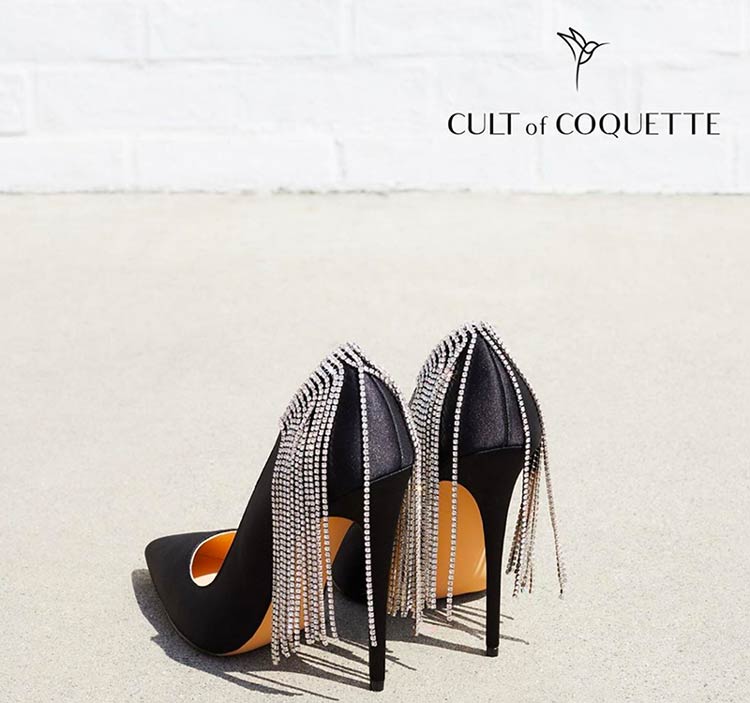 Cult of Coquette's Bianca ($219) – Satin black vegan pumps featuring a 4.5″ stiletto heel and adorned with rhinestone fringe. Subtle in the front and pure glamour in the back.
---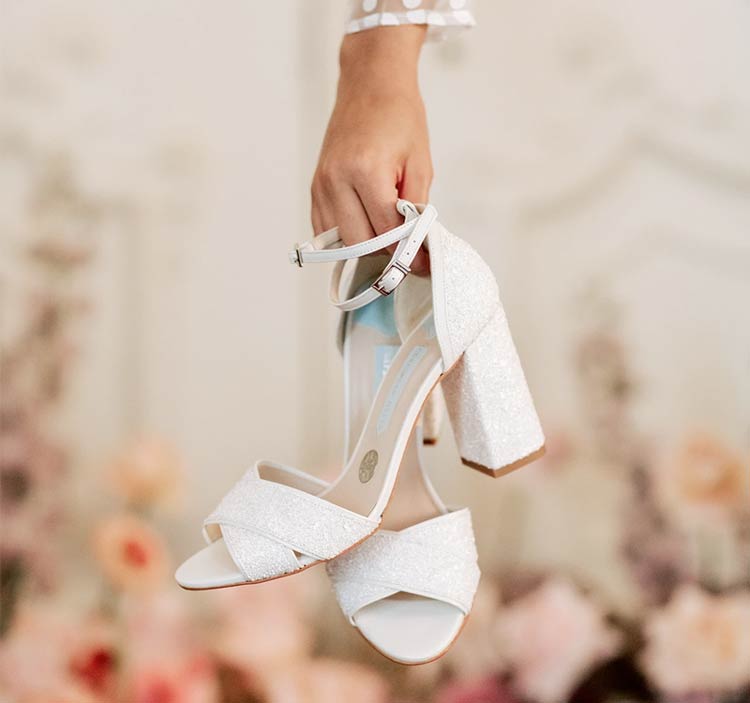 Charlotte Mills' Vegan George Pearl (£230) – Known for their elegant leather bridal shoes, Charlotte Mills now offers a selection of vegan wedding shoes! Including these elegant block heel sandals featuring beautiful crushed pearl glitter providing a subtle sparkle in a shade that is in-between white and ivory and complements both colors perfectly.
---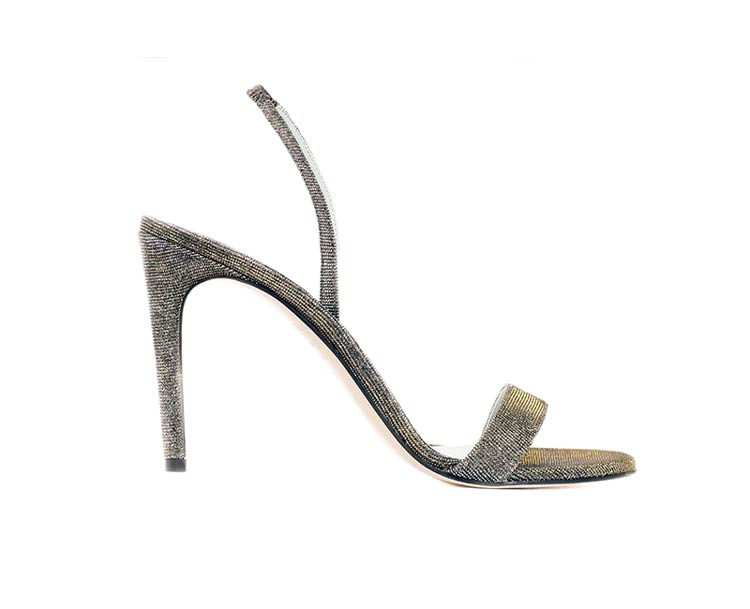 AERA's Alexandra Metallic Lurex ($414) – Available in multiple colorways. These luxurious and glamorous vegan heel sandals are modernly chic with its minimalist straps and 3.75″ stiletto heel. "95% of the materials used in AERA's shoes are made in Italy, as well as their manufacturing, which takes place in Veneto. They care about the people who make their materials and shoes, and they're working only with suppliers and manufacturers that share and embrace AERA's values." Also, check out their flats if you prefer without a heel.
---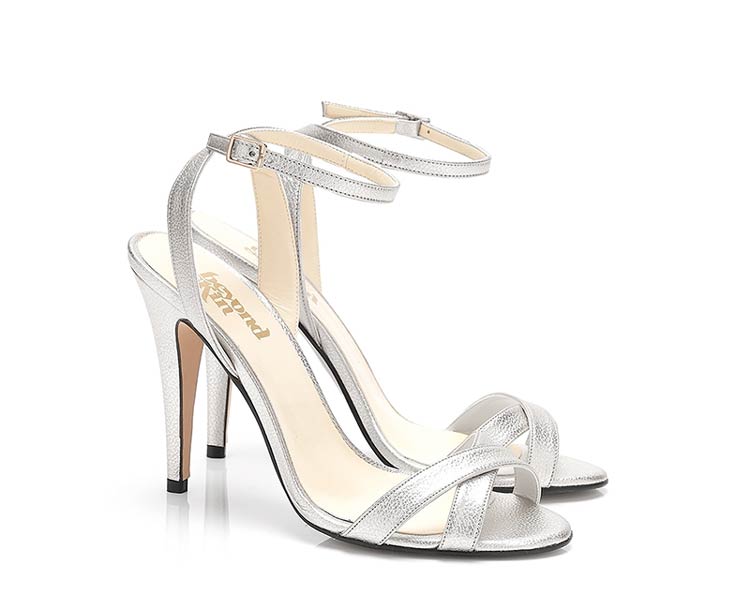 Beyond Skin's Gigi (£220, On Sale £99!) – Show-stopping peep-toe vegan leather stiletto sandals in glamorous luxury silver tumbled leather and a slingback strap with adjustable buckle. Made from 100% vegan materials and features an 11cm stiletto heel.
---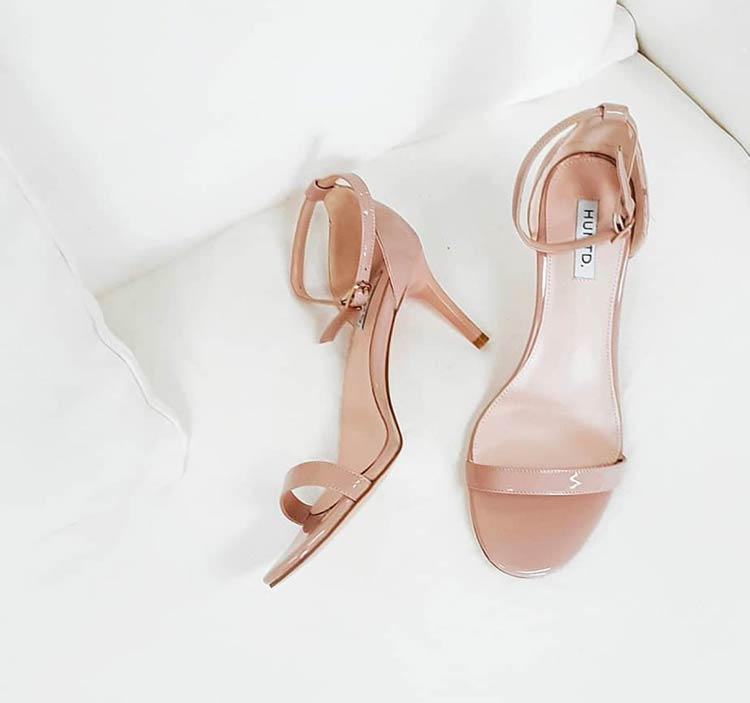 Huntd's Comfort Patent Nude Sandal ($129) – Open-toed patent nude vegan strappy sandals featuring a 7cm heel for those who hate wearing heels but still want a bit of height and style. made from vegan and eco-friendly materials and includes Huntd's signature gold 'V' on the heel.
---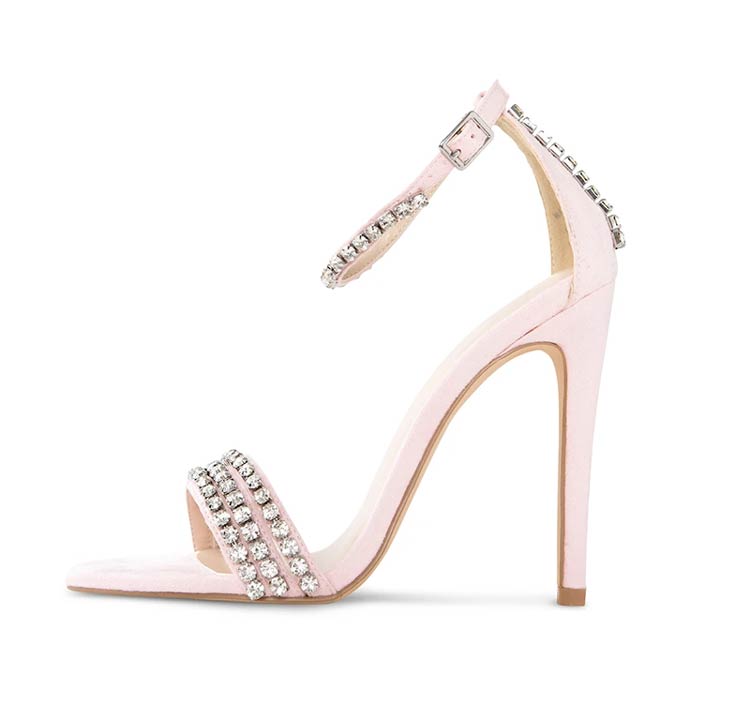 Cult of Coquette's Shirin ($195, On Sale $125!) – Rose Pink and Embellished crystal vegan wedding shoes featuring an elegant toe and back strap, made from vegan microsuede that looks and feels like the real thing.
---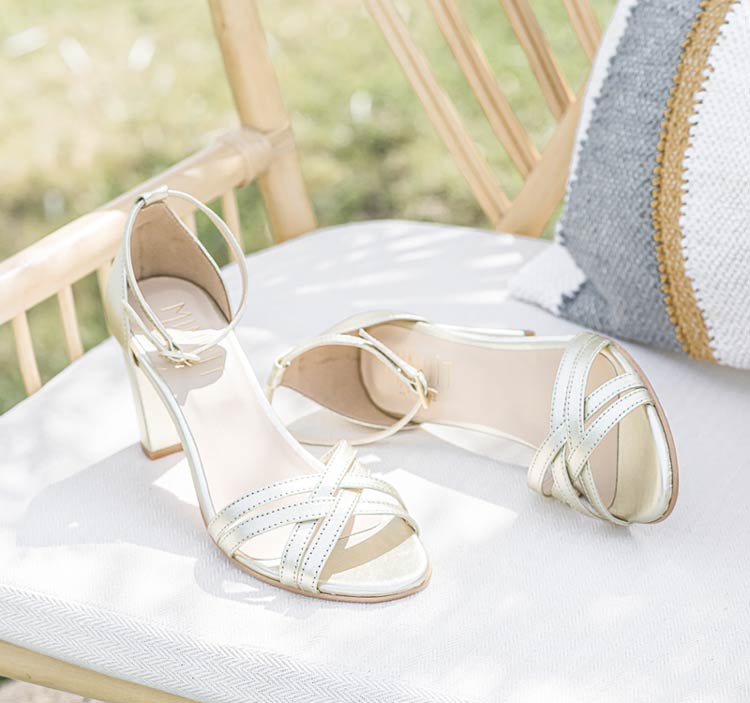 Minuit sur Terre's Aléria (€108) – Available in a range of colors including Terracotta, Chestnut, and Gold. These vegan gold sandals are made with Oeko-Tex certified eco-friendly material made in Italy. Its thoughtfully designed thin straps around the ankle and delicately interlaced straps at the front of the foot makes these elegant heels perfect for your wedding day.
---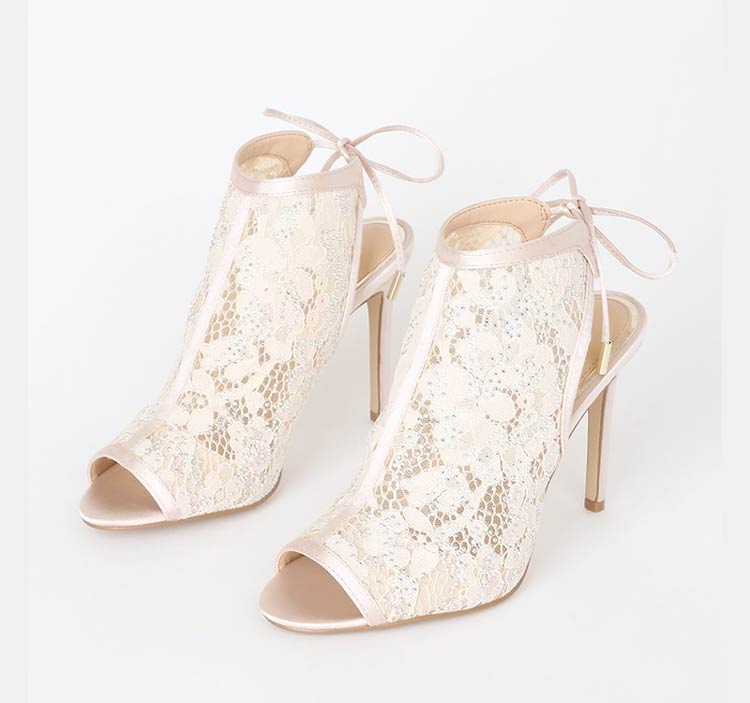 Jewel by Badgley Mischka Boulder Champagne Lace Booties ($109) – Vegan Lace Peep-toe Booties featuring a gorgeous satin and sheer lace with shiny silver embellishments and back cutout with tying closure. Made with all vegan-friendly, man-made materials.
---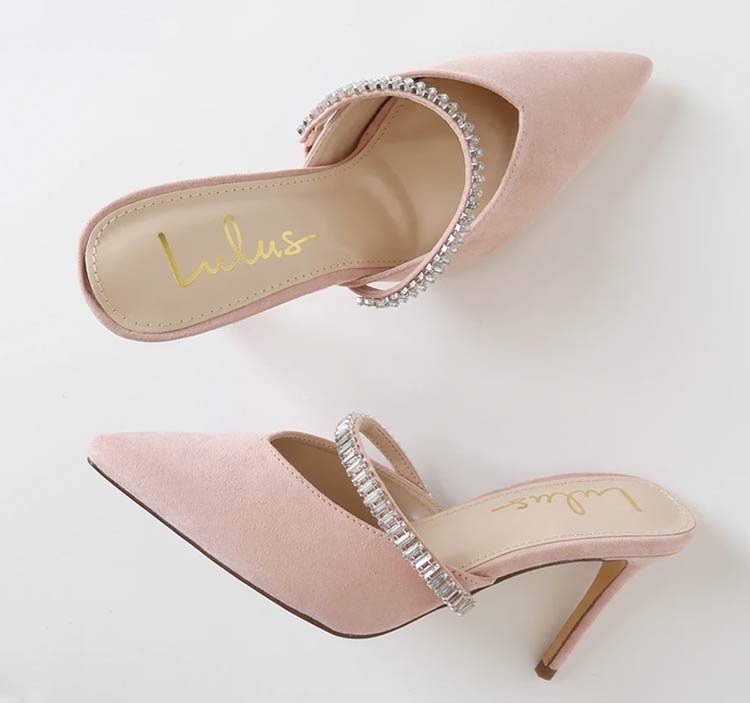 Lulus Frankee Blush Suede Point-Toe Rhinestone Mules ($39) – "Soft vegan suede shapes these glam mules that have a pointed-toe upper and a rhinestone adorned vamp strap. Slender stiletto heels add a bit of sexy flair to these chic heels! Slide-on design."
---
Note: The header image is a stock photo I purchased, I believe they're the same vegan shoes from Call it Spring, which you can find here.