This post may contain affiliate links that at no additional cost to you, I may earn a small commission.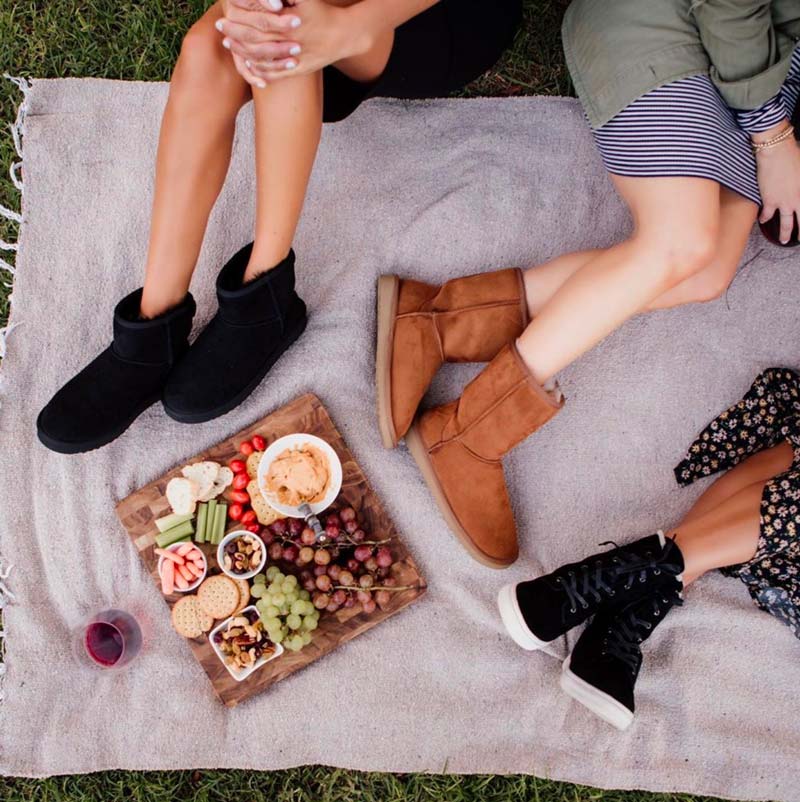 Looking for a vegan alternative to the classic UGG boots? It's perhaps no surprise that the iconic sheepskin boots are not considered vegan. But if you love the comfort and style of the signature UGG boots, you'll be happy to hear that there are animal-free and vegan options available.
In this post, I'll be sharing some of those best vegan alternatives to UGG's classic boots and slippers.
But before I get into it, let's start by asking are any of UGG's shoes vegan?
Are UGGs Vegan?
Unfortunately, UGG's boots are not considered vegan. All of the classic UGG boots are made with animal materials like sheepskin, animal leather, fur, suede, and/or wool.
UGG states in the product descriptions, "This product contains real fur from sheep or lamb. Fur may be sourced from Australia, Ireland, the United Kingdom, or the United States. It has been artificially dyed and treated. Made in China."
In addition, when I searched the term "vegan" in their website navigation, a few of their kids sandals showed up. I checked the composition of each (there were only five) of the "vegan" UGGs children's sandals and it appears they have some styles made with faux-leather and all-vegan materials.
March 2021 Update! UGG just launched their latest Plant Power Collection featuring three new styles of vegan shoes made with carbon-neutral plant-based materials.
But some vegans may not feel comfortable supporting or buying from a shoe company that primarily profits from selling boots made with animal skins.
Vegan UGG Alternatives
If you love the style and comfort of UGG classic boots but want a cruelty-free and vegan option instead, I got you covered.
I'll be sharing some of the best vegan alternatives to UGG without the animal cruelty.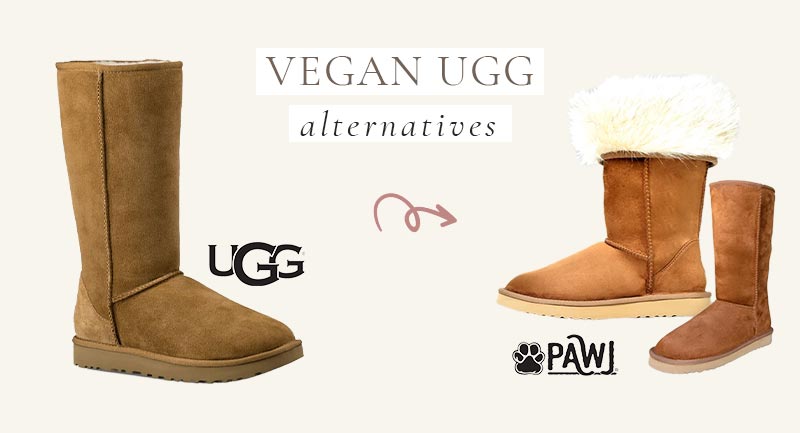 Swap the Classic UGG Tall Boot with animal cruelty-free & faux-fur lined boots by PAWJ California. They have a great range of colors to choose from including Chestnut, Black, Brown, and Grey. PAWJ boots are made with high-quality synthetic suede and faux fur which makes them 100% vegan.
PAWJ tall boot has a shaft height of 12″ and is similiar to UGG's 11.75″ tall boots.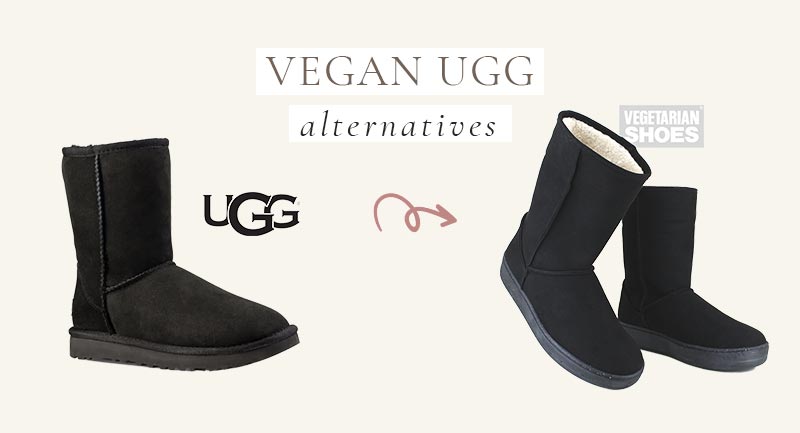 Instead of UGG's classic short boots, try Vegetarian Shoes' Snug Boot instead! Made in Europe, these vegan boots look like UGGs but are made from soft and breathable faux-suede and lined throughout the interior with fleecy faux-sheep wool. Your feet will stay cozy and warm and so will the animals because absolutely no animals were harmed or killed for these cute vegan boots!
PAWJ also has a similar style that is around the same height as both UGG and Vegetarian Shoes.
And if you're looking for a pair of vegan UGGs made with sustainable materials, Vegetarian Shoes has got one made with pineapple leather!
---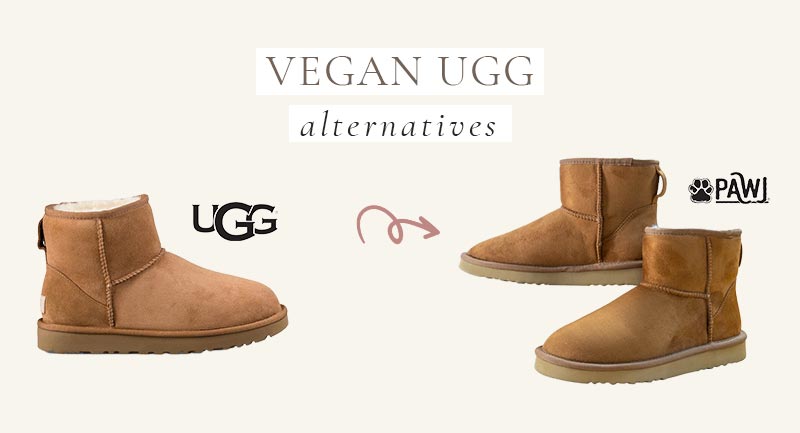 As for UGG Classic Mini Boots, again I would recommend PAWJ. Their silhouette and colors are quite similar to UGG's. They're also very close in height. UGG minis are 5″ and PAWJ mini versions are 5.25″.
---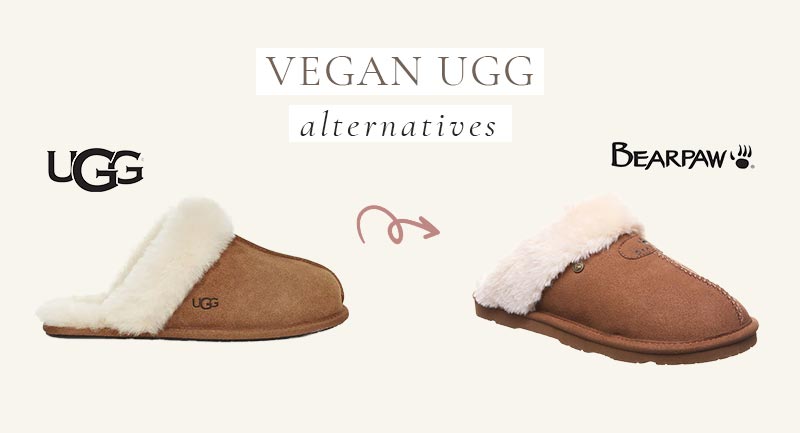 If you're also on the hunt for a vegan alternative to UGG slippers, Bearpaw makes some vegan faux-fur trimmed slippers that look and feel like UGG's. However, note that not all Bearpaw boots and shoes are vegan. They do have some styles made with animal materials.
But I thought I'd include an option that is more accessible than Vegetarian Shoes and PAWJ.
Also, Bearpaw has confirmed to me that the glues they use in their Vegan shoes are made without animal by-products. So, just make sure you're buying a pair of Bearpaw shoes that are clearly labeled as Vegan in the product name. Like these slippers, Bearpaw- Loki Vegan Faux Fur Trimmed Slipper.
---
Be Aware of Sellers on Amazon
You can shop for vegan boots like UGGs on Amazon as they have a lot of styles and options made with cheap faux-materials that are technically vegan.
But there's very little known about these resellers and their ethical practices. Throughout the years, reports have shown some retailers (like Boohoo) selling items labeled as "faux-fur". But upon investigation, it turns out they were actually made from real animal fur.
I think it's best to avoid buying faux-fur products on Amazon from brands or sellers that you aren't familiar with. What I do when I shop on Amazon is actually Google the brand or company name first. If they don't have a legitimate website and the only search result that shows up is a link to their Amazon store, I don't buy from them.
Both PAWJ and Bearpaw are available on Amazon and I recommend them both as reputable brands with quality products.