This post may contain affiliate links that at no additional cost to you, I may earn a small commission.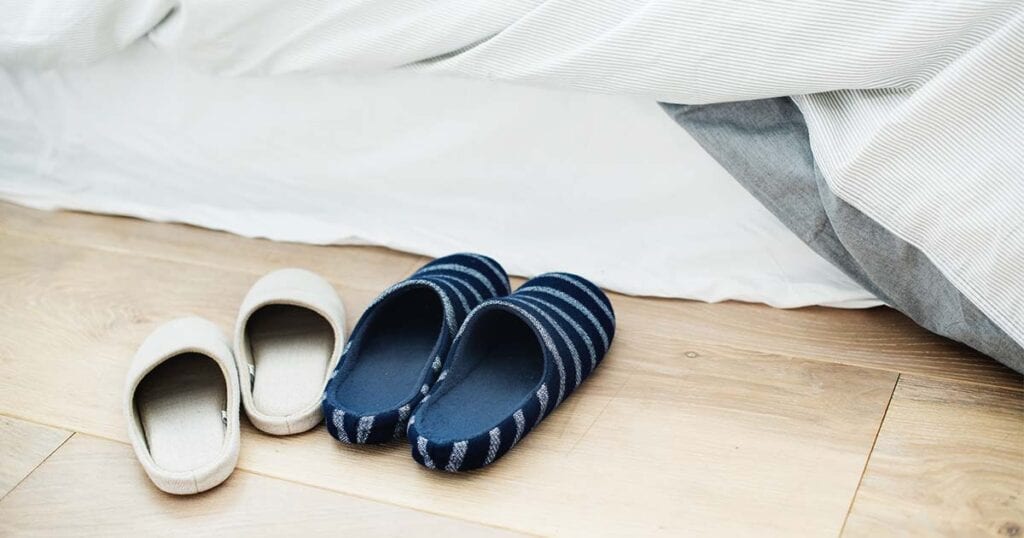 Looking for women or men vegan slippers made without wool, leather, fur, or sheepskin? In this list, we'll walk you through a selection of comfy, casual, and cute slippers so that you can stay cozy without the cruelty!
Are Slippers Vegan?
Most warm and cozy slippers are made with felted wool obtained from sheep's hair. Although there are responsibly-sourced wool options available, vegans typically prefer not to wear or buy anything made from materials that were derived from animals.
In addition to wool blends, some slippers may also be made with fur, leather, and/or suede derived from animal skins, and some may contain lambskin or sheepskin lining.
For example, wildly popular Uggs slippers are made with animal suede and sheepskin but if you like the style and look of Uggs, not to worry, we found some vegan slippers very similar to Uggs.
For vegan slippers, you want to find a pair that were made from any other material that did not come from animals. Either look for ones that are straight-up labeled as Vegan or ones made with materials like polyester, microfiber fabric, or anything that states its faux- or synthetic-.
For an eco-chic & vegan option, look for slippers made with natural materials like organic cotton, bamboo, cork, or recycled materials… we'll share some of our faves too!
I've separated this list into two categories: Men's Vegan Slippers and Women's Vegan Slippers for ease of browsing.
Women's Vegan Slippers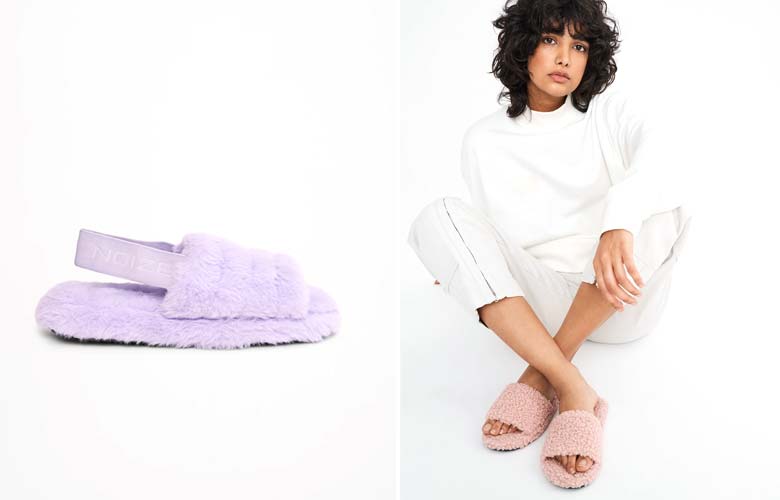 Vegan Fur & Sherpa Slides Slippers by Noize ($50-$60) – Available in a range of colors. Noize recently launched a couple of vegan fur and sherpa slippers. They look super cozy, plush, and chic! If you like discounts, use code: 'ETHICALELEPHANTFW20' for 20% off your order.
---
Women's ReNew Slippers by Everlane ($50) – Like a duvet for your feet. Evelane's ReNew Slippers features a cozy quilted upper, a soft plush lining, an easy slip-on design, and a durable outsole for when you decide to leave the house. Plus, it's made entirely from 100% recycled materials.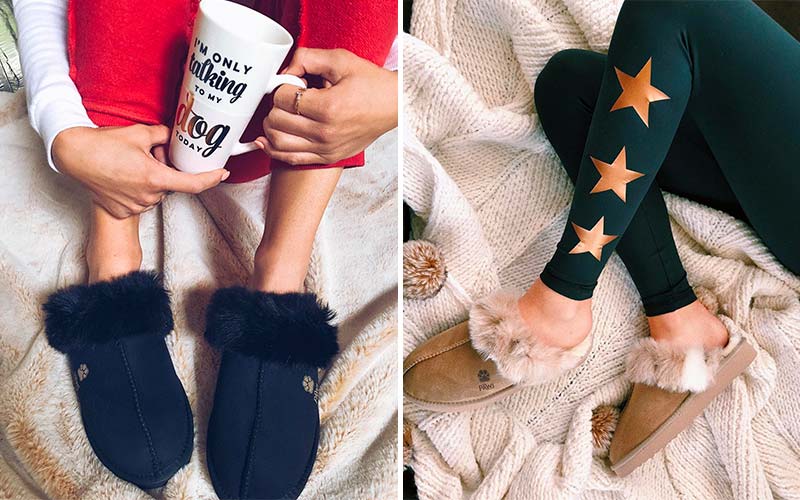 Vegan Slippers with Faux Fur Lining by PAWJ ($80) – available in Black or Tan. These vegan slippers are the closest thing you can get to Uggs and you can also get these on Amazon too! Made with high-quality synthetic suede and faux-fur and faux shearing which makes them 100% vegan.
If you like discounts, use PAWJ coupon code: ETHICALELEPHANT10 to receive 10% off your order.
---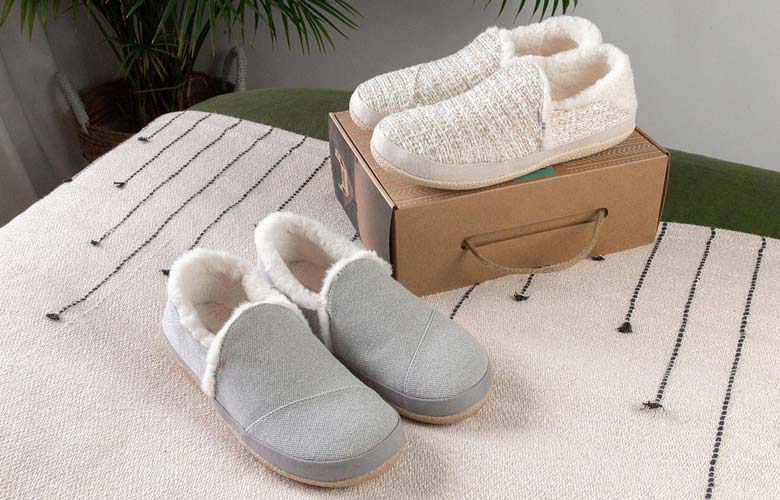 Women's Vegan Slippers by TOMS ($50-60) – TOMS has a great range of cozy and plush faux-fur slippers to keep your feet nice & toasty. Just be sure to find the ones that are clearly labelled as vegan in the product description.
---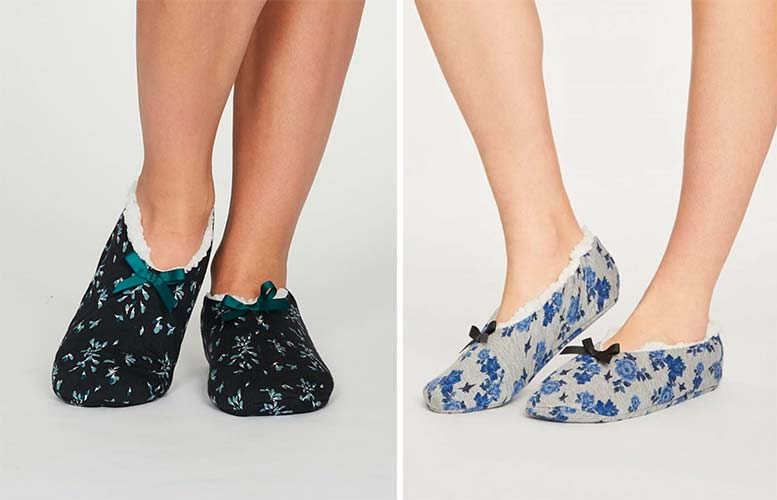 Bamboo & Organic Cotton Slippers by Thought (£15) – These unique, hand-drawn print slippers are made from soft bamboo and organic cotton exterior, featuring a super cozy triple-layered recycled polyester lining.
---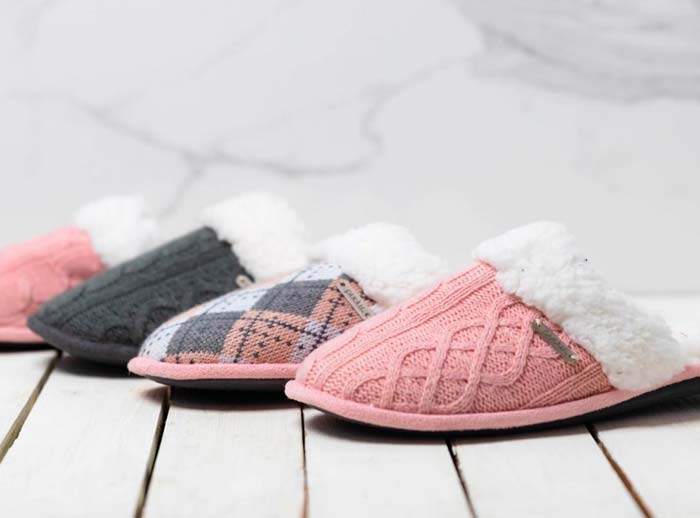 Vegan House Slippers by Pudus ($39) – These cute & trendy slides are made from ultra-plush faux-fur Sherpa lining that will keep your feet feeling cozy and warm all year long. Memory foam insole mold to your feet and provide superior comfort and foot support.
---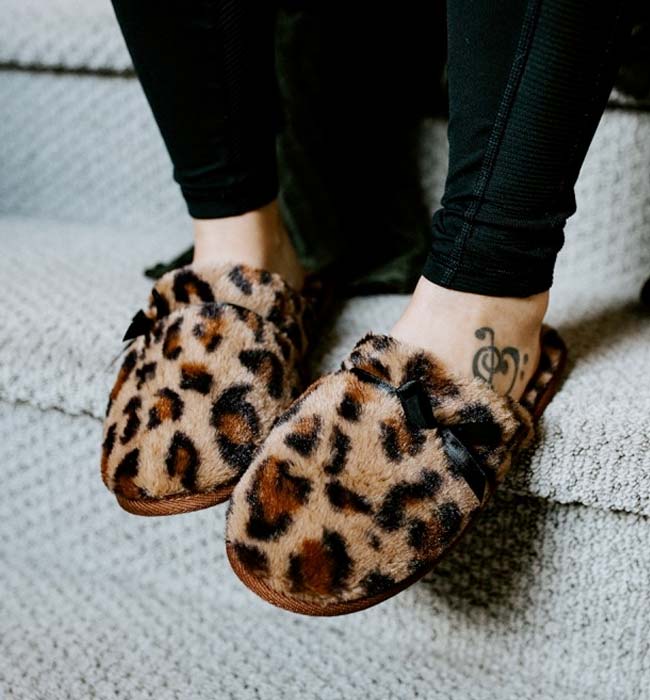 Leopard Vegan Fuzzy Fur Slipper by T.U.K (£15) – Also available in Pink Leopard print. "Give your creepers a day off! Your new home essential this season includes the fuzzy vegan-friendly brown leopard slippers with a fab medium pile faux fur upper with fleece lining. With a super soft footbed, you can sling on your fave trackies and socks with these lightweight sassy slippers."
---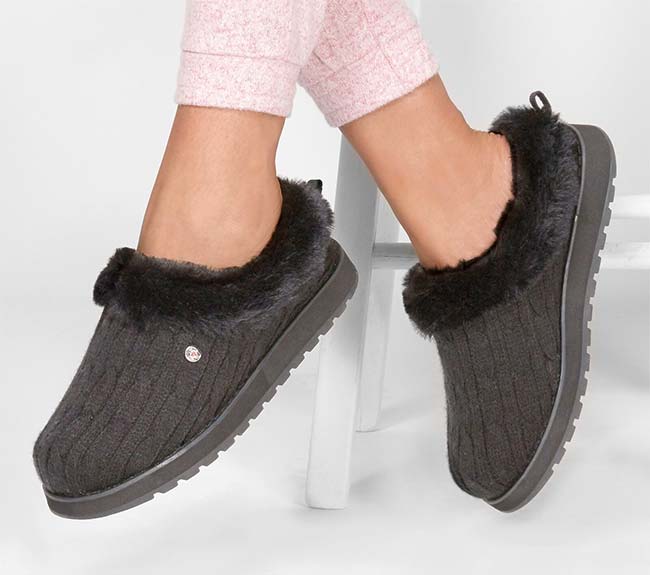 Knitted Vegan Slippers by Skechers ($28) – "Stay cozy and comfortable in classic style with the SKECHERS BOBS Keepsakes – Ice Storm shoe. Soft sweater knit fabric upper in a slip on casual comfort clog slipper with faux fur lining and Memory Foam footbed."
---
Men's Vegan Slippers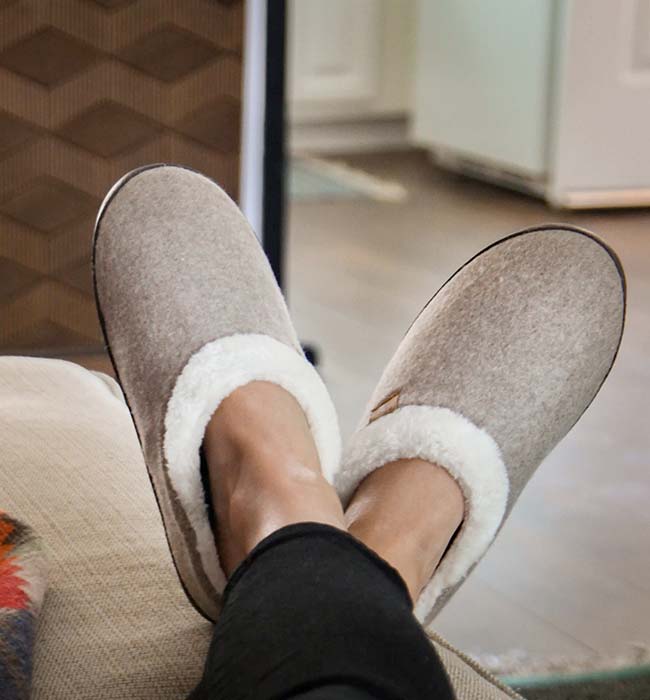 Unisex Vegan House Slippers by Freewaters ($45) – Available in Grey and Wheat color. "Wait, a house slipper with arch support? Yup. Get cozy and float through your house with incredible support and cushioning. Indoor/Outdoor sole grips nicely on all floor surfaces including out the driveway too. Slips on easily – hands free. Happy Arch insole with plush cushioning, Vegan faux-wool and faux-leather."
---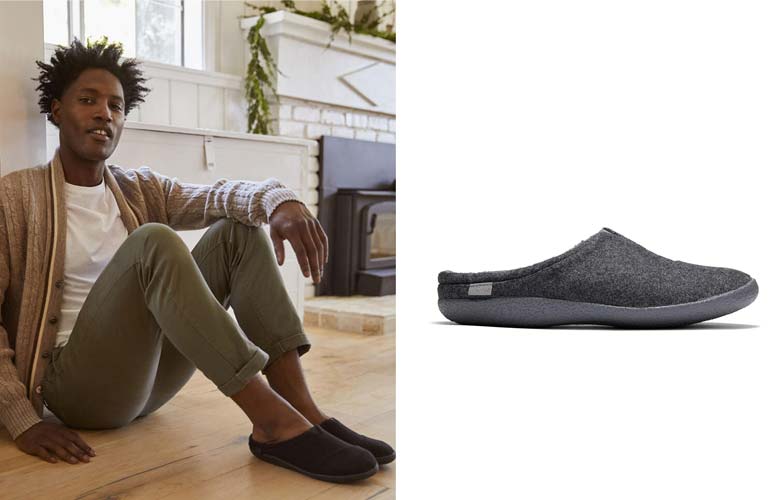 Berkeley Vegan Slippers by TOMS ($60) – Available in a range of colors and patterns including some festive styles that are perfect for the holidays or to gift! With cozy faux shearling lining and a rubber outsole designed for increased traction and durability, this stylish slipper can be worn both indoors and out.
---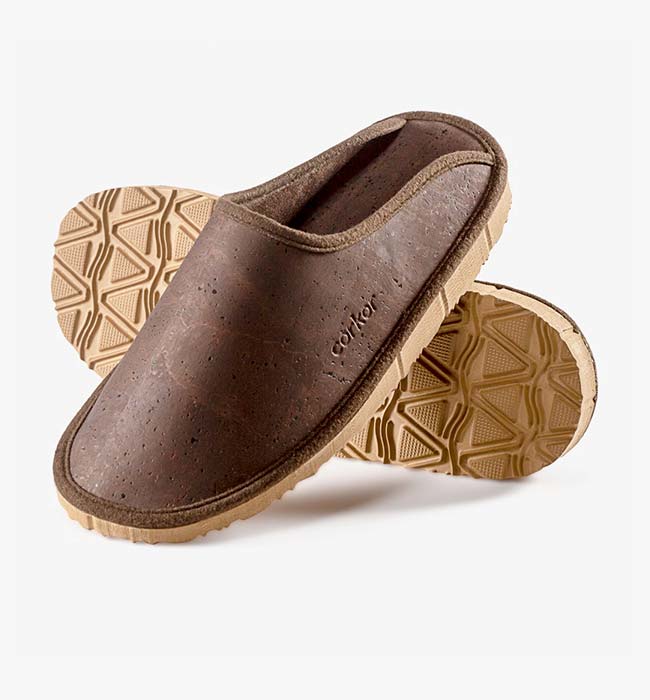 Vegan Cork Slippers by Corkor ($50) – Made from genuine cork. Available in light and dark brown. "Keep your feet warm and happy around the house with the new Cork Slippers for Men, a luxury slipper made from premium cork, with a contrasting heel detail for comfort. These slippers are just the thing to wear when you're dashing out for the morning paper!"
---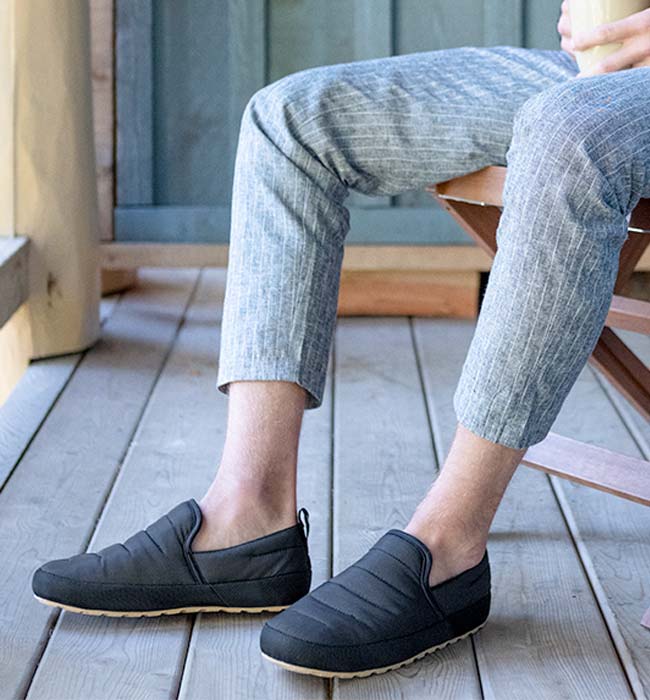 Memory Foam Vegan Slippers Lounger by Native ($70, On Sale $49!) – "A low profile conception of the Chamonix boot. Chamonix Base Camp is built for more casual terrain, to curb life's daily challenges on foot. Like pillows on your feet, its memory foam insole is ideal for lounging around, while RPET insulation adds comfort and retains warmth. At the exterior, a functional woven mudguard offers 360° durability. Basecamp slips on with ease, and sits like a cloud above an ultralight TPR outsole with ridged, non-marking grip."
---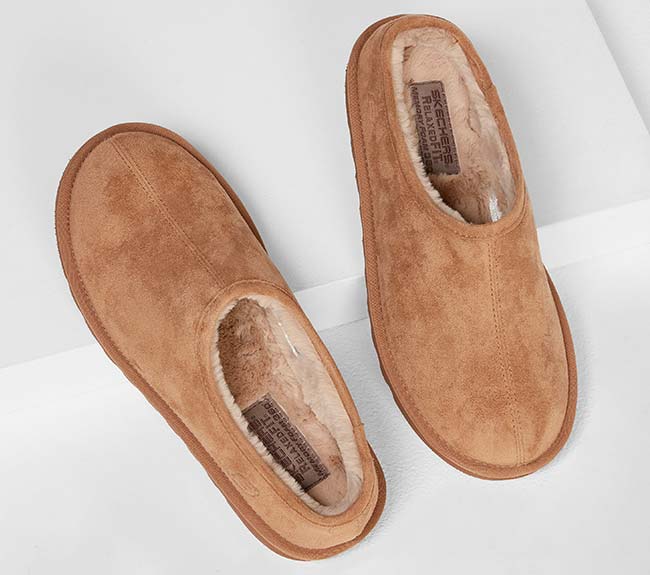 Faux-Fur Men's Vegan Slippers by Sketchers ($42) – "Reward your feet with snuggly warm comfort and handsome lounging style in the SKECHERS Relaxed Fit®: Renten – Lemato shoe. Soft microfiber fabric upper in a slip on low backed casual comfort slipper clog with stitching accents. Memory Foam footbed."
---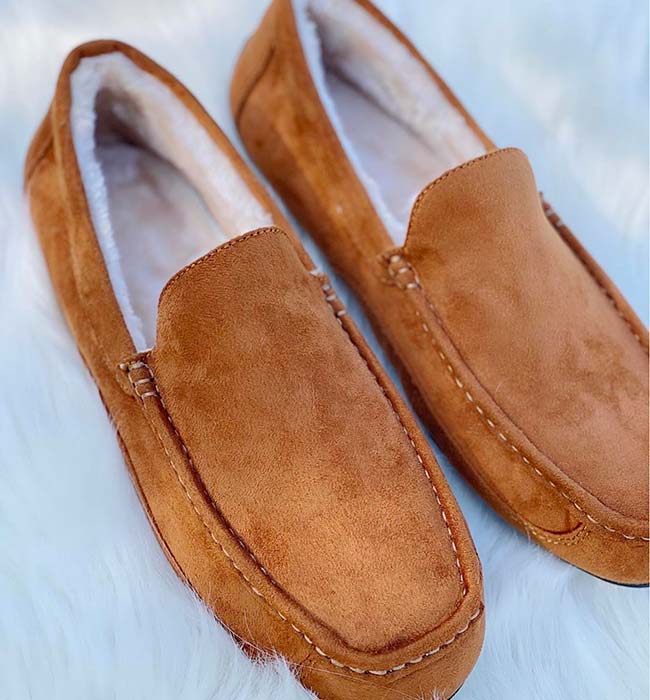 Men's Moccasin Vegan Slippers by PAWJ ($90) – made from high-quality, soft, synthetic suede and faux fur and faux shearing which makes them 100% vegan.
---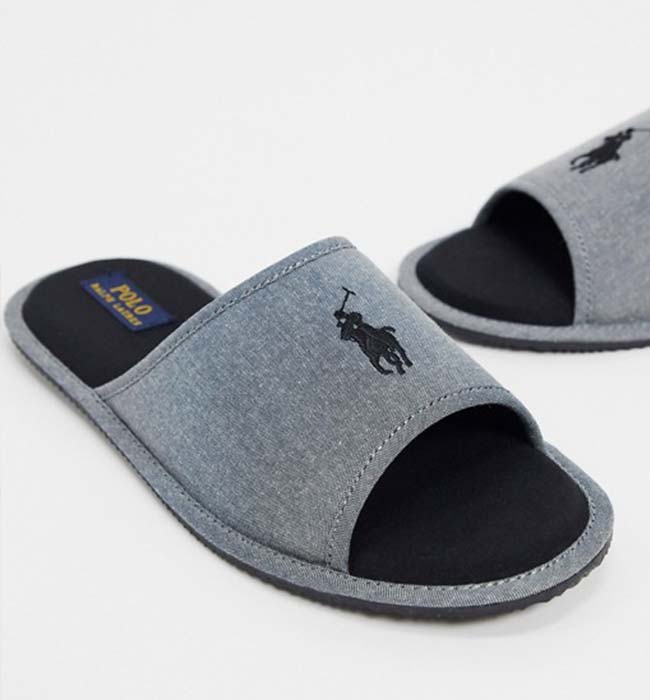 Designer Men's Vegan Slippers by Ralph Lauren (£40) – Bringing in the comfort with these designers Ralph Lauren slip-on style slippers with a wide-cut strap and Polo player logo embroidery. Made with 100% textile materials.