This post may contain affiliate links that at no additional cost to you, I may earn a small commission.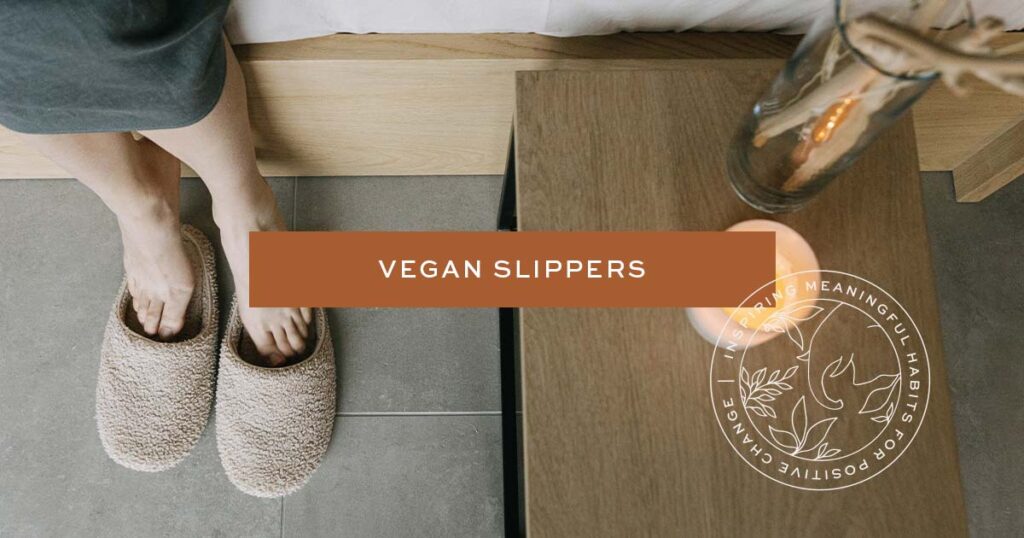 Step into a world of comfort and consciousness with the best vegan slippers for your feet.
These slippers are not only designed to provide unbeatable comfort but also to align with your values.
Whether you are a committed vegan or simply conscious of the impact your choices have on the environment and animals, you can now enjoy luxurious softness and cozy warmth guilt-free.
Crafted using innovative and cruelty-free materials, these vegan slippers offer a perfect blend of style and sustainability. From plush faux fur linings to soft and breathable organic cotton uppers, each pair is thoughtfully designed to prioritize both comfort and ethics.
With a variety of styles and colors to choose from, you can find the perfect pair that suits your taste and personality.
Women's & Men's Vegan Slippers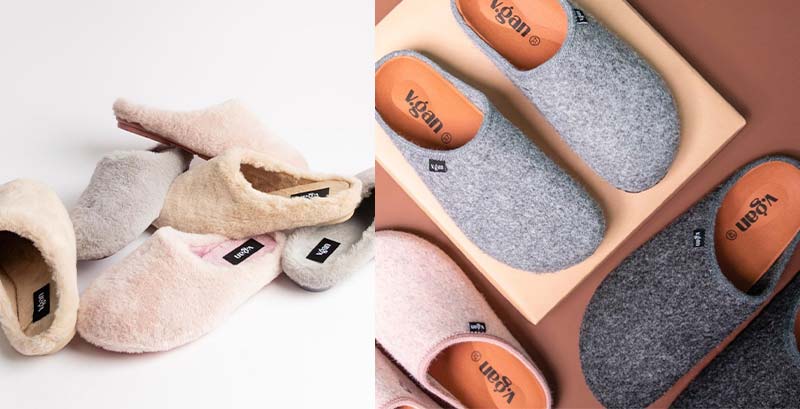 Mens & Women's V.GAN Recycled Slippers ($44) – Slide into something super comfortable after a hard day with one of V.GAN's stylish animal-friendly slippers that are made from recycled materials. Men's and women's sizes available, choose from a wide array of colors.
---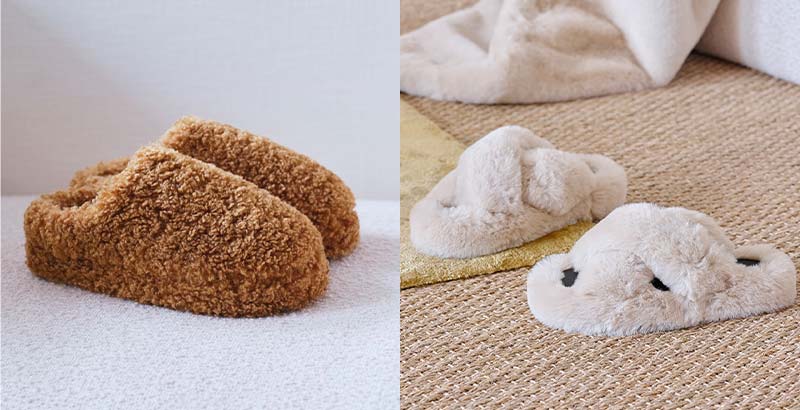 Apparis Vegan Fur Slippers ($230-$250) – Apparis fluffy faux fur and recycled vegan shearling slippers are extra-soft and feel like you're walking on clouds. Their vegan slippers are the perfect slide to take you from indoors to outdoors. Available in lots of ultra-plush styles and neutral or animal prints.
---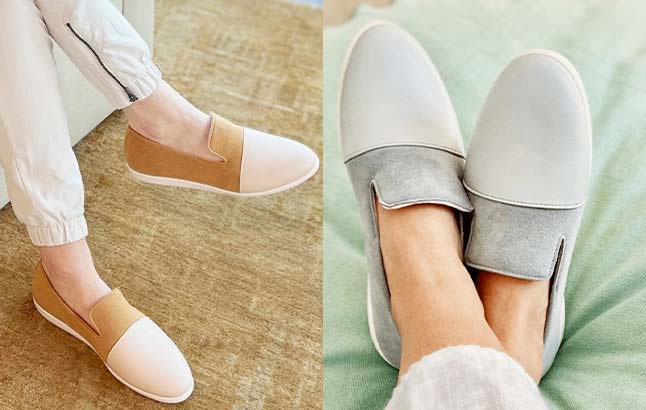 Dooeys Apple Leather House Slippers ($150) – Not your average house slippers, Dooeys' House Loafers are perfect for your everyday at home. Effortlessly dress them up or down when lounging, working from home, or hosting friends & family. Made from premium, plant-based & recycled materials.
---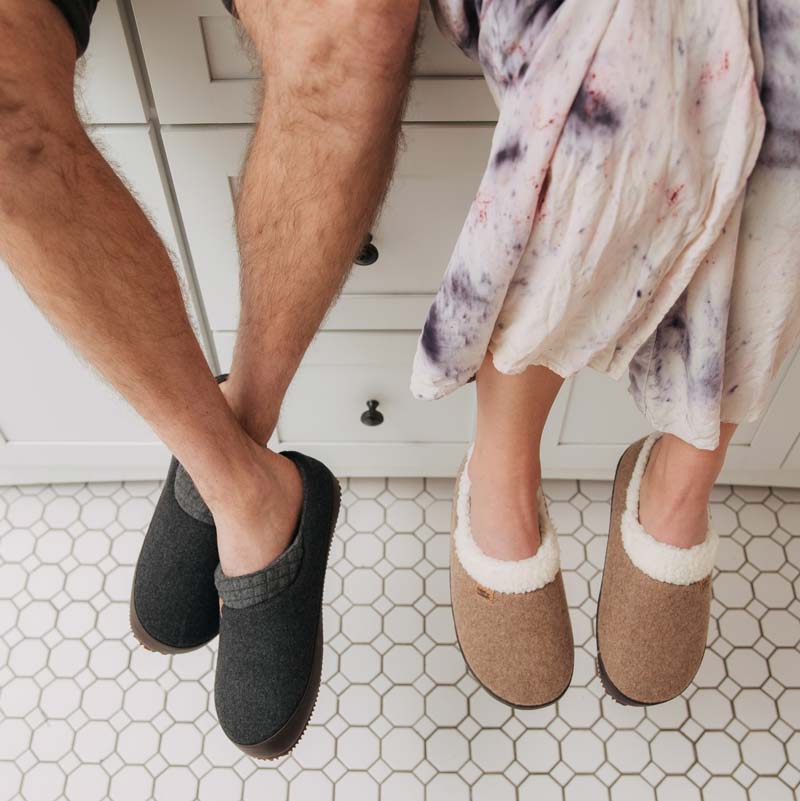 Unisex Vegan House Slippers by Freewaters ($46-$66) – Available in multiple colors. Freewaters house shoes are made of 30% recycled rubber and shipped in eco-conscious packaging. They're also 100% vegan, and machine washable, and purchasing them supports bringing clean drinking water to those in need. Happy Arch insole with plush cushioning, Vegan faux-wool and faux-leather.
---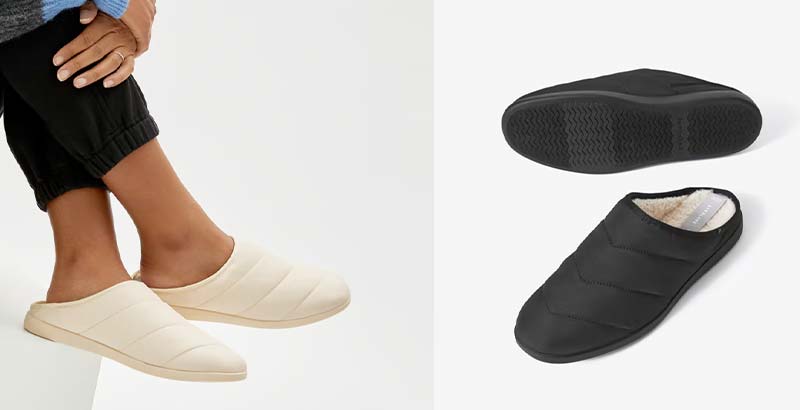 ReNew Slippers by Everlane ($65) – Like a duvet for your feet. Evelane's ReNew Slippers features a cozy quilted upper, a soft plush lining, an easy slip-on design, and a durable outsole for when you decide to leave the house. Plus, it's made entirely from 100% recycled materials.
---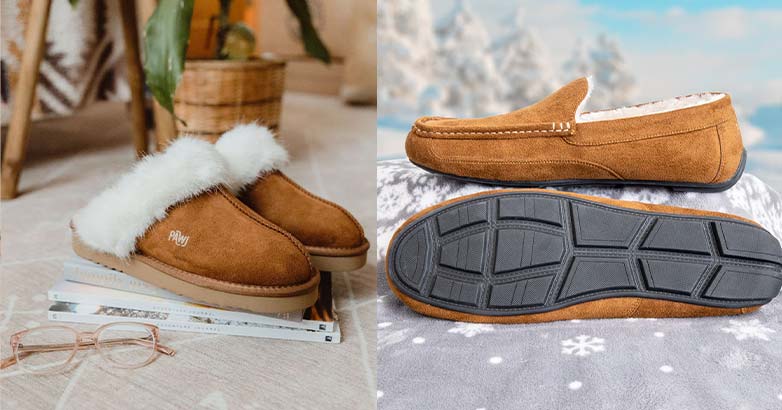 Vegan Slippers with Faux Fur Lining by PAWJ ($100) – Now available in a variety of colors! These vegan slippers are the closest thing you can get to Uggs, and you can also get these on Amazon too! Made with high-quality synthetic suede and faux-fur and faux shearing, which makes them 100% vegan. PAWJ also has a men
---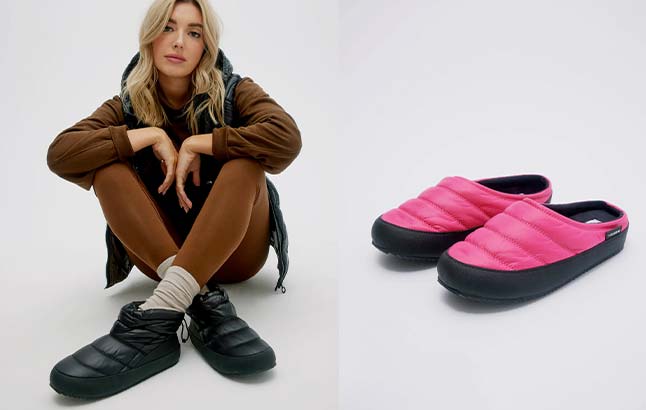 Vegan Puffer Slides by Noize ($80) – Designed in Noize's incredibly warm, eco-friendly post-consumer water bottle-based materials, this slip-on pair has all the extra padding needed for ample comfort. Their rubber outsole features a little traction to keep you from slipping around when you wear these outdoors.
---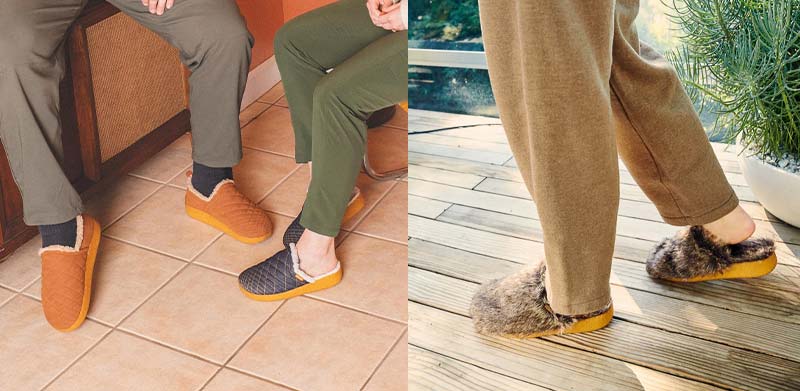 Malibu Indoor & Outdoor Slippers ($120-$150) – Made in Cambodia, Malibu's line of luxe, comfortable, and multi-purpose slippers feature an ergonomic footbed with arch support so that you can wear them indoors or outdoors. With men's and women's sizes available, Malibu has many styles of comfy vegan mules and slippers to choose from.
---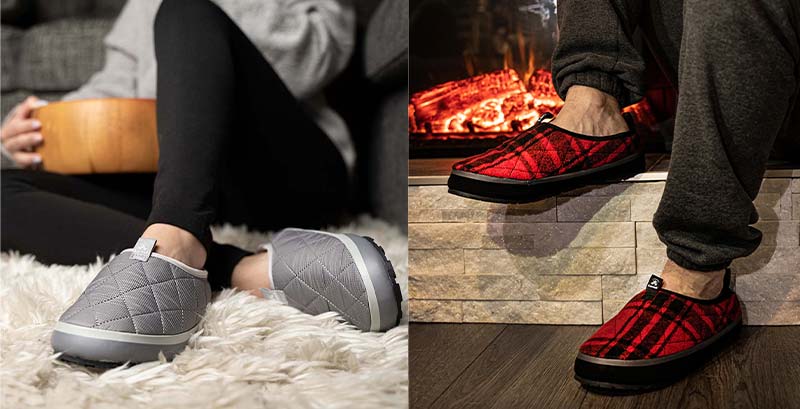 Men's & Women's Kamik Slippers ($65-$70) – Kamik offers a selection of vegan-friendly slippers in various styles and colors. I especially love these luxe and comfy Puffy slippers; they're great for pancake mornings and board game afternoons. Their cushiony footbeds with odor-control treatment mean you can happily wear them all winter long.
---

Pudus Plush Slippers ($20-$70) – Pudus is a Canadian company with a collection of cozy, PETA-Certified Vegan house slippers. Made with love, Pudus slippers are designed to bring coziness, comfort & joy. Features a plush sherpa lining to keep your feet all warm and toasty and memory foam inserts for incredible foot indulgence. Some of their newer styles are made from recycled water materials.
---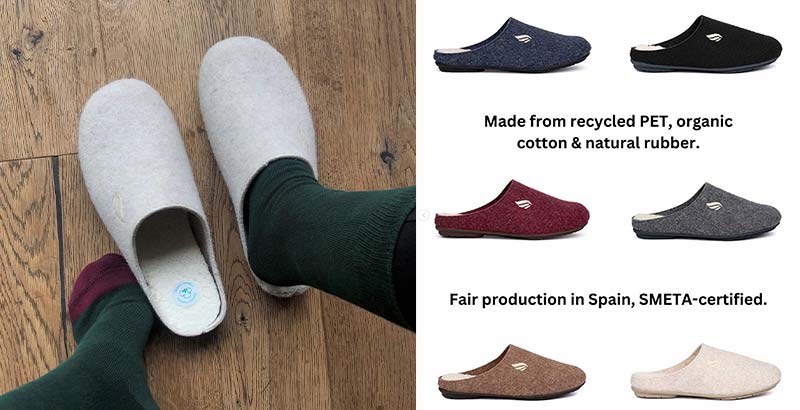 Avesu Elements Vegan Slippers ($53) – The AVESU ELEMENTS slipper is the perfect mule for your home, made from recycled PET bottles and its lining made from organic cotton keeps your feet cozy and warm. Produced in Spain under fair working conditions, the shoe has been awarded the SMETA sustainability certificate.
---
---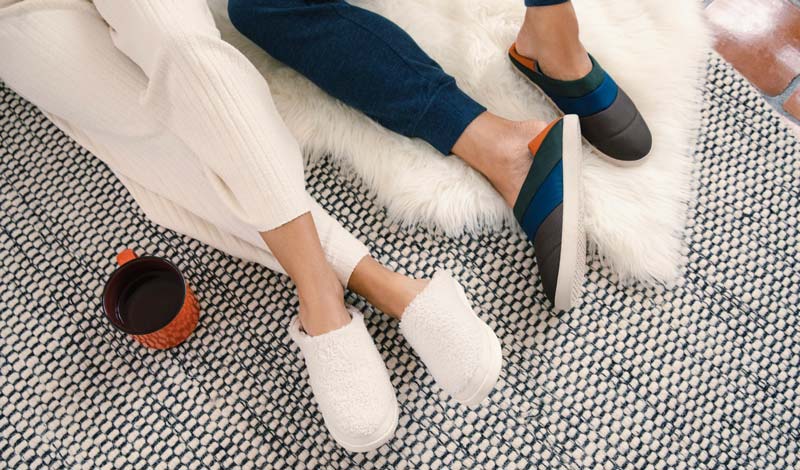 Women's & Men's Vegan Slippers by TOMS ($70-$80) – TOMS has a great range of cozy and plush faux-fur slippers to keep your feet nice & toasty. Just be sure all materials are animal-free; look for textile and any faux materials. With cozy faux shearling lining and a rubber outsole designed for increased traction and durability, TOMS stylish slippers can be worn indoors and out.
---
Are Slippers Vegan?
Most warm and cozy slippers contain felted wool from sheep's hair. Although there are responsibly-sourced wool options available, vegans typically prefer not to wear or buy anything made from materials that were derived from animals.
In addition to wool blends, some slippers may also be made with fur, leather, and/or suede derived from animal skins, and some may contain lambskin or sheepskin lining.
For vegan slippers, you want to find a pair made from any other material that did not come from animals. Either look for ones that are straight-up labeled as Vegan or ones made with materials like polyester, microfiber fabric, or anything that states it's faux- or synthetic-.
For an eco-chic & vegan option, look for items made with natural materials like organic cotton, bamboo, cork, or recycled materials.
Say goodbye to the days of sore and tired feet and say hello to the ultimate comfort experience. These vegan slippers are not only a treat for your feet but also a conscious choice that contributes to a better world. So why compromise on comfort or your principles? Step into a new level of comfort and consciousness with the best vegan slippers for your feet.