This post may contain affiliate links.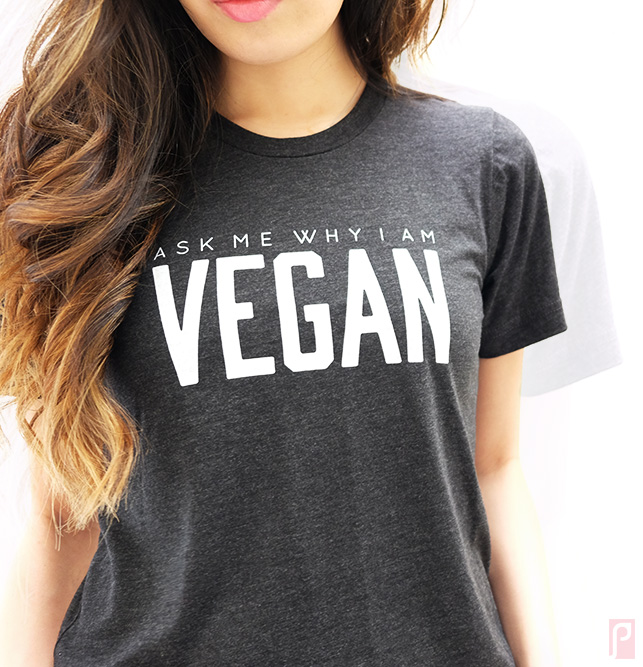 Five years ago, vegans had very little options when it came to shopping for quality and fitted vegan shirts, tanks, or sweaters. I remember having a hard time finding vegan awareness shirts that were modern, chic, and flattering for my small frame.
I'm happy to feature and introduce a vegan t shirt brand that I've been following for some time now, The Dharma Store!
The Dharma Store
The Dharma Store started selling vegan shirts on Etsy and recently decided to open up their own online shop, they were also featured in my 10 More Badass Vegan T-shirt Brands To Sport list. I called The Dharma Store a souvenir shop for vegans because they have over 600 items (!) in their shop.
But I think what makes The Dharma Store stand out amongst other vegan apparel brands is their sustainability ethos. They use water-based and eco-friendly inks, they only source shirts from WRAP certified (Worldwide Responsible Accredited Production) manufacturers, and all of their shipping packages are 100% recyclable or fully biodegradable.
If that doesn't already get you excited, The Dharma Store offers men and women shirts, tank tops, and long sleeve shirts from sizes XS to XL and you can have your favourite graphics printed on your choice of over 15 custom color options! They also ship within the US and to Canada, UK, Germany, and Australia!
I got to try two of their items and you can see for yourself how well they fit and the amazing quality!
Vegan Shirts by The Dharma Store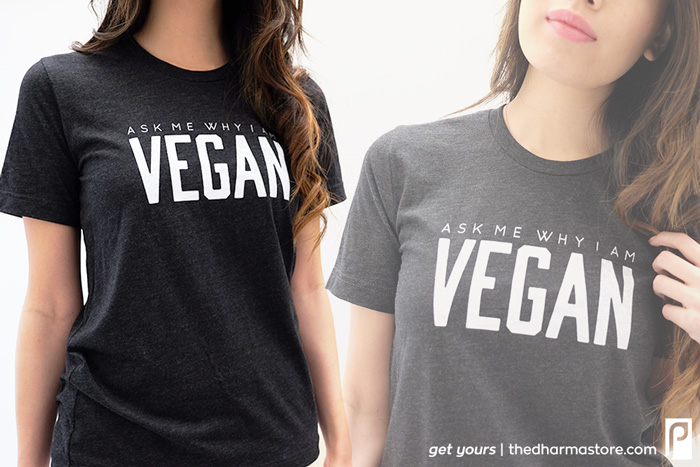 I am seen here modelling the 'Ask Me Why I'm Vegan' t-shirt in a size XS and in the color charcoal black. In person, the color looks like a true heather dark gray. The shirt is super soft as its made from a blend of 50% polyester, 25% cotton, and 25% rayon. The sizes are unisex so I'm glad I went for the smallest size. I'm always a bit apprehensive with unisex sizes especially when it comes to the sleeve length but the XS fits me perfectly!
For a different and more fitted look, I rolled up the sleeves an inch, shorten the length of the shirt and tucked it in the back. And now it looks (as seen below) like an entirely different shirt but with no cutting or sewing involved!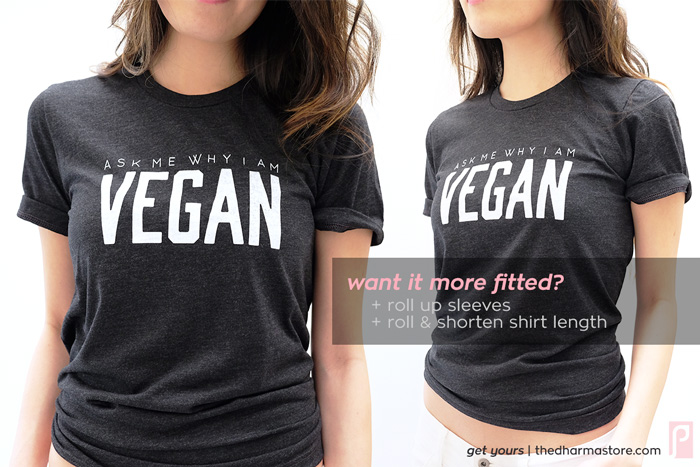 Vegan Tanks by The Dharma Store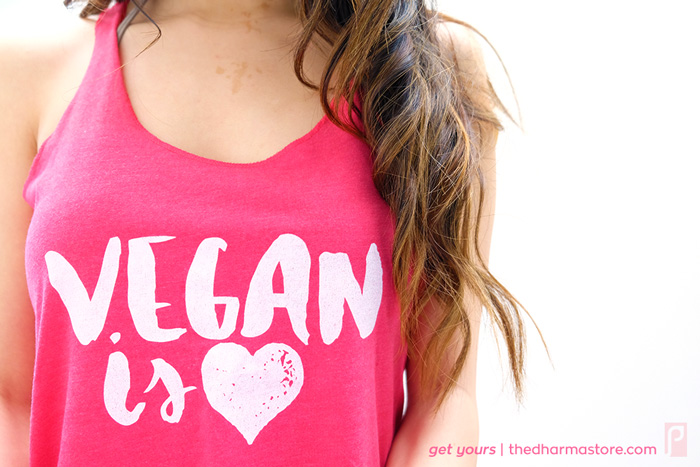 I also got to try one their tanks. I decided to go with their 'Vegan is LOVE' tank and I'm trying on a Small in the color Vintage Shocking Pink! It is made from the same material as the 'Ask Me Why I'm Vegan' t-shirt but I think the tank feels a tad softer than the shirt =)
Can we just take a few seconds to appreciate this pink!? OH MY. I went for a custom color (cause why not?!) and this one is a beautiful shade of hot pink. I see myself rockin this brightly colored tank with a pair of shorts in the Summer time. I could have went for a smaller size (XS) but I wanted the tank to be loose fitting and I'm very pleased with how it turned out!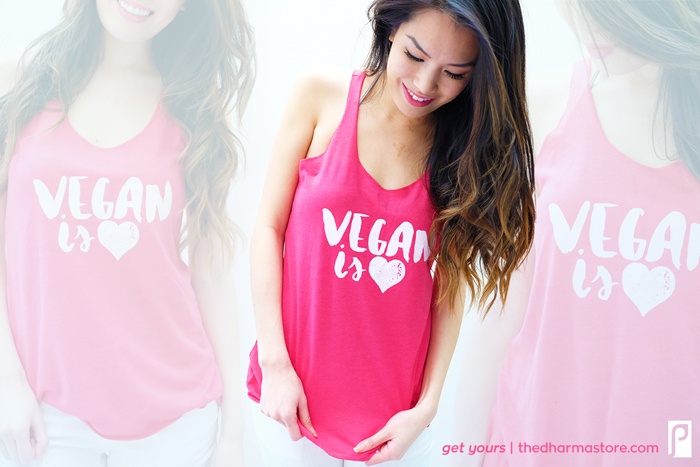 Giveaway: Your Choice of Shirt from The Dharma Store!
So I can't just go on and on about how awesome the vegan shirt and tank that I got from The Dharma Store without offering one for YOU! That would just be rude of me! =) The ahhhhmazing peeps at The Dharma Store were kind enough to give away one of their vegan shirts to one of you! The winner will get to pick the design, color, and size of their choice. Winner will be notified by email and will have 24 hours to respond to claim prize.
Giveaway rules:
Open to U.S. and Canadian residents only
To enter: Subscribe to ethical elephant's newsletter by entering your email address in the widget below
Increase your chances of winning by following ethical elephant and The Dharma Store on Facebook, Instagram, Twitter, and Pinterest!
---
Disclaimer: I received samples in exchange for my honest review. I was not required to write a positive review nor was I compensated in any other way. All opinions expressed are always 100% my own.