This post may contain affiliate links that at no additional cost to you, I may earn a small commission.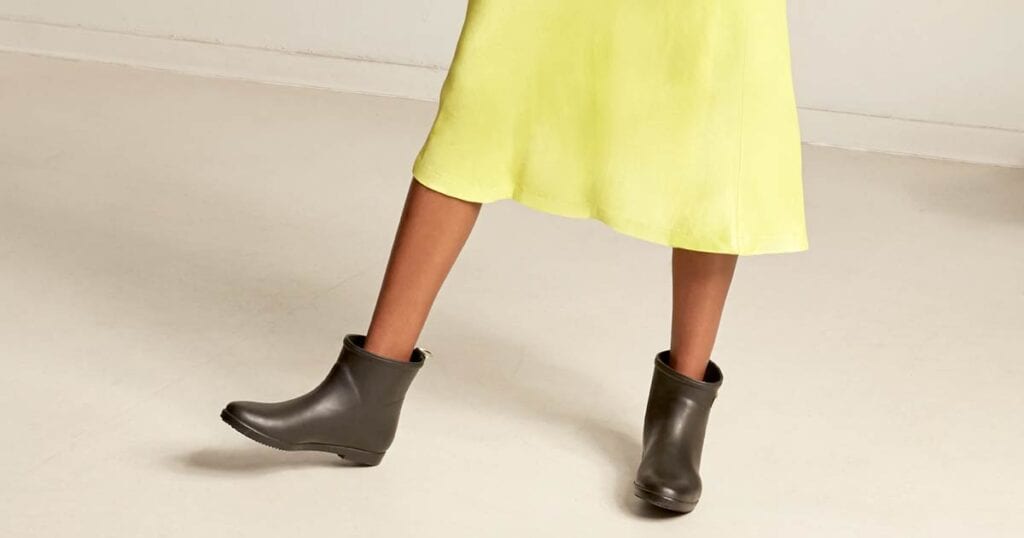 Looking for vegan waterproof boots but that are also stylish and practical? Check out these best vegan rain boots from the classic vegan Hunter boots and Chelsea booties, to sleek silhouettes taking your not-so-boring rubber rain boots to something you can wear out shopping, on lunch dates, or those rainy date nights.
All of the waterproof rain boots mentioned in this post are made from vegan materials and don't contain any leather, suede, wool, shearling, fur, or other animal fibers.
Vegan Rain Boots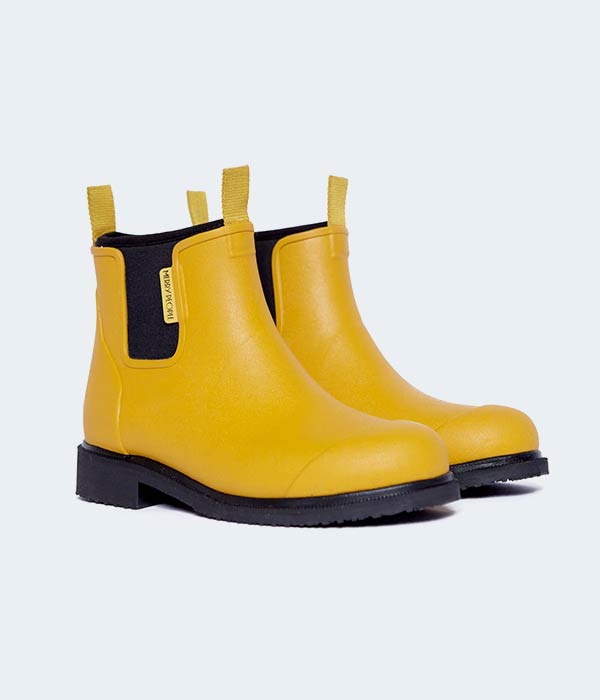 Vegan Rain Boots by Merry People ($140) – Available in multiple colors including yellow, red, black. Merry People makes the best eco-friendly vegan rain boots for everyday wear. These rain boots are ethically-made with natural rubber and are super comfy with arch support. They have also been tested for sub-zero temperatures ensuring your toes stay dry and warm.
---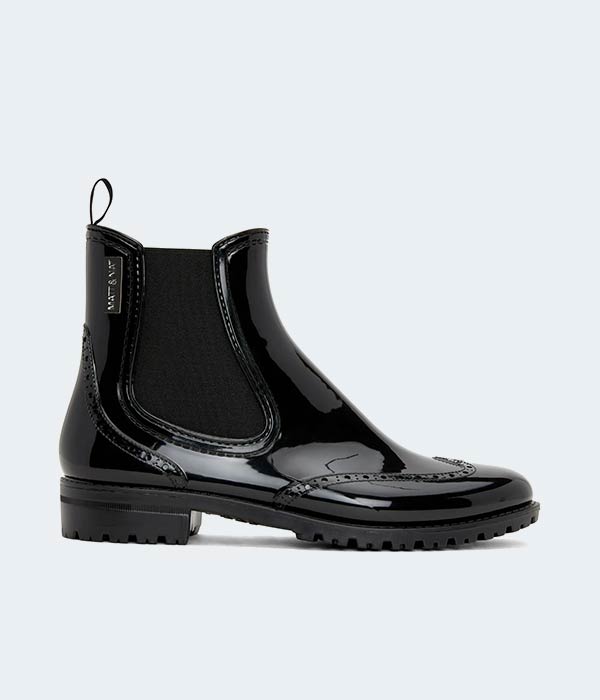 Vegan Chelsea Waterproof Boot by Matt & Nat ($110) – Made from recycled materials and PVC made in Romania, these Matt & Nat Denver Boots sport the classic Chelsea elastic gore with a perforated toe cap detail to give it a unique look. Matt & Nat also has a vegan waterproof bootie in matte black and olive color.
---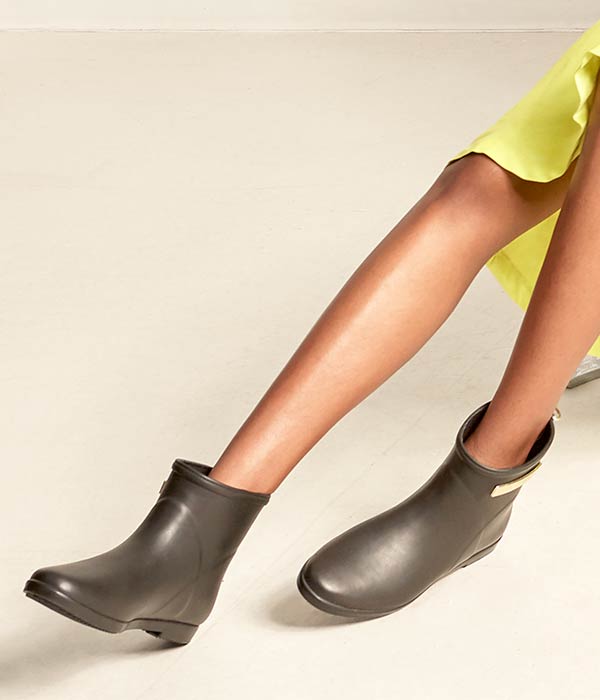 Classic Black Vegan Rubber Rain Boots by Alice + Whittles ($161, On Sale $113!) – With a sleek, minimalist silhouette, these classic black rubber rain boots will go with just about any outfit whether you're walking your dog, hiking with friends, or in your garden.
---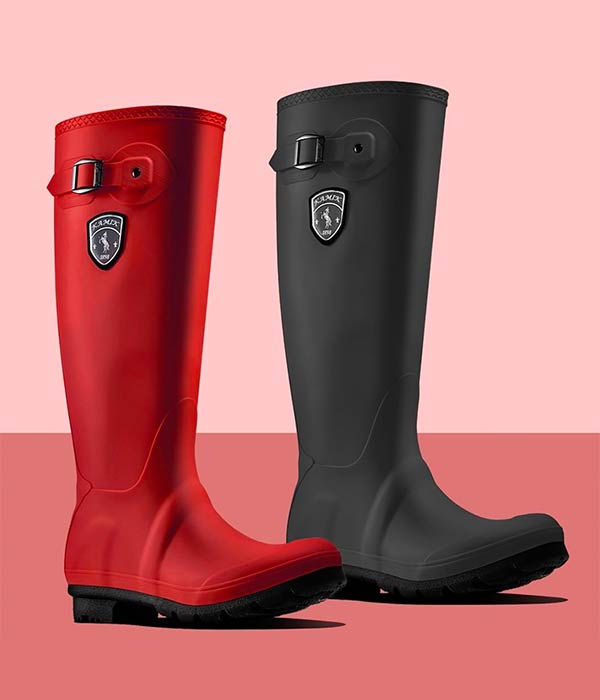 Recyclable Waterproof Rain Boots by Kamik ($80, On Sale $70!) – Proudly made in Canada and available in multiple colors. The Jennifer high rubber boots are practical enough for playing outside with the kids, and plenty stylish to impress at a girls' lunch out. These women's rain boots are made of lightweight RubberHe, and have built-in traction for slippery spring weather. The patch-and-buckle detailing completes these recyclable and waterproof boots.
---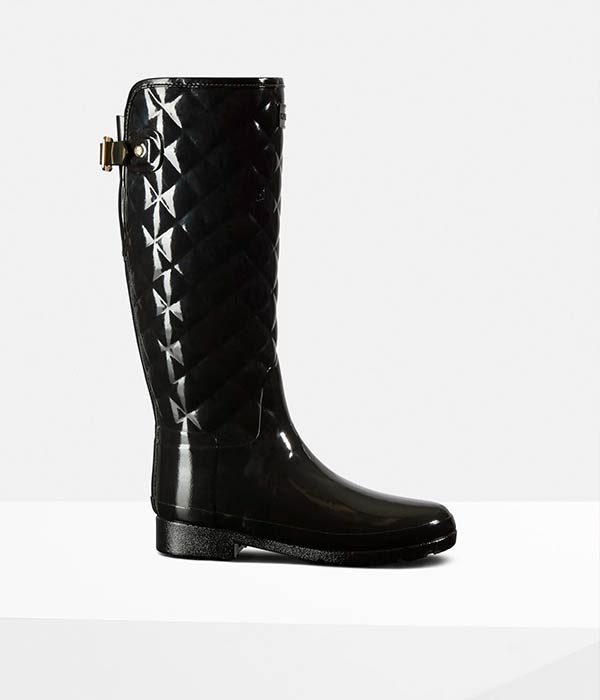 Hunter Vegan Rain Boots ($185) – "Merging style and practicality, the ultimate boot that takes you from day to night whatever the weather. Fashioned with a slim fit and a stylish quilted natural rubber upper, this handcrafted waterproof boot offers a sleek silhouette all whilst protecting from the elements. In a classic glossy black, the Women's Refined Slim Fit Quilted Tall Rain Boot Boot allows for all day comfort with its moulded footbed and adjustable gusset at the back. Perfect for days of shopping and rainy nights out, this knee length boot is a city-living essential."
---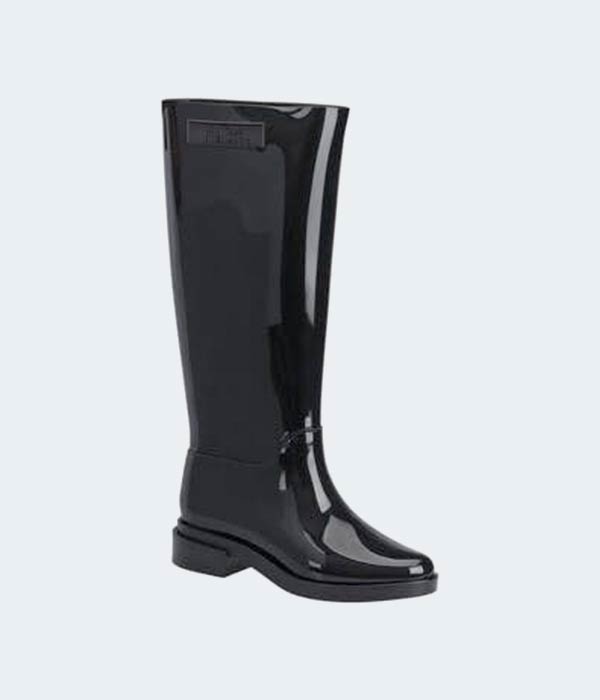 Vegan Knee-High Rain Boots by Melissa ($195, On Sale $35!) – "This winter classic is revisited under Melissa's unique style approach. The traditional tall boot is perfect to face the coldest and rainiest days. This model features a technology that helps maintaining the temperature and waterproof material, 100% recyclable, assuring comfort to any style. In various color options, with matte or glossy finishing, the new Long Boot will be part of every season outfit."
---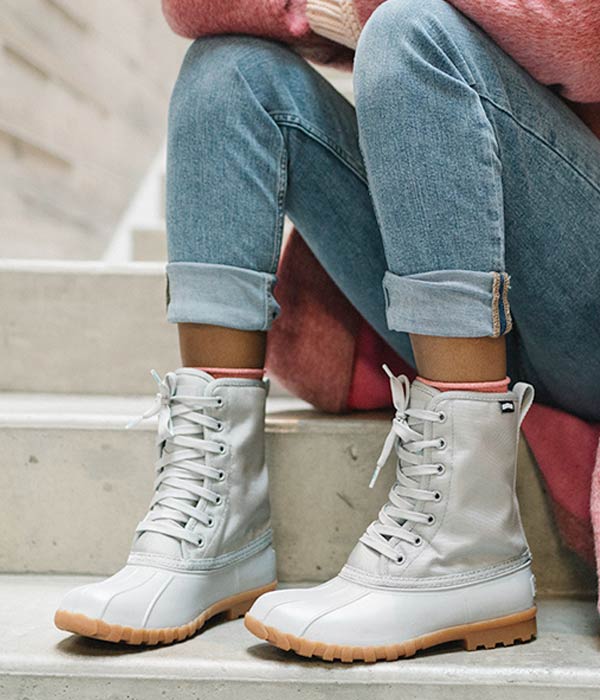 Light Vegan Waterproof Boots by Native ($145) – Native's new Jimmy Citylite is a step above the original. "A brand new ultra-lightweight rubber outsole provides enhanced grip and durability on slick city streets and Defender Repellent Systems with Scotchguard™ ensures ultimate water and abrasion resistance. A cozy microfleece lining and gusseted tongue keeps warmth in and moisture out. Rounding out the revamp, the EVA upper remains 100% waterproof, lightweight and flexible for all day comfort."
---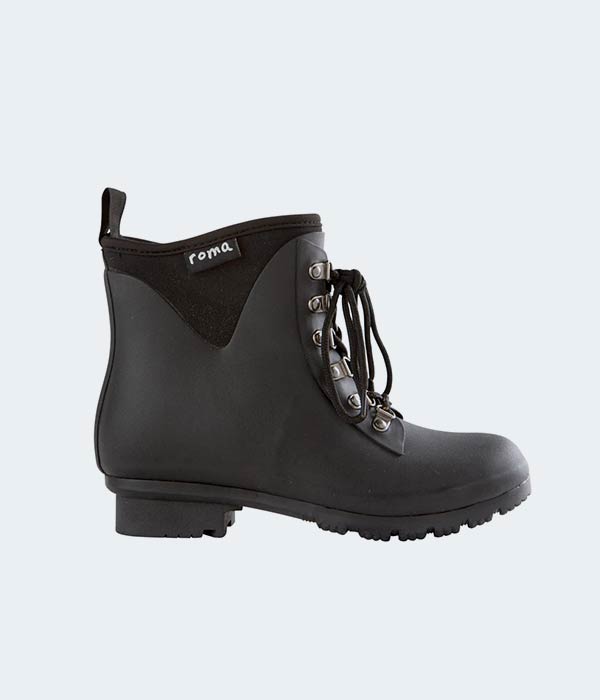 Lace-Up Vegan Waterproof Boots by ROMA ($80) – These vegan rain boots are the perfect choice for style and comfort, they're easy to slip on and are comfortable to wear all throughout the day. For every pair of ROMA Boots sold, a brand new pair of rain boots are donated to a child living in poverty.
---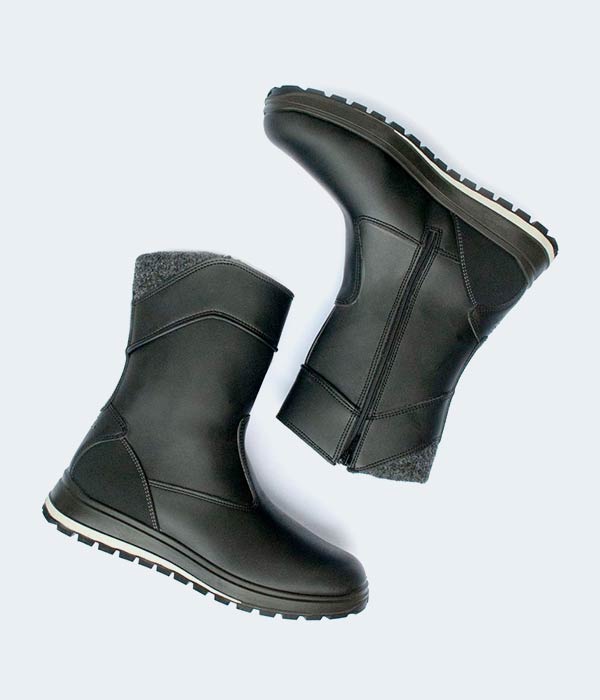 Vegan Waterproof Winter Boots by Will's ($145) – The perfect waterproof boots to get you through the winter! "Tested and certified waterproof all the way to the top, you can wade through streams, trudge through snow, squish through muddy fields and generally have lots of fun wearing these with dry feet all day."
---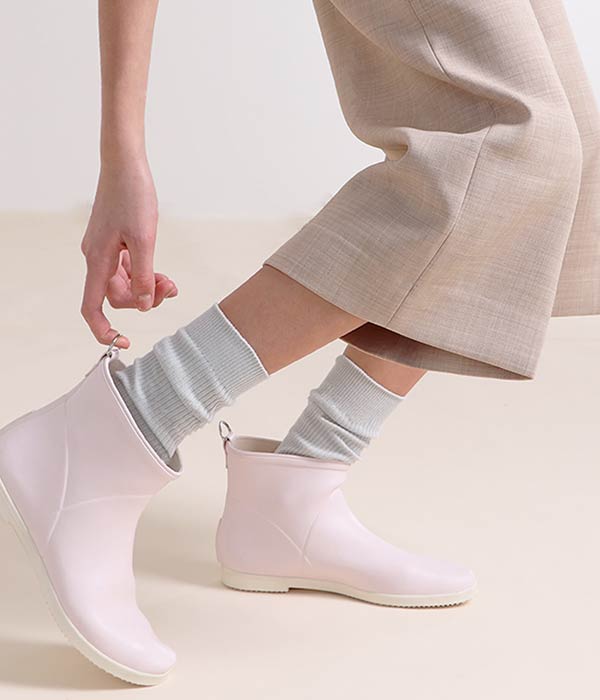 Minimalist Vegan Spring Rain Boots by Alice + Whittles ($160, On Sale $113!) – Available in range of fun pastel colors, these vegan waterproof boots are lightweight and durable, making them the perfect rainy-day essential. Ethically-made from fairly traded natural rubber.
---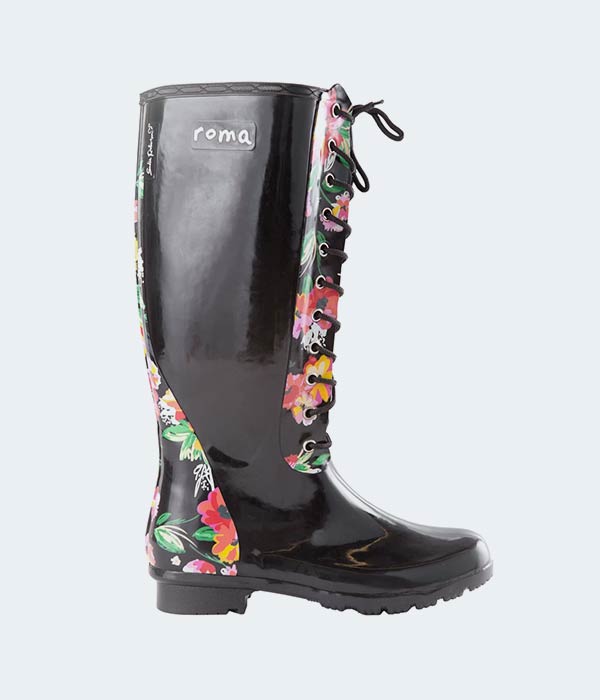 Tall Lace-Up Vegan Rain Boots by ROMA ($65) – These adorable black floral vegan rain boots are absolutely perfect for adding an urban flair to an outfit while still remaining sleek and stylish. Rain or shine, you are sure to look fabulous! For every pair of ROMA Boots sold, a brand new pair of rain boots are donated to a child living in poverty.
*Note: The original publication of this post included Everlane's 'The Rain Boot' but it was recently brought to my attention by a kind reader, that the shoes contain a thin leather composite on the bottom. Therefore Everlane's rubber rain boots are not vegan-friendly afterall. Be aware that they don't disclose this leather component on their website.
---