This post may contain affiliate links that at no additional cost to you, I may earn a small commission.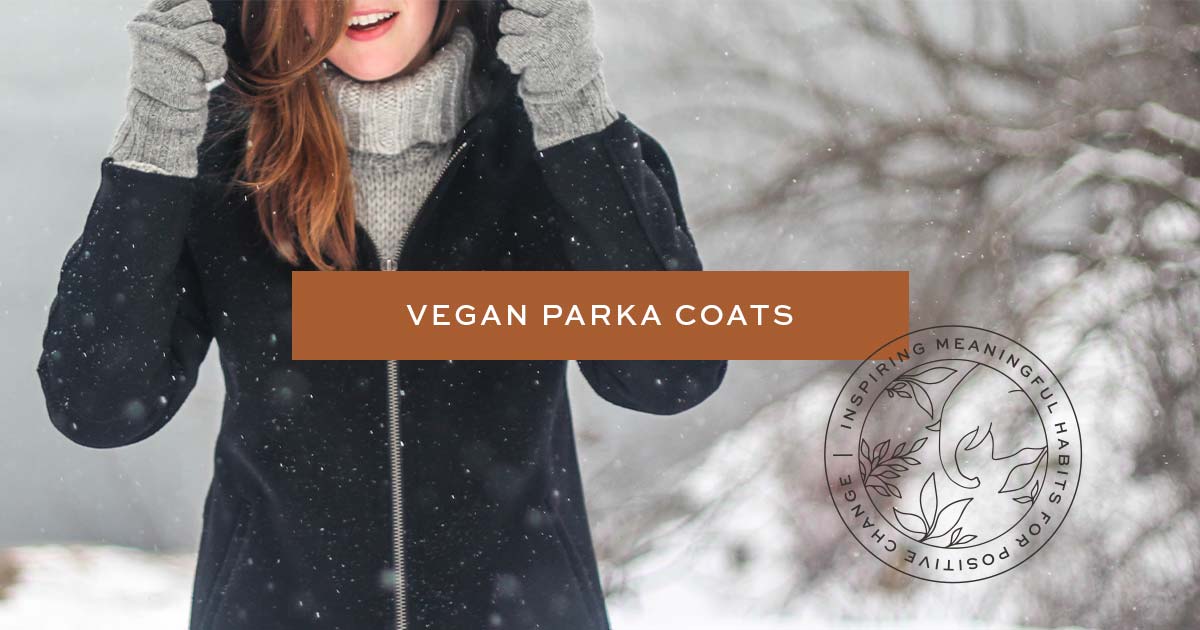 Looking for a warm and comfortable vegan coat for winter this year? In this guide, I share some of the best vegan parka brands for women and men in 2022.
Whether you're looking for a vegan parka with faux-fur trim and prefer a longer length, or you need one that's waterproof or to wear in below-freezing temperatures, there's something for you in this list, no matter your budget.
Most warm parka coats are insulated with down feathers often derived from the painful and cruel process of live-plucking geese and ducks. Thankfully there are more humane and animal-free down alternatives on the market. Some are even more environmentally friendly than the animal version, like insulation made from recycled plastic bottles!
QUICK TIP: Animal materials to look out for in winter coats include down, fur, leather, wool, suede, and shearling lining.
Vegan Parka & Winter Coats
Below is a list of fashion labels offering a range of vegan parkas for men and women. Note that only brands with the 100% Vegan label mean they're a vegan company offering all vegan products.
Save the Duck
Price Range: $598-$698
Save the Duck designs 100% animal-free and cruelty-free outerwear, replacing goose down with state-of-the-art technology, PLUMTECH®. As a result, Save the Duck vegan winter coats and parkas are warmer, more breathable, and lighter than down-filled coats. Choose from various lengths, colors, styles, lining, and hood.
---
BEDI
Price Range: $797-$897
BEDI consciously creates timeless pieces in Canada with materials that clean up our lands and oceans while offering a lifetime guarantee on all their vegan outerwear. BEDI has sustainable parkas and outerwear designed to keep you warm and comfortable all season long until -30°C. Using all upcycled and vegan materials like discarded fishing nets and carpet fiber waste, down to the belt detail that is upcycled from the automotive and aviation industries.
---
Noize
Price Range: $110-$380
Noize is based in Montreal, Canada, and has easily become a popular vegan outerwear brand with a great selection of vegan parkas, puffers, and winter coats designed for all occasions. All of their coats' insulation fill is made entirely from reclaimed and repurposed recycled plastic bottles. Many of their men's and women's parka styles come with removable vegan fur trim or detachable hood and Noize has inclusive sizing.
---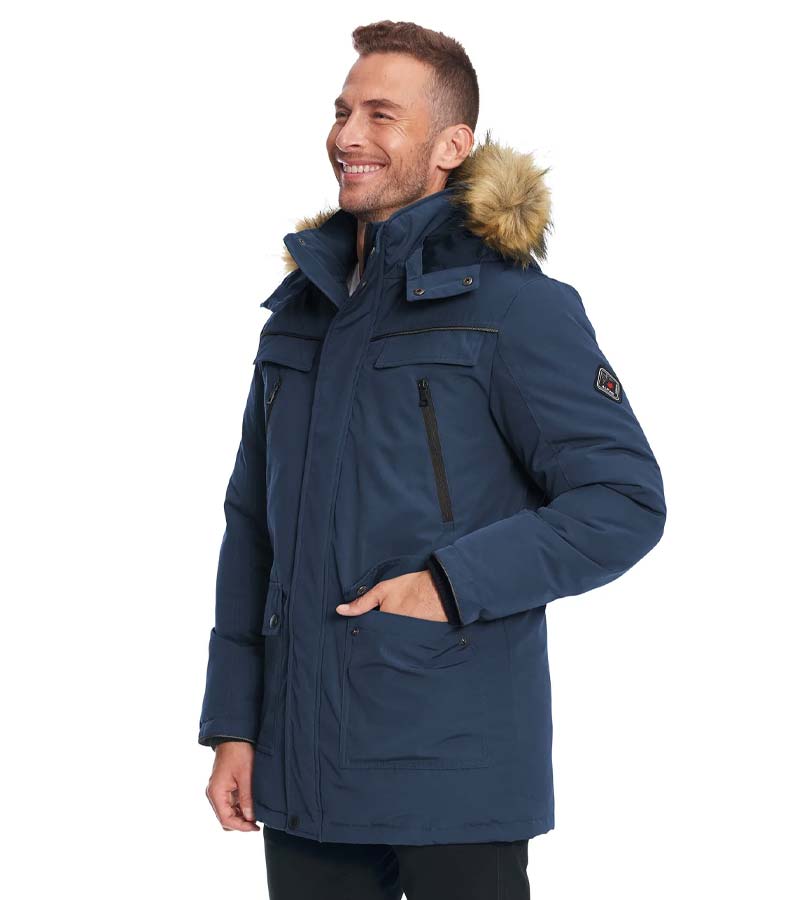 Alpine North
Price Range: $250-$290
Alpine North is based out of Montreal, Canada, and offers a collection of vegan down alternative coats for men and women, specifically designed to protect you from even the harshest, coldest, and wettest weather. Alpine North also offers inclusive sizes.
Alpine North is also available on Amazon (US) and Amazon (CA).
---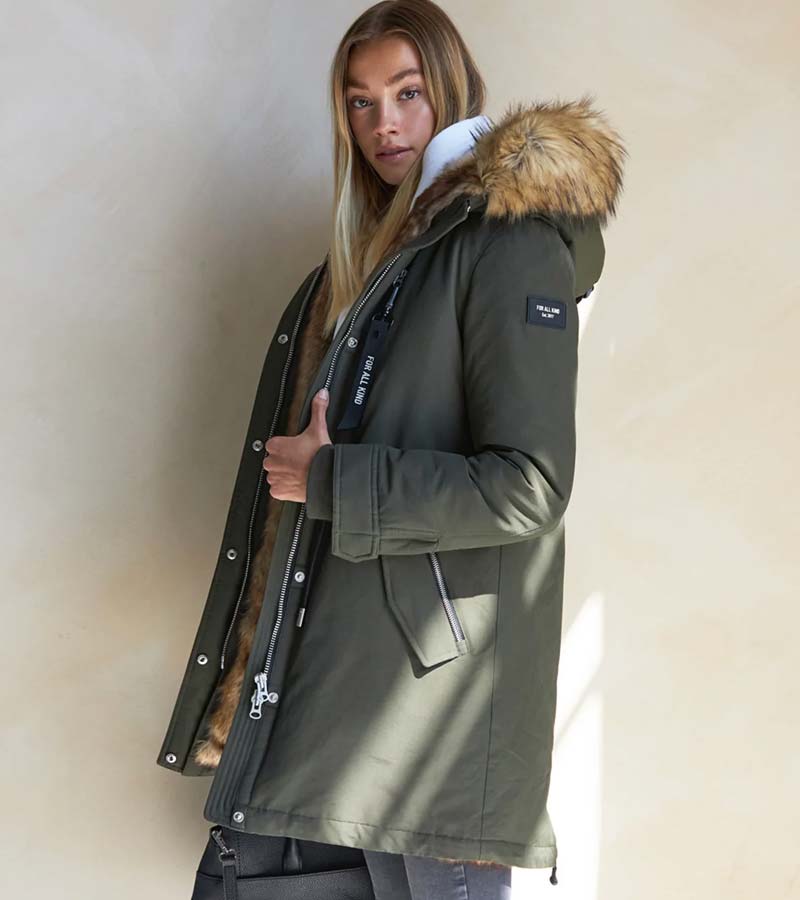 For All Kind
Price Range: $195-$625
For All Kind is a Canadian-based vegan fashion brand with a couple of stylish and luxurious vegan parkas and winter coats for women. I really like the fit, silhouette, and style of their outerwear and I'm especially excited about the release of their Moss Parka in black. Their warm winter coats are filled with PrimaLoft Gold Insulation, the highest-performing synthetic down made from 55% post-consumer recycled content.
If you like discounts, use code 'ETHICALELEPHANT' to receive 10% off your order.
---
Frank and Oak
Price Range: $280-$550
Frank and Oak is an eco-friendly clothing brand from Canada. The brand produces timeless essentials with a focus on minimalism and intentional designs. Frank and Oak has a range of parkas and winter coats for men and women in various colors, lengths, and styles. Their vegan-friendly performance coats are also filled with featherless insulation to ensure no animals were harmed in order to keep you warm this season.
*Note: Frank and Oak is not an entirely vegan brand as they do have items made with animal materials like leather and wool. However, their current parkas are made from recycled polyester and therefore vegan-friendly.
---
Wuxly Movement
Price Range: $680-$1,140
Wuxly's sustainable coats are proudly designed and made in Canada. Wuxly Movement uses the latest environmentally friendly and accredited materials that are BlueSign approved to make their high-quality and durable vegan parka and coats. Their outerwear is filled with PrimaLoft® Gold, the best goose-down alternative on the market, made from 55% post-consumer recycled content.
---
Embassy of Bricks and Logs
Price Range: €400-€460
Embassy of Bricks and Logs is a young, European brand delivering premium outerwear with a conscience since 2015. Merging contemporary and streetwear with functional designs, the eco-fashion label has created a unique collection of vegan outerwear including a range of parkas and winter coats in cool tones and silhouettes.
---
Ecoalf
Price Range: $585
Ecoalf is a sustainable, Spanish fashion brand creating clothing and outerwear made entirely from recycled materials. Ecoalf offers vegan winter coats and parkas for men and women in a range of styles, lengths, and colors. At Ecoalf, they believe in investing in timeless, quality pieces that transcend seasons and trends. So their timeless styles were designed and made to last while utilizing the latest sustainable materials.
*Note: Ecoalf is not a 100% vegan brand as they do use recycled wool in some of their items. Look for "Vegan" in the product description to find out which of their products are vegan-friendly.
---
ThokkThokk
Price Range: €189-€369
ThokkThokk is an eco-fashion label with headquarters in Munich, Germany. All ThokkThokk pieces are sustainable, fair, and vegan. They have a range of minimalistic and warm men's and women's vegan parkas and winter coats, available in a select colors and lengths. Their coats are insulated with a plant filling called Kapok, a silky soft and extremely light hollow fiber of the kapok tree.
---
Norden
Price Range: $475-$595
Based in Montréal, Canada, Norden is a certified B Corp and creates stylish and functional performance outerwear made from recycled plastic and repurposed materials. Norden has a selection of high-quality cold-weather vegan parkas for men and women in a range of colors. Norden states its entire business model is designed to have the smallest possible carbon footprint; consuming less energy, and less water, and giving off less GHG emissions than traditional manufacturing.
---
Finisterre
Price Range: $305-$460
Based in the UK, Finisterre designs functional and sustainable outerwear, carefully engineered and designed to combat cold and rain. Using fully recycled materials throughout, Finisterre's waterproof vegan parkas are insulated with FC-Free coating, have adjustable hoods, waterproof zips, and taped seams, and are lightweight to protect you from all the elements
*Note: Finisterre isn't a 100% vegan brand as some of their items contain wool but I believe all of their current styles of coats, jackets, and outerwear are vegan and don't contain wool. Check the labels to make sure.
---
bleed
Price Range: €270
bleed is a sustainable, fair, and vegan clothing brand with a collection of sporty winter coats for men and women. Bleed vegan coats are made with functional and innovative materials with the highest quality standards and are produced ecologically and fair. Their collection of vegan parkas is made with organic cotton and high-quality, 100% recycled PrimaLoft® Bio™ filling.
---
Komodo
Price Range: $215-$225
Thoughtfully designed and with sustainability at the forefront, Komodo has a collection of organic cotton parkas for men and women. The Wilson parka features a soft sherpa fleece lining made from recycled plastic water bottles and is part of the brand's commitment to remove single-use plastic from its product line.
*Note: Komodo is not an entirely vegan brand as they do have items made with wool. However, their Wilson organic cotton parkas are made from all vegan-friendly materials.
---
There you have it! Some vegan parkas and winter coats to shop from this season, no matter your budget. Let us know in the comments below which of these styles are your favorite and if you found this guide to vegan parkas helpful.