This post may contain affiliate links that at no additional cost to you, I may earn a small commission.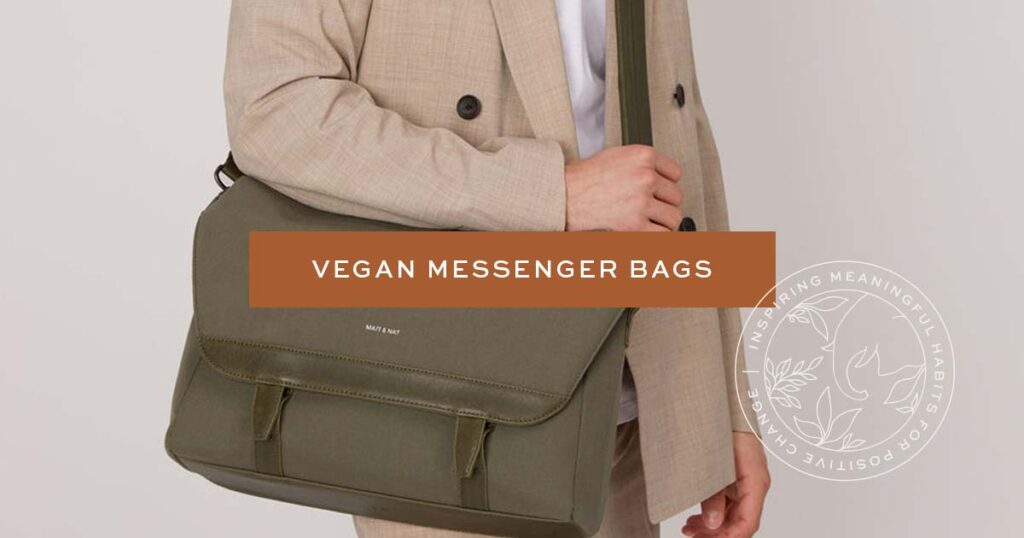 Looking for a practical and comfortable vegan messenger bag with ample storage to protect and transport your most-used daily essentials? In this guide, I'm sharing some of my top picks for vegan leather messenger bags in 2023.
Whether you want a classic black vegan messenger bag or prefer a mini-size version, or want something with changeable straps, there's something for you in this list!
Best Vegan Messenger Bags
All the bags mentioned in this post are vegan, meaning they are not made from animal materials like leather, suede, wool, or silk.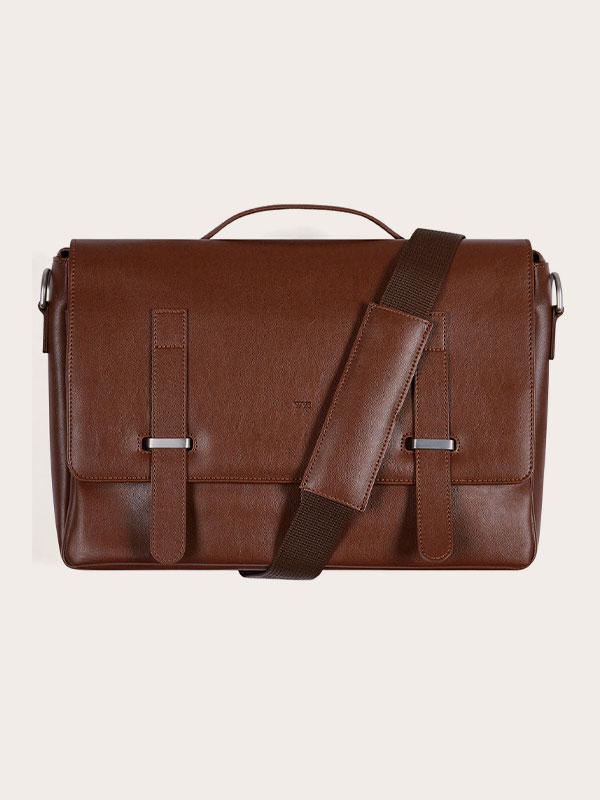 Use the top carry handle with this vegan leather messenger bag, or attach the smart adjustable strap to wear over the shoulder or across the body for a hands-free carry-all. The Italian vegan leather is made with plants created with bio oil sourced from organic cereal crops grown in Northern Europe in a carbon-neutral process. Available in Black, Dark Brown, and Chestnut.
---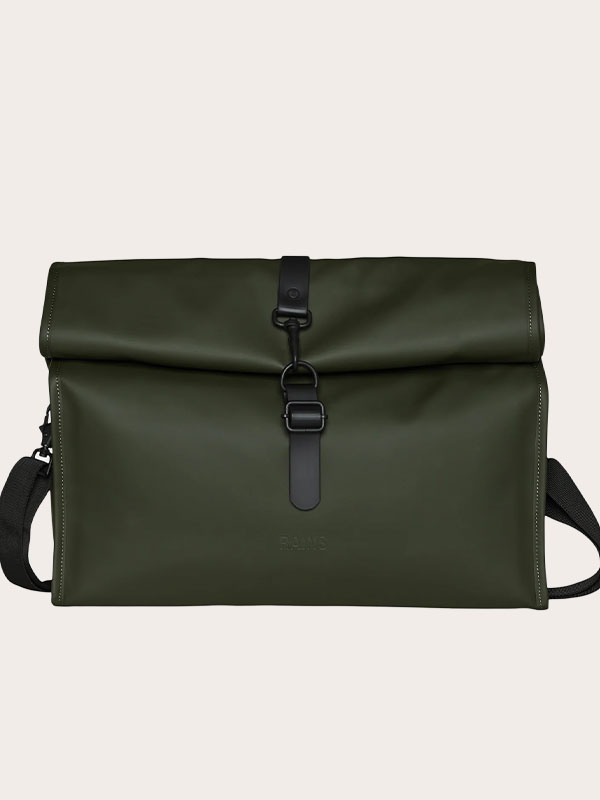 Rolltop Messenger upgrades the classic city staple with functional rolltop opening and statement details. This waterproof bag offers ample space in a compact and commuter-ready silhouette. Unclasping Rains' signature carabiner reveals a roomy main compartment. While the design's side panel incorporates a padded laptop pocket, ideal for devices up to 16".
---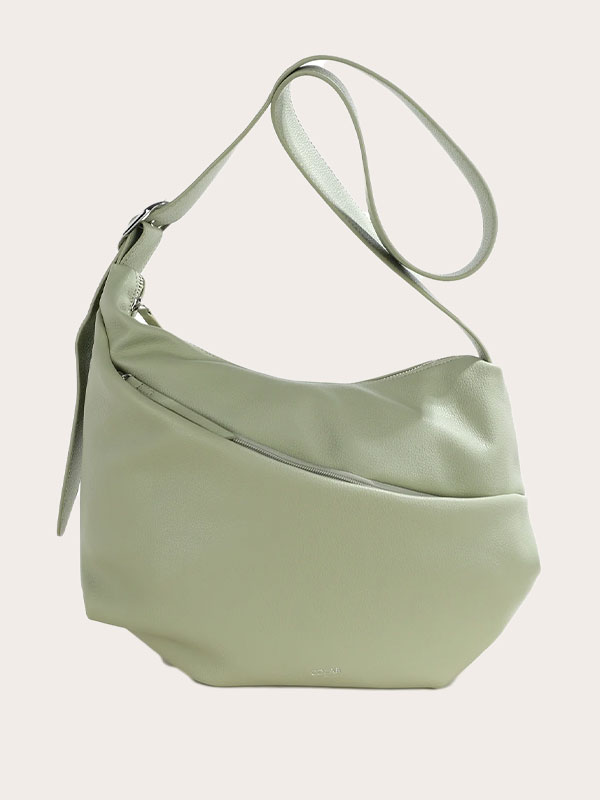 This large holdall hugs the body just right with its curved shape and pleated bottom. Made with recycled textured vegan leather and features a long adjustable crossbody strap along with hidden front and back zipper pockets. This understated design is versatile and roomy, with the added feature of using the flap as a pocket.
---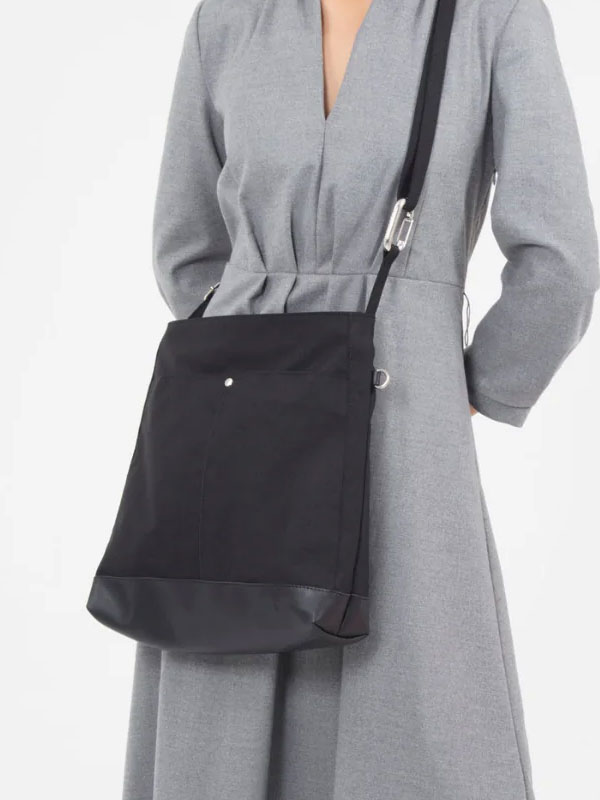 Made for those in-between times when a backpack feels like a trek and a handbag feels too small. With two internal pockets and a large storage area, the Rei Messenger was designed to fit all your essentials – 13" laptop, phone, keys, wallet, hand sanitiser, and mask.
The bag's body is made of reclaimed and recycled plastic bottles, with its bottom reinforced with water-based vegan leather
---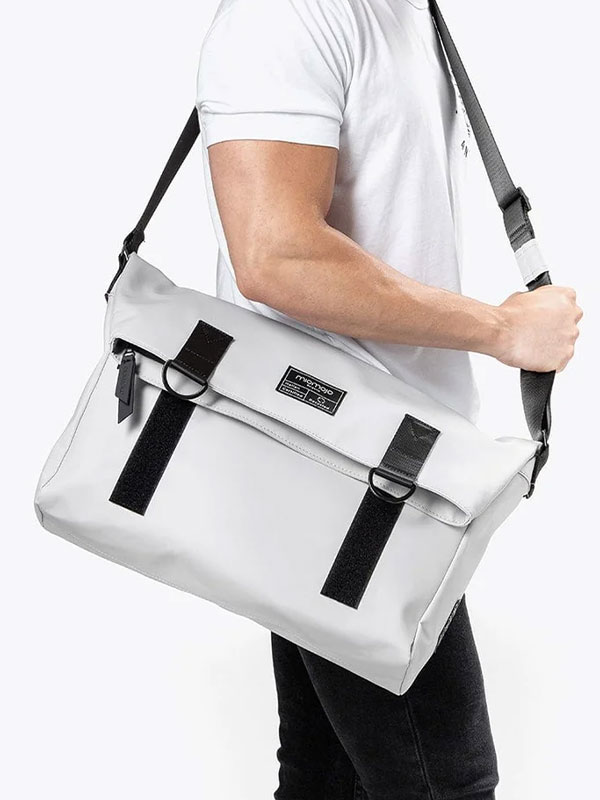 Make a statement of change and innovation with this quintessential all-day carry item. Whether you are transporting your laptop, documents, or smaller items, you will always be prepared with this amazing bag that transitions seamlessly from work to play. With a high-quality waterproof coating, Augusto delivers modern functionality for the modern man/woman on the go and keeps up with your demanding and sustainable lifestyle. Built to last! 
---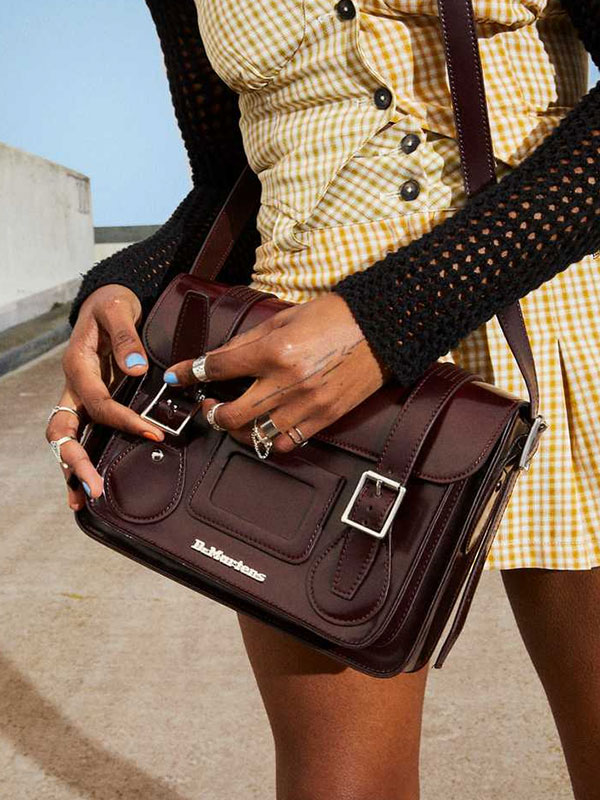 Dr. Marten's 11 Inch Vegan Messenger Bag
This version of Dr. Marten's iconic satchel is made with synthetic materials and no animal products. Dr. Marten's traditional satchel boasts an oversized closure flap, classic buckle fasteners for ease of use, and an adjustable, removable shoulder strap for versatility. Constructed with a puritan stitch to give it the famous Dr. Martens utility and durability.
---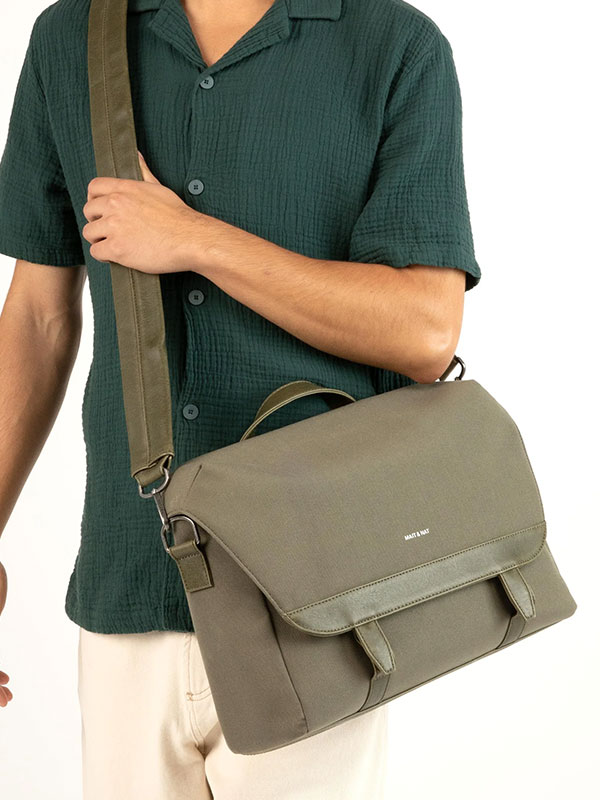 Canvas vegan messenger bag with a long adjustable shoulder strap. Features a front flap with snap and velcro closure to safely and neatly store your belongings including a 13″ laptop compartment and smartphone pocket. The interior lining is made from 100% recycled water bottles.
---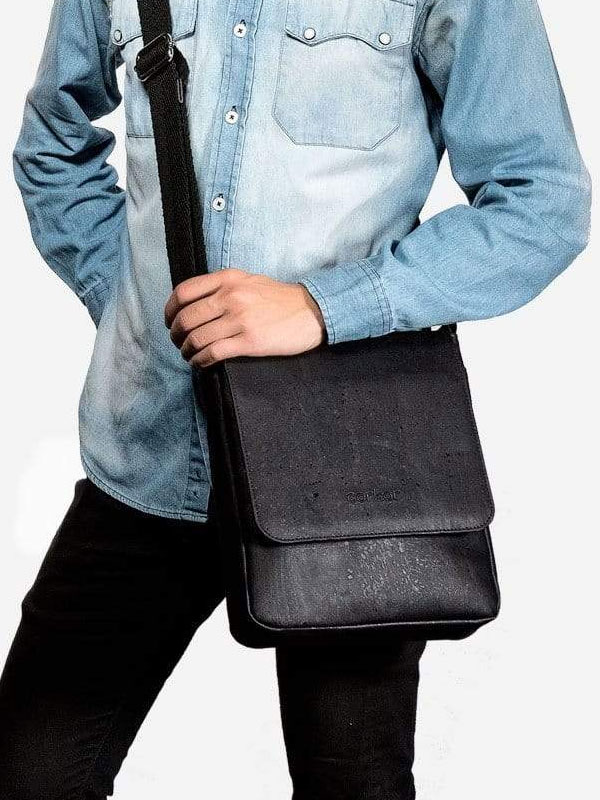 Corkor's Medium Messenger really delivers on holding capacity! Perfected for everyday carry, lightness, and durability, this slim design can hold your phone, a notebook, a tablet, AND your small everyday essentials. If you're looking for a daily vegan bag that excels at functionality, this Messenger is a safe bet. Made with vegan cork leather material. Available in Black, Dark Brown, and Light Brown.
---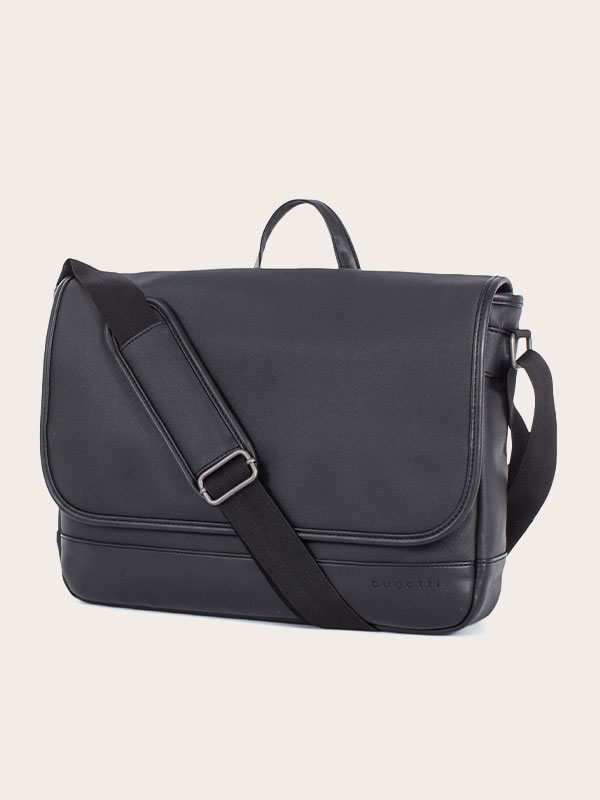 Bugatti vegan leather messenger bag is this soft messenger bag that features a padded section for your laptop, up to 14". This lightweight and trendy crossbody bag also has a back pocket for quick access to your essential items such as your phone or your keys and an adjustable strap. Practical and well thought out!
---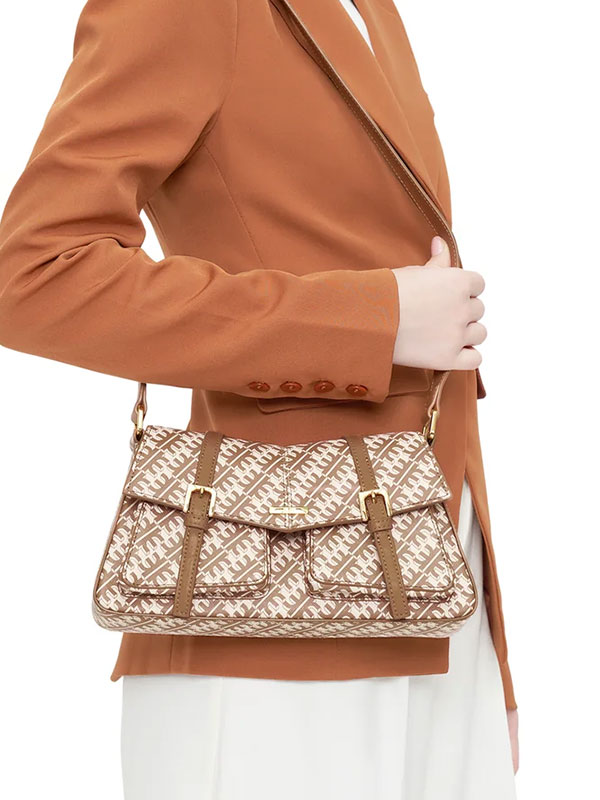 This mini vegan messenger bag features a long adjustable shoulder strap and detailed gold hardware for a chic and stylish finish. Don't let the small size fool you, it fits an iPhone 12 Pro Max and your daily essentials.
---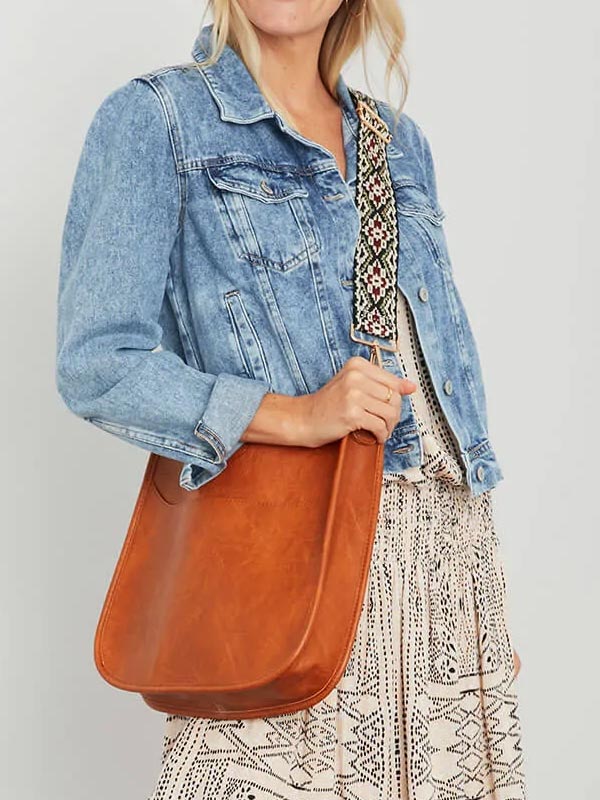 Social Threads is known for its vegan leather messenger bags with changeable guitar straps. Customize your bag with any of Social Threads' boho-chic messenger bag straps. Lots of playful colors and practical sizes to choose from.
---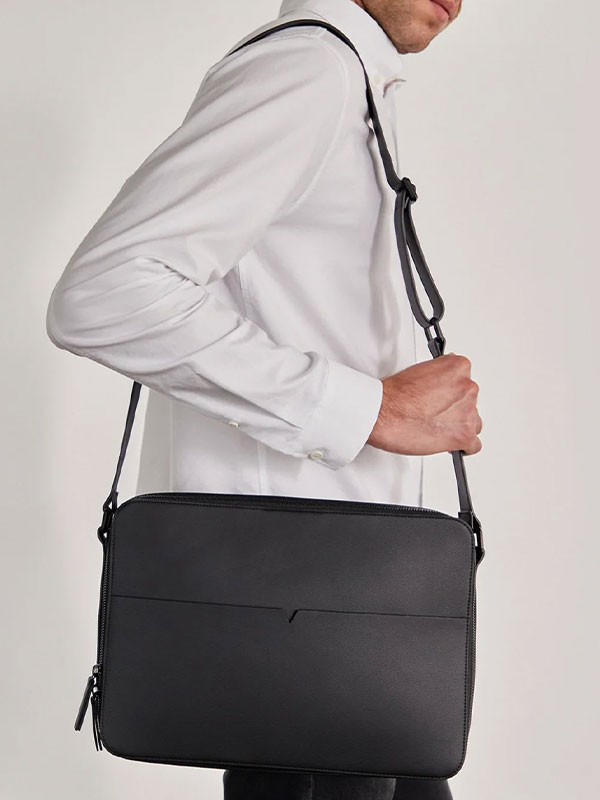 The Tech Messenger is the answer to the modern-day briefcase. Sleek, compact, and hands-free, it's an all-in-one bag that merges the protection of a computer sleeve with the functionality of a messenger bag. It's designed to transport and protect your MacBook 13-inch, charging cable, and accessories, along with your other work essentials. It features a protective inner sleeve with inner foam padding and two storage pockets for small items like your cell phone, notebook, and pens. The outside has a large pocket for extra storage. Made with Technik-Leather, a 100% vegan and sustainable performance fabric made from recycled plastic. It's both durable and easy to clean. The interior is lined with soft microfiber made from recycled plastic water bottles.
---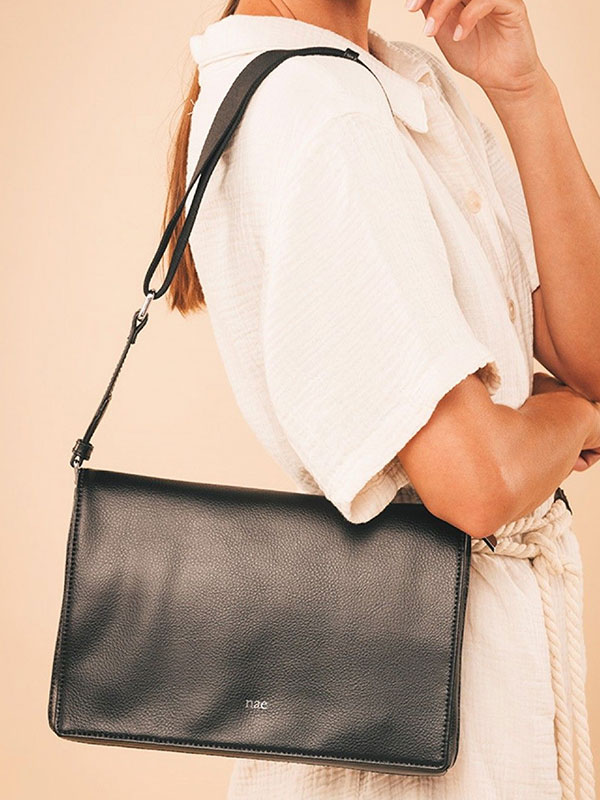 This functional crossed shoulder bag is made of Apple Leather: a material provenient from the leftovers of the industry of apple juice: a sustainable, innovative, and cruelty-free alternative. It features two separate interior cushioned compartments, a zipper on top, and a flap with magnetic buttons.
---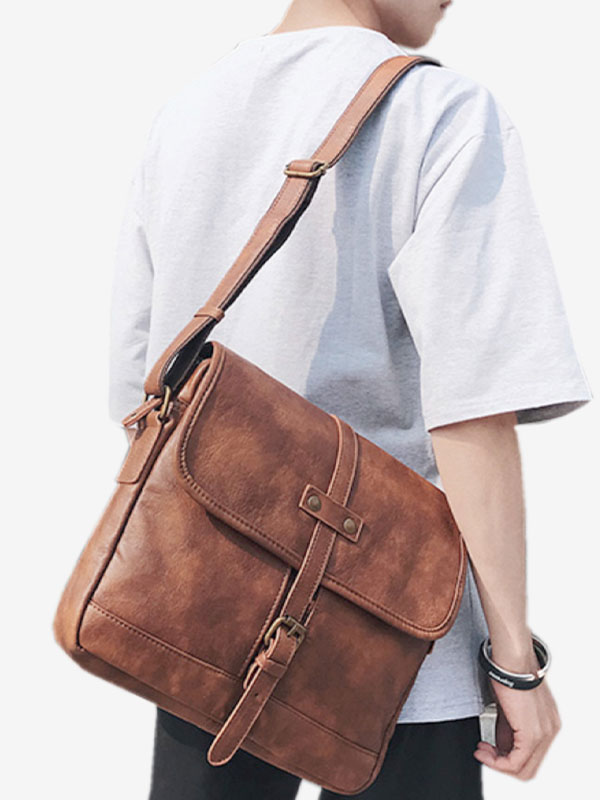 This minimalist-inspired messenger bag sits at the intersection of form and function, this bag is your best partner for a day out in the park. Handcrafted with our proprietary smoothly textured vegan leather, the Takamatsu Messenger Bag displays great water-resistant properties while being durably scratch-resistant.
---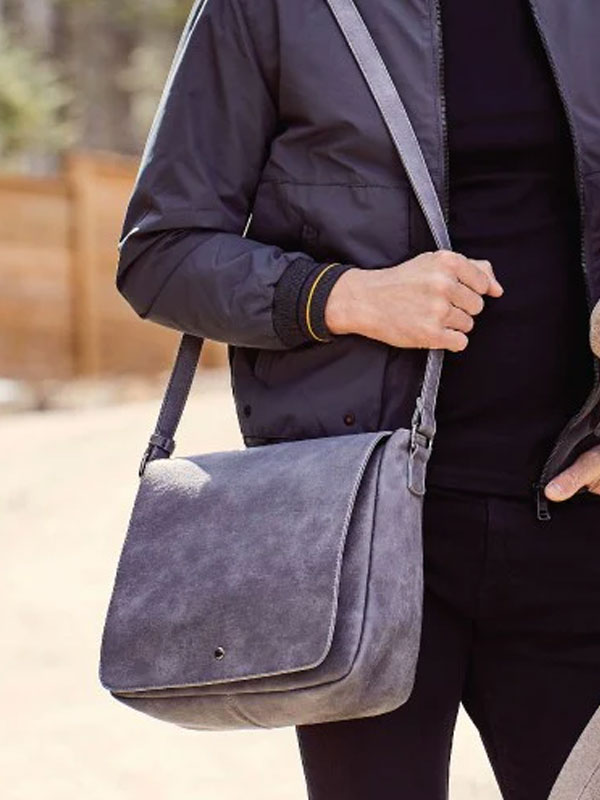 Vegan leather messenger bag with adjustable crossbody strap. Features a magnetic snap closure on the front flap and a back zip pocket. The Interior includes a zipper pocket, phone pouch, pen holder, and card slots. Available in Charcoal, Chestnut, and Black.
---