This post may contain affiliate links that at no additional cost to you, I may earn a small commission.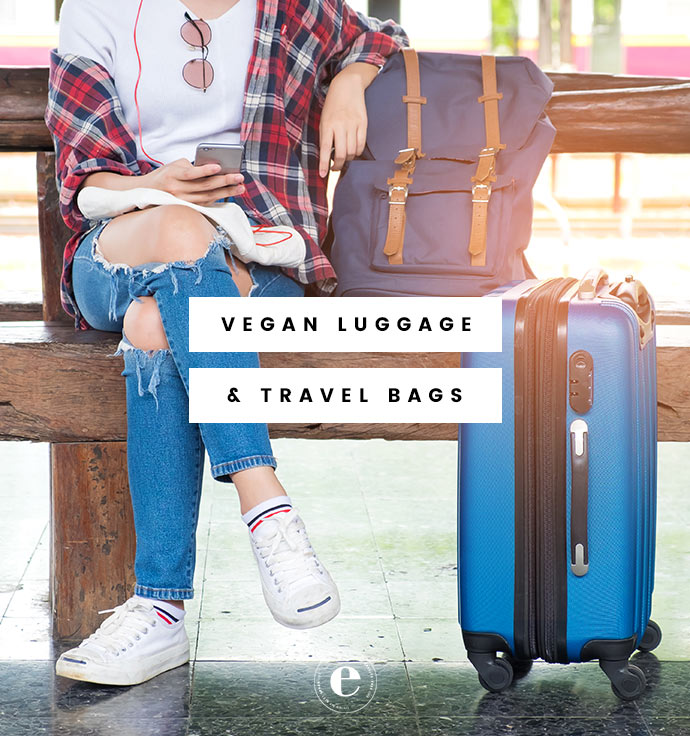 Whether you're taking a much-needed vacation to a tropical island or going away for a weekend, you'll need to ensure you have everything prepared and ready to go.
If you want something to carry all your essentials that is not only functional and durable but also stylish, then we got your back with this list of luggage and travel bags made from vegan friendly materials.
Most designer luggage and travel bags are made using leather derived from animal skins, and if you're a devoted animal lover like us, we know animals are for cuddling and not to be made into accessories.
The following vegan luggage and travel bags are free from any animal skins and materials.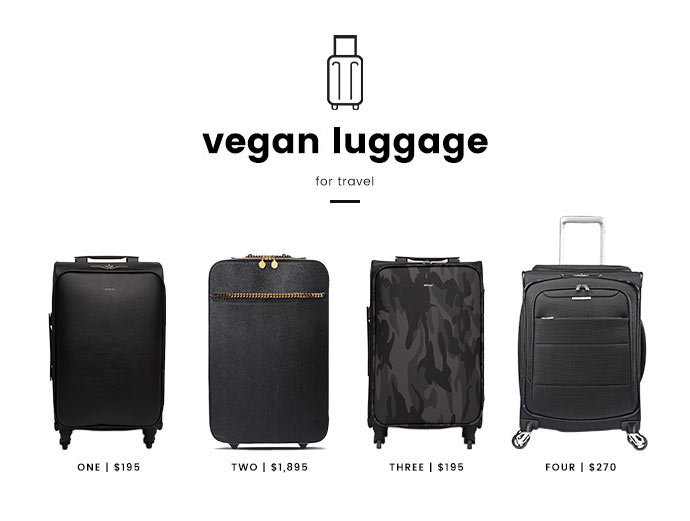 Vegan Luggage & Suitcases
Although the options for designer vegan suitcases are limited, I managed to find a few vegan leather luggage that are worth the splurge. Be sure to check the sizes, if you're looking for a carry-on size luggage. The Samsonite suitcase is made from 100% recycled plastic bottles, a great environmentally friendly alternative for the eco-traveler.
1. Matt & Nat COAST – Black ($195, Matt & Nat)
2. Stella McCartney 4-Wheel Falabella Travel Suitcase ($1,895, Stella McCartney)
3. Matt & Nat COAST – Camo Black/Black ($195, Matt & Nat)
4. Samsonite ECO-Spin 20″ Expandable Softside Spinner Suitcase ($320, Macy's)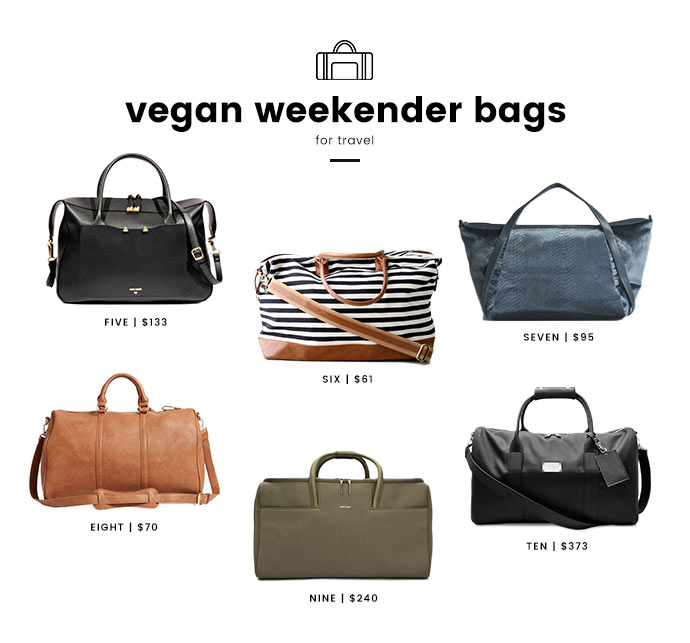 Vegan Weekenders and Duffle Bags
I love a quality but chic weekender or duffle bag when it comes to traveling. They're lightweight and flexible enough to toss them in the overhead or underneath the seat. These vegan weekenders and duffle bags can pack all your essentials and then some!
5. Niko Ineko Weekender Bag Black ($133, allTRUEist.com)
6. Lulus Jet Setter Cream and Black Striped Weekender ($61, Lulus.com)
7. Pixie Mood Mia Weekender – Velvet Green ($95, Pixie Mood)
8. Sole Society 'Cassidy' Faux Leather Duffel Bag ($70, Nordstrom)
9. Matt & Nat ZAM – Olive ($240, Matt & Nat)
10. Alexandra K. 5.5 Midnight Black Holdall ($373, allTRUEist.com)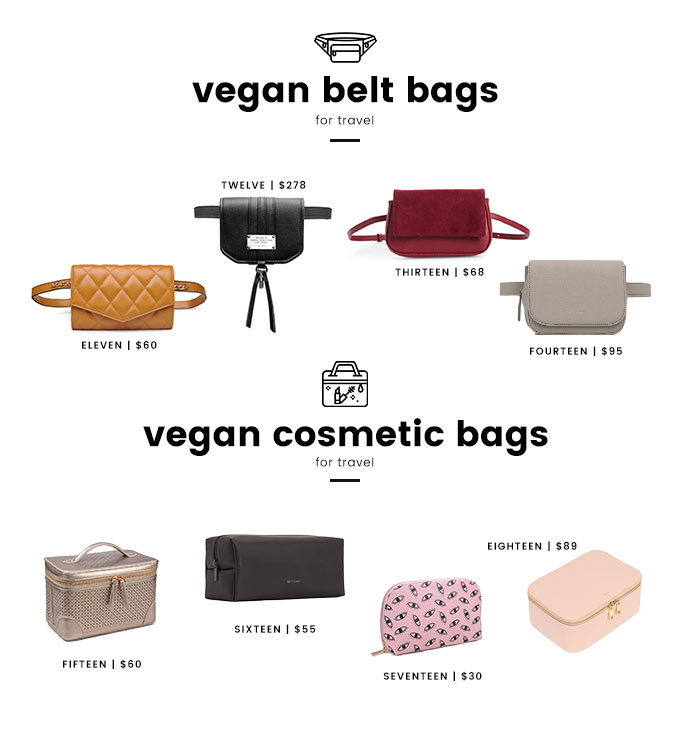 Vegan Belt Bags
When it comes to exploring a new city, I love wearing a belt bag. It keeps my personal belongings close to my side and I love going hands-free! Most of these belt bags can also be converted into a day or night bag with the switch of a strap or by lengthening the straps. That way, you get multiple uses out of a single handbag!
11. Alexandra K. 0.3 Midnight Black Belt Bag ($278, allTRUEist.com)
12. Urban Expressions Rhythm – Mustard ($60, Urban Expressions)
13. Sole Society Kinza Belt Bag ($68, Nordstrom)
14. Matt & Nat PARK – Cement ($95, Matt & Nat)
Vegan Cosmetics Bags
Keep your cruelty-free cosmetics and personal care products neatly organized all in one place by using a cosmetic bag for traveling. These bags are super easy to clean and will protect all your cruelty-free essentials while in your carry-on or luggage.
15. Urban Expressions CHER ($60, Urban Expressions)
16. Matt & Nat BLAIR – Charcoal ($55, Matt & Nat)
17. Urban Expressions WINK ($30, Urban Expressions)
18. JW PEI The Elle Beauty Case ($89, Petit Vour)
---