This post may contain affiliate links that at no additional cost to you, I may earn a small commission.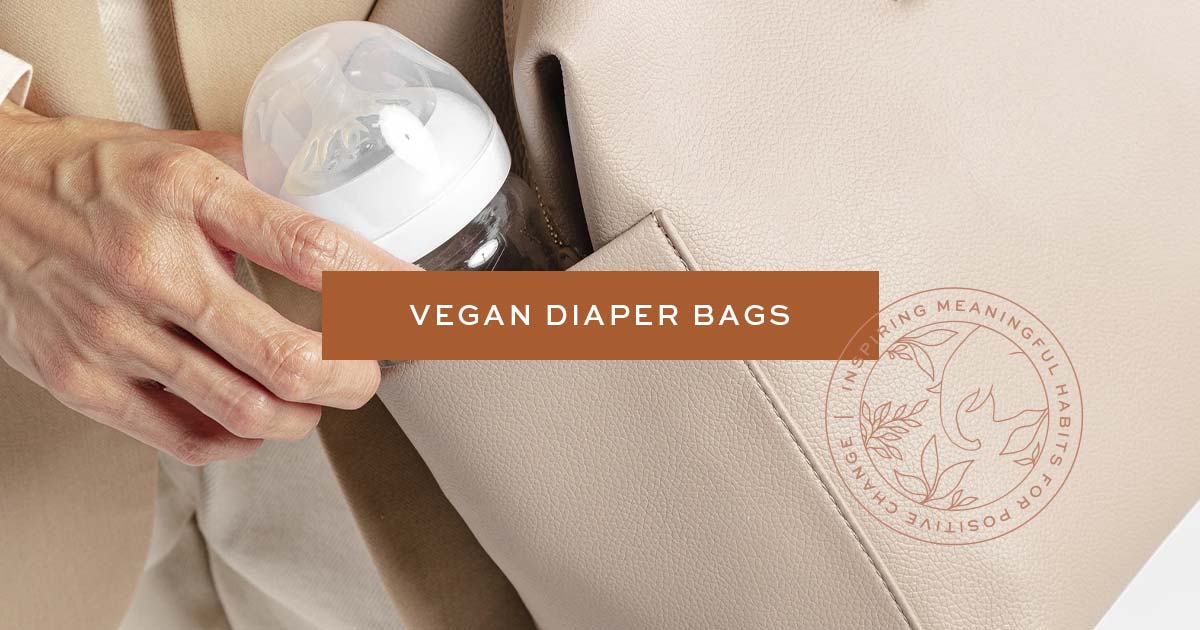 Looking for a vegan leather diaper bag or backpack that is functional and stylish and can be worn beyond the baby years? Here are my top picks for vegan diaper bags so that you don't have to sacrifice style for functionality!
When shopping for a diaper bag, you'll want to consider the size, interior & exterior pockets, and how you prefer to carry the bag like a backpack, top handle, or a messenger-style. Some other things to consider are insulated pockets to store bottles, stroller straps, or whether it includes a changing pad or not.
Also, when it comes to finding a vegan diaper bag, you'll want to be mindful of the type of materials used. Stay away from genuine animal leather and wool, and be careful of those leather trims or tassels too! Instead, look for diaper bags made with vegan leather or faux leather. And if you want a sustainable vegan diaper bag, I'd suggest shopping second-hand.
Vegan Leather Diaper Backpack
Here are some of my favorite finds for vegan leather diaper backpacks. Some of which can be converted as a top-handle or crossbody bag too!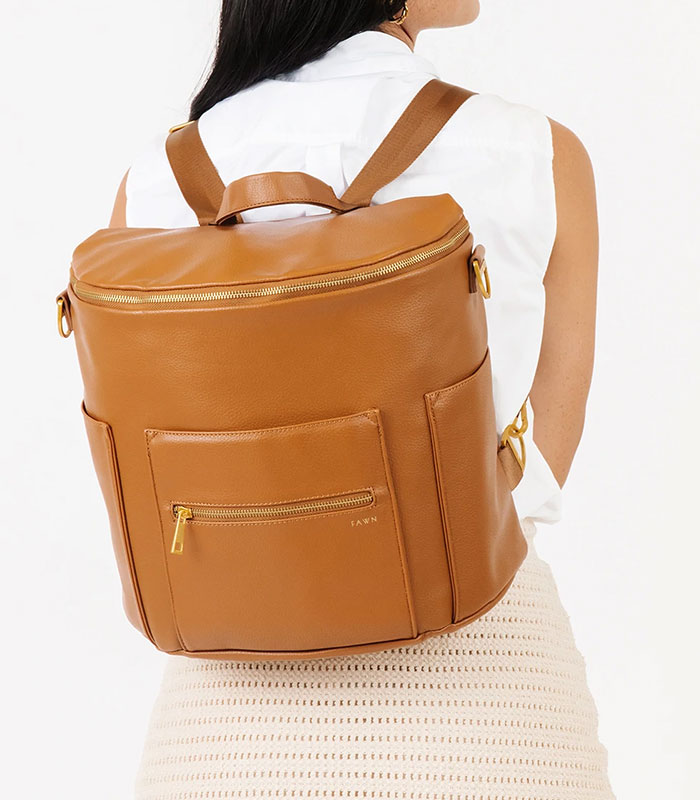 Fawn Design The Original Diaper Bag ($170)
Fawn Design makes some of the most popular diaper bag backpacks, and they all happen to be made with vegan leather! The Original Diaper Bag comes in various colors and features 12 pockets in total. This backpack diaper bag can also be converted to a messenger-style bag where the straps are detachable and adjustable. Fawn Design also has a mini version if you prefer a smaller size.
---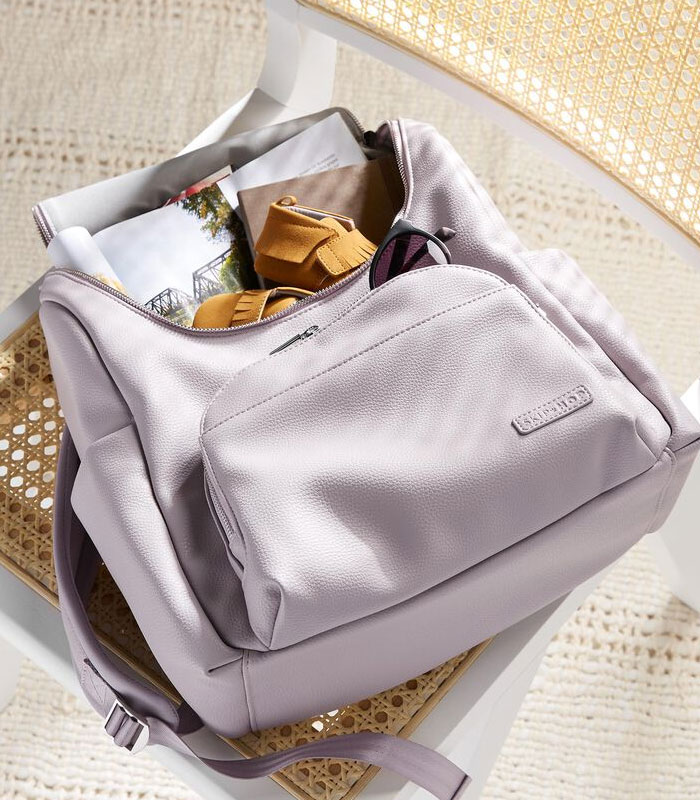 Skip Hop Evermore 6-in-1 Diaper Backpack ($145)
This Skip Hop bag has it all! Not only is it a chic and functional diaper backpack with ten pockets, but it also includes a matching clip-on wristlet pouch, sanitizer holder, pacifier pocket, changing pad, and removable stroller straps.
---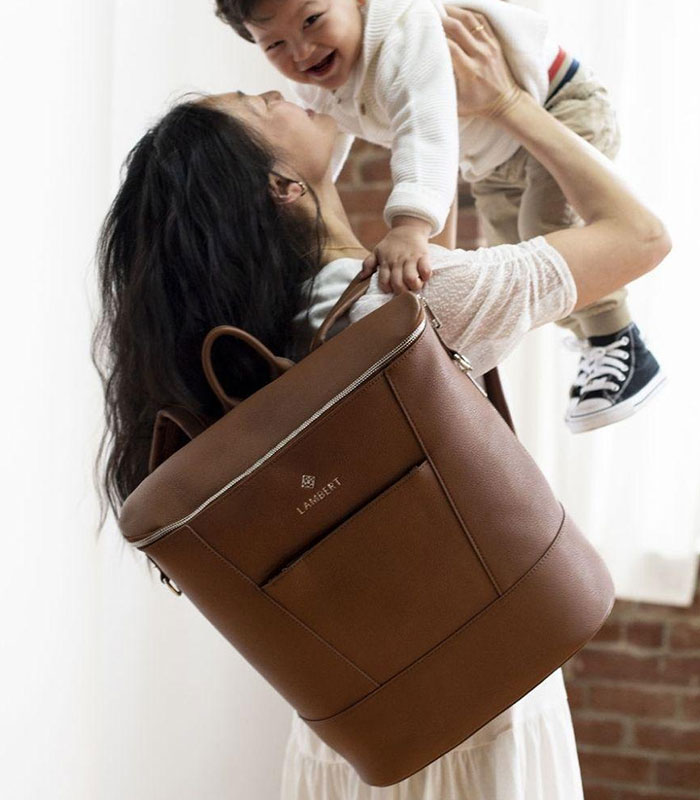 Lambert Vegan Leather Diaper Backpack ($190)
This unisex vegan leather diaper backpack comes in various colors, including black, brown, and blue. It also comes with a changing pad. The bag can be worn as a backpack with adjustable straps or on the stroller with two mini straps provided. Additionally, there are multiple interior and exterior pockets to help you stay organized and find exactly what you need with ease.
---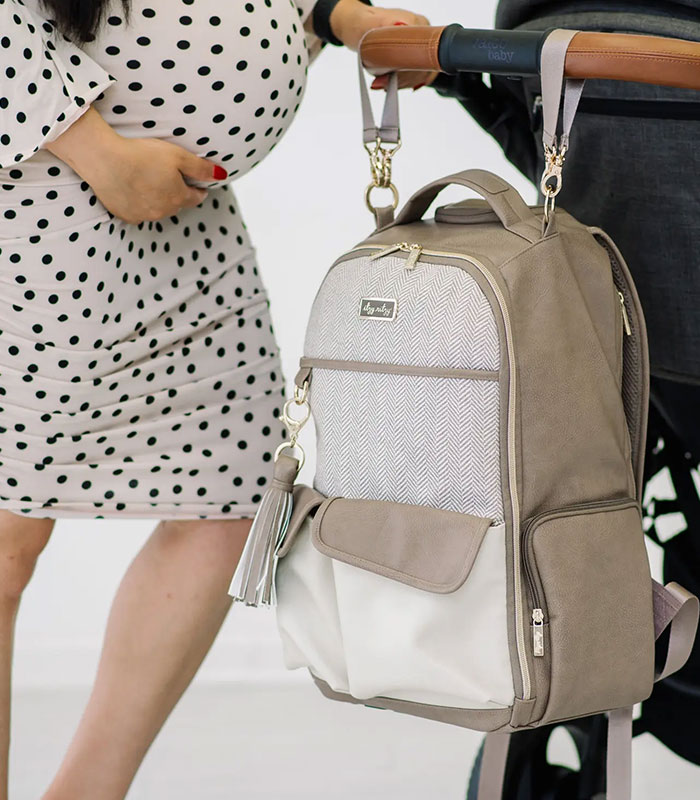 Itzy Ritzy Vegan Leather Diaper Backpack ($160)
With 17 total pockets, Itzy Ritzy's Boss Backpack Diaper Bag comes with the most interior and exterior pockets I've seen on a diaper bag. If you've been looking for a diaper backpack bag with insulated bottle pockets, then this one is a great pick! It also includes a changing pad. All styles and colors seem to be made from synthetic and vegan materials except for the Coffee & Cream color, which contains 2% wool.
---
Vegan Leather Diaper Bags
Prefer a tote-style diaper bag instead? Here are some vegan leather diaper bags that you can easily clip on a stroller or carry by the handle or on your shoulder.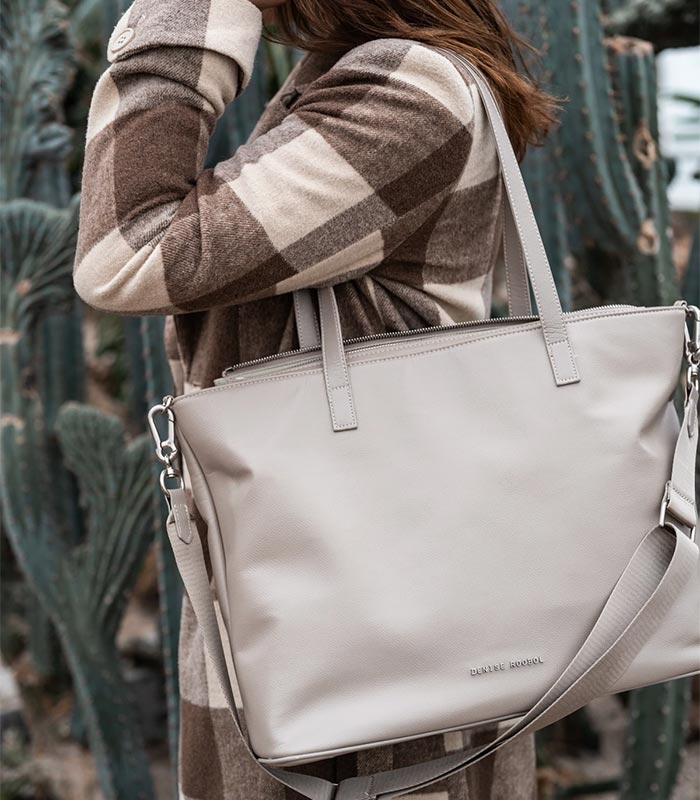 Denise Roobol XL Shopper (€180)
Made with vegan microfiber leather and a cotton lining, available in black, dark grey, and this beautiful Cafe Latte color. Denise Roobol's XL Shopper was designed to be a diaper bag, weekender, and laptop bag in one. The bag contains several compartments to keep your's and baby's essentials organized and easy to find. The long nylon strap allows you to also hang the diaper bag on your stroller.
---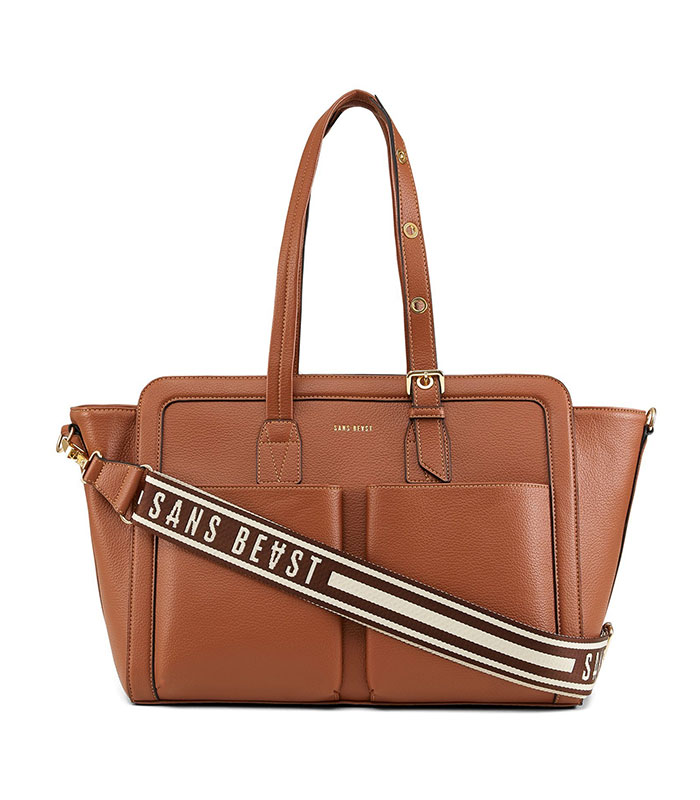 Sans Beast Daytripper Tote ($349)
Available in Black or Mahogany, this generously sized tote bag by Sans Beast will fit all of your daily essentials. Made from recycled vegan Eco PU (the fabric is Global Recycled Standard certified, water-based, and solvent-free). The large vegan tote bag is an excellent option for a diaper bag with its many internal and external compartments and adjustable shoulder straps. It also comes with a detachable strap, so you have the option to wear the tote as a crossbody.
---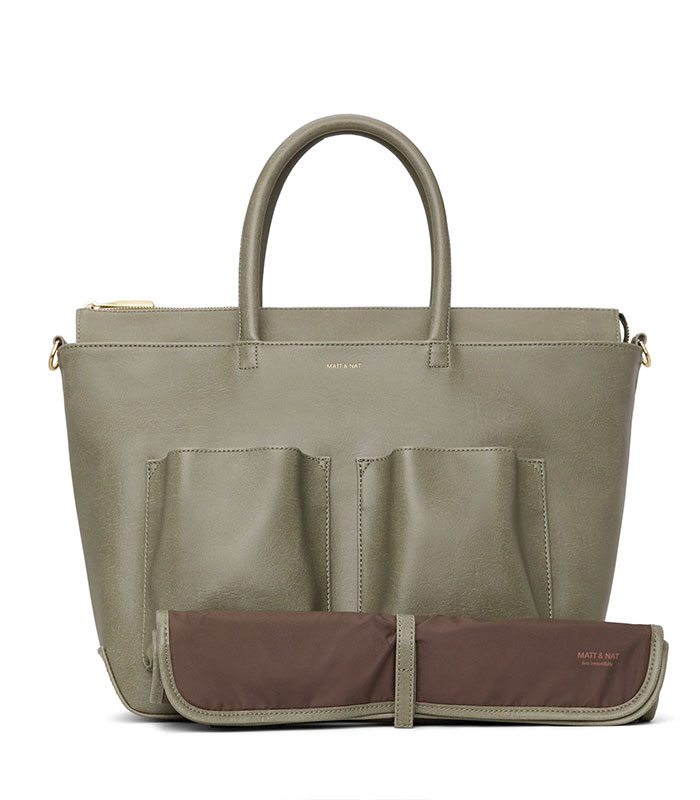 Matt & Nat Raylan Med Vegan Leather Diaper Bag ($195)
Available in Black, Sage, or Brown, this classic vegan leather diaper bag from Matt & Nat includes a changing pad and an adjustable and removable strap. The bag also features two front pockets with magnetic snap closures and a couple of compartments inside to stay organized. Interior lining is made from 100% recycled water bottles.
---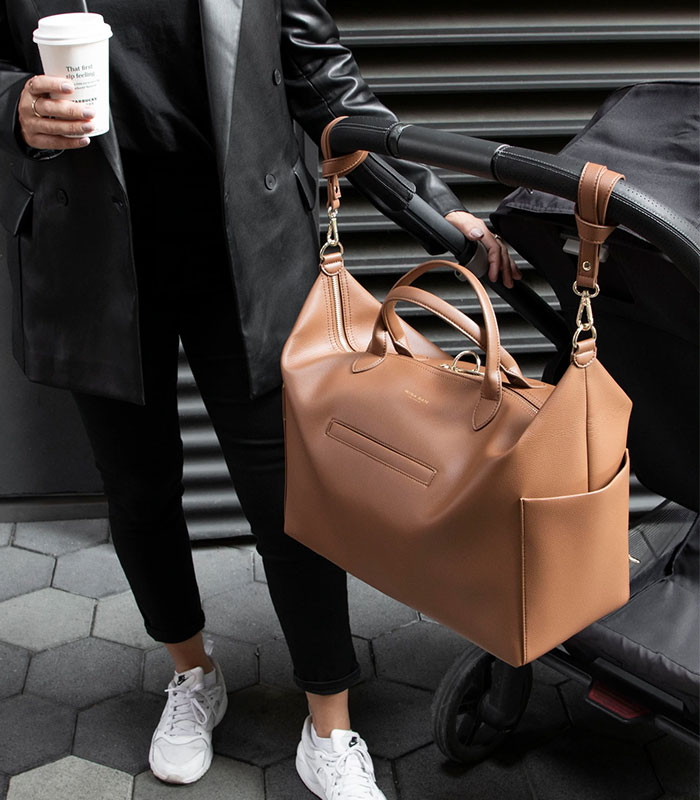 Mina Baie Vegan Diaper Bag ($189)
Although not a 100% vegan handbag brand, Mina Baie makes functional and chic diaper bags, and they have some styles available in vegan leather. I like the style and functionality of their Emmy convertible diaper bag! It can be converted from a handheld bag to a shoulder bag to a backpack, and it features several internal compartments with large elastic pockets. It's also available in multiple colors; make sure you pick the microfiber vegan leather material.
---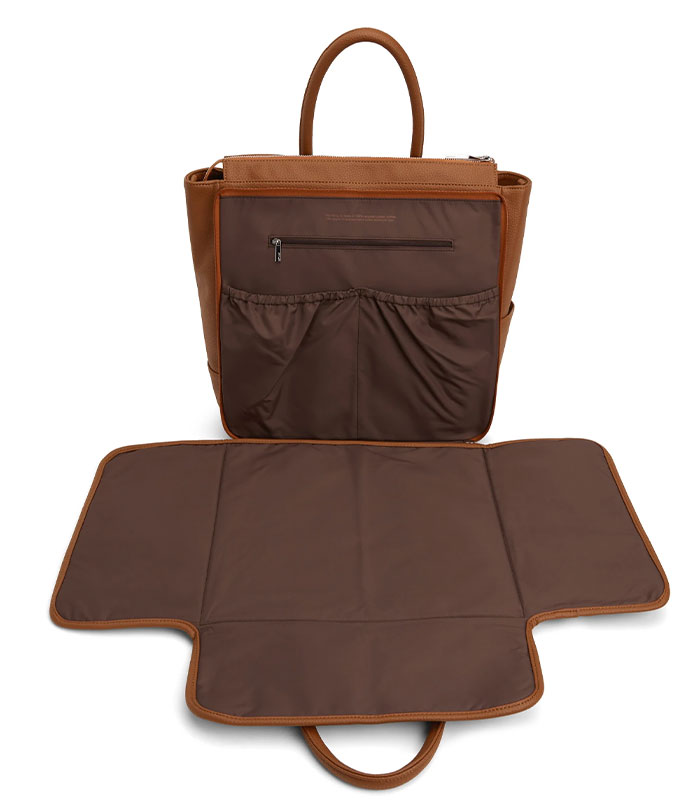 Matt & Nat Percio Vegan Diaper Bag ($225)
This Matt & Nat diaper bag is made from vegan and recycled materials and is available in Black or Brown. The back of the bag has a large zippered compartment that folds out into a changing pad and features two elastic pouch pockets for bottles. The diaper bag can also be worn as a crossbody bag with an adjustable and removable strap.
---
Not down for a vegan leather diaper bag or if you prefer a more flexible or softer material… Here are some more options for vegan diaper bags and backpacks!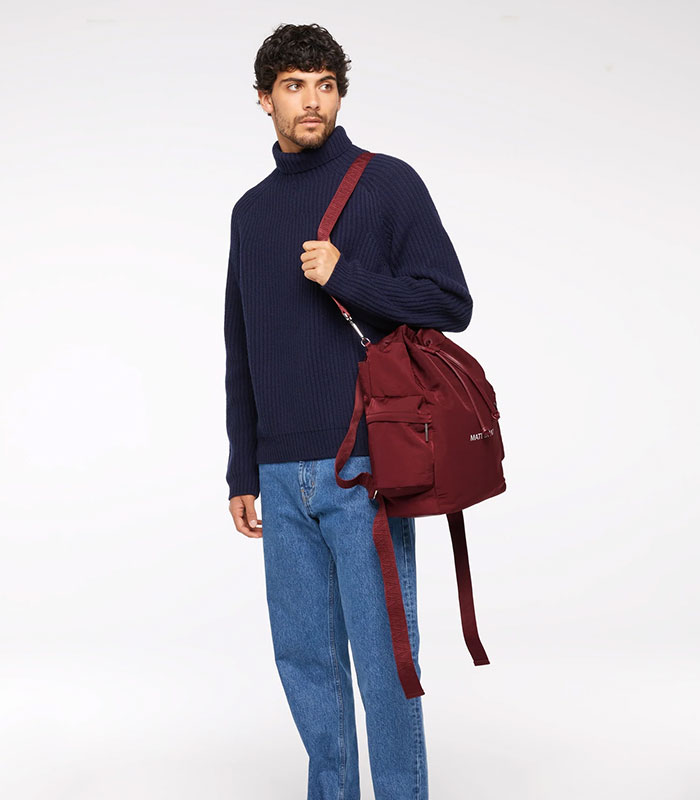 Matt & Nat Isla Vegan Diaper Drawstring Bag ($215)
Available in Black, Grey, and Cerise, this Matt & Nat diaper drawstring bag can be worn as a backpack, on the shoulder, or handheld using the top handle. The interior features elastic pockets to store all of your baby necessities and a removable pouch on a string that includes a folded changing pad. The lining is made from 100% recycled nylon.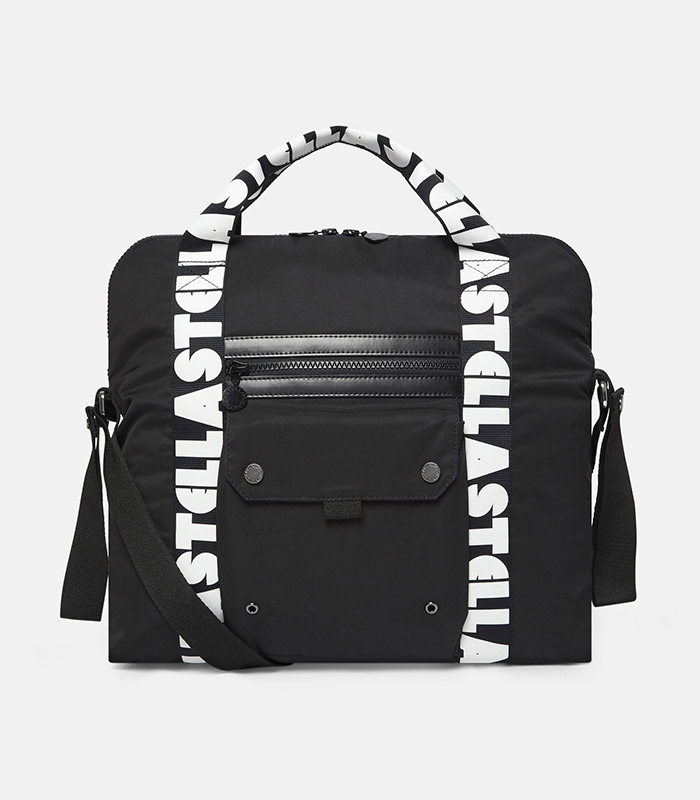 Stella McCartney Kids Logo Diaper Bag ($342)
If you want to splurge and gift a friend or yourself a designer vegan diaper bag, then this Stella McCartney Kids Logo Diaper Bag is perfect! Made of 100% polyester materials, this bag is water-repellent and super easy to wipe clean. The contrasting signature Stella McCartney logo straps provide ease of carrying, and it also features a zip closure with internal and external pockets to keep you organized.
---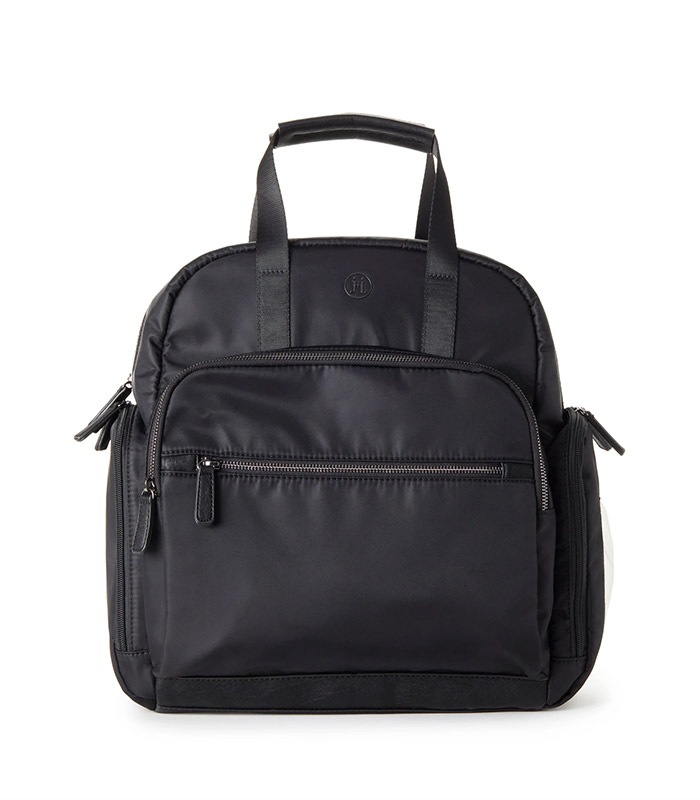 Jeane & Jax Vegan Diaper Backpack ($150)
This black unisex vegan diaper backpack is made with nylon and the lining is made from 100% recycled plastic bottles. The backpack includes a changing pad and features an insulated side zip-around pocket and another side pocket to store baby wipes. The shoulder straps are adjustable and padded. And it also comes with adjustable stroller attachment clips.
---
Sustainable Vegan Diaper Bags
If you're looking for a vegan and sustainable diaper bag, I'd suggest buying second-hand! There are lots of options on Facebook Marketplace and Craigslist. I've seen many listings in my area from brands like Freshly Picked, Fawn Design, Itzy Ritzy, and Skip Hop that advertise their diaper bags as made from vegan or faux leather. And because we're all not going out as much, some are still in excellent condition.
Or use what you already own! I plan to use my Matt & Nat Brave Backpack. It may not come with interior compartments or an insulated pocket for bottles, but it'll do the job for now.
Let me know which of these vegan leather diaper bags or backpack you like the most!
More Vegan Maternity Guides to Check Out: