This post may contain affiliate links.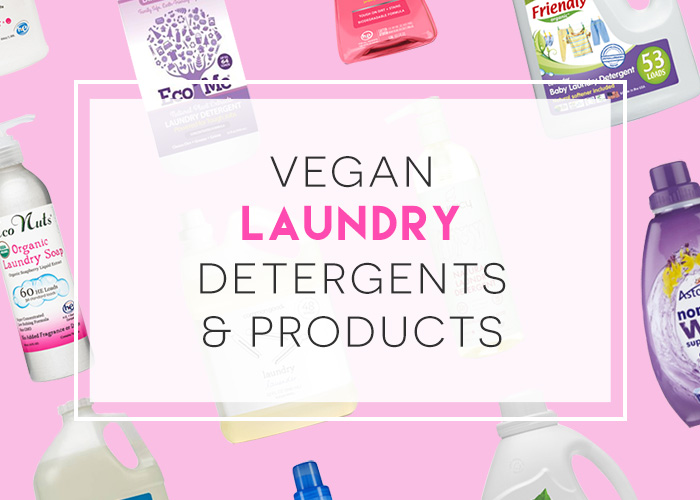 Shopping for cruelty-free and animal-free household products can be a pain because manufacturers are not required by law to carry an ingredient list. This means we have no idea what we are buying unless a manufacturer voluntarily lists their ingredients. You can imagine what a headache this is for those of us wanting to avoid animal ingredients or by-products in our household!
Animal Ingredients In Laundry Products
Let's first begin by asking what animal ingredients are commonly found in laundry detergents and products?
Processed animal fats are commonly used as a surfactant in laundry products and according to Veganissimo A to Z, some laundry detergents may also contain enzymes obtained from the organs of killed animals. For example, lipase derived from the pancreas of animals (usually pigs) are added to many laundry detergents in order to improve the cleansing affect in soap production.
How To Find Vegan Laundry Products
I find the best way to ensure household products are indeed vegan and do not contain any sort of animal ingredients or by-products is to contact the company directly and ask. I've already done the research and homework and I'm happy to bring you this ultimate vegan and cruelty-free laundry products guide!
Below you will find cruelty-free and vegan liquid laundry detergents, powdered laundry detergents, both marked with fragrance-free options, as well as, chlorine-free bleach or laundry whiteners, stain & odor removers, and fabric softeners!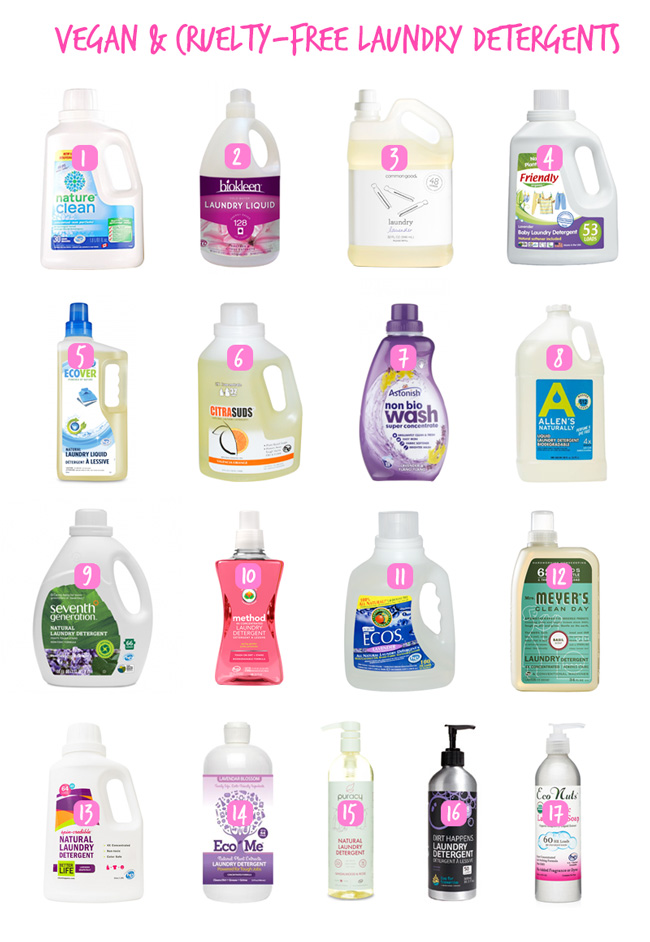 Liquid Laundry Detergent
Brands marked with * have fragrance-free option
1. Nature Clean*
2. Biokleen*
3. Common Good*
4. Friendly Organic*
5. Ecover
6. Citra Solv*
7. Astonish
8. Allen's Naturally
9. Seventh Generation*
10. Method*
11. Earth Friendly Products*
12. Mrs. Meyers
13. Live For Tomorrow*
14. Eco Me*
15. Puracy*
16. Better Life
17. Eco Nuts Soap
---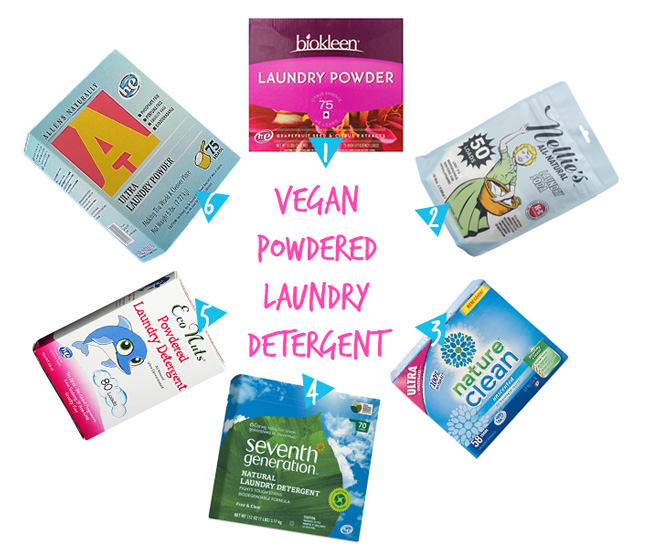 Powdered Laundry Detergent
Brands marked with * have fragrance-free option
1. Biokleen*
2. Nellie's*
3. Nature Clean*
4. Seventh Generation*
5. Eco Nuts Soap
6. Allen's Naturally
---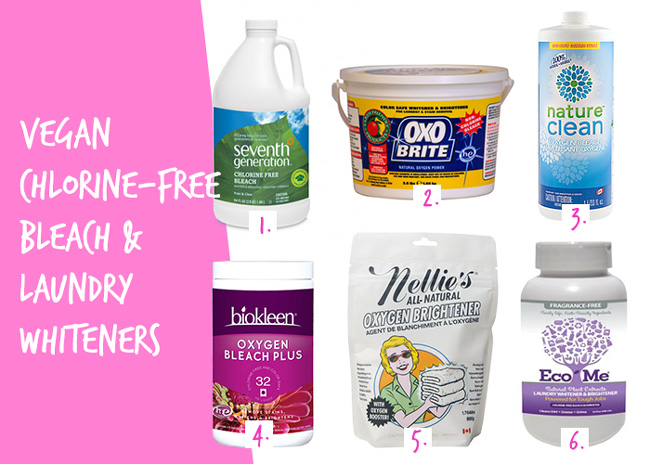 Chlorine-Free Brighteners and Whiteners
1. Seventh Generation
2. Earth Friendly Products
3. Nature Clean
4. Biokleen
5. Nellie's
6. Eco Me
---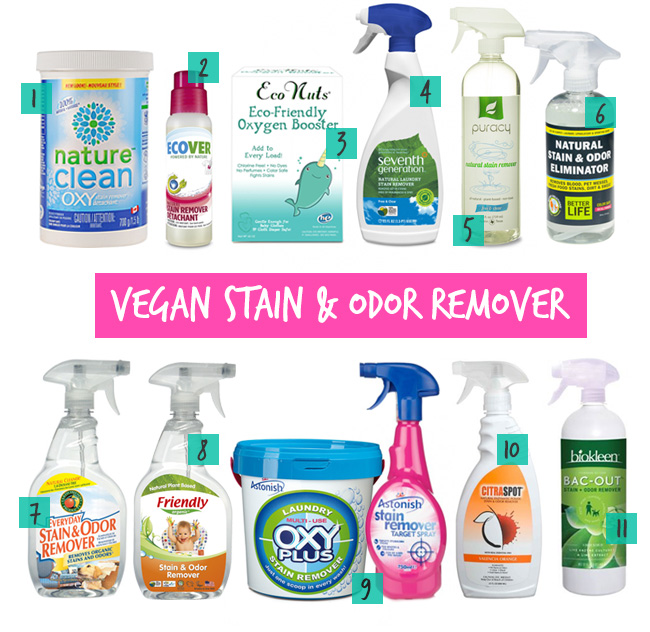 Stain and Odor Removal
1. Nature Clean
2. Ecover
3. Eco Nuts Soap
4. Seventh Generation
5. Puracy
6. Better Life
7. Earth Friendly Products
8. Friendly Organic
9. Astonish
10.Citrasolv
11.  Biokleen
---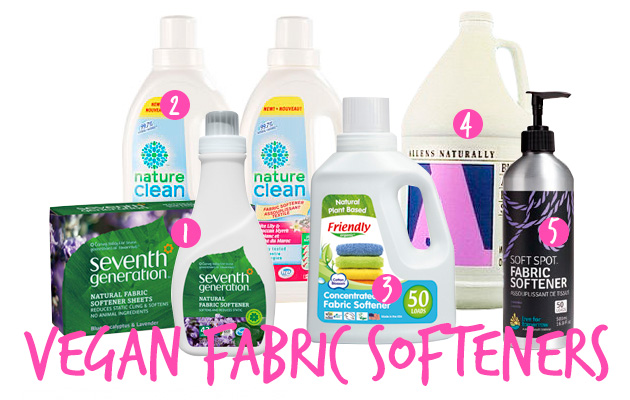 Fabric Softener
1. Seventh Generation
2. Nature Clean
3. Friendly Organic
4. Allen's Naturally
5. Live For Tomorrow
---
It should be noted that Ecover and Method are both certified cruelty-free by Leaping Bunny however they have admitted to testing on daphnia (water fleas). Learn more about daphnia testing and why it is an issue on Logical Harmony, here.
Have you tried any of these vegan laundry products before? Leave a comment below and tell us your experience!