This post may contain affiliate links that at no additional cost to you, I may earn a small commission.
Looking for a pair of stylish tall or knee high vegan boots that comfortably hugs your legs in all the right places? In this post, I'm sharing my top 18 picks for vegan leather knee high boots.
From vegan riding boots, mid-heels, to slim silhouettes and pull-up styles, this guide has it all, for every budget too!
As always with our vegan fashion guides, all of the vegan boots mentioned in this post are made with all vegan materials. This means none of these shoes are made from animal materials (like animal-derived leather, suede, wool, silk). Also, the shoe glues are vegan.
Now, let's get into it!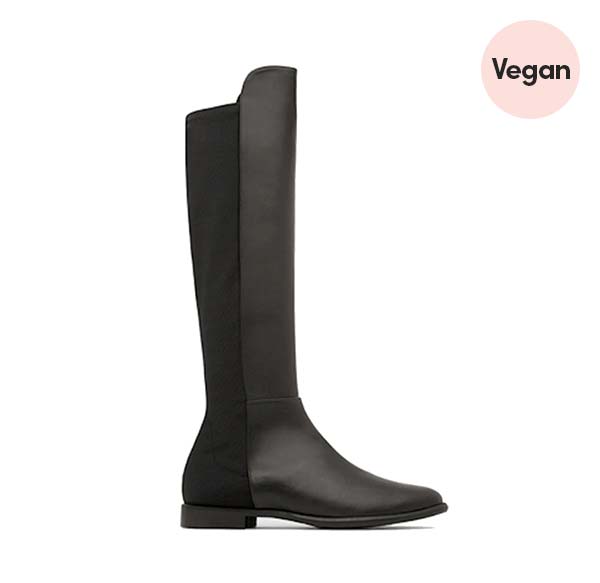 'Nova' Black Vegan Leather Boots by Marzeri
allTRUEist $337, On Sale $232!
A classic under-the-knee boot that goes with almost any outfit. Pull up style. Made with smooth and luxurious black vegan leather with an elastic back for comfort and a tailored look.
---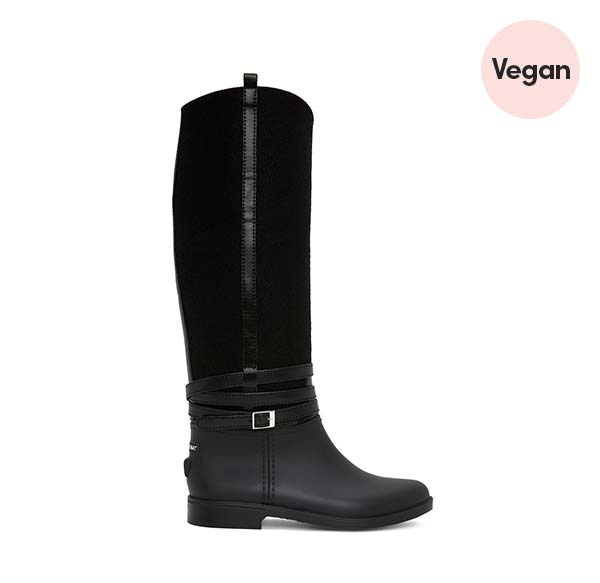 'Camila' Matt & Nat Boot
Matt & Nat $140
Waterproof knee-high flat boots by Mat & Nat, Featuring a felt matching trim and buckle ankle strap detail. Made in Romania.
---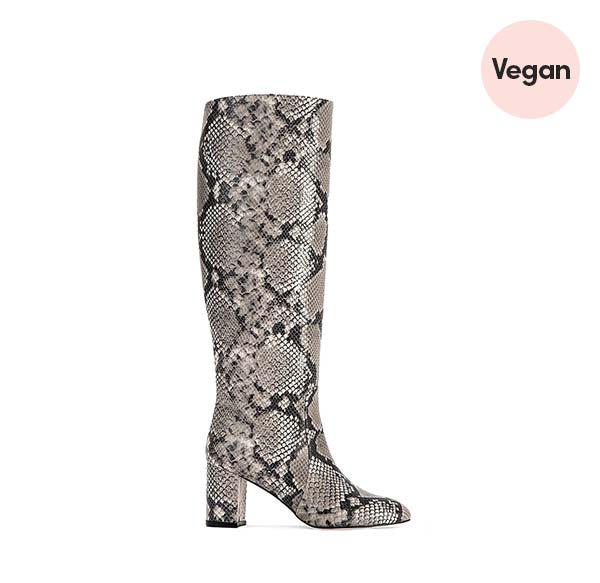 'Gisele' Natural Vegan Python-Effect Knee Boots by AERA
allTRUEist $739
If you've been looking for a statement vegan snakeskin print boot, look no further… This is the one. Made in Italy with a 3″ block heel that is both comfortable and elegant so that you can wear this day or night.
---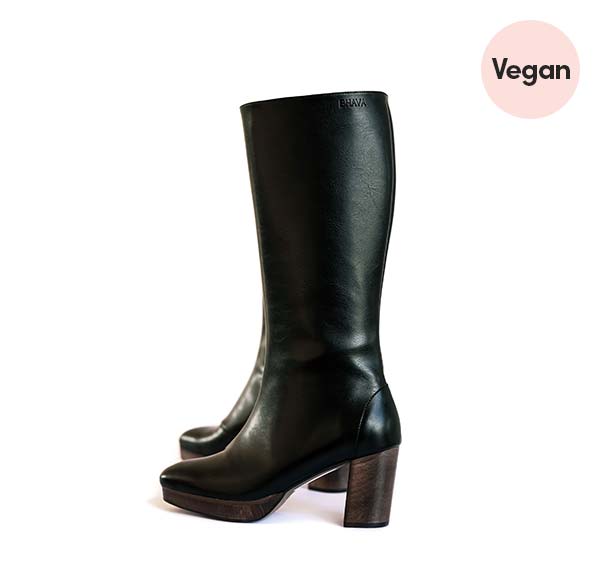 'Ziggy' Wood Platform Tall Vegan Boot
BHAVA $325
Bowie-inspired with a soft square toe and BHAVA's signature natural solid wood 3″ heel with a platform, so that you can wear these all day in comfort! Manufactured in Alicante, Spain. Made with Italian vegan leather and soft eco-suede lining.
---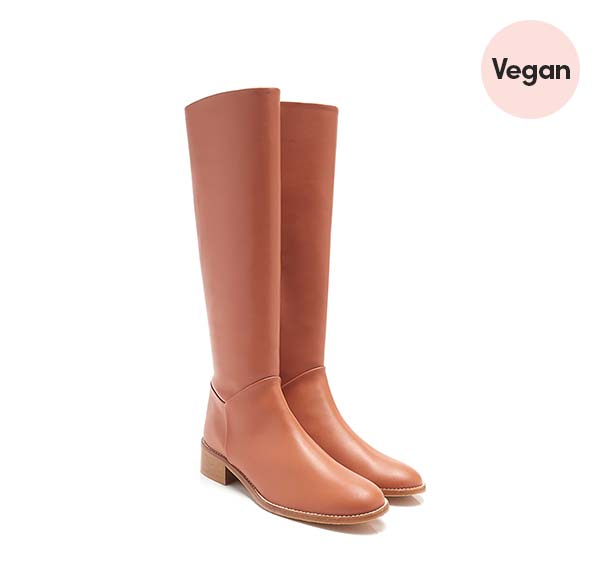 Nova Cognac Faux Leather Vegan Knee High Boot
Beyond Skin $460
Vegan riding boot with a sleek and narrow fit, featuring a full inside leg zipper and a comfortable small block heel. Handcrafted in Spain. Lining made with 100% recycled faux leather.
---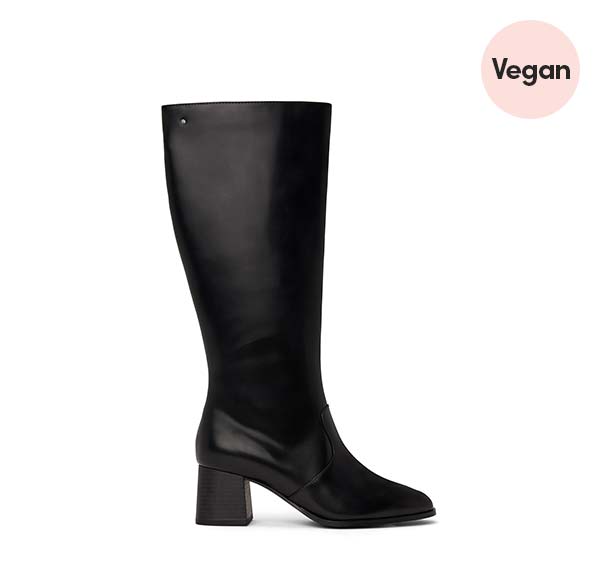 'Livia' Women's Vegan Mid Heel Boots
Matt & Nat $165
Women's boot with hidden YKK zipper and square toe. Made with vegan leather (PU) with a 2.5" hee.
---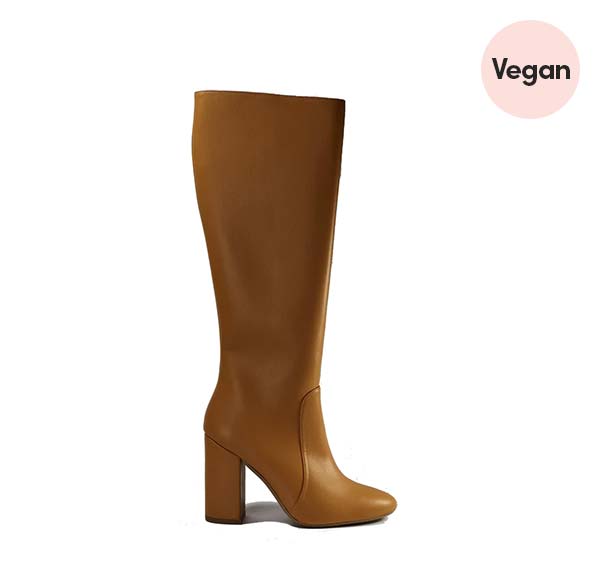 'Claudia' Vegan Leather Knee-High, High-Heeled Boot
Vegan Style AUD$279
The ultimate statement heeled knee-high boot made with ulta soft vegan Nappa leather (PU) and set on a sturdy, comfortable 10cm block heel. Handmade fairly in Spain.
---
'Fargo' Tall Hiker by BHAVA
BHAVA $299
Buttery soft vegan leather with a smart and elegant silhouette. Sleek and slim design makes these pair of knee-high boots perfect for work and date nights. Manufactured in Spain.
---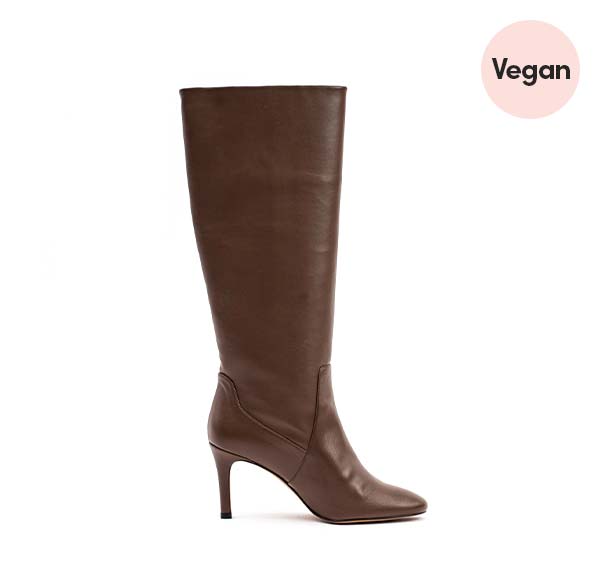 Chloe Brown Vegan Leather Heeled Long Boot
Allkind Vegan £220
A true classic brown vegan leather heeled knee-high boot that you can easily wear both day or night. Pull on style, featuring a mid-height heel (approx. 3″) and round toe, hand-stitched in Spain from soft vegan leather.
---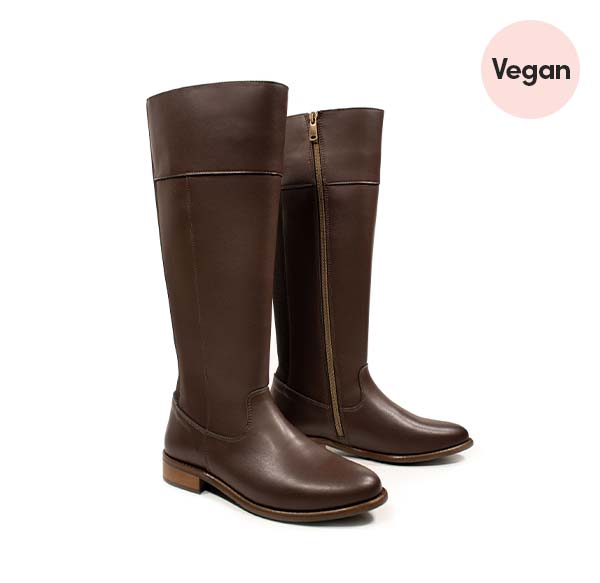 Will's Vegan Knee High Boots in Dark Brown
Wills $110
Made with rich Italian vegan leather, designed to hug your legs and sit comfortably on the top of your calf just below the knee. Lining is made with two types of vegan suede for a luxe feel. Carbon Neutral. Ethically made in small batches in Portugal.
---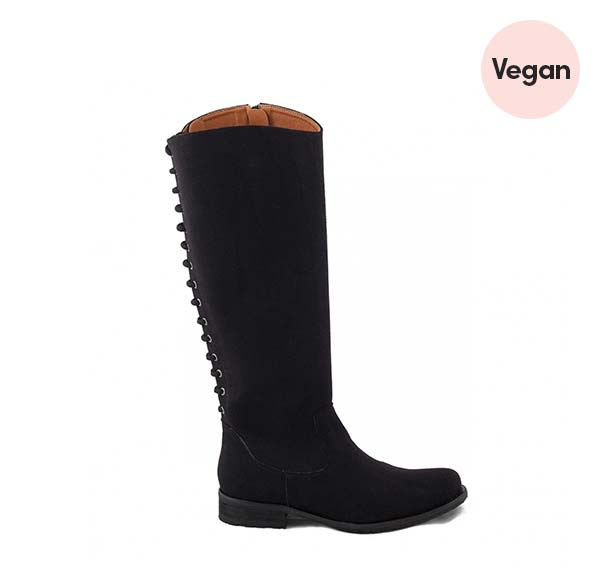 'Laia' Women Vegan Knee High Boots
NAE $210
Made with ecological, Oeko-Tex Certified, and water-resistant microfiber. Full height zipper with an edgy lace design from top to bottom in the back.
---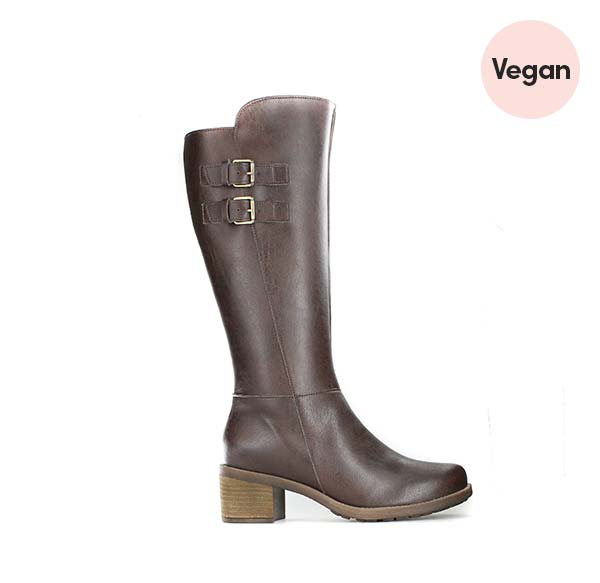 'Cecilia' Vegan Riding Boot in Brown from Novacas
Moo Shoes $109
This new riding boot from our house brand Novacas serves up sustainable style on the go. Made with EU Ecolabel certified labels and microfiber faux leather, sitting on a stacked wooden 2″ heel.
---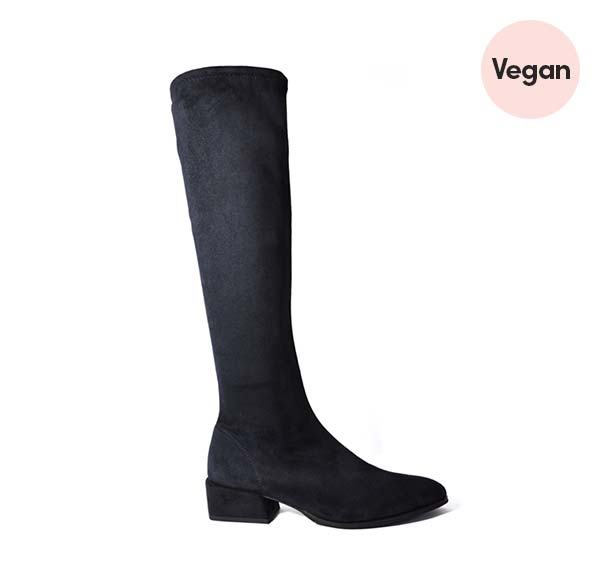 Elegant Vegan Knee-High Boot
Noah €169
These slim-cut, almond-toe vegan boots are so chic and elegant! Made with soft, elastic micro-suede featuring a square heel that is comfortable and practical.
---
Roxie B Camel Vegan Leather Knee High Vegan Boots
Beyond Skin $530
Smart and comfortable, vintage-inspired tan faux leather knee high boots featuring a pull-on style with side panelling and a mid-heel height. Handmade in Spain. Lining is made with 100% recycled faux leather with plant-based coating. Water-resistant.
---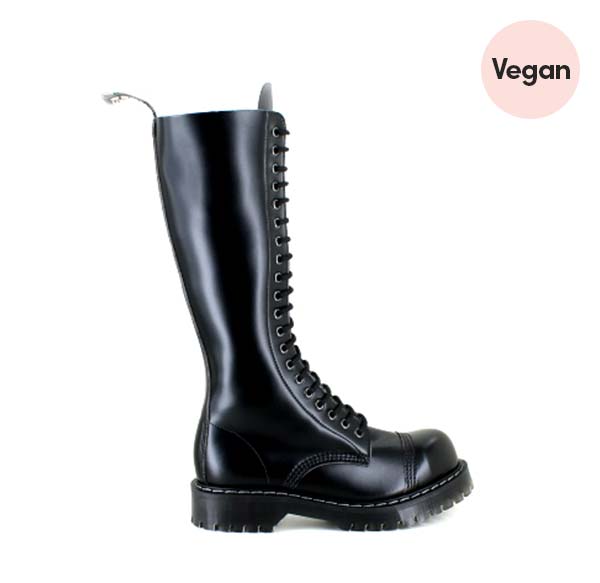 Airseal 20 Eye Boot Smooth in Black
Vegetarian Shoes £145
Handcrafted in the UK, made with a high-quality and durable non-leather material, Vegetan Smooth Grain. Featuring Airseal Country Soles that are extra thick to provide excellent shock absorption, comfort, and insulation.
---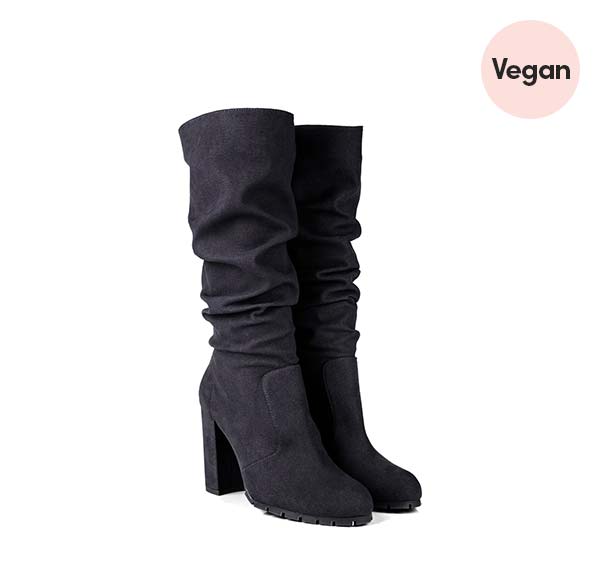 'Anna' Black High Heel Vegan Slouch Boots
Beyond Skin $435
Made from soft and supple black faux suede, these pull-on slouch boots will become part of your everyday wardrobe. Chic and casual, with a bold high block heel and a rubber sole, these are the ideal boots for those chillier months.
---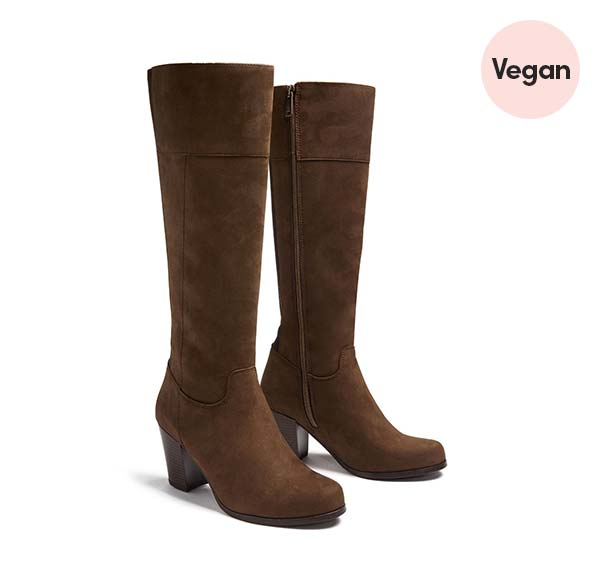 Will's Vegan Heeled Knee High Boots
Will's $120
Made with luxurious Italian vegan suede, featuring a wood effect 3″ heel. Designed to fit snug and hug your legs, sitting just below your knees. Carbon Neutral. Ethically made in Portugal.
---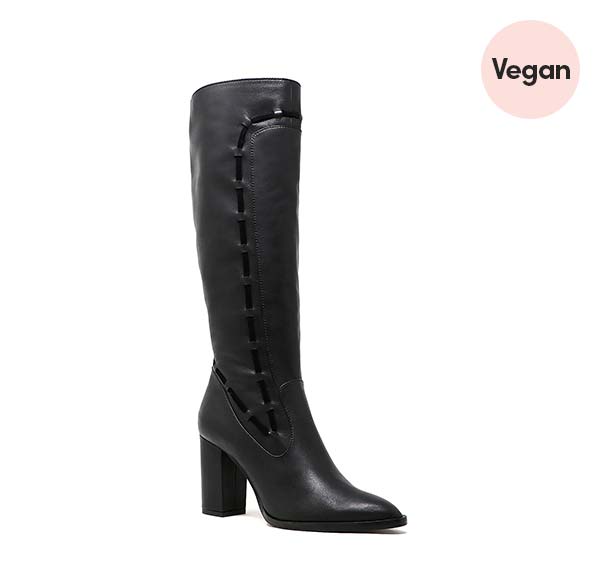 'Strada' Black Vegan Nappa Boots
Sylven New York $595
The Strada boot is Sylven New York's first knee-high boot style. With a running 100% recycled faux suede stitch along the boot's curves, the Strada is all about the refined details. Inspired by the luxurious streets of Italy, Strada literally translates to 'street' in Italian.
---