This post may contain affiliate links that at no additional cost to you, I may earn a small commission.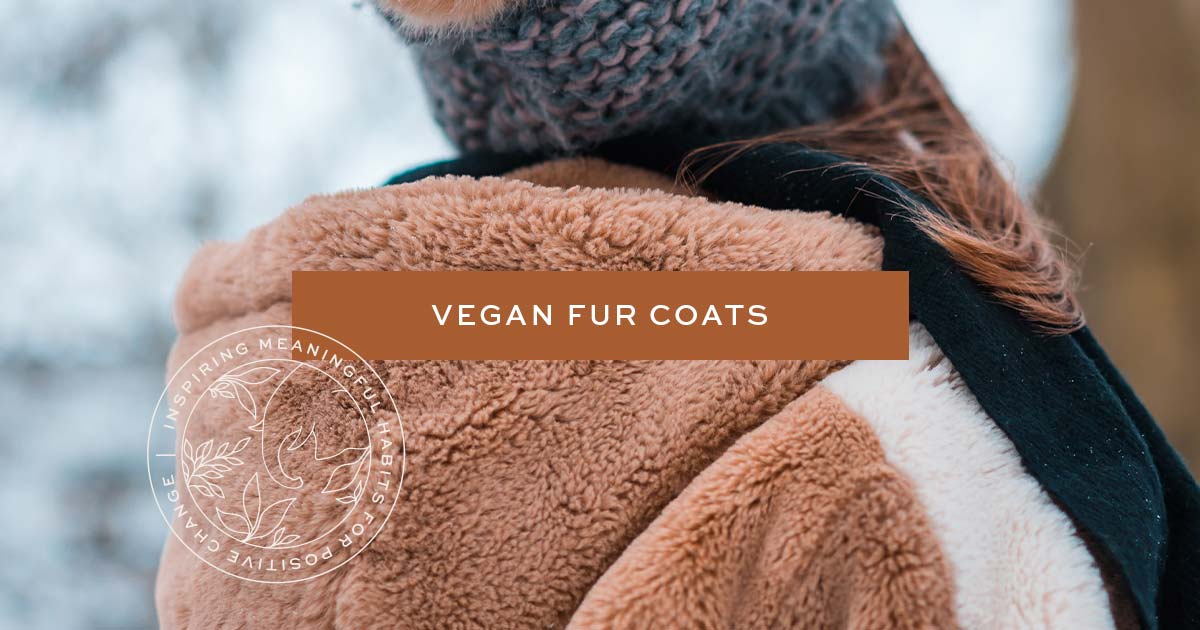 Looking for a luxurious vegan fur coat or jacket to keep you stylishly warm this season? In this post, I'm sharing a list of the best faux-fur & ethical fashion brands offering a collection of chic vegan fur outerwear that look and feel like the real thing but without animal cruelty!
Nowadays, it's fairly easy to find faux fur and vegan fur coats and outerwear. Most retailers and fast fashion brands are opting for faux fur as a cheaper alternative to real fur.
In addition, many designers and retailers including Nordstrom, Burberry, Versace, and Gucci, have announced their decision to stop designing and producing fur products.
Discover the Beauty of Vegan Fur Coats
With so many faux-fur options available on the market today, I would recommend and prioritize buying your vegan fur coats and apparel from ethical and vegan fashion brands. Or the most sustainable option is to buy second-hand!
Cheap faux-fur products that you can get anywhere like at Target or on Amazon are not always the best for the environment. As they're made with cheap synthetic materials like chemical-based plastics that can do more harm than good for the planet. Vegan and ethical fashion brands are more mindful and thoughtful about the production and manufacturing of their faux-fur products.
In addition, a 2018 and 2019 article revealed shops like Amazon, Boohoo, and TK Maxx were selling faux fur clothes and bags which were actually made from rabbit, fox, and raccoon dog fur.
By supporting 100% vegan & ethical fashion designers, you won't have to double-check to make sure the item is actually made with faux fur and vegan materials. You'll also be supporting a business that refuses to use any animal materials and fibers in any of its collection.
Vegan Fur Fashion Brands
The following vegan fur fashion brands offer a collection of faux-fur coats and outerwear. Continue below to read more about my top 6 vegan fur brands.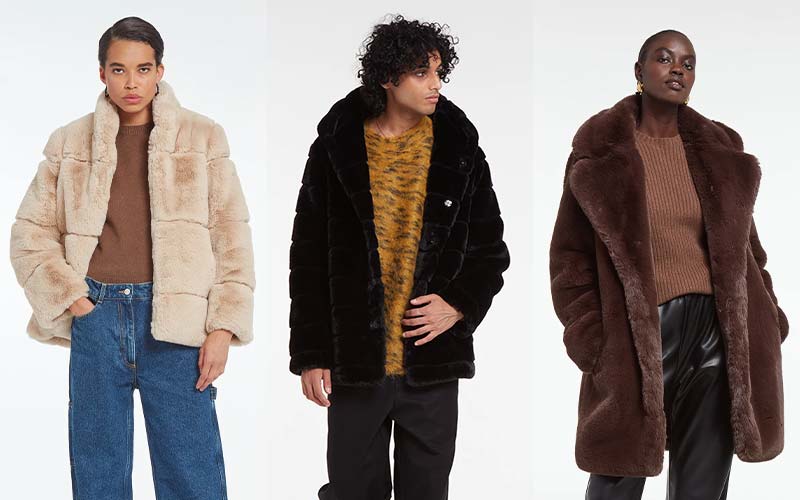 Based in New York, Apparis designs high-quality vegan fur coats and accessories for all shapes, sizes, and styles! Apparis has a great selection of faux fur coats, jackets, and apparel that are effortlessly bold and incredibly soft. Apparis vegan fur outerwear costs between $245-$615.
Best of all, Apparis only uses materials that are 100% cruelty-free and made with organic dyes while reducing their water consumption. In addition, the ethical and vegan lifestyle brand offers its products in small-batch drops in an effort to cut down on overproduction and waste, while recycling extra fabrics to make accessories and other styles.
The brand's powerful colors and coveted designs became the ultimate must-have for New York girls. The label is dedicated to cruelty-free designs, sustainability, and most importantly–empowerment.
---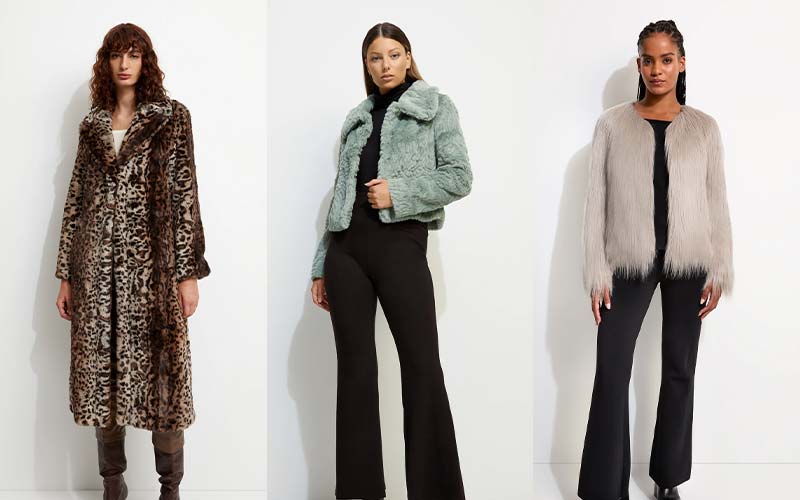 Based in Melbourne, Australia, Unreal Fur offers a range of fashionable faux fur jackets and coats for women. Unreal Fur has various colors, patterns, and styles, from animal-print long silhouette coats to multi-toned vegan fur jackets, and elegant bridal wraps.
All of Unreal Fur's styles are made with modacrylic and polyester fibers and the brand is PETA-Approved Vegan. The price range for their women's outerwear is $319-$599.
Every Unreal Fur garment is designed with longevity in mind. Their pieces are produced with quality materials that are durable and able to be worn season after season.
---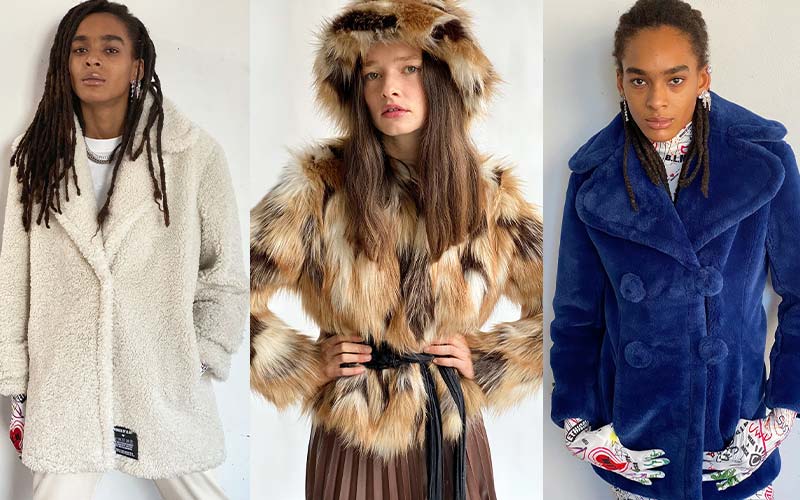 Based in New York, House of Fluff is an eco-friendly, faux-fur lifestyle fashion brand with a line of cruelty-free high-fashion products that are affordable, beautiful, and comfortable.
All of House of Fluff's luxurious fur coats and jackets are 100% vegan and their BIOFUR™ collection is made from plant-based or recycled textiles, where all pieces can be recycled or have been treated with an additive to help any synthetic fibers decompose naturally if they should end up in a landfill or the ocean.
House of Fluff vegan fur coats and jackets cost between $200-$525, they have various designs and colors to choose from, including vegan fur trench coats, pea coats, cape coats, bomber jackets, capes, and children's styles.
---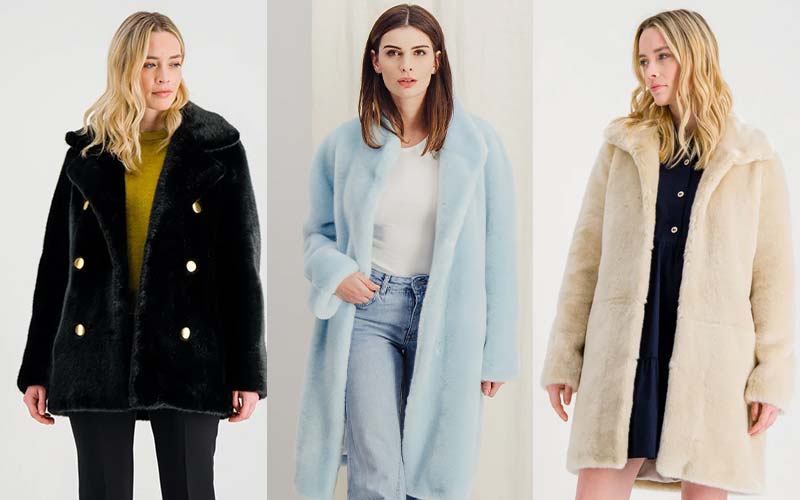 Created by Lydia Bahia, La Seine & Moi is known for the quality of its vegan furs which are entirely made in France. Selectively choosing materials based on their softness, lightness, and thermal quality. The luxury faux fur fashion brand guarantees each of its pieces is 50% hand-sewn and contains no more than 15% polyester.
"Lydia Bahia has always wanted to create a collection with a value that she always put on a pedestal, environmental respect. She controls all the production which all of her pieces is made in her own Parisian atelier."
La Seine & Moi offers a range of vegan fur bomber jackets, coats, and scarves, composed of modacrylic, an expensive fiber of Japanese origin, and acrylic or recyclable polyester. And their coats and jackets are priced between €350 – €600.
---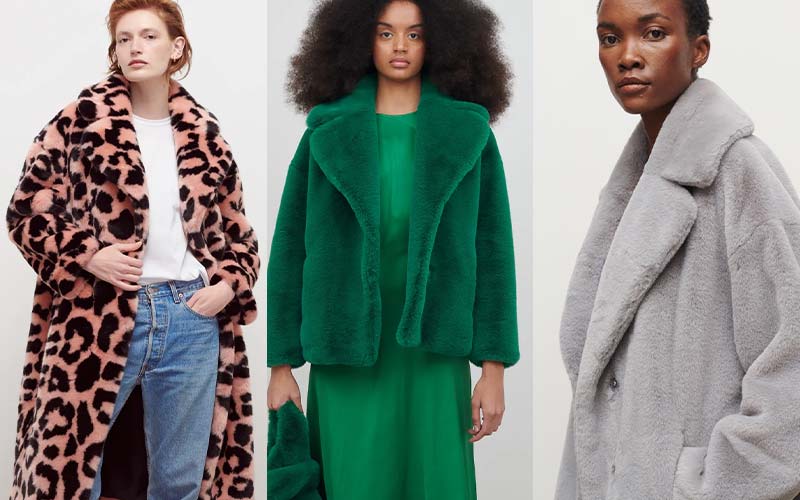 Based in London, jakke is an eco-fur fashion brand with a conscience. Discover their range of vegan fur outerwear from classic styles to retro and vibrant colors. The price of their vegan fur coats and jackets is between £179 – £339.
"From AW21 jakke will be producing smaller capsule collections and refreshing our signature shapes with a focus on timeless luxury pieces made from long-lasting, ethical fabrics that can be worn year after year."
Currently, 45% of their collection is made from recycled plastic bottles and it's their goal to increase this percentage season by season. Jakke also visits and monitors their factories to ensure all of their garment workers are paid fairly and are working in a safe and respectful environment.
---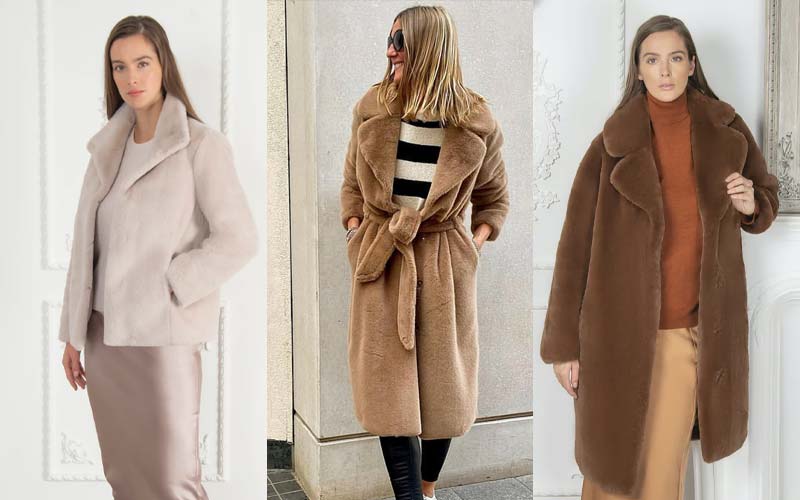 Founded in 2021, Issy London is a contemporary women's brand that's doing faux fur differently. Issy London's timeless collections of high-quality, eco-conscious faux fur coats are beautifully designed to be treasured, year after year.
"Each piece has been expertly crafted to be lived in and loved, season after season, with plush, premium sustainable finishes and effortless silhouettes that can be dressed up or styled down to suit your diary."
Issy London's seasonless, stylish, luxe faux fur collection is sumptuously soft and irresistibly cozy with sustainability at its core. Their outerwear is crafted using recycled polyester fibers made from recycled plastic bottles.
---
Why Vegan Fur Coats?
These stylish and eco-friendly garments offer the perfect balance between fashion and ethics, allowing you to look fabulous while making a compassionate choice.
Vegan fur coats have come a long way from their early days of being perceived as a compromise in quality.
Today, they rival the real thing in terms of softness, texture, and overall appearance. From sumptuous faux Mink to plush faux Fox, there is a wide variety of options to suit any taste and style.
Not only do vegan fur coats eliminate the need for animal exploitation, but they also have a smaller environmental footprint compared to their real fur counterparts.
By opting for vegan fur, you can embrace a more sustainable approach to fashion without sacrificing your desire for elegance and warmth.