This post may contain affiliate links that at no additional cost to you, I may earn a small commission.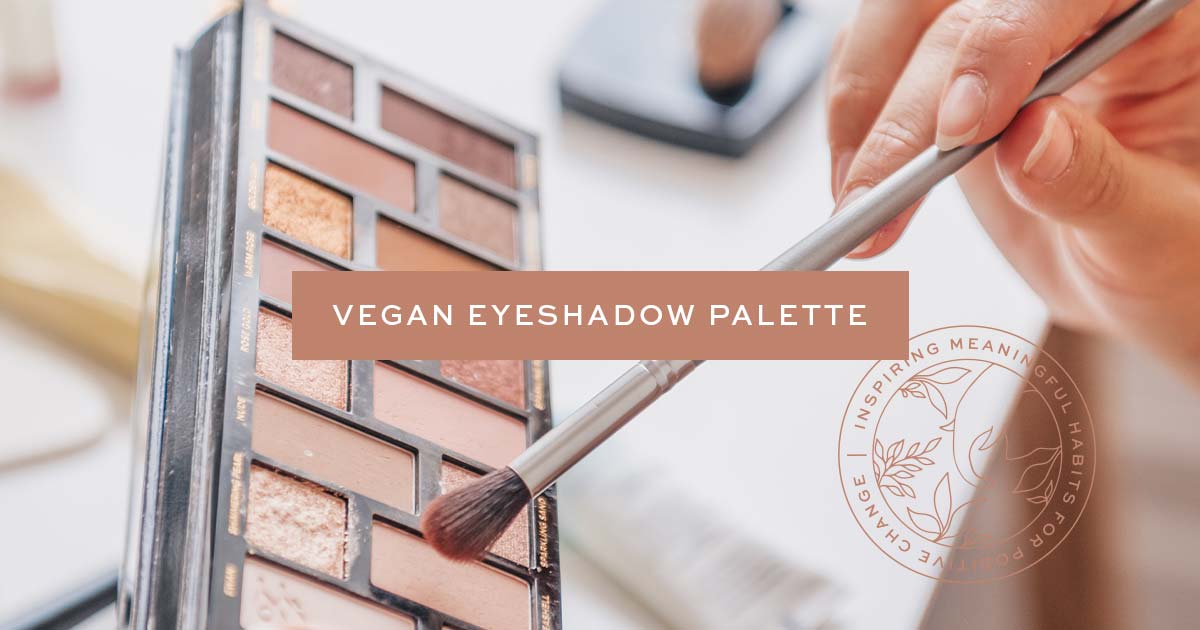 Looking for a richly pigmented vegan eyeshadow palette that's easy to blend to achieve a subtle look or something bold for a special occasion? In this guide, I'm sharing the best and most versatile vegan eyeshadow palettes that can take you from day to night!
Unfortunately, most drugstore and high-end eyeshadow palettes are from brands that still test on animals like Maybelline, Gucci, Dior, Chanel, Pat McGrath, Tom Ford, L'Oreal, Revlon and should be avoided when looking for a cruelty-free and vegan eyeshadow palette.
In addition, most eyeshadow palettes have one or more shades that contain carmine, making them not vegan. Carmine is derived from crushed bodies of insects and is used as a pigment in pressed eyeshadows.
Vegan Eyeshadow Palette
All of the eyeshadow palettes mentioned in this post are from brands that have been verified as being truly cruelty-free and don't test on animals. Note that I've included some options from cruelty-free brands that are owned by an animal-tested parent company. If you choose not to purchase from these brands, then avoid the ones marked with an * asterisk.
And all of the eyeshadow palettes have been verified as being vegan-friendly and don't contain carmine or any other animal-derived ingredients.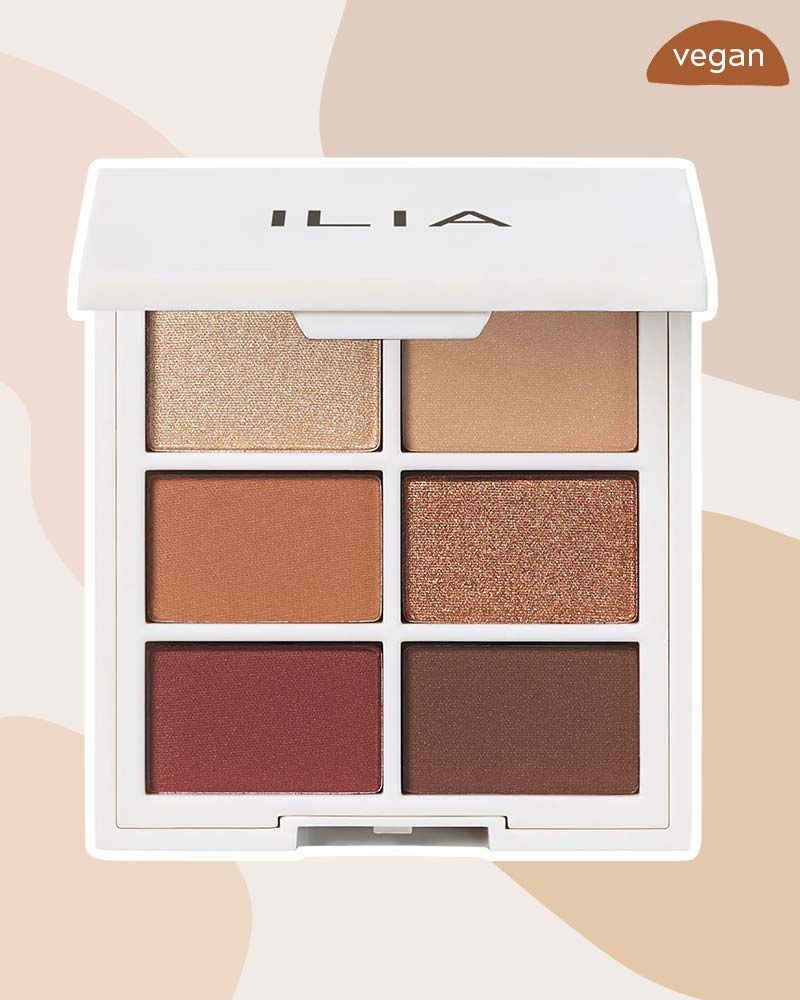 This slim compact boasts six talc-free, not-so-standard neutrals that will take you from day to night — with matte, satin, and metallic finishes. Made with jojoba seed oil and vitamin E, these buttery, blendable shadows nurture lids while delivering highly pigmented, lasting color without the fallout. Warm Nude and Cool Nude are vegan.
*Note: ILIA is cruelty-free but ILIA is owned by Clarins, a parent company that is NOT cruelty-free.
---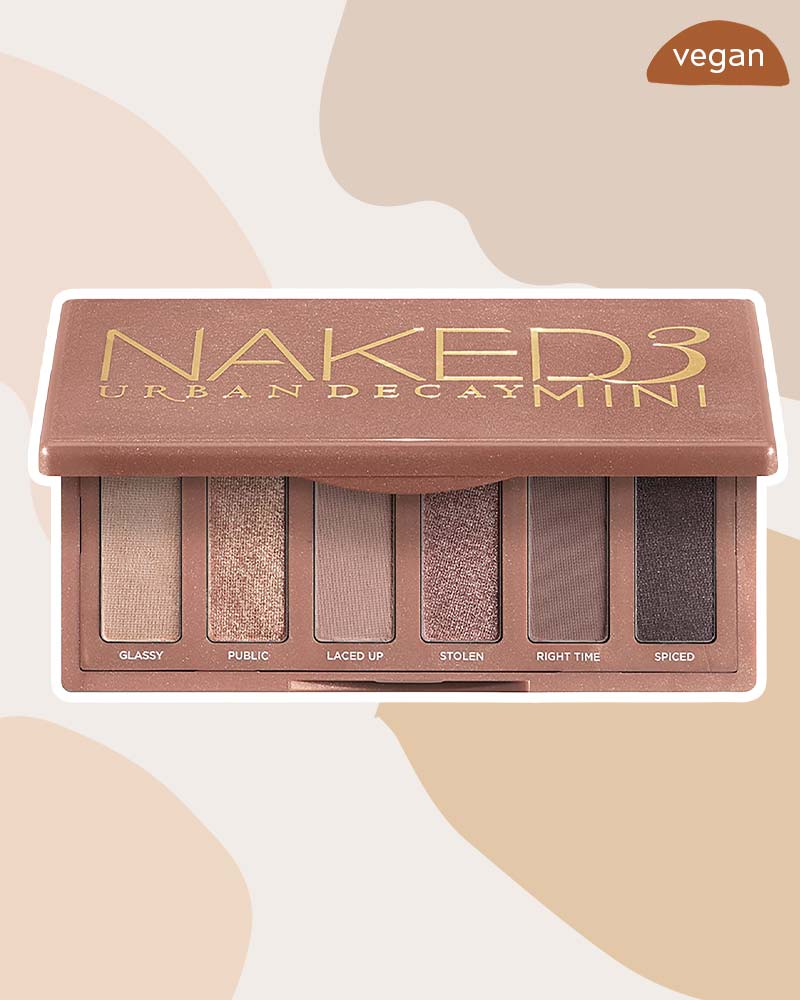 Sadly, Urban Decay's Naked 3 Eyeshadow Palette is NOT vegan but Urban Decay's Naked3 Mini Eyeshadow Palette is Vegan. These high-pigment vegan shadows apply smoothly, blend evenly, and last up to 12 hours. This everyday eye palette is made for every skin tone, eye color, and mood. These velvety shadows can be worn solo or layered to create a monochromatic wash of color or a bold, smoky-eye look.
*Note: Urban Decay is cruelty-free but Urban Decay is owned by L'Oreal, a parent company that is NOT cruelty-free.
---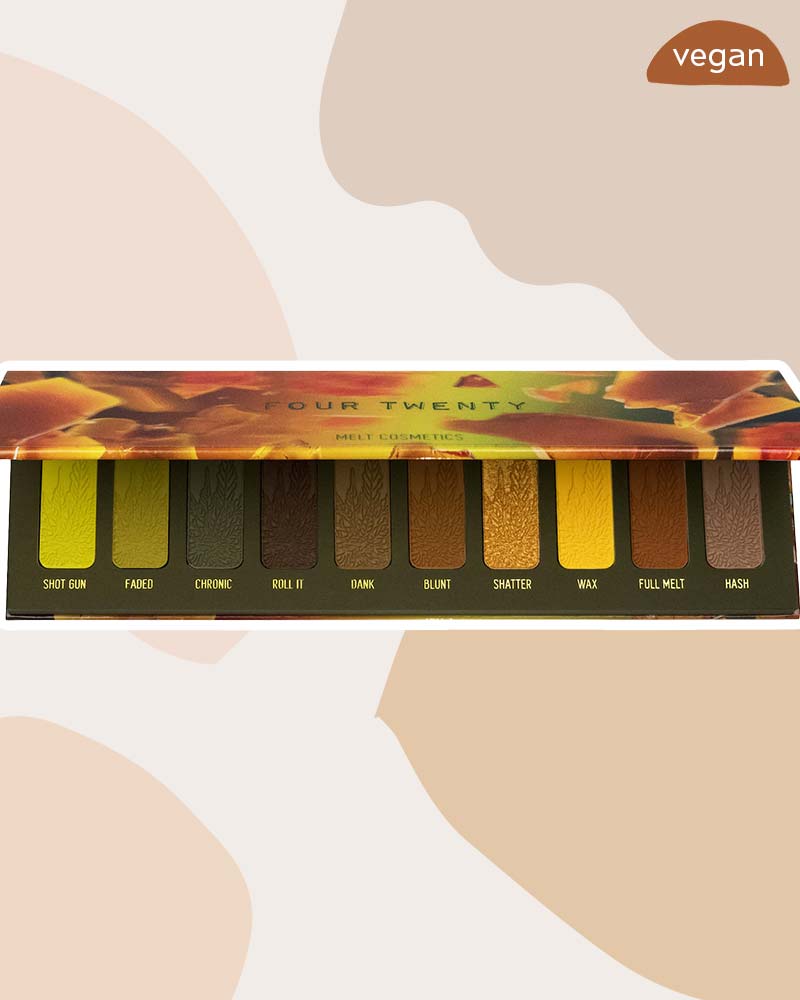 A vegan eyeshadow palette with a striking array of potent yellows, amber neutrals, and bold greens. This palette's colors were inspired by the vivid hues and tones found in shatter—the most concentrated and powerful version of cannabis.
---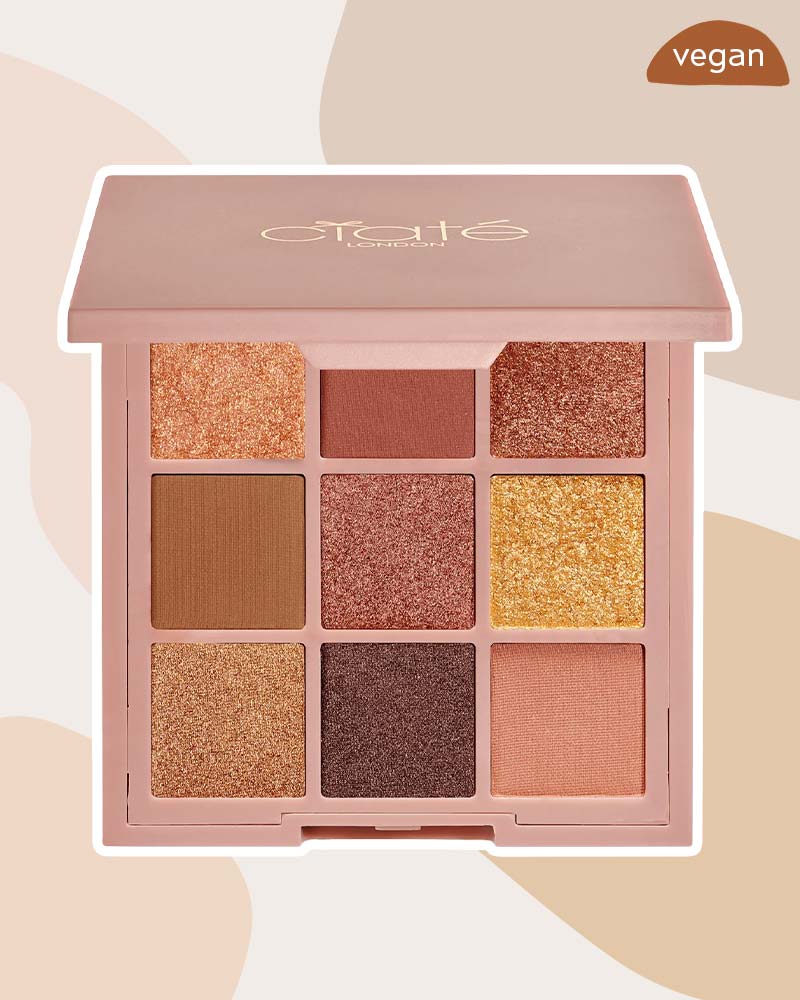 Create sculpted matte and sparkling shimmer eyes with this versatile vegan bronze toned eyeshadow palette. The highly pigmented shadows contain warm and cool toned browns, bronze and golden shades for a multitude of day-to-night looks. Mix and match shades or use each shade alone for a monochromatic look.
---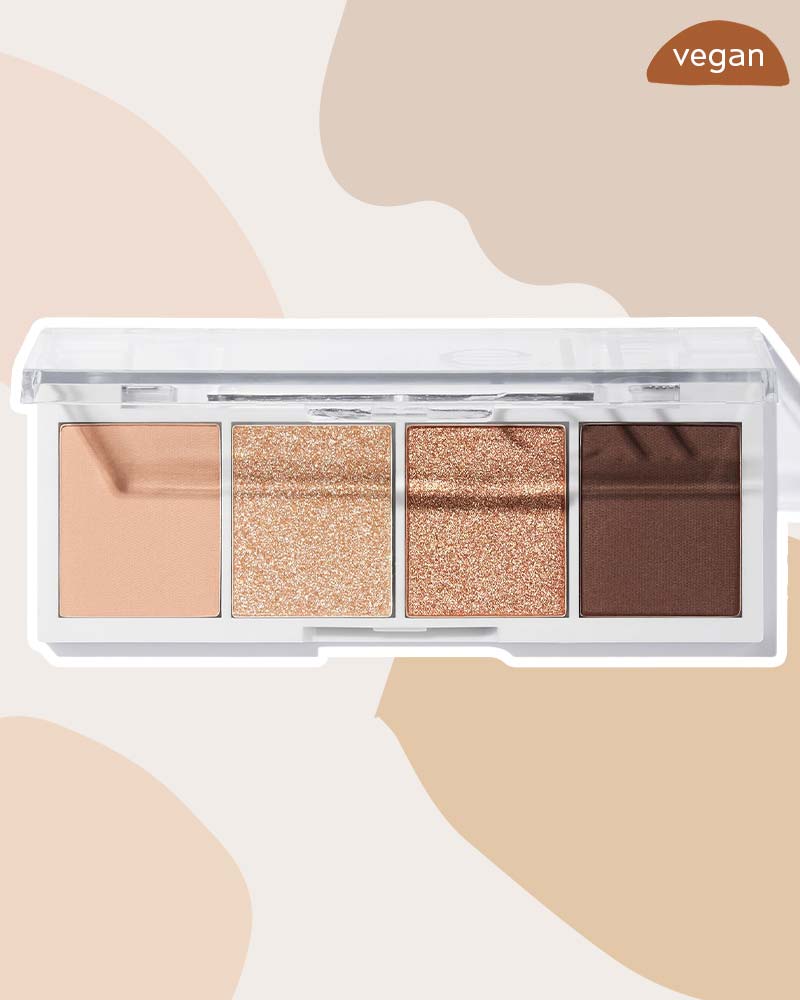 Little compact, big impact. These on-the-go eyeshadow quads feature a combo of matte and shimmer shades to take your eyes from day to night and every mood. The luxe powder vegan eyeshadow formula delivers rich, highly blendable color that stays put and makes a statement—whether that's minimalist or dramatic. All E.L.F. Cosmetics' Bite Size eyeshadow palettes are vegan.
---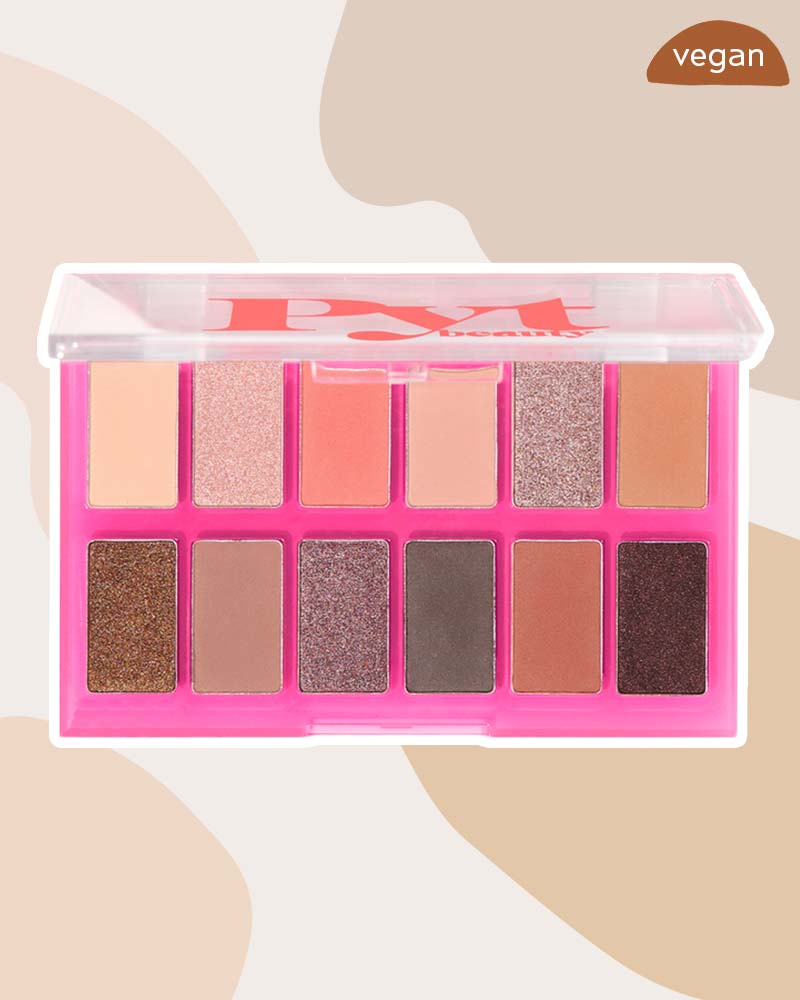 This vegan eyeshadow palette by PYT Beauty is made with 15% recycled plastic and composed of pre-degraded plastic. PYT Beauty palette in Cool Crew Nude has 12 highly pigmented easy-to-wear shades consisting of shimmer and matte finishes.
---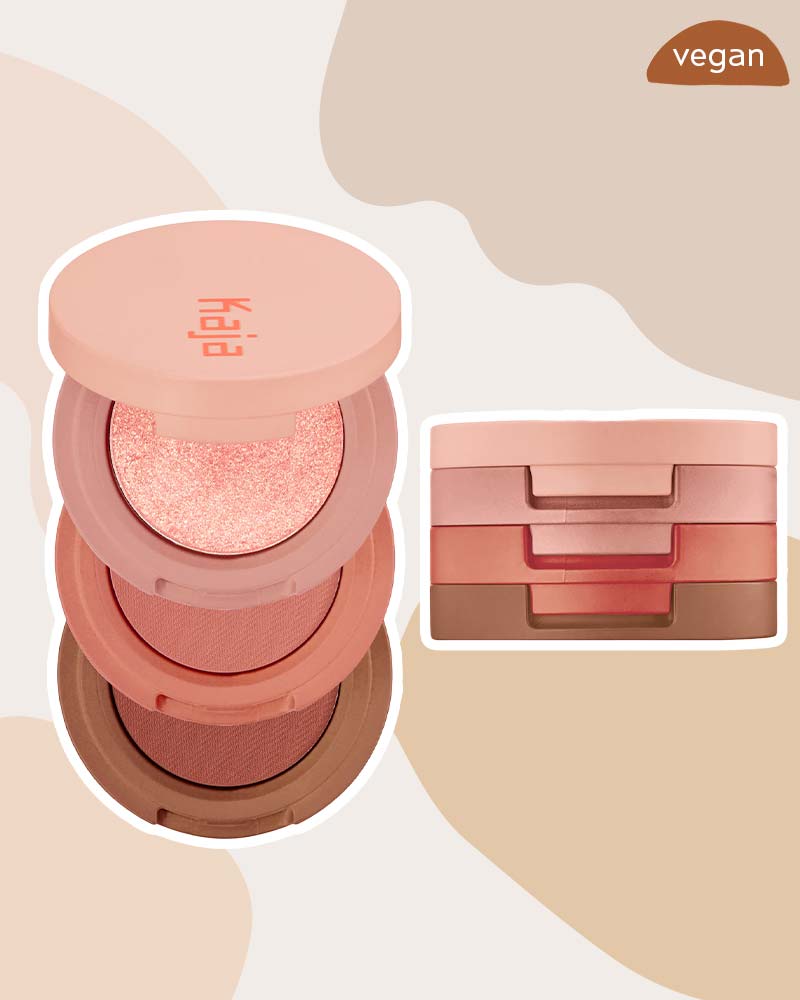 A stacked, creamy, powder eyeshadow in curated trios of shimmers or combinations of matte and shimmer shades that apply effortlessly with your fingertips. Kaja's Bento Bouncy Shimmer Eyeshadow in 'Chocolate Dahlia' is vegan, however, some of the other color palettes are NOT vegan.
*Note: Kaja is cruelty-free but Kaja is owned by MBX, a parent company that is NOT cruelty-free.
---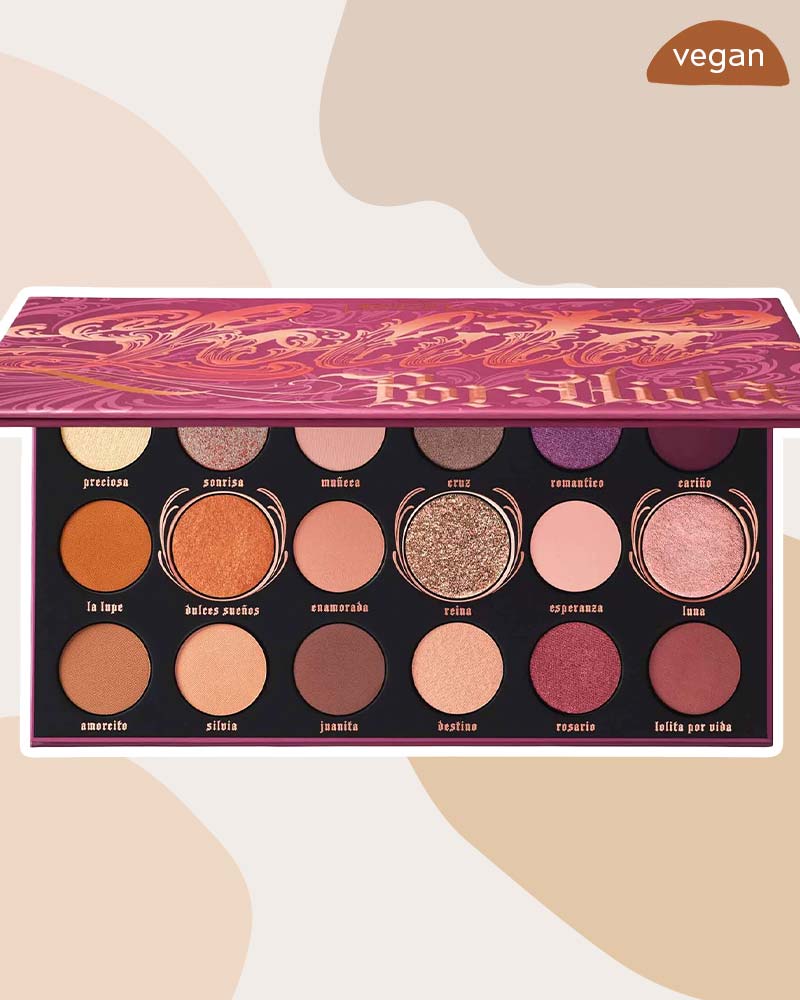 An 18-pan eyeshadow palette packed with matte, shimmer, foil + super-glitter finishes—all inspired by KVD Beauty's iconic lip shade LOLITA. If you can't get enough of their bestselling chestnut rose shade, this palette is for you.
*Note: KVD Beauty is cruelty-free but KVD is owned by Kendo and LVMH, a parent company that is NOT cruelty-free.
---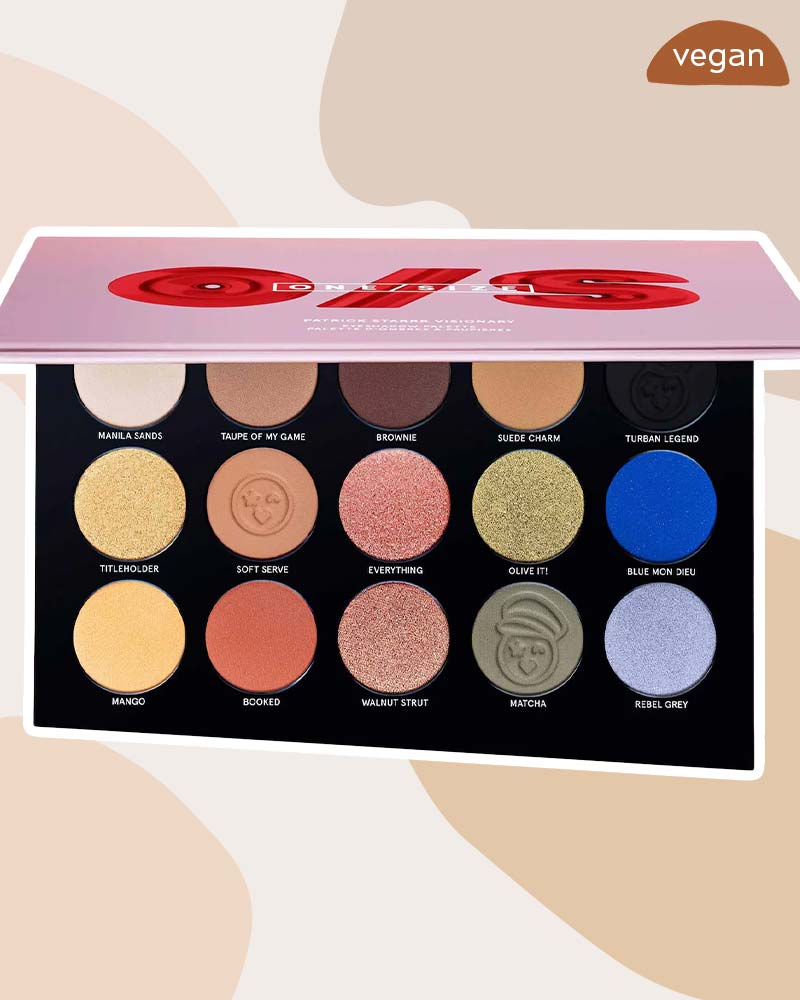 Delivering one-swipe payoff, these vegan eyeshadows can be blended for desired intensity. The nine matte shades are buttery to the touch, while the six shimmer shades contain pearlescent pigments for a gorgeous effect. Neutral shades live on the left side of the palette, while the nighttime pops of color live on the right. With both warm and cool tones, the palette offers an inclusive shade range for every skin tone.
---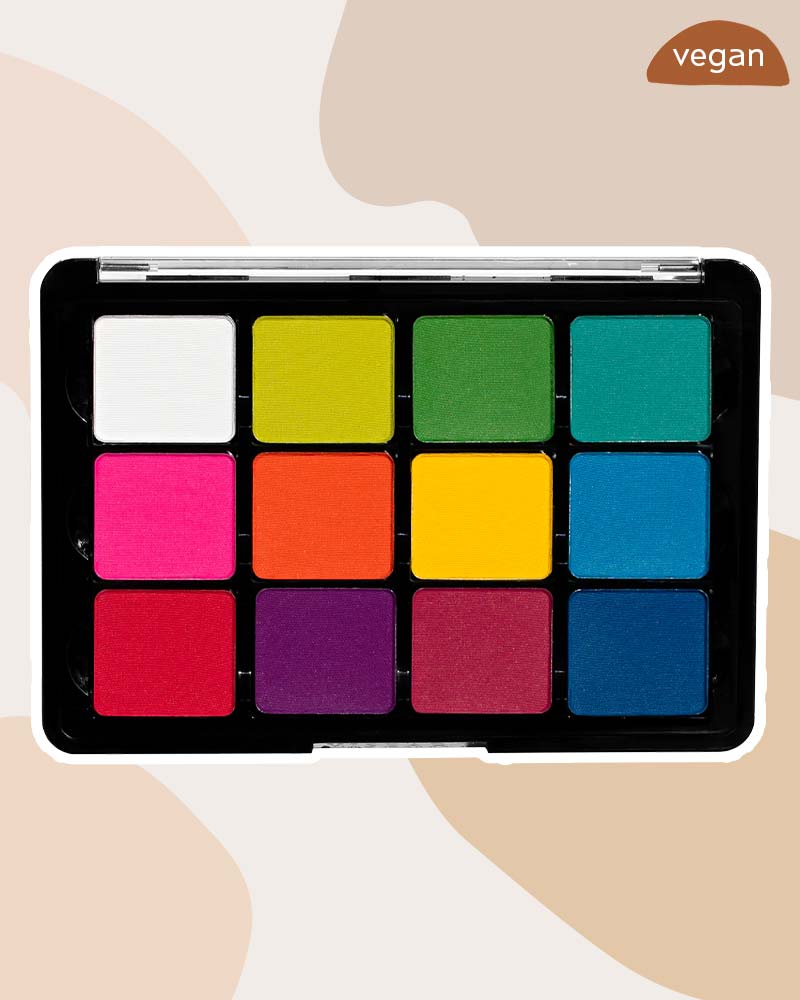 Editorial Brights features twelve bright, rainbow shades with a matte finish. Mix and match to create electrifying editorial looks with this kit staple!
---