This post may contain affiliate links.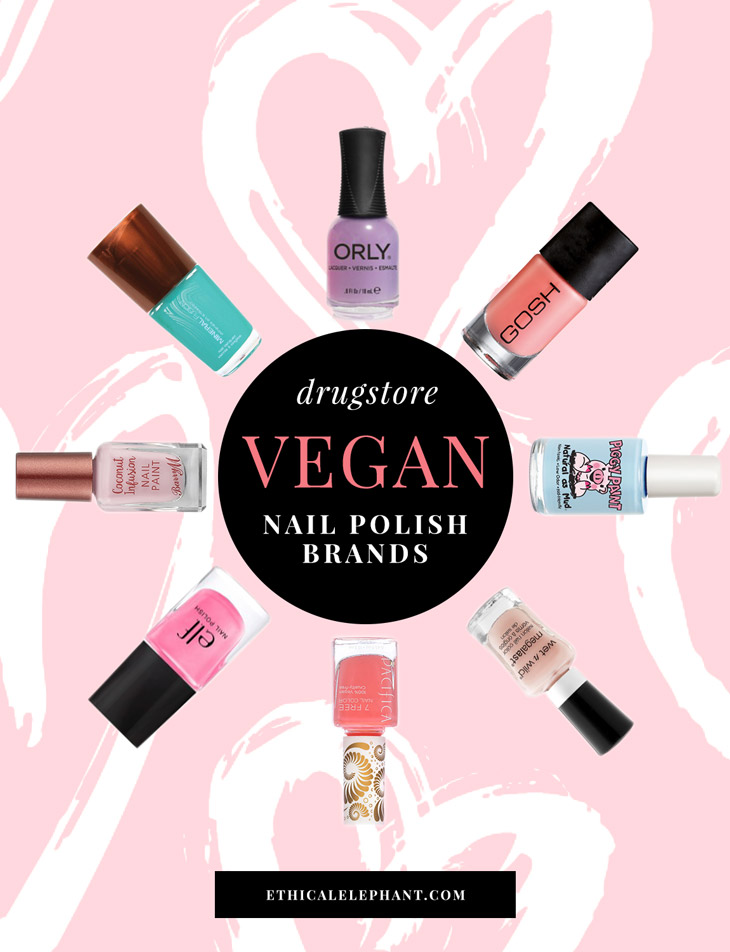 Until recently, I would only buy nail polish in-stores and usually it was at the drugstore! But when I decided to go cruelty-free and vegan with my beauty products, the nail polish options at the drugstore were very limited.
Not only do most drugstore nail polish brands test on animals like OPI, Sally Hansen, Revlon, and L'Oreal but some of them also use animal-derived ingredients like fish scales for that shimmer.
Now I buy most of my nail polish online and if you're in Canada, then I highly recommend checking out Nail Polish Canada! Shipping is fast and affordable. You can also find a full list of cruelty-free and vegan nail polish brands here.
Vegan Drugstore Nail Polish
But for those of us who prefer to buy our nail polish at the drugstore because not only are they more affordable but you can see the color in-person, then this list is for you!
E.L.F. Cosmetics
ELF is a popular cruelty-free makeup brand that you can find at most drugstores including Target, CVS, London Drugs, and most recently Superdrug started carrying the brand! They don't have nail polish listed on their website right now so I'm not sure if they've stopped making them but lots of stores still carry their vegan nail polish, especially in the box sets!
Pacifica
Pacifica is a 100% vegan beauty brand. You can find Pacifica products at Target and Ulta. I'm obsessed with their 7-free vegan nail polish, they're more expensive compared to other drugstore brands but you definitely get your money's worth!
Wet N Wild
Update: May 2019. wet n wild is no longer considered cruelty-free as they were recently caught selling their products in mainland China where post-market animal testing may be conducted on their products. We no longer recommend any of wet n wild products as a cruelty-free option.

Barry M
Barry M has a bunch of nail polish options from coconut-infused, matte finish, quick dry, and special limited edition colors! And the good news is that they're all considered to be vegan! You can shop for Barry M vegan nail polish at Superdrug.

Mineral Fusion
Mineral Fusion's nail polish are vegan and do not contain any animal-derived ingredients, I have tried several of their polish before and love them all! I often find them on sale at London Drugs and also CVS just recently started carrying Mineral Fusion so definitely check a store near you to see if they have them in stock!

ORLY
ORLY is my go-to favourite drugstore vegan nail polish! Their color options are endless and I especially love how affordable they are! You can find ORLY vegan nail polish at Target and Ulta.

Piggy Paint
If you want something that is safer that your kiddos can also use or play with, then Piggy Paint vegan nail polish may be just the thing you're looking for! These nail polish are non-toxic and odorless! Find Piggy Paint polish at Wal-mart and Target.

GOSH
GOSH nail polish are vegan and comes in a variety of fun and beautiful colors! You can find them at Superdrug or Shopper Drug Mart.
I'd love to hear from you! Have you tried any of these vegan drugstore nail polish brands before?
---
Other Resources:
List of 40+ Cruelty-Free & Vegan Nail Polish Brands
List of 5-Free Vegan Nail Polish Brands
Vegan Nail Polish Remover
Disclaimer: This post contains affiliate links.