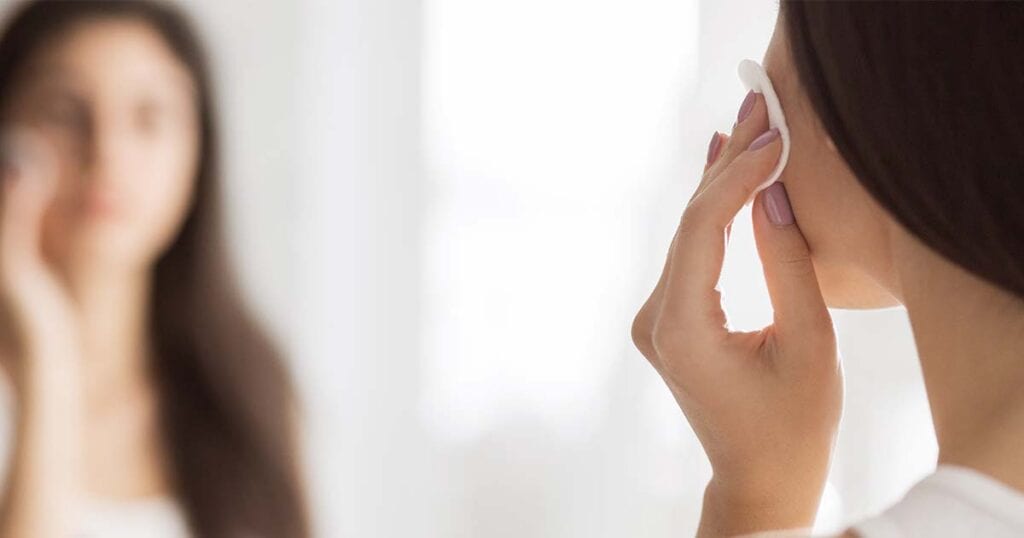 Looking for a vegan and cruelty-free makeup remover? I've rounded up some of the best vegan makeup removers from cruelty-free micellar water, cleansing oils and balms, and makeup remover wipes!
This ultimate guide to vegan and cruelty-free makeup removers for all skin types and budgets is exactly what you need to get started on replacing your beloved Bioderma, Clinique, Neutrogena animal-tested makeup removers.
Most of the popular makeup removers that we've grown to love and use for years are unfortunately from brands that continue to test on animals.
When finding a cruelty-free and vegan makeup remover, you'll want to buy from a brand that doesn't conduct, commission, or condone any form of animal testing on any of their products, ingredients, or formulations. We check with each brand's animal testing policy using our Cruelty-Free Checklist to ensure they're truly cruelty-free.
In addition to animal testing, we look for vegan makeup removers and cleansers that also do not contain any animal-derived ingredients or by-products including beeswax, animal-based glycerin, or squalane from shark liver oil.
To help you find the best cruelty-free and vegan makeup remover or cleanser for your skin type and skincare routine, we have divided our product recommendations into the following categories:
Which makeup remover should you use? It depends on your preference and skin type. Some people enjoy the ease and convenience of using micellar water instead of cleansing oils and balms whereas some prefer oils over balms. No matter if you have oily, dry, or sensitive skin.. there's a cruelty-free and vegan makeup remover cleanser for you in this guide!
Best Vegan & Cruelty-Free Eye Makeup Remover
You can finally switch from your Neutrogena, Lancome or Clinique eye makeup removers to a cruelty-free alternative thanks to these amazing and effective eye makeup removers. These makeup removers are designed to dissolve makeup with ease, just dispense some of the solution into a cotton round (preferably reusable because they're better for the planet!) and gently wipe to remove makeup. Careful not to rub or tug too hard as this can lead to irritation or long-term damage to the skin. Make sure to always use a second cleanser after using an eye makeup remover.
---
---
---
Best Vegan & Cruelty-Free Micellar Water
If you've been struggling to find a vegan and cruelty-free replacement for your cherished micellar cleansing water by Bioderma, Lancome, or Simple then you'll be happy to hear that there is a growing selection of cruelty-free micellar water from brands that don't test on animals!
Micellar waters are ideal for people with dry or sensitive skin as they're made up of micelles that attract dirt and oil, drawing out impurities and removing makeup without drying out the skin.
Here are some of the most-recommended and top-rated vegan and cruelty-free micellar water.
---
---
---
Best Vegan & Cruelty-Free Oil Cleanser
I personally prefer using an oil cleanser to remove all of my makeup from my face, and even on days when I don't wear makeup, oil cleansers are still great for removing sunscreen. Cleansing oils are typically used as a first cleanse in a double cleansing skincare routine. Oil cleansers help to break down makeup, sunscreen, and oil on the surface of your skin where you'll then follow up with a second cleanser to remove impurities and dirt. The second cleanse is so important as it will help your serums, moisturizers, or treatments to efficiently penetrate your skin and allow them to work their magic on a well-cleansed face.
---
---
---
---
Best Vegan & Cruelty-Free Cleansing Balm
Cleansing balms are similar to cleansing oils but come in a jar packaging instead of a pump and start off as a balmy consistency and typically turns into a milky oil-like consistency. Just as you would with a cleansing oil, make sure to follow up with a second cleanser when using a cleansing balm.
And if you're looking to replace your beloved Clinique Take The Day Off Cleansing Balm with a vegan and cruelty-free cleansing balm, try one of these options instead.
---
---
---
Best Vegan & Cruelty-Free Makeup Remover Wipes
Swap your Neutrogena Makeup Remover Cleansing Towelettes with vegan, cruelty-free, biodegradable makeup remover wipes instead! Also, try to avoid makeup remover wipes that are wrapped individually, the excess packaging is wasteful and unnecessary and most of the time, made of non-recyclable materials, even if the wipes themselves are biodegradable.
If you choose to use makeup remover wipes, I encourage you to always do a second cleanse after using the wipes.
---
---
I've ditched single-use and disposable makeup remover wipes and have opted for reusable ones that are better for the planet and I encourage you to try it yourself! Here are a couple of options to get you started:
---
---