This post may contain affiliate links that at no additional cost to you, I may earn a small commission.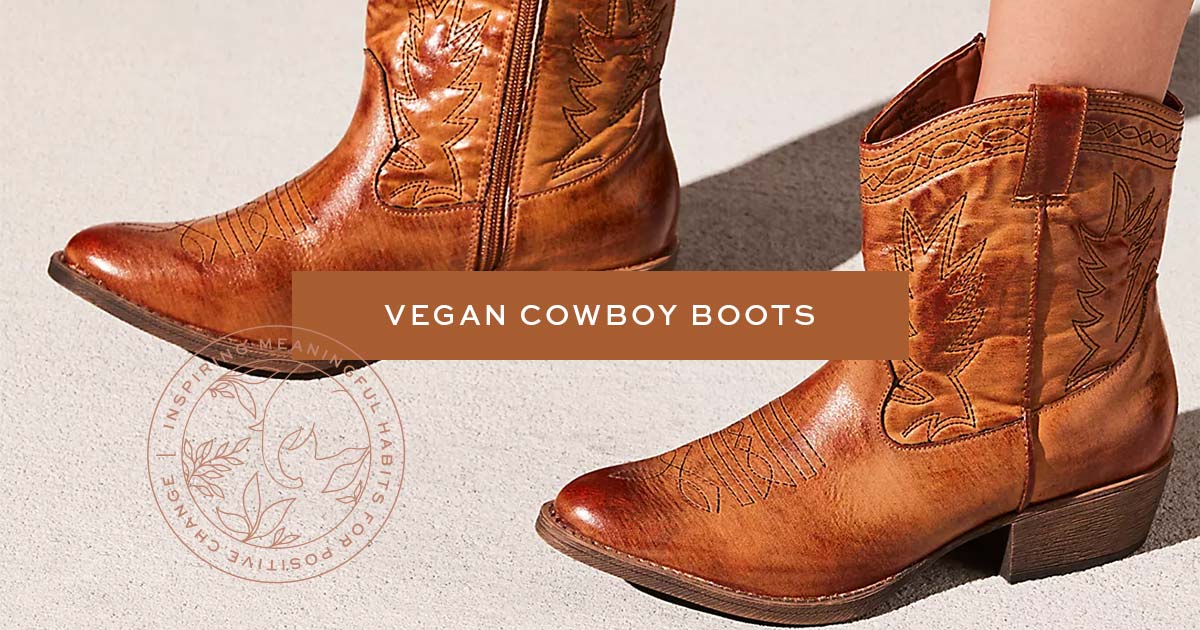 Looking for a sweet pair of vegan cowboy boots made with all animal-free materials?
From your classic knee-high women's vegan cowboy boots to your boho-chic, western vegan boots, here is a round-up of 20+ styles and colors to choose from!
All of the vegan leather cowboy and western-style boots mentioned in this post are made from all-vegan materials. Note that not all vegan leather is the same. So, if available, I included some notes about the manufacturing practices, in case you're looking for more environmentally-conscious materials.
While researching for this list, I found that the best options for vegan cowboy and western boots come from Good Guys Don't Wear Leather. And for custom vegan leather cowboy boots, Kat Mendenhall is the go-to.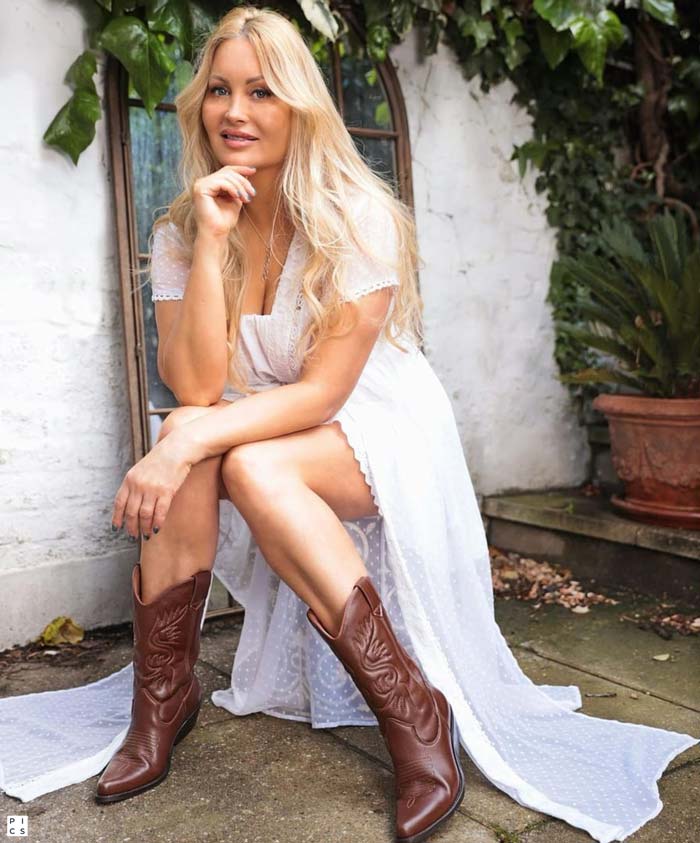 Made in Portugal, Will's offers a pair of classic vegan leather cowboy boots crafted with Italian vegan leather made with plants using bio-oil sourced from organic cereal crops grown in Northern Europe in a carbon-neutral process. Also available in Black.
---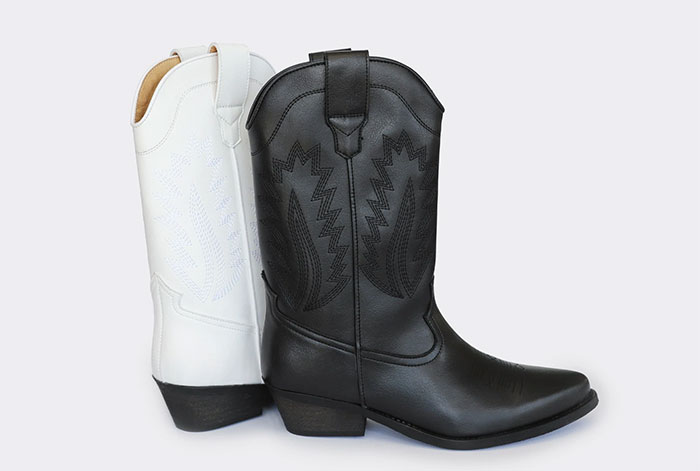 Available in a range of colors including white, black, red, and blue, these classic high-top vegan cowboy style boots were ethically made in Portugal from a soft and supple vegan leather using microfibers that are produced in an eco-friendly and sustainable manner, with minimum environmental impact.
---
A Perfect Jane – Laura Limited Vegan Suede Cowboy Boots ($249)
Designed for eco-fashionistas who want to look great without sacrificing comfort and quality, while contributing to a better world, these vegan suede western high boots by A Perfect Jane are your best pick! Made from vegan suede that was derived from corn and recycled plastic bottles extracted from the sea while the insoles are 100% cork.
---
Made in Portugal, Minuit sur Terre's Centaure boots are stylish and comfortable, featuring a 3cm heel, while also respecting the environment with their recycled and vegan materials made with cereal. Also available in Black and Hazelnut.
---
Mireia Playa – Gina Vegan Suede Cowboy Boots (€130)
Made in Spain, these vegan suede cowboy boots from Mireia Playa are made from recycled polyester for a suede-like look. Also available in black lizard print and python effect print.
---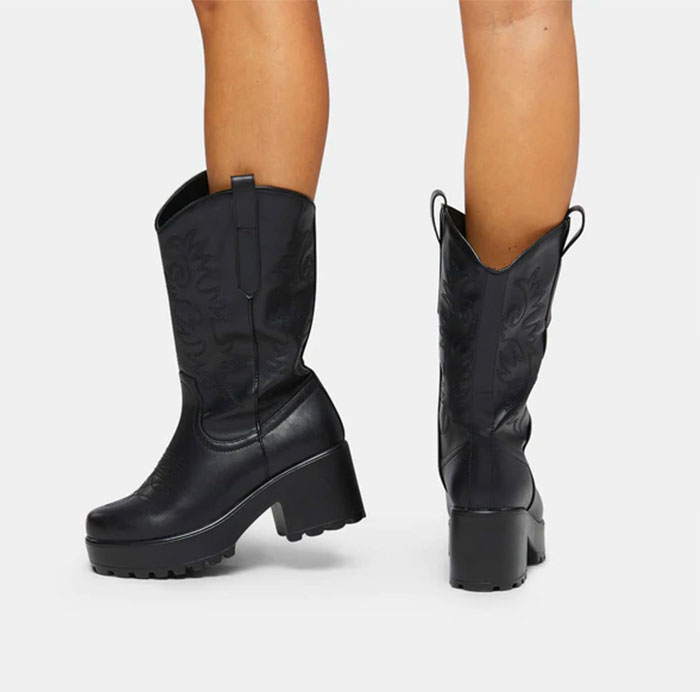 Koi – Wintu Long Chunky Vegan Western Boots ($70)
Made with faux leather materials, these chunky vegan leather western style boots by Koi Footwear feature a 3″ heel platform that is both comfortable and edgy.
---
These western-inspired textured vegan leather ankle boots that come in a range of colors and feature a pointed toe are made by Matisse.
---
Kat Mendenhall – Vegan Cowboy Boots for Men and Women ($525)
Kat Mendenhall's vegan cowboy boots are handcrafted and stitched one-by-one per order by a skilled boot maker in Texas. Made from USA-sourced, cruelty-free, and non-leather materials.
---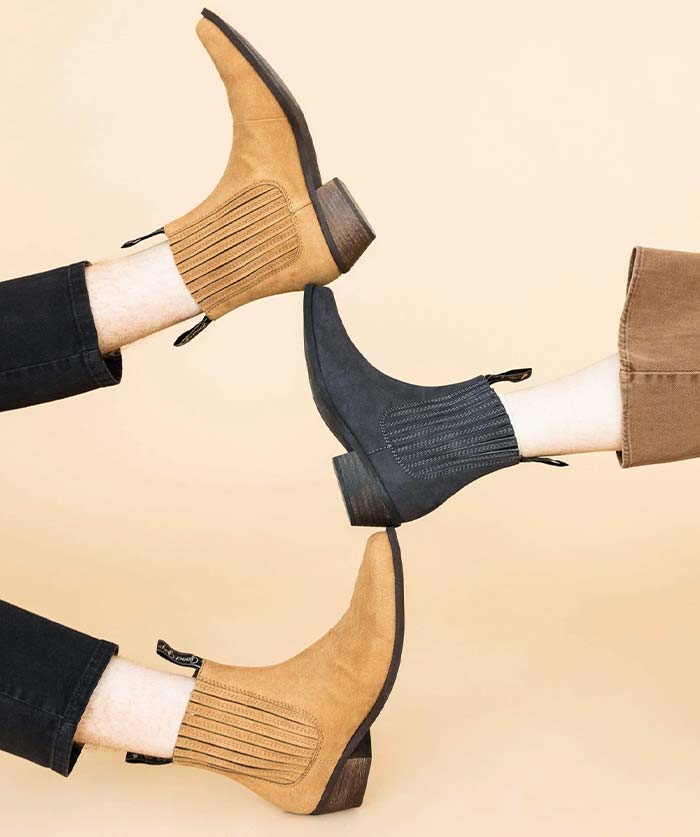 The iconic Duke vegan cowboy boots by Good Guys Don't Wear Leather is a classic, featuring elastics on both sides making them fit perfectly around your ankle. Made from all vegan and certified Oeko-Tex Standard 100 materials.
---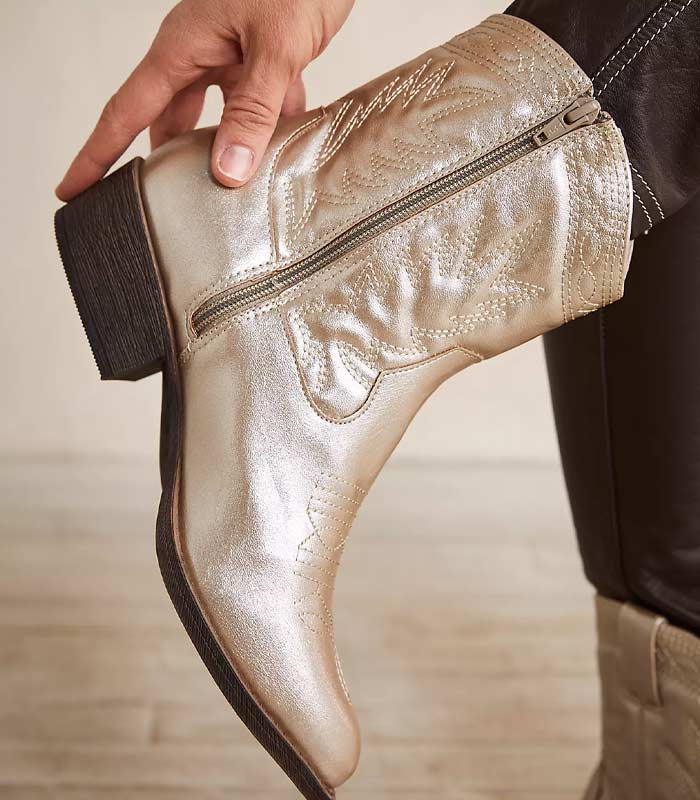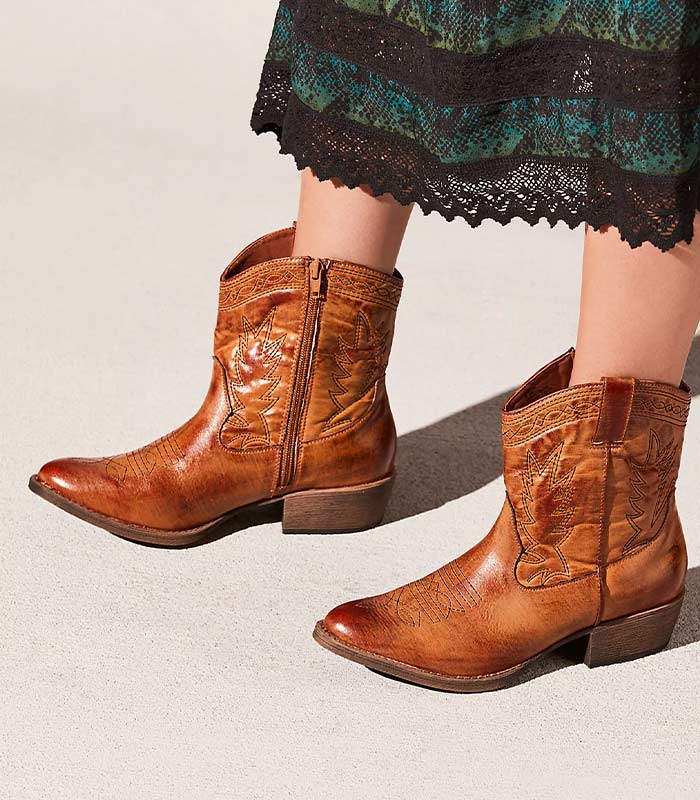 These western-inspired ankle boots by Matisse come in a vegan leather design featuring classic stitched details and a chunky block heel.
---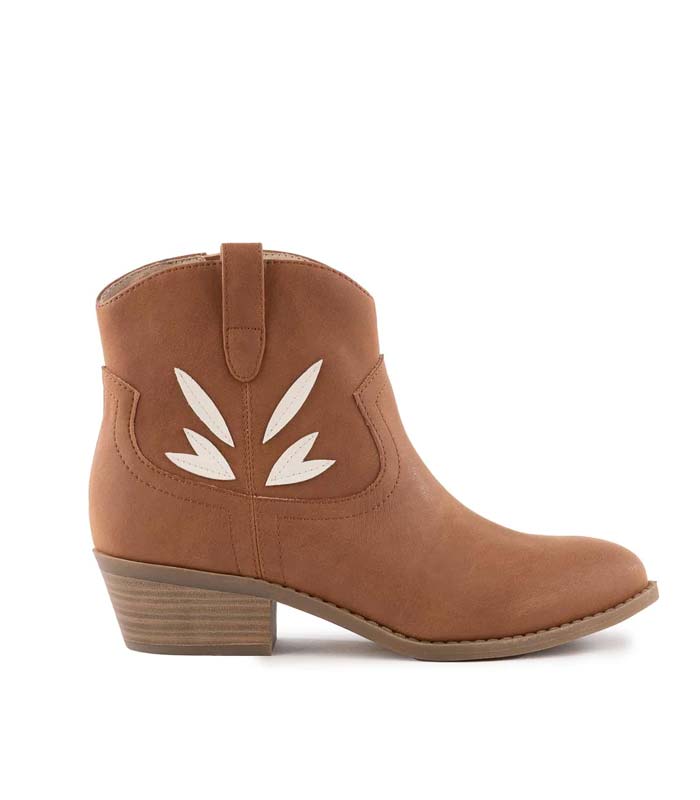 Cowpoke Boot by BC Footwear ($109) – These Western booties come complete with all the trimmings of an authentic cowboy boot, from classic yoke stitching, an underslung stacked heel, and unique side ornamentation. Choose from a monochromatic moon & stars motif, or a contrasting overlay spray pattern.
---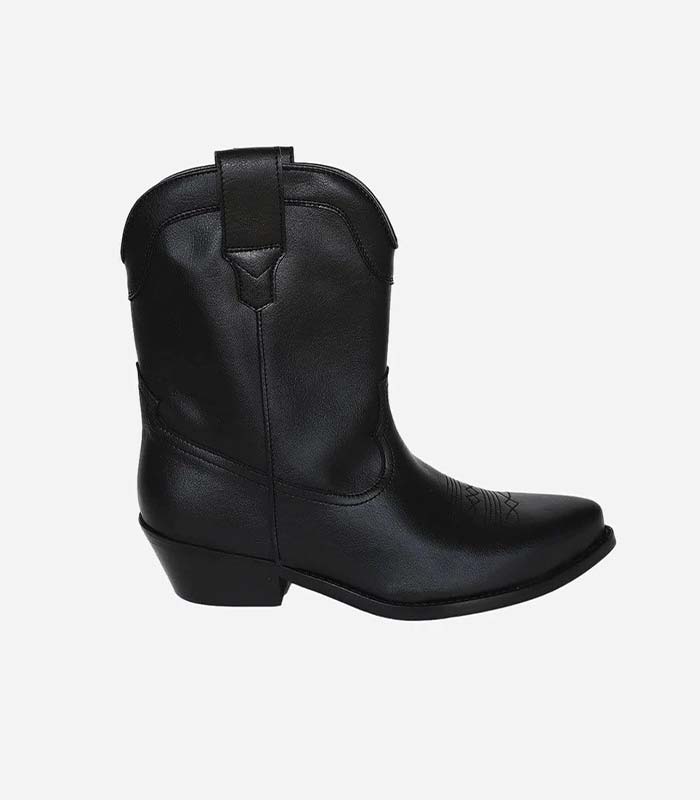 Good Guys Don't Wear Leather – Gabe Vegan Leather Western Boots ($208) – Gabe by Good Guys Don't Wear Leather is a mid-calf western boot with small heels, made with smooth leather and a plant-based lining.
---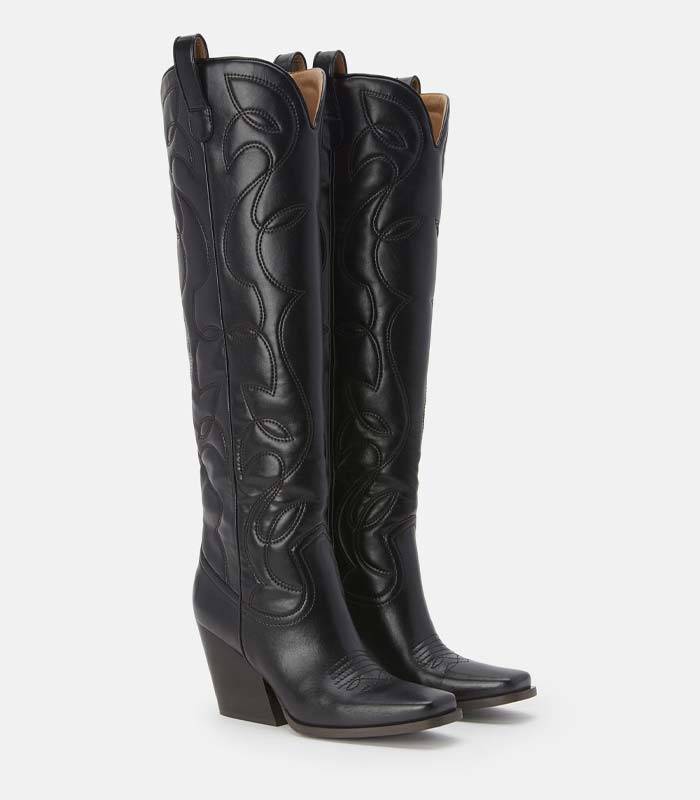 Stella McCartney Women Black Cowboy Boots ($1495) – A classic made cruelty-free, timeless cowboy boots are given a Stella twist.. Crafted from a butter-soft vegan alternative to animal leather, they blend tradition with innovation. Stella's pair features time-honored ornate stitching, a Cuban heel, and a loose fit around the calf.
---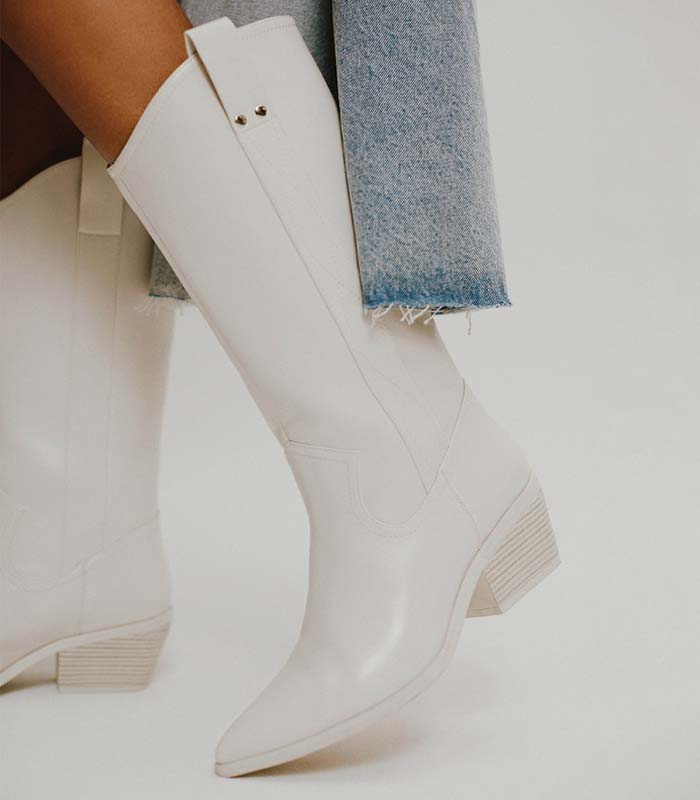 'Jolene' by Call it Spring ($100) – Live out your southern belle dreams with the Joelen tall western boots. Featuring the classic pointy toe and block heel, you're ready for the showdown.
---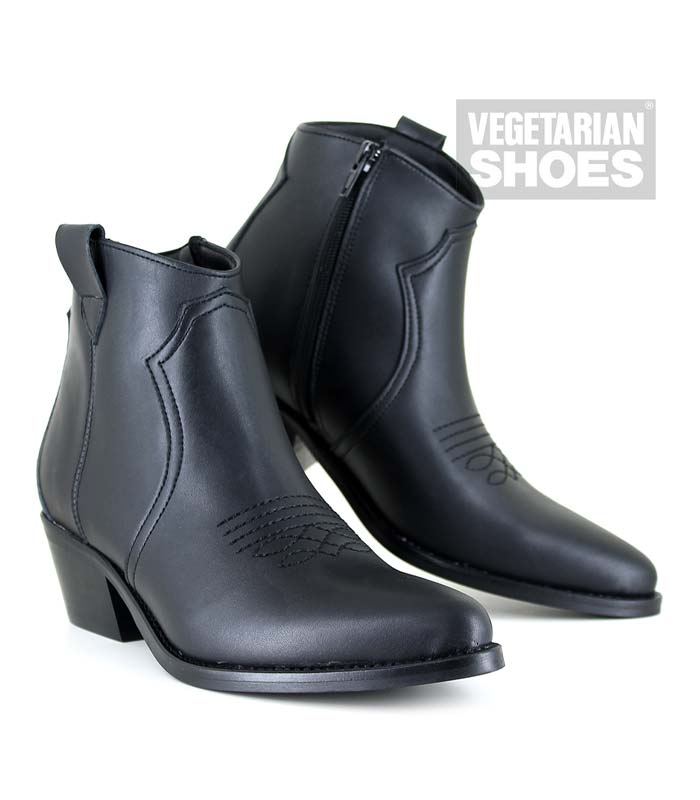 These fitted, zip-up cowboy ankle boots by Vegetarian Shoes feature a classic western tapered-toe shape with a 2″ heel and embroidered front.
---