This post may contain affiliate links that at no additional cost to you, I may earn a small commission.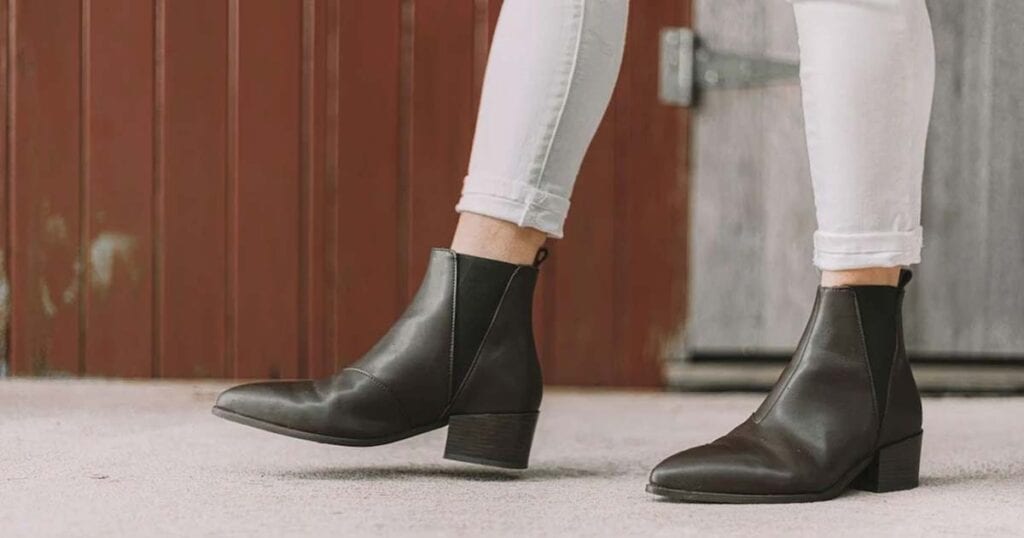 Looking for a pair of vegan Chelsea boots made with non-animal materials including glue?
You've come to the right place because in this post, I'm sharing 25 of the best and most stylish vegan Chelsea boots for women & men (some of these styles are unisex sizing).
Chelsea boots are a great staple to have in your wardrobe, the sleek ankle boot with elastic side panels is easy to slip on and off, while also being versatile to wear to most occasions. Style your Chelsea boots with some jeans and a trench or dress them up with your work attire.
Most Chelsea boots are made with animal-derived leather or suede, making them not vegan-friendly.
But thankfully, there are many ethical vegan Chelsea boot options available. Made from vegan leather and suede materials that look and feel like the real thing but without animal cruelty!
So, in this list, I'll be sharing my top 25 favorite styles starting with the most popular, Vegan Chelsea Boots Dr. Martens!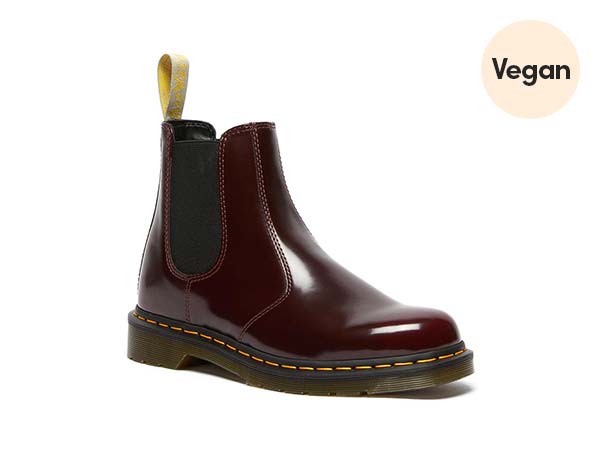 Dr. Martens Vegan 2976 Felix Chelsea Boots
The classic and original Dr. Martens Chelsea boots are made Vegan! All the materials and manufacturing methods are vegan compliant and come in a soft, supple non-leather material.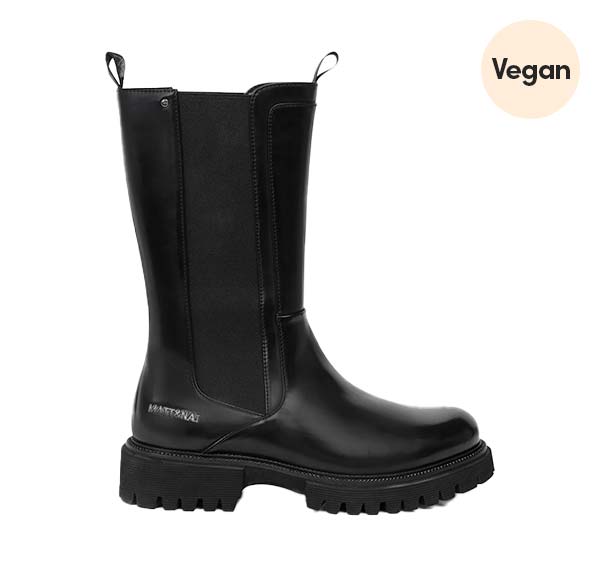 High Chelsea Boots 'Healy' by Matt & Nat
Women's elongated vegan Chelsea boot with elastic gore panels and 1″ chunky heel outsole. Also available in Men's sizes.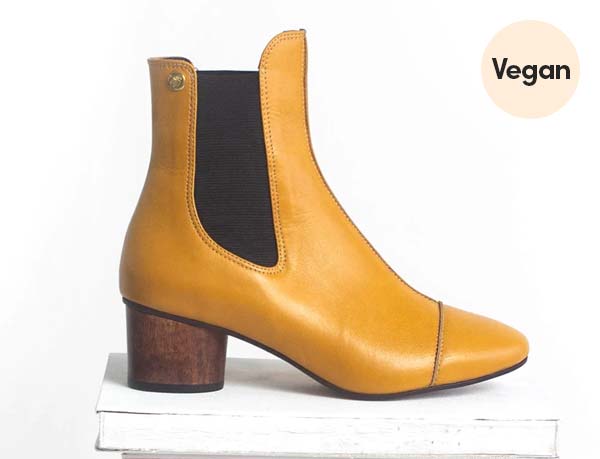 Wooden Heel Vegan Chelsea Boots
Made in Los Angeles, this mustard-colored Chelsea boot features an almond toe and slim silhouette with an unexpected cylindrical wood heel made with FSC-certified sustainably harvested beechwood heel and a recyclable rubber outsole.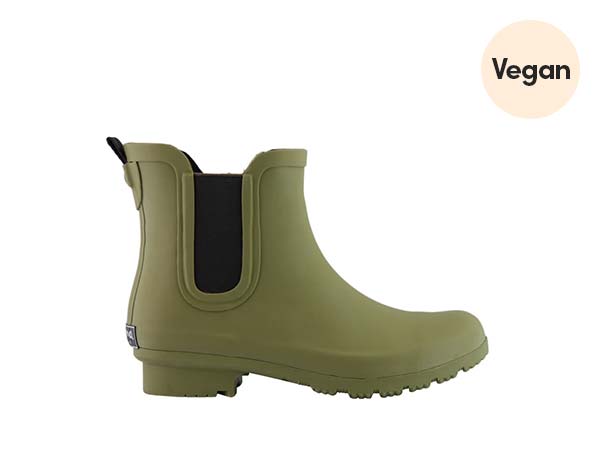 Chelsea Matte Olive Rain Boots by ROMA
Made with natural rubber, these vegan and eco-friendly Chelsea rain boots are completely waterproof to keep your feet protected in all weather.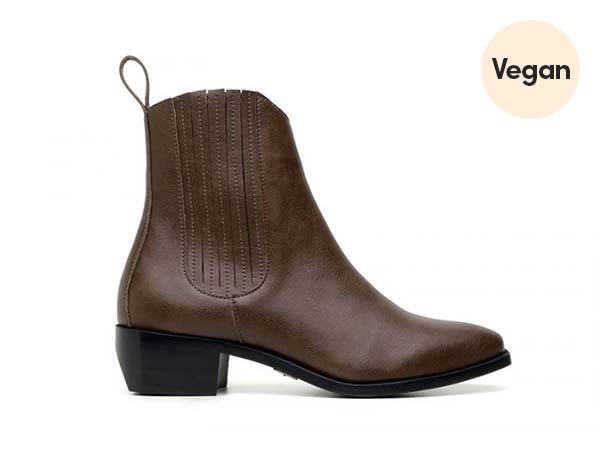 Western Vegan Boots 'Marcela'
An elegant western-inspired boot, Marcela can be worn on many different occasions. Made with high-quality microfiber Vegan Leather, which provides softness and breathability. Marcela has side elastics that add comfort and provide an easier on/off.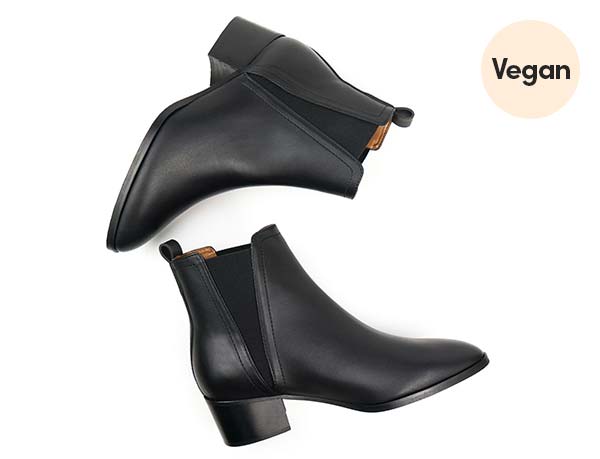 Vegan Leather Point Toe Chelsea Boots
Crafted with Italian vegan leather made with plants using bio oil and in a carbon-neutral process. Insoles are made with recycled rubber. Ethically made in Portugal.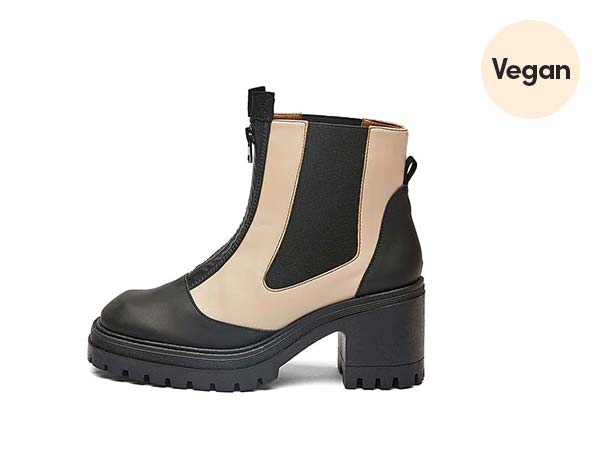 Vegan Boots Nerea Beige Napa
Mireia Playà brings something new to your casual vegan heeled boots with these vegan stylish boots that are comfortable to wear everywhere. Made with a biosynthetic material that is produced from biopolymers obtained from corn not suitable for food consumption and not genetically modified. Their base is made from recycled polyester from bottles.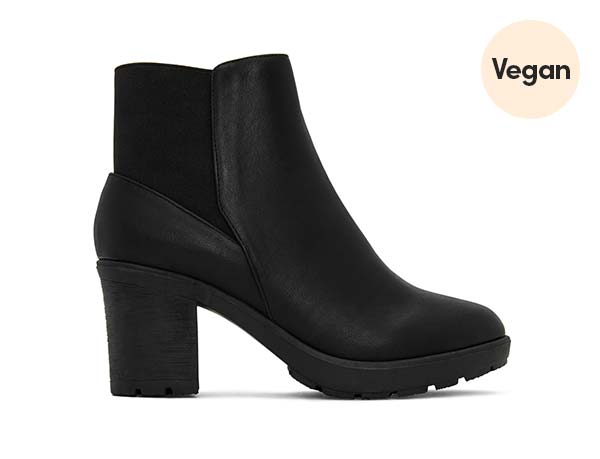 Black Vegan Leather Heel Booties 'Montroyal'
Available in more colors. 2.5″ heel, made with Pebble PU vegan leather and rubber outsole with elastic trim.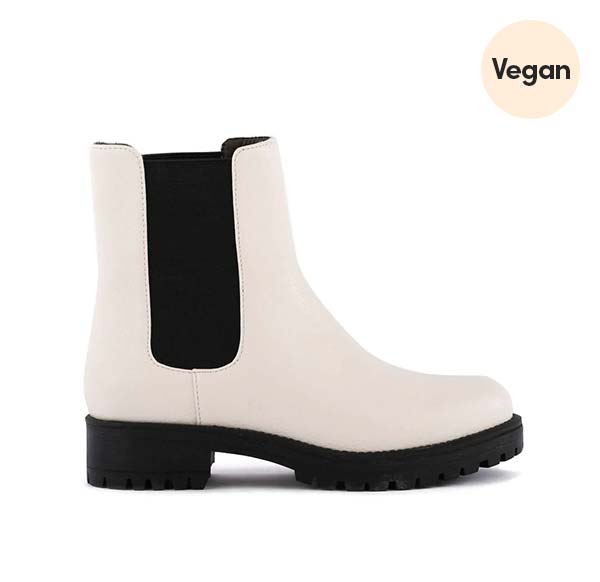 In The Cards Chelsea Boot – BC Footwear
Ready for weather in these classic off-white vegan leather Chelsea boots with twin gore elastic side panels and modern lug soles.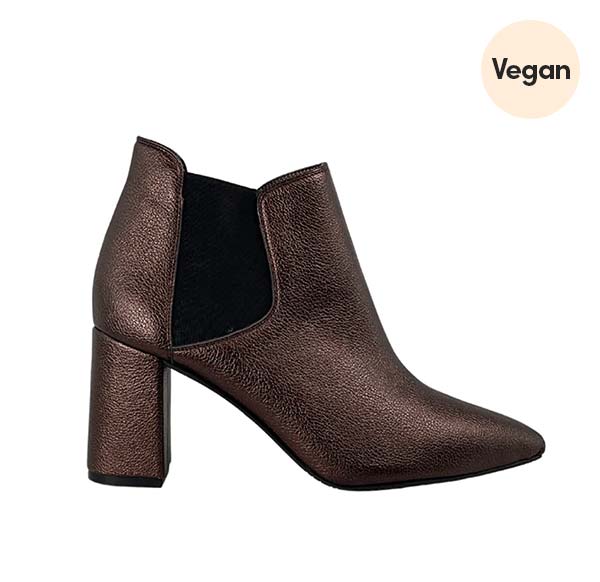 Zette Shoes 'Rachel' Vegan Chelsea Heel Booties
Add a little sass to your winter wardrobe with these divine booties that come in a fab selection of patterns and colors. Made with PU vegan leather, PETA-Approved Vegan, handmade fairly in Spain.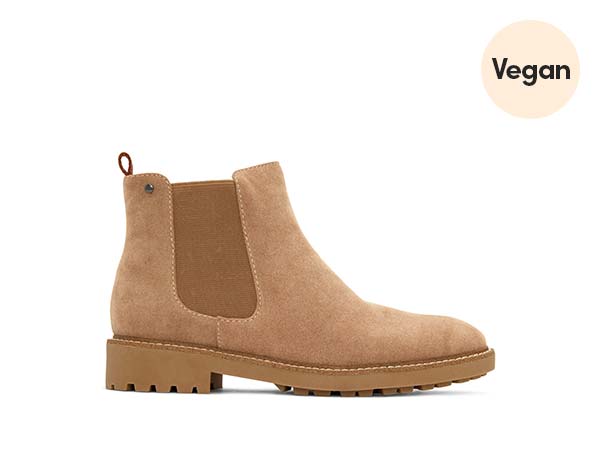 Tan Vegan Suede Women's Chelsea Boots 'Tokio'
Also available in Olive and Black. Women's Chelsea boot with elastic comfort gore detail. Woven Label with logo interior.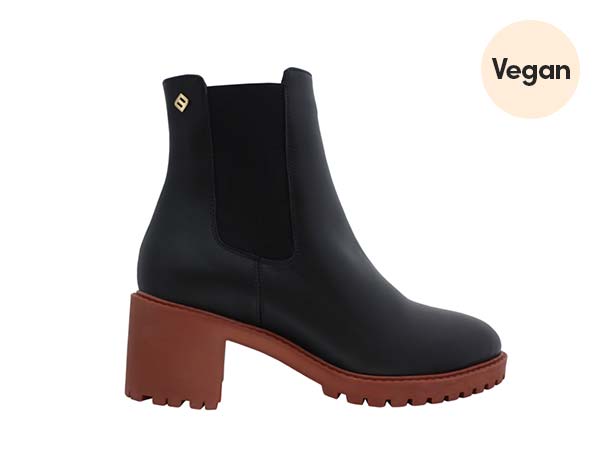 Vegan Leather Ankle Boots
Ethically manufactured in Portugal with breathable and eco-friendly microfiber materials made without harmful products (PVC-Free, Oeko-Tek Certified) and a faux-fur lining.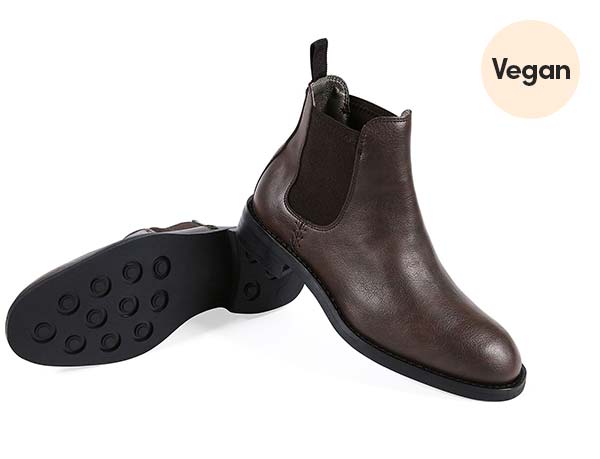 Waterproof Vegan Chelsea Boots
Waterproof construction with a special waterproof membrane coupled with treated uppers that allow breathability and long-lasting waterproof protection.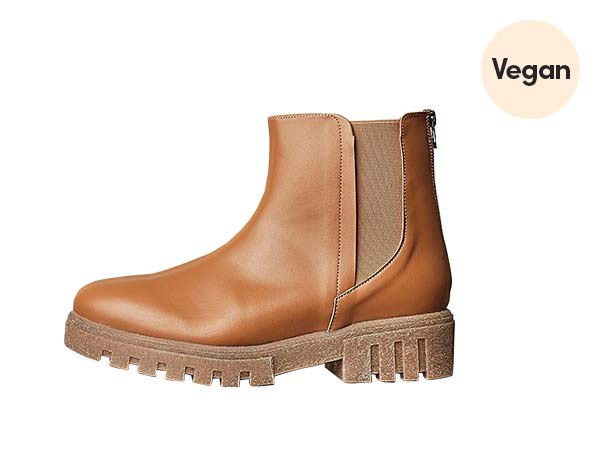 Italian Vegan Leather 'Kai' Chelsea Boots
Also available in Black. Comes with a removable cork insole and an extra pair of organic cotton plush lines insoles for extra warmth. Ethically manufactured in Alicante, Spain using Italian vegan leathers that do not contain PVC, formaldehyde, chrome, phthalates, and other toxic chemicals.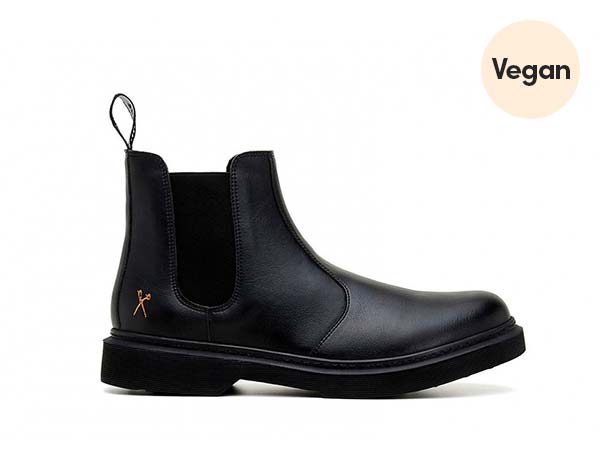 KING55 Brick Lane in Black
Ethically made in Brazil, KING55's Brick Lane is a stylish Chelsea Boot made from high-quality vegan leather. It features a soft, breathable, and moisture-absorbent lining that keeps feet dry and comfortable.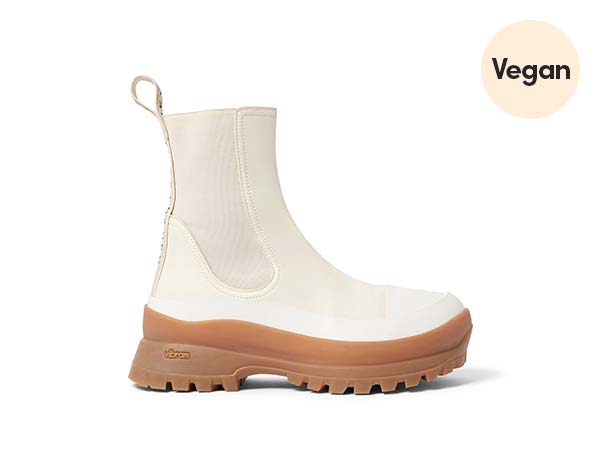 'Trace' Cream Chelsea Boots by Stella McCartney
Made in Italy, these luxury Chelsea vegan boots (also available in Black) feature sleek elasticated sides and heel tabs with Stella McCartney's signature contrasting logo detail in the back.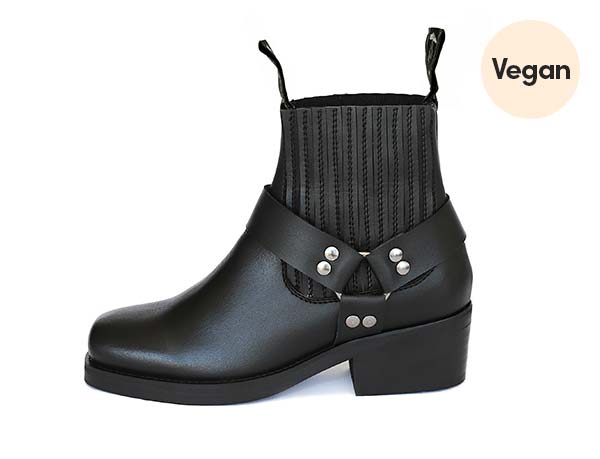 Black Ankle Motorcycle Vegan Boots 'Eddie'
For men and women. Made with microfiber vegan leather featuring elastic on both sides, square toe shape, and rubber & wooden heel.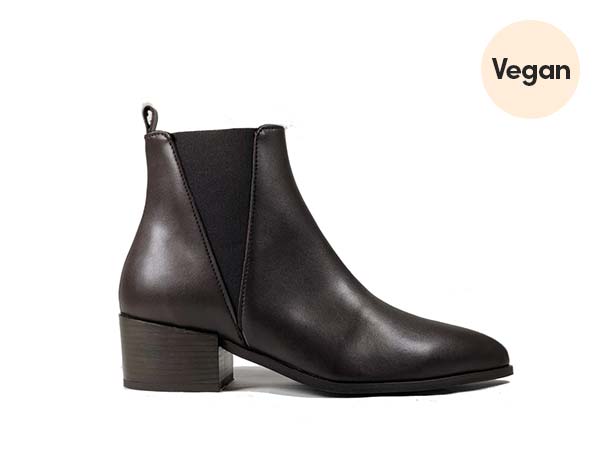 Vegan Leather 'Nerrie' Chelsea Bootie in Dark Chocolate by Zette Shoes
Set on a comfortable, low-block heel, the Nerrie vegan ankle-height Chelsea boots are a staple for all seasons. With elasticized sides, slip this vegan-leather boot on with ease. Made with PU leather, Oeko-Tex certified.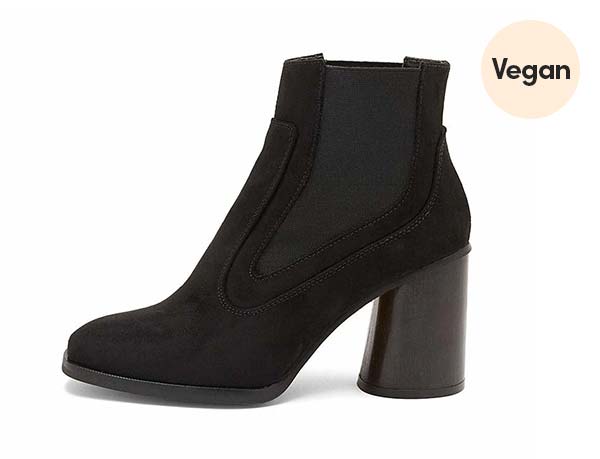 Recycled Suede 'Elisabet' Black Heeled Boots
Vegan suede Chelsea boots are made with recycled polyester and a double layer of plant foam, making these chic booties effortlessly comfortable. Made in Spain.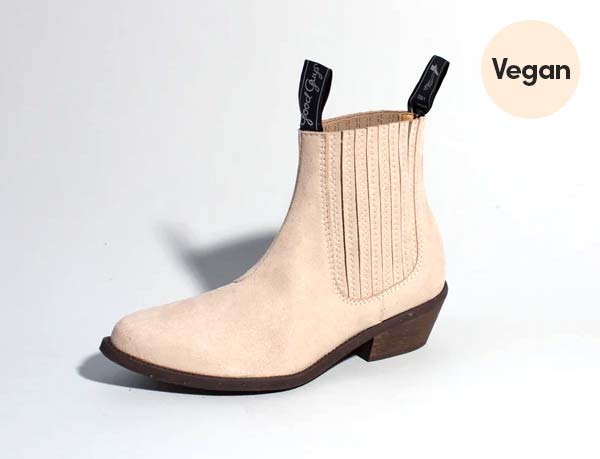 Low Top Vegan Cowboy Boots 'Duke'
For men & women. Available in multiple colors. A pointed-toe cowboy boot with elastic on both sides. Made with vegan suede and a wooden heel.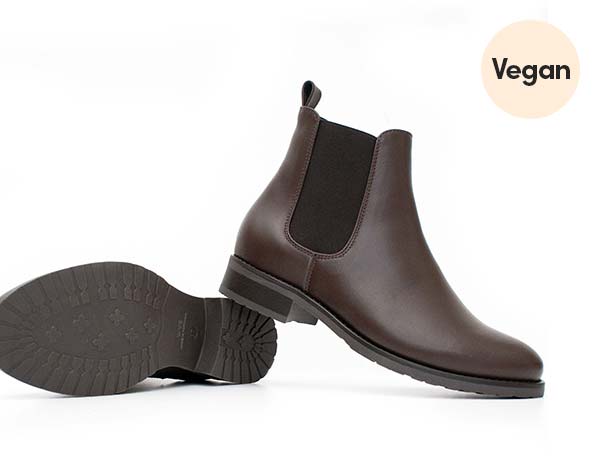 Luxe Smart Vegan Chelsea Boots
Ethically made in Portugal, Will's carbon-neutral Smart Chelsea Boots have been given a luxe update! Now lined with two types of super soft vegan suede and designed without stitching on the front creating a smooth, clean silhouette.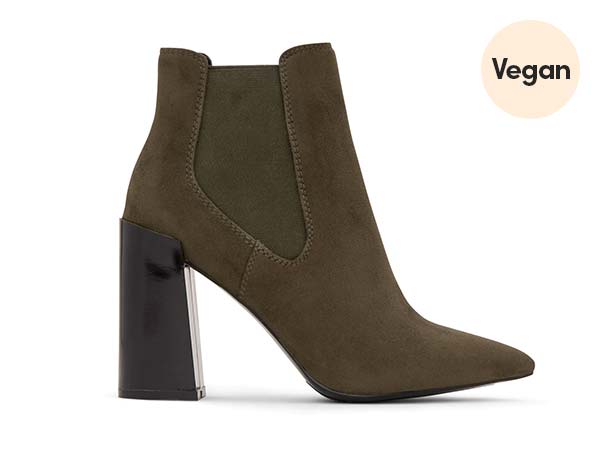 High Block Heel Vegan Chelsea Boots 'Fran'
High block heel Chelsea boot with a glossy flared heel. Woven label with logo in the interior. 4″ heel height.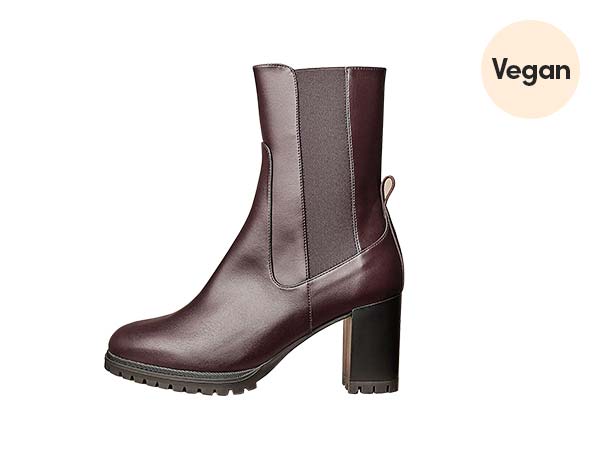 'Nico' Vegan Chelsea Ankle Boots
Inspired by NYC experimental rock band, the Velvet Underground and their debut collab with Nico. These boots are pure NYC grit, with weather-proof sole, ribbed elastic insert and sleek detailing. Dance the night away with the flexible grip sole, double cork interior, and platform toe box.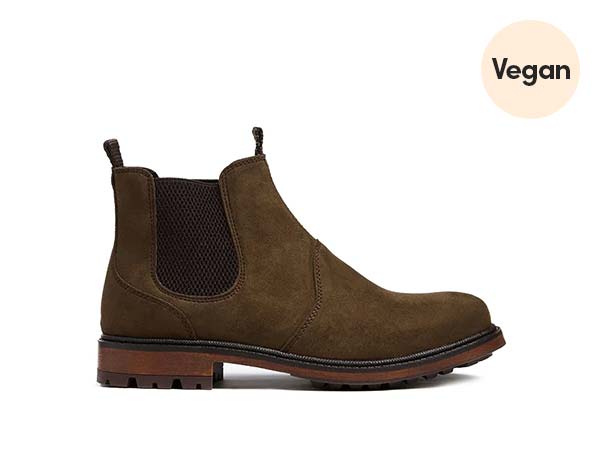 Women's Continental Vegan Suede Chelsea Boots
Available in multiple colors, these vegan suede Chelsea boots by Will's are made in Portugal with Ecolabel certified vegan suede that meets Oeko Tex 100 and REACH regulations. The lining is bio-based made from plants (cereal crops) grown in Northern Europe in a carbon-neutral process.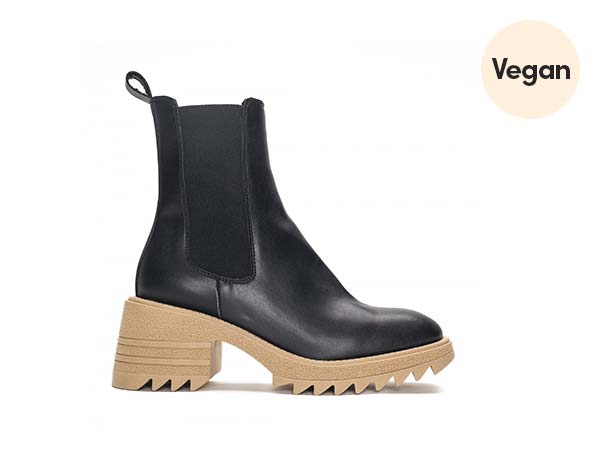 'Freda' Black Chelsea Boots
Freda Black, the Chelsea style ankle boot with chunky lug soles, made with high-quality vegan leather; a sustainable, innovative, cruelty-free, water-resistant, light, and very durable material.
---