This post may contain affiliate links that at no additional cost to you, I may earn a small commission.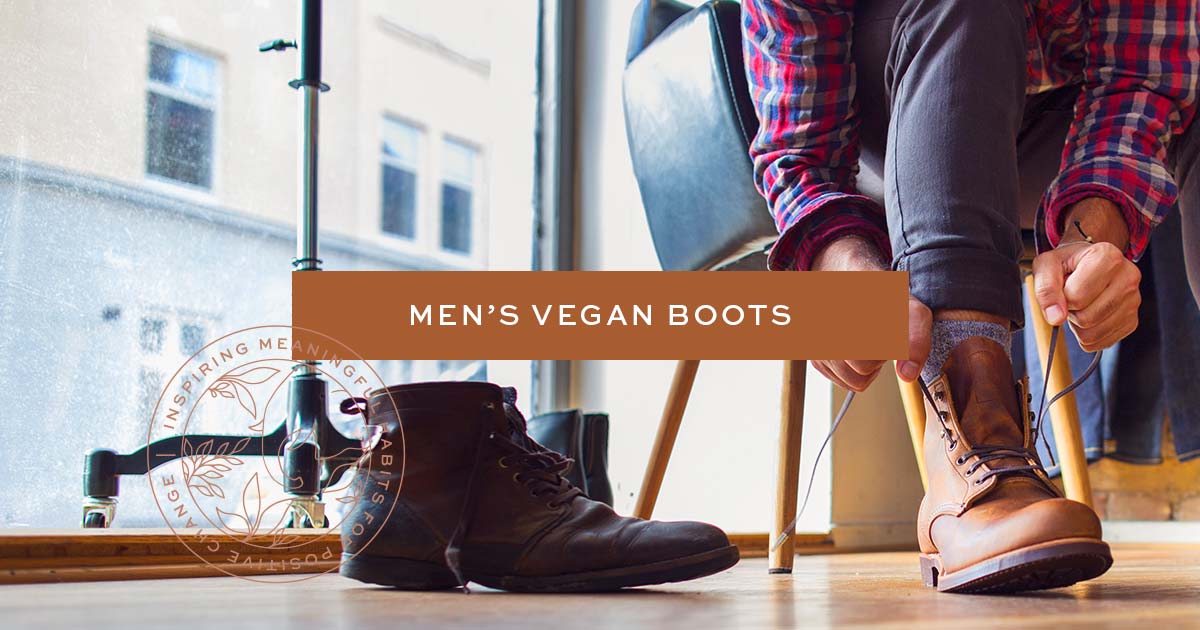 Looking for a pair of modern and stylish men's vegan boots this season?
Finding and shopping for vegan boots for men can be challenging as there aren't as many options compared to vegan boots designed for women.
Fortunately, many vegan and ethical footwear brands are realizing that guys need boots too and have created a collection of vegan boots for men. In this guide, I'm sharing some of the best vegan boots brand with a range of styles marketed to men.
Whether you're looking for vegan winter or hiking boots or want a classic non-leather boot or suede Chelsea boot, there's something for you in this guide, no matter your budget.
With the exception of Dr. Martens*, all of the shoes and footwear brands mentioned in this guide are vegan. That means none of these shoe companies use materials derived from animals like leather, suede, fur, wool, or silk.
I've also noted where each vegan shoe company is based, in case you wanted to support or buy locally.
Men's Vegan Boots
*Dr. Martens isn't a completely 100% vegan footwear brand as they do offer styles using animal leather/suede. However, I wanted to include them as an option since they make quality vegan shoes and they're available around the world.
With so many vegan men's boots brands and options to choose from, here are some of my top picks!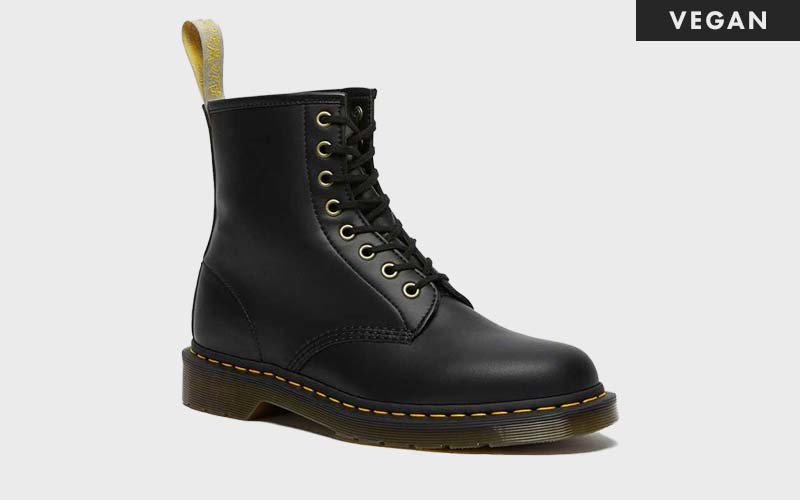 Nothing beats the classic Dr. Martens boots, especially now that they have a version made with animal-free & vegan leather. You can't go wrong with any of their vegan leather boots including Dr. Martens 2976 Vegan Chelsea Boots and this pair of 1460 Vegan Lace Up Boots!
---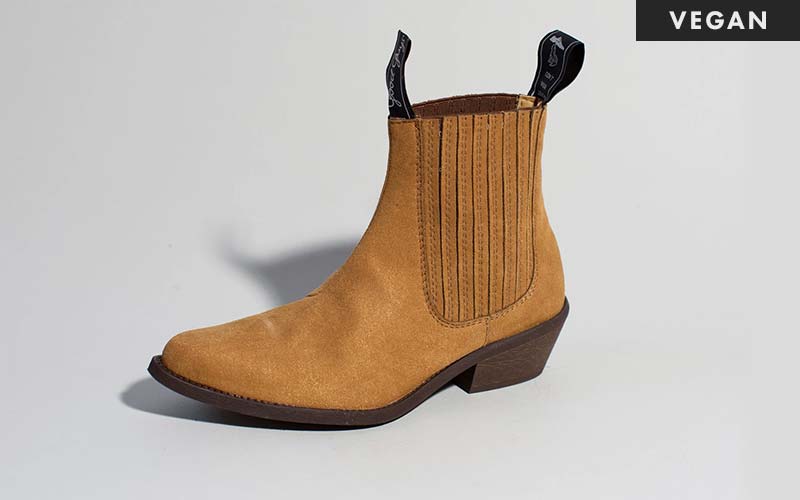 Founded in 2011, Good Guys Don't Wear Leather is a woman-owned business and the first vegan french shoe company. Good Guys offers a wide selection of vegan boots for men from motorcycle combat boots, and desert boots, to these western-inspired cowboy boots. All of their shoes are ethically made in Europe.
---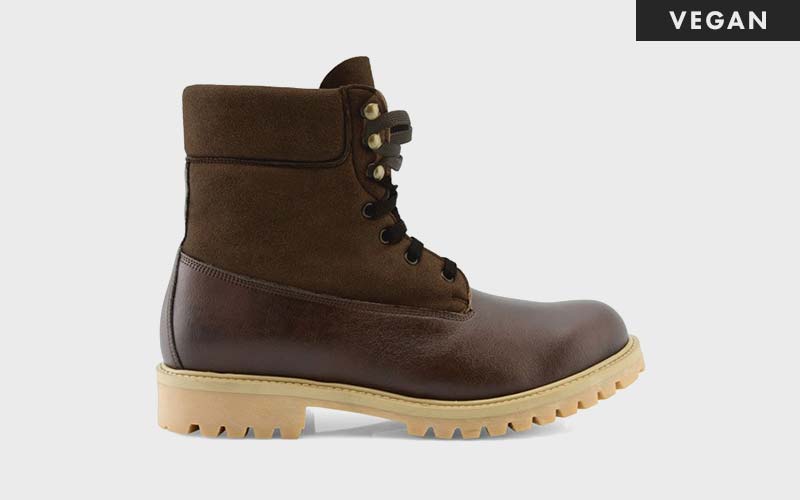 Noah is a vegan shoe company where all of their footwear are fairly and sustainably made in Italy with all vegan materials. Noah has a selection of men's winter boots like these brown ones. They also have lace-up style and casual vegan leather boots.
---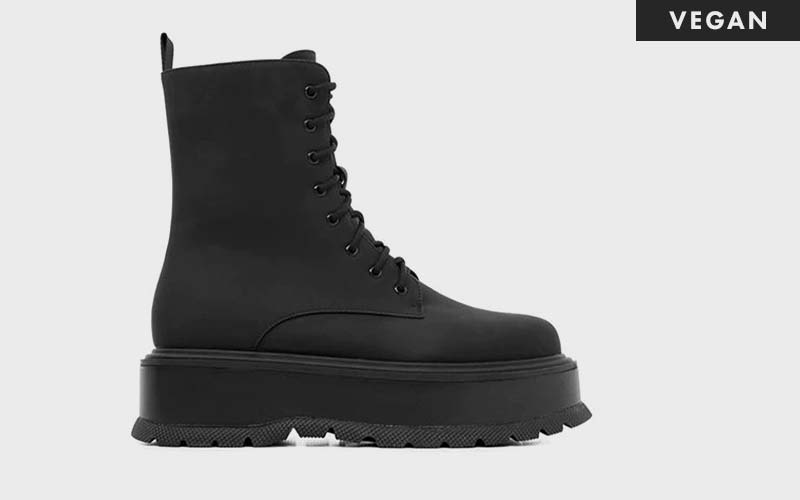 Koi Footwear has the best selection of chunky vegan leather boots, as well as, combat, and platform boots, like these ones. Perfect for streetwear or any season, Koi also has the best prices where their men's ankle boots are between $75-$160.
---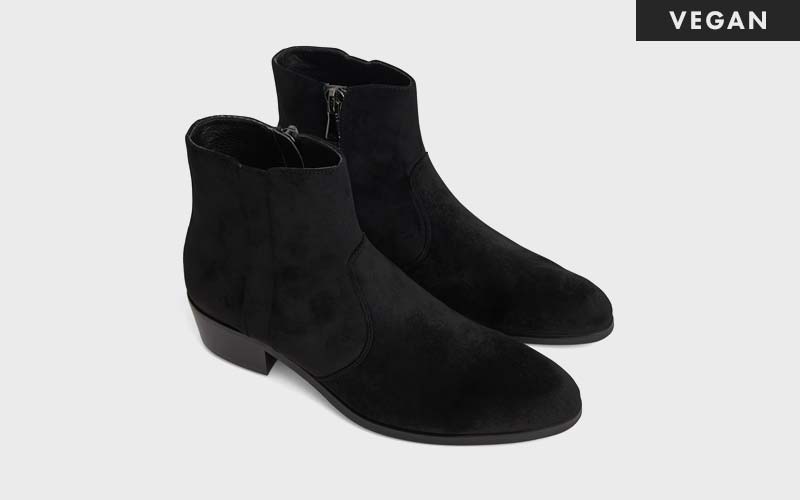 Matt & Nat is based in Canada. The vegan fashion brand has a range of men's footwear in classic styles and colors including these men's black Chelsea boots in a vegan suede material.
---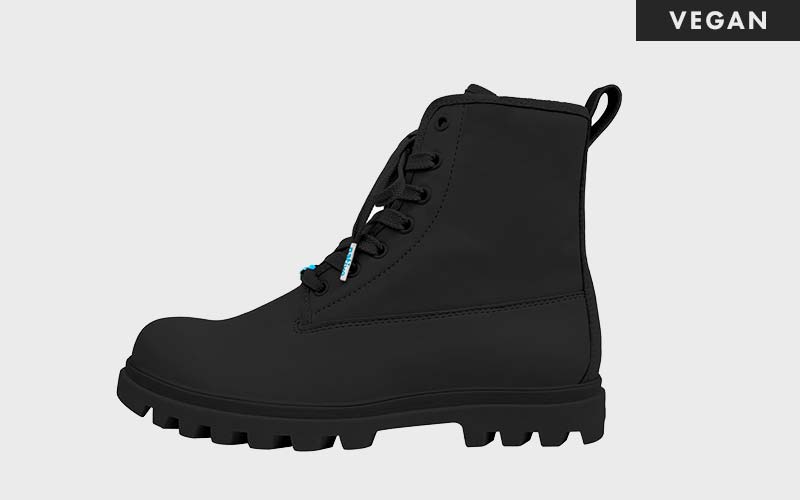 Native Shoes is a Canadian animal-free footwear brand. Their boots are lightweight, water-resistant, and durable. These are their classic Johnny Treklite unisex boots, made from all-vegan materials.
---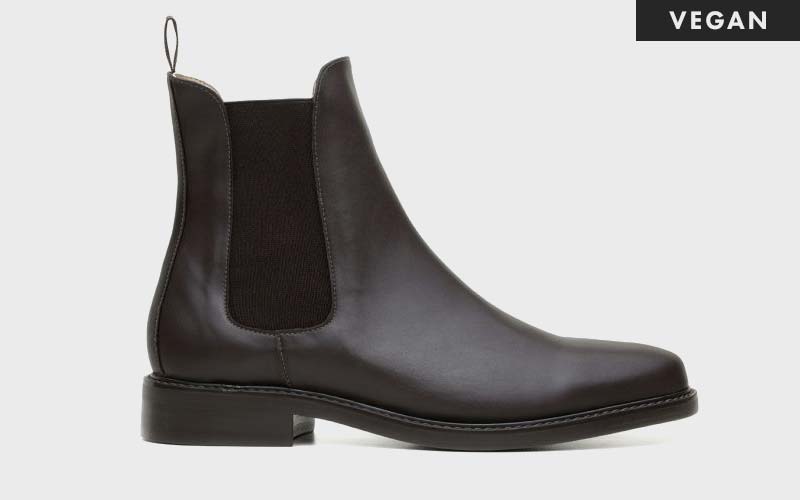 Maker of quality vegan shoes, Ahimsa is a Brazilian footwear brand with a line of vegan leather boots for men. They have a great collection of men's boots in various styles like these classic vegan Chelsea boots, as well as, winter boots, combat boots, casual boots, hiking boots, and more!
---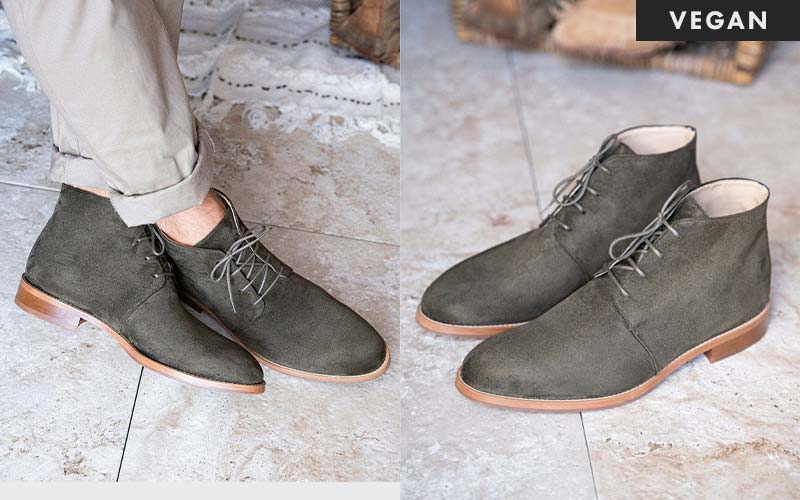 Minuit Sur Terre has some of the most classy and stylish men's boots for formal or work attire. If you like slim silhouettes to wear with a suit or dress pants, then you'll definitely like these Oural Vegan Suede Boots in Khaki by Minuit Sur Terre. Also available in Hazelnut.
---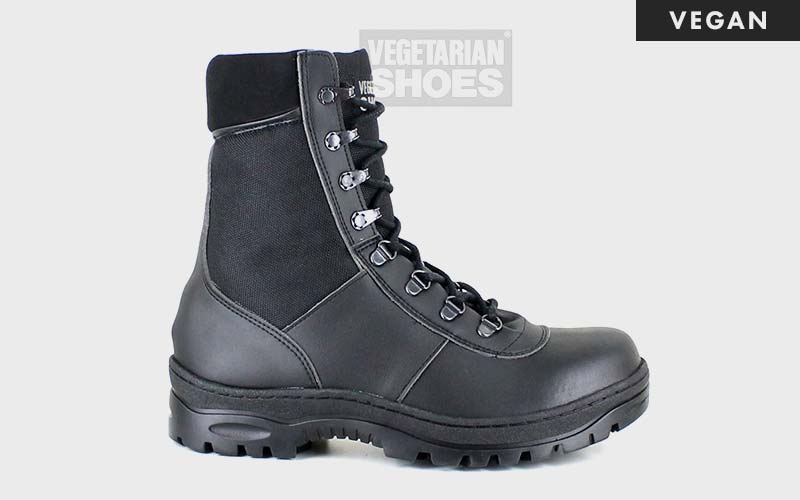 Based in the UK, Vegetarian Shoes is one of the original vegan footwear brands making ethical vegan shoes since 1990. They now have the largest selection of vegan boots for all types of occasions, weather, and attire. From these durable winter boots to steel toe work boots or waterproof boots, Vegetarian Shoes has it all.
---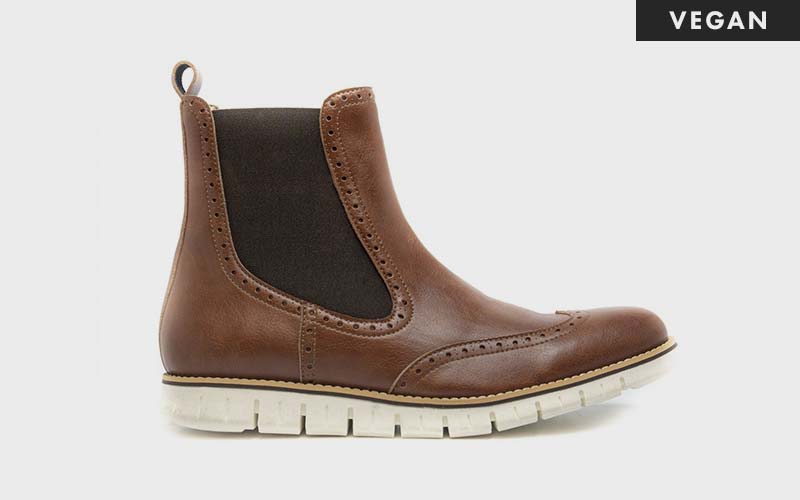 Nae Vegan Shoes is a Portuguese footwear brand with a vegan philosophy and concerned with environmental sustainability. Nae offers a collection of men's boots made with vegan, ecological, and sustainable materials like pineapple leather (Piñatex), cork, recycled PET, and ecological microfibers. They have modern boots for everyday use like these men's Chelsea brown vegan boots, as well as, desert and work style boots available.
---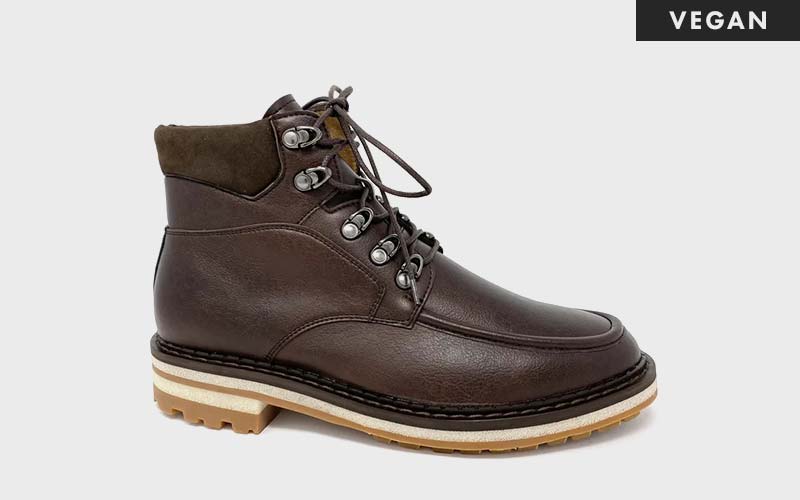 Novacas is the house brand of NYC vegan retailer, Moo Shoes. Novacas shoes are ethically made in European worker-friendly facilities using high-quality, Italian-made microfiber materials. Novacas offers a range of vegan boots for men in various styles including these Malcolm Boot in Brown, and they also have classic Chelsea or lace-up, brogues boots.
---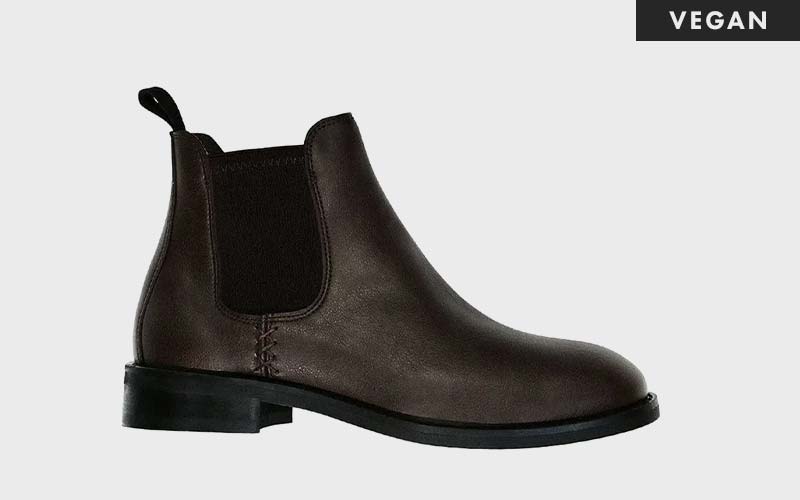 Since 2012, Will's Vegan Store has been providing quality vegan fashion and footwear that are sustainably and ethically-made. They have since grown their collection of shoes with a range of vegan boots for men. Will's offers many styles of boots including these vegan leather waterproof boots, but they also have dress boots, waterproof boots, dock boots, and sneaker boots.
---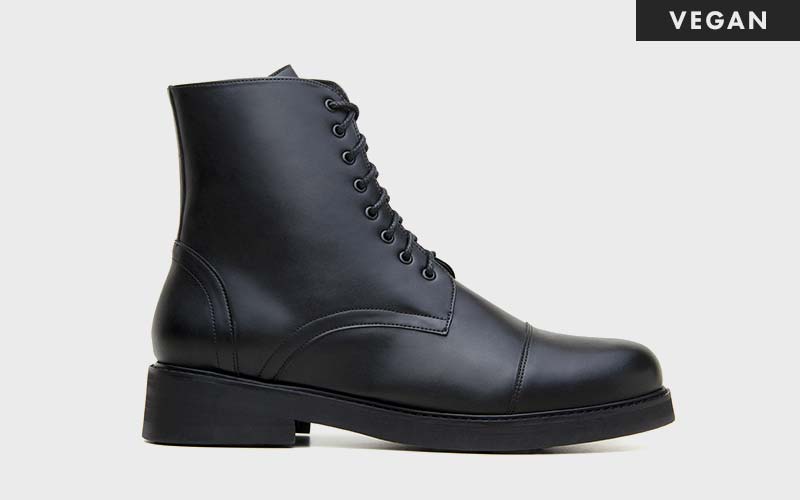 Brave GentleMan is an award-winning high-end menswear brand, known for its expertly-crafted, high-quality vegan footwear made from sustainable materials. Brave GentleMan offers a range of men's vegan boots for casual or dress attire, my fave are these classic black boots.
---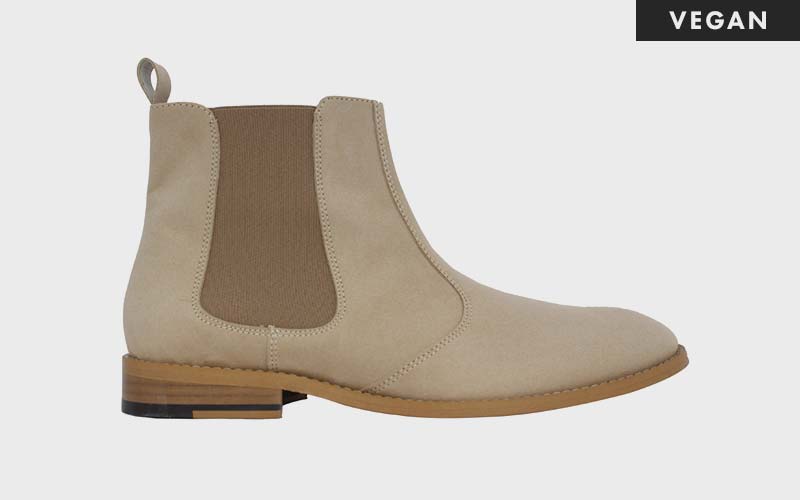 FAIR creates footwear that are completely animal-free. FAIR shoes are produced in Portugal under worker-friendly conditions utilizing the latest sustainable materials. They have vegan boots for men in a variety of styles, from Brogue boots, Desert boots, and these Chelsea boots for men.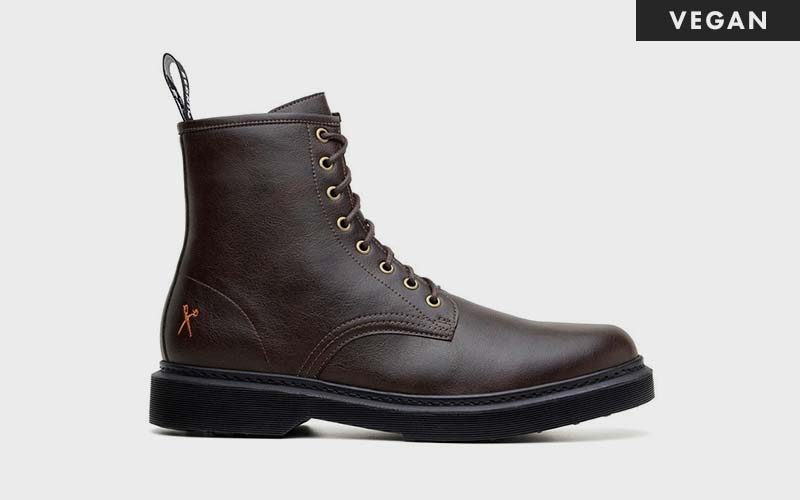 King55 is a vegan men's footwear brand based in Sao Paulo, Brazil. King55's vegan leather boots are sturdy and durable while providing all-day comfort with a streetwear edge. These London classic lace-up military style boots are perfect for day or evening, also available in multiple colors.
---
There you have it! Some vegan men's boots to shop from this season, no matter your budget. Let us know in the comments below which of these styles are your favourite and if you found this guide to vegan boots for men helpful.