This post may contain affiliate links that at no additional cost to you, I may earn a small commission.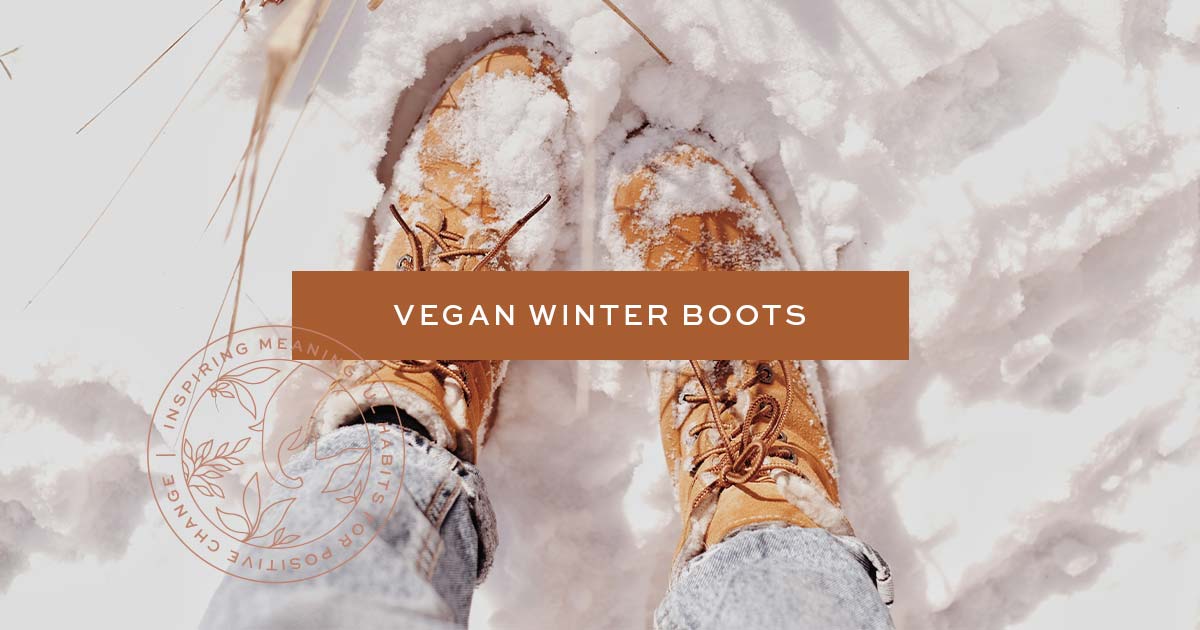 Looking for quality and comfortable vegan winter boots to keep your feet dry and warm this season? In this guide, I'm sharing 10+ footwear brands offering a range of premium vegan boots for winter.
Finding vegan boots for winter and the snow is one of the hardest things to shop for. Most waterproof & snow boots are made from animal leather or suede and are lined with shearling, wool, or fur accessories, making them all not vegan.
Throughout my years of being vegan, I haven't yet found any vegan footwear brands that specialize or offer a great range of vegan snow or winter boots. There are some vegan shoe companies that offer a couple of styles of winter boots but not an extensive range. And it was especially hard to find quality waterproof boots manufactured by an all-vegan shoe brand.
Fortunately, some of the major boots brands, that may not be 100% vegan, do offer a collection and some styles that are vegan-friendly.
Below is a list of footwear brands that are either 100% vegan or that have some vegan winter boots options. I'm defining "vegan" here as shoes that were made without any animal materials like leather, suede, wool, fur, etc.
Vegan-Friendly Winter Boots Brands:
Vegetarian Shoes
If you're looking for vegan leather winter boots that are fashionable and stylish then Vegetarian Shoes has a great collection. Their boots are not necessarily waterproof but they are water-resistant. A good choice for urban hikers or for everyday wears to keep your feet and toes warm.
All of Vegetarian Shoes are vegan, including the glues.
---
Kamik
Not all of Kamik's boots are vegan as they do use animal leather in some styles but I think they have the best selection with a variety of vegan winter boots to shop from. Best of all, Kamik clearly labels which of their shoes are vegan which makes it easier to shop and browse from their large selection of waterproof vegan winter boots.
Kamik Women's Vegan Winter Boots (2022)
Kamik Men's Vegan Winter Boots (2022)
Kamik also confirmed to me in an email response that their Vegan shoe collection contains vegan glue.
---
Hunter
Hunter is known for its rubber rain boots which also happen to be vegan, by the way! And although not all of Hunter's boots are vegan as some contain animal leather materials, Hunter does have several vegan snow boots. The lining and insole of their footwear are also made from recycled materials.
It's quite easy to figure out which of Hunter boots are vegan as they label their shoes as 'Certified Vegan' on their website. Or browse their vegan selection on this page here.
Hunter was also able to confirm that they do not use any animal-based glues in their shoes.
---
Columbia
Columbia offers some of the best quality and high-performing winter boots on the market. Not all Columbia boots are vegan as they do use animal leather and suede materials, but Columbia does have some waterproof boots made with all-vegan materials.
Columbia doesn't label their shoes as "vegan" so you'll have to check the composition of each of their shoes to make sure they're made with non-animal and synthetic materials. I found that most of their Omni-Heat styles are vegan-friendly. Also, it's best to avoid Columbia boots that appear to contain leather or suede as they tend to use animal leather instead of synthetic leather.
---
Cougar
Cougar makes modern footwear that is waterproof and functional. Not all Cougar shoes and boots are vegan but they do offer a few styles that are made with nylon and vegan materials. It's best to avoid any of their boots that look like leather materials as Cougar mostly uses animal leather over synthetics. Thankfully, Cougar also labels which of their shoes and boots are vegan in the product description so it's easy to filter and find which of their shoes are suitable for vegans.
In addition, Cougar was also able to confirm that none of their glues contain animal by-products, therefore their shoe glues are vegan.
---
Skechers
Not all of Skechers shoes are vegan as they do use animal leather and suede materials in most of their boots. But Skechers does have some vegan cold-weather boots made with micro-leather and suede-textured materials that look like the real thing but are made without animal cruelty! Skechers shoes are known to be lightweight and comfortable to wear for long walks.
If you're shopping on Skechers' website, you can filter out their vegan shoes by hovering over 'Technology' > and then clicking 'Vegan'.
Skechers confirmed the glues they use are water-based and not animal-derived, therefore Skechers shoe glues are vegan-friendly.
---
Noize
Noize is a 100% vegan apparel, footwear, and accessories brand. Some of their vegan winter boots are unisex, but they mostly offer women's sizes. Noize's comfy and cozy boots are made from all-vegan and some eco-friendly materials like post-consumer recycled water bottles and recycled fill.
---
Helly Hansen
Helly Hansen is known for its professional-grade sports and outdoor apparel designed to help you stay protected in the world's harshest environments. Most of their boots contain leather or suede but this year, I noticed they had a few winter boots made of all synthetic materials but none of them were advertised as being Vegan. So, I emailed the brand and they confirmed the following Helly Hansen boots are free from animal materials and adhesives:
---
Baffin
Baffin is an innovative, leading outwear company based in Stoney Creek, Ontario, Canada. Their core focus is technically advanced, innovative footwear and high-performance apparel. Although Baffin is not an entirely vegan brand, they do offer some vegan winter boots for men and women.
Baffin's vegan-friendly footwear are easily identifiable when shopping on their website. Just look for the Vegan Icon under the 'Features' portion of their product description.
I went through Baffin's collection of men's and women's winter boots and spotted the Vegan Icon in the following:
And I confirmed with Baffin that the above boots contain vegan glues.
---
SOREL
SOREL specializes in making waterproof winter boots that are guaranteed to keep you warm, comfortable, and dry. Not all of SOREL's boots are vegan though as they do use animal skins and furs in some of their shoes. But SOREL does offer some styles that are made with synthetic and vegan-friendly materials. You'll have to read each shoe composition as SOREL doesn't label any of their shoes as "vegan."
Also, note that SOREL is unable to guarantee their glues are vegan, stating, "We try to avoid animal based glue whenever possible, but there can be animal byproducts used in some of our glues." If this is a deal-breaker for you then SOREL may not be a suitable option for you, choose from the other options on this list.
---
The North Face
This year, The North Face has a limited number of vegan-friendly winter boots made with their ThermoBall Eco insulation designed to keep your feet toasty warm. Most of their boots contain leather or suede, but The North Face's Women's ThermoBall Lace Up Waterproof Boots ($135) comes in four different colors and appear to still be vegan and made from synthetic materials.
The North Face confirmed they use synthetic-based glues, making their shoe glues vegan.
---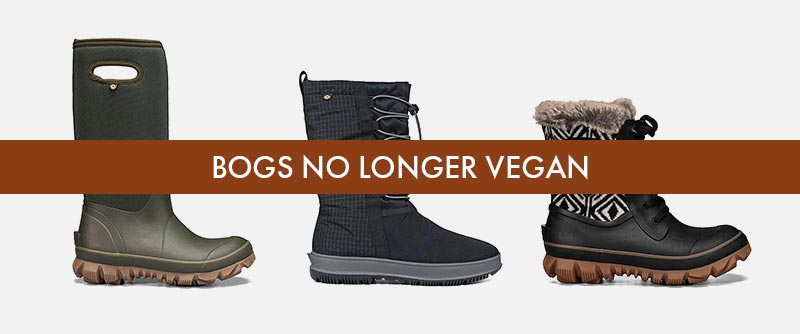 Bogs
Unfortunately, I can no longer recommend Bogs as a vegan alternative. Their Arcata Geo boot partly contains wool materials but you'd only know that if you had the shoes in front of you with the tags as their website doesn't mention anything about wool.
I reached out to Bogs to ask for clarifications but never heard back. Therefore, I am not sure about the accuracy of their website's product descriptions for all their other supposedly 'vegan' boots. I think it's best to avoid Bogs when shopping online. If you're shopping in person, check the tags for a more accurate description of the composition and materials.
Whiteout Woven $180
Snownights $155
Arcata Geo $190 *Note: these are NOT vegan. They contain 15% wool!