This post may contain affiliate links that at no additional cost to you, I may earn a small commission.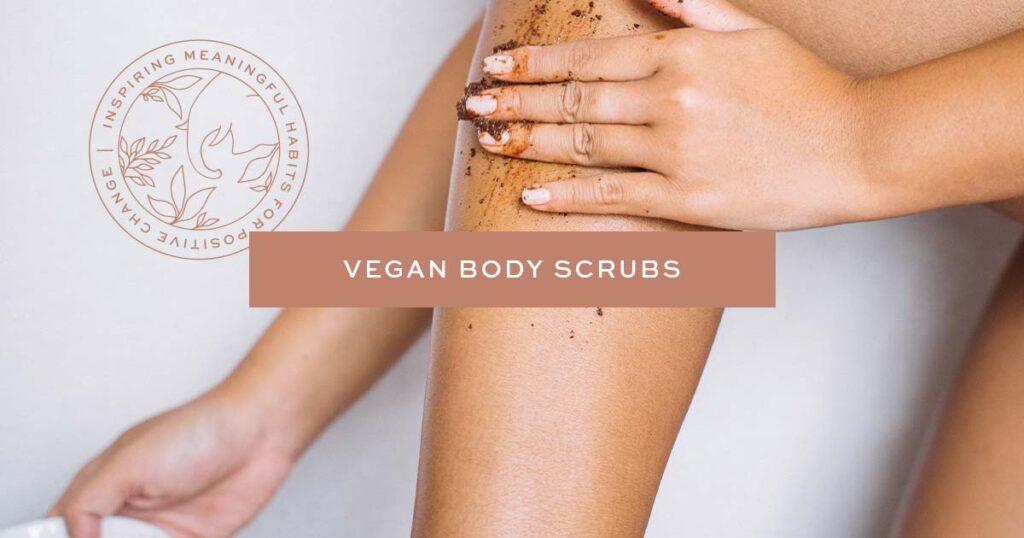 Looking for a cruelty-free & vegan body scrub to gently exfoliate skin for smoother, softer, and glowing skin?
In this cruelty-free & vegan body scrub and exfoliator guide, I'm sharing the best vegan body scrubs; whether you prefer a mineral salt scrub, natural exfoliating powder, or a foaming gel scrub, there's something for you in this list!
What To Look For:
Let's first begin by asking what exactly are vegan exfoliating body scrubs? Some body scrubs and exfoliators contain animal-derived ingredients and by-products, including beeswax, animal-based glycerin, and stearic acid.
In addition, most drugstore and high-end body scrubs are from brands that still test on animals, like Avène, AHAVA, Olay, Neutrogena, Caress, Fresh, Differin, OGX, Dr. Brandt Skincare, and Kiehl's, and should be avoided when looking for a cruelty-free and vegan body scrub.
Best Vegan Body Scrubs in 2023
Below is a list of the best-rated and best-selling vegan body scrubs and their product claims.
All of the body scrubs mentioned in this post are from brands that have been verified as being truly cruelty-free and don't test on animals. Note that I've included some options from cruelty-free brands that are owned by an animal-tested parent company. If you choose not to purchase from these brands, avoid the ones marked with an * asterisk.
And all of the body scrubs have been verified as being vegan-friendly and don't contain any animal-derived ingredients. However, always check the manufacturer's website for the most up-to-date information, as ingredients and formulations may change.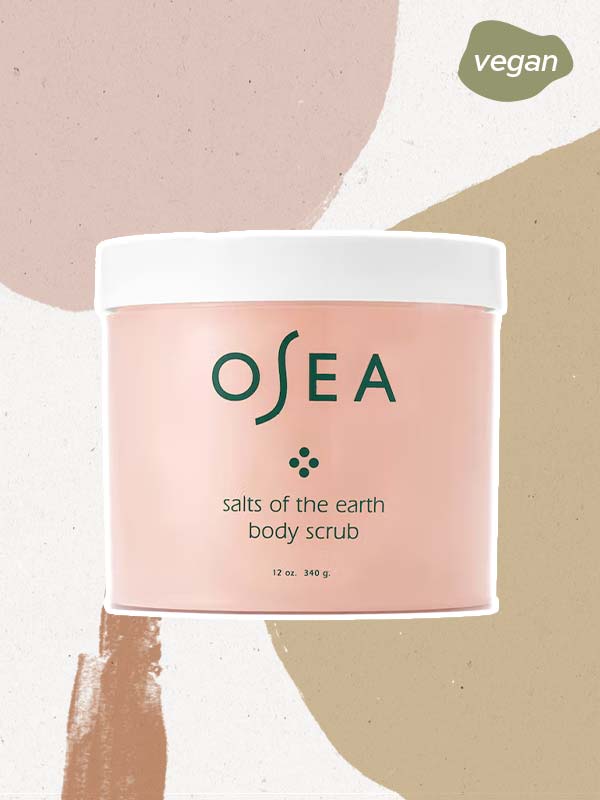 Sink into a scrub like you've never felt before. OSEA's skin-softening formula transforms into a gentle exfoliator as you work it into the skin. Mineral-rich salts from around the world buff away roughness, while shea butter and wild gigartina seaweed nourish for silky-smooth and glowing skin. A sensory experience that leaves you feeling brand new.
---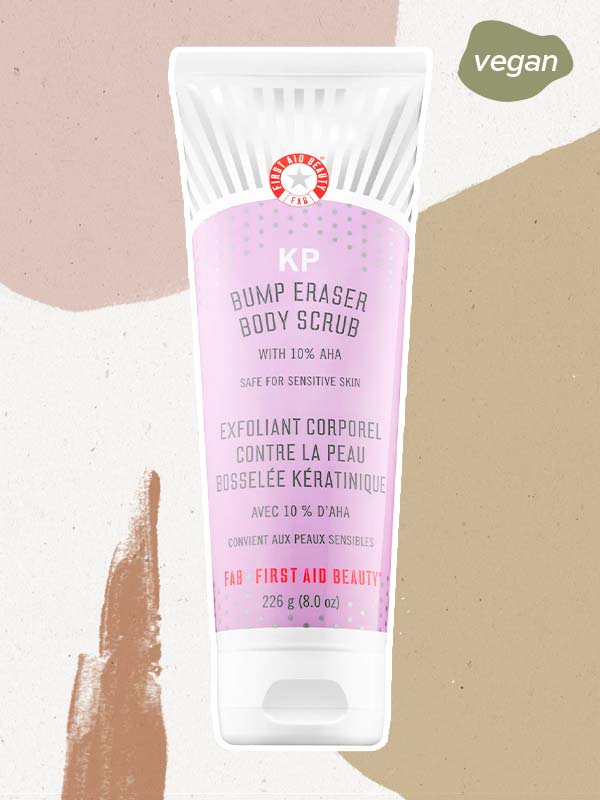 *First Aid Beauty KP Bump Eraser Body Scrub with 10% AHA
Safe for sensitive skin, this fast-acting vegan body scrub uses Glycolic & Lactic acids, at a combined level of 10% AHAs, to help resurface skin's top layer + Pumice to physically exfoliate, helping improve skin's texture and smooth away bumps, roughness, and scaly areas, also known as chicken skin + buttne.
*Note: First Aid Beauty is cruelty-free, but FAB is owned by P&G, a parent company that is NOT cruelty-free.
---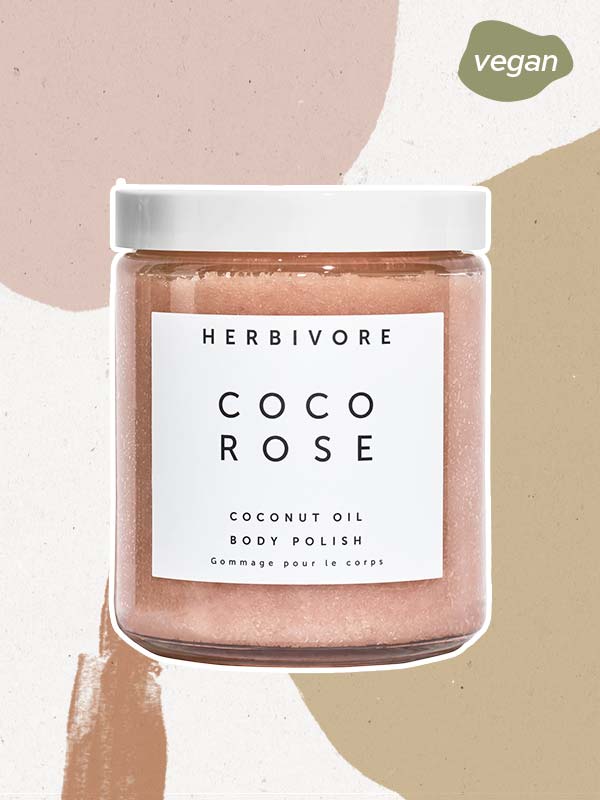 Herbivore Coco Rose Exfoliating Body Scrub
A highly moisturizing, gently exfoliating blend with virgin coconut oil and delicately floral Moroccan rose, this luxurious body scrub leaves skin softer, smoother, and more nourished. It's also vegan, cruelty-free, and formulated without gluten or silicone.
---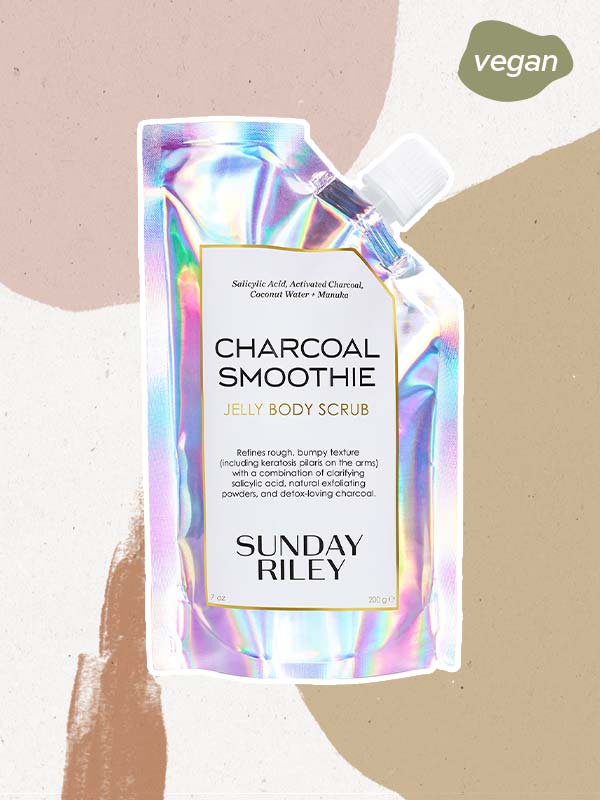 A refining body scrub that visibly targets bumpy, textured, and flaky skin (including keratosis pilaris or "chicken skin") with a dual-action exfoliation system. The salicylic and lactic acids in this scrub work to visibly clarify and smooth bumps and rough patches, while the natural exfoliating powders massage away dull, dead skin. Activated charcoal works with manuka to remove impurities, while coconut water rehydrates, leaving your whole body feeling smooth, soft, and nurtured.
---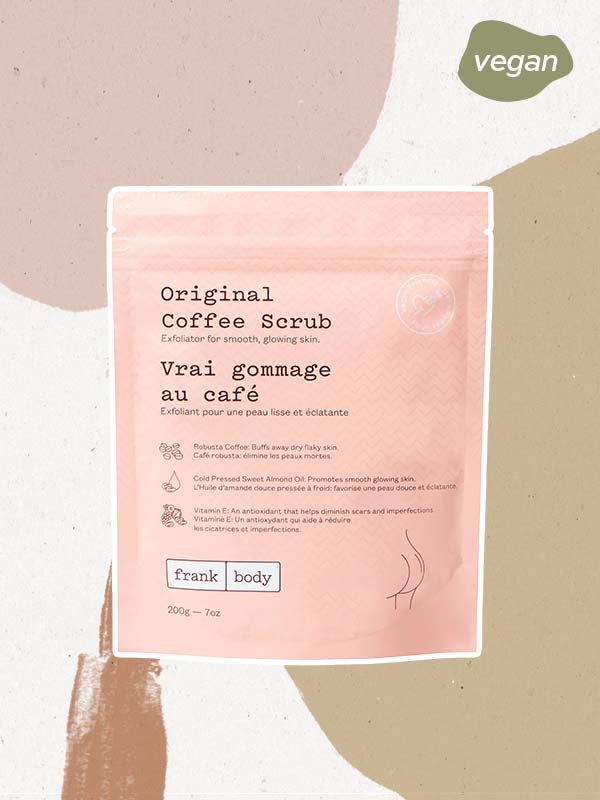 This natural vegan body scrub made Frank Body famous; it helps diminish the look of skin imperfections. It includes coffee grinds to exfoliate, almond oil to help keep skin smoother looking and softer to the touch, and vitamin E to help hydrate dry skin. The scrub also smells like a fresh pot of coffee.
---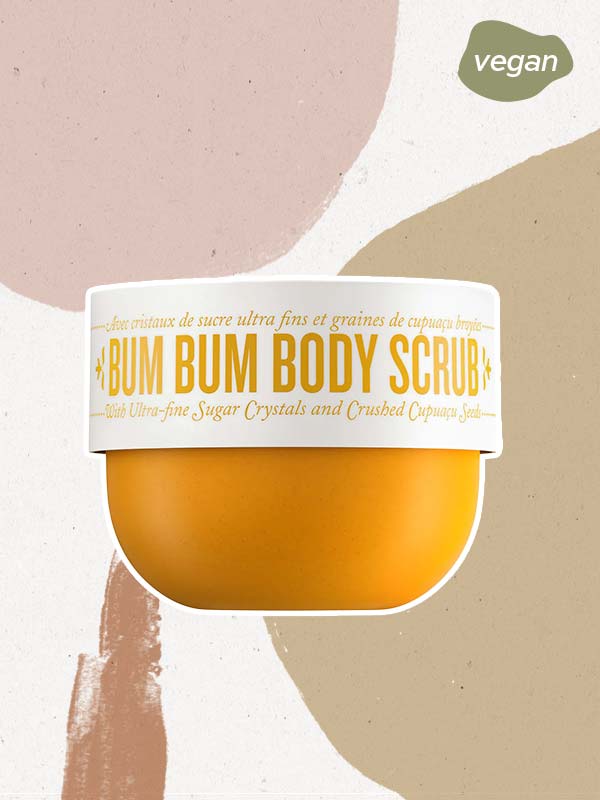 Inspired by the golden beaches of Rio, this ultra-fine vegan body scrub polishes and nourishes with a microbead-free blend for softly shimmered, Rio-radiant skin scented with the iconic Cheirosa '62 fragrance. Infused with caffeine-rich guaraná, this spa-worthy treat leaves skin silky, never greasy.
*Note: Sol de Janeiro is cruelty-free, but Sol de Janeiro is owned by Unilever, a parent company that is NOT cruelty-free.
---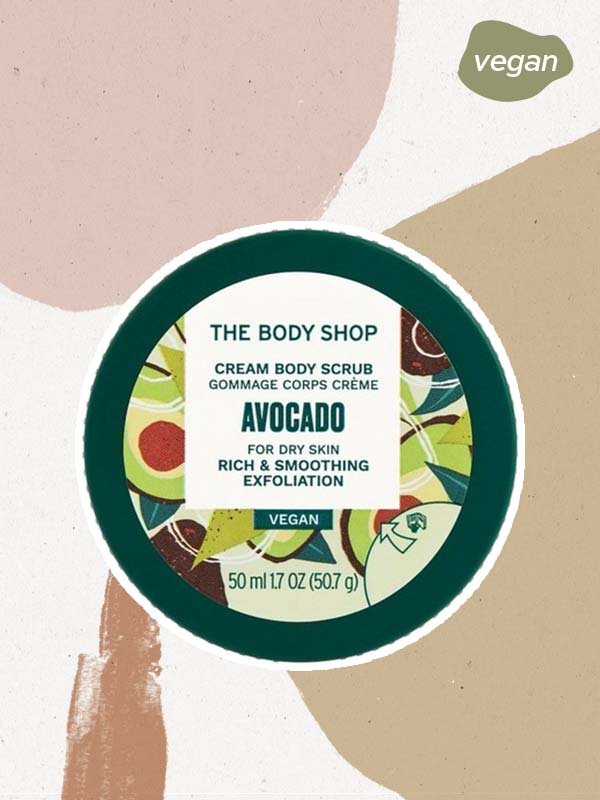 Now made with 96% ingredients of natural origin, including sustainably sourced Hass avocado oil from South Africa, The Body Shop's rich and creamy vegan body exfoliator buffs away dead skin cells to leave dry skin feeling softer and smoother. It leaves your birthday suit looking radiant too.
---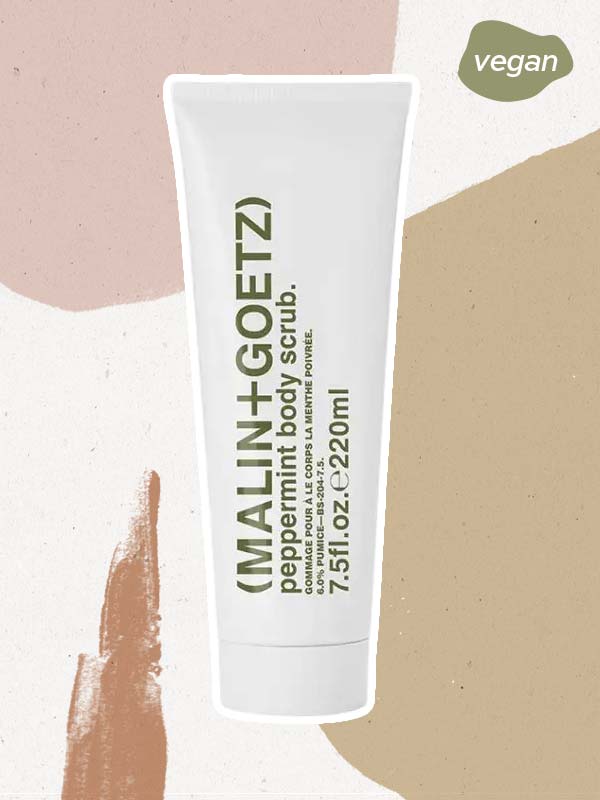 Malin + Goetz's uniquely foaming gel scrub synthesizes ground pumice with amino acid-based cleansing agents to offer hydrating exfoliation. Effectively purifying and balancing for all skin types, including sensitive ones. Rinses residue-free for smooth, even skin.
---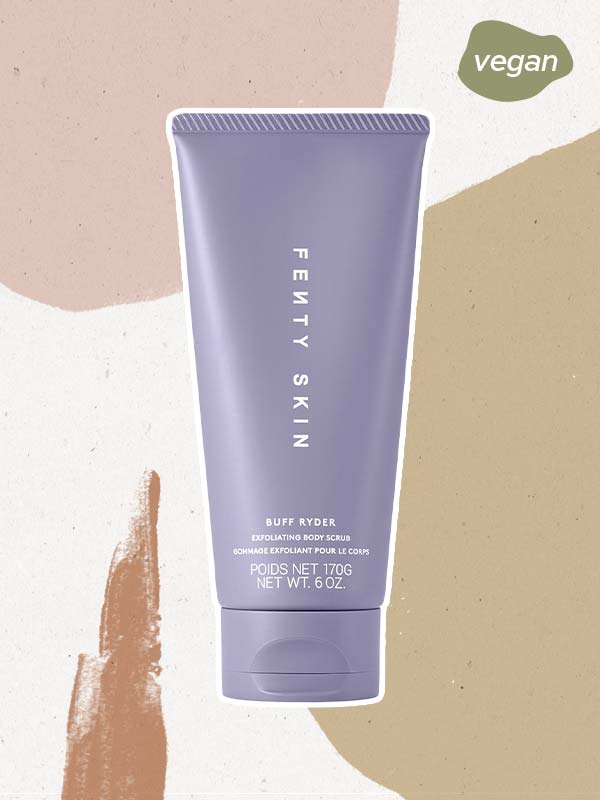 Polish and soften the skin in one go with Fenty's vegan body scrub, which contains sugar, salt, superfine sand, fruit enzymes, and nourishing oils that polish, smooths, and refine skin. An ideal balance between gentle and effective to deliver a healthy-looking glow. Transports you to the Caribbean with the warm, tropical scent of Caramel and Guava.
*Note: Fenty Skin is cruelty-free, but Fenty is owned by Kendo, LVMH, a parent company that is NOT cruelty-free.
---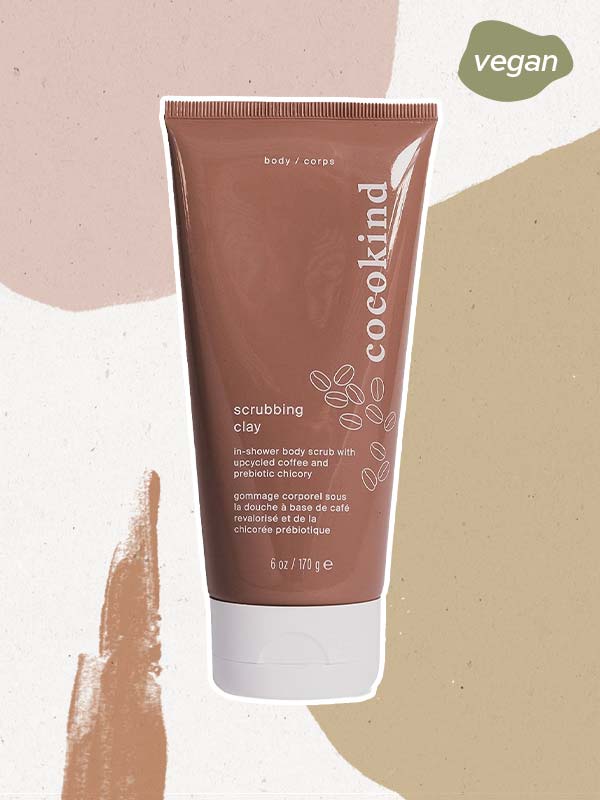 Made with upcycled coffee grounds that would have otherwise gone to waste, this creamy clay vegan scrub smooths, clarifies, and supports the microbiome, rinsing off with a silky feel.
---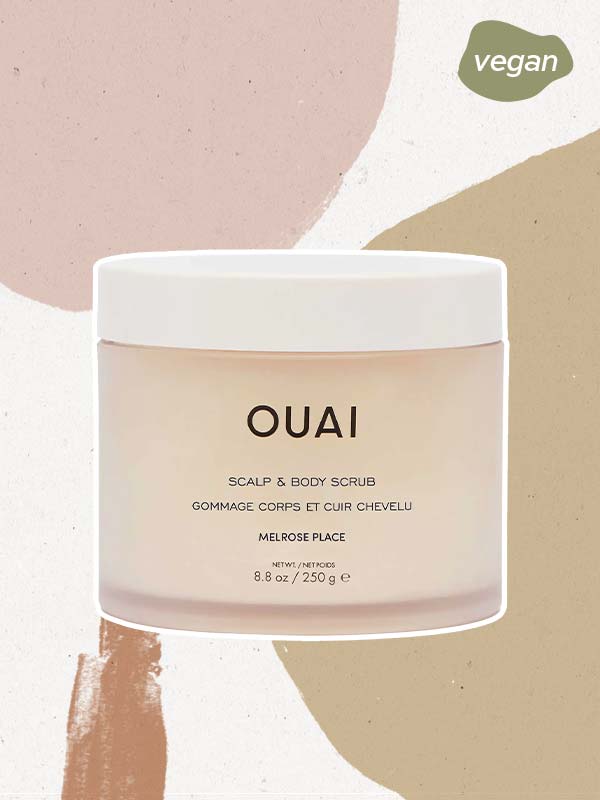 This is a scalp and body scrub in one. A color-safe, deep-cleansing sugar scrub that exfoliates product buildup from your scalp and smooths out dry skin while nourishing it. The Scalp & Body Scrub is scented with a rose fragrance with hints of bergamot, lychee, cedarwood and white musk.
*Note: OUAI is cruelty-free, but OUAI is owned by P&G, a parent company that is NOT cruelty-free.
---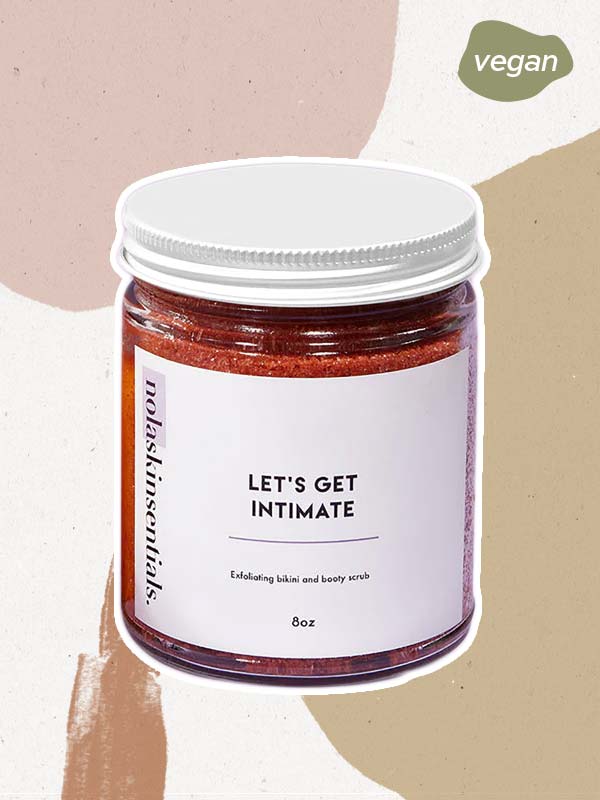 A natural bikini and vegan body scrub powered by Pink Himalayan Salt to keep the skin on your legs, bikini, arms, and backside as soft and radiant as the day you were born. It also contains White Willow Bark Extract to deliver bump-free skin while helping to free ingrown hairs.
---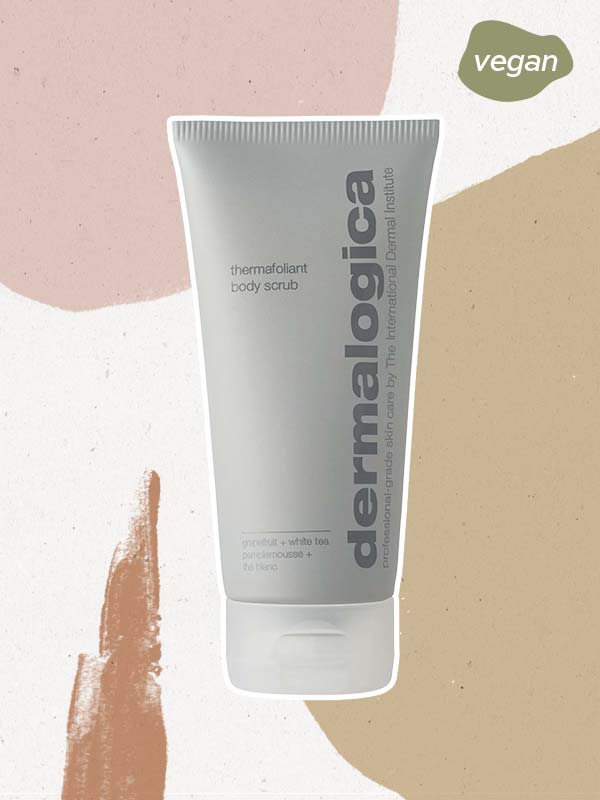 Exfoliate, energize and brighten dull skin with this dual-action vegan body exfoliant. Indian Bamboo Stem physically exfoliates to refine skin texture and brighten tone. Papain (from Papaya) and Lactic Acid dissolve dull, dead cells, promoting skin's natural cell renewal process for brighter, more radiant skin. Natural Sea Salt – prized by ancient Egyptians for its skin-invigorating minerals – revitalizes and hydrates.
*Note: Dermalogica is cruelty-free, but Dermalogica is owned by Unilever, a parent company that is NOT cruelty-free.