This post may contain affiliate links that at no additional cost to you, I may earn a small commission.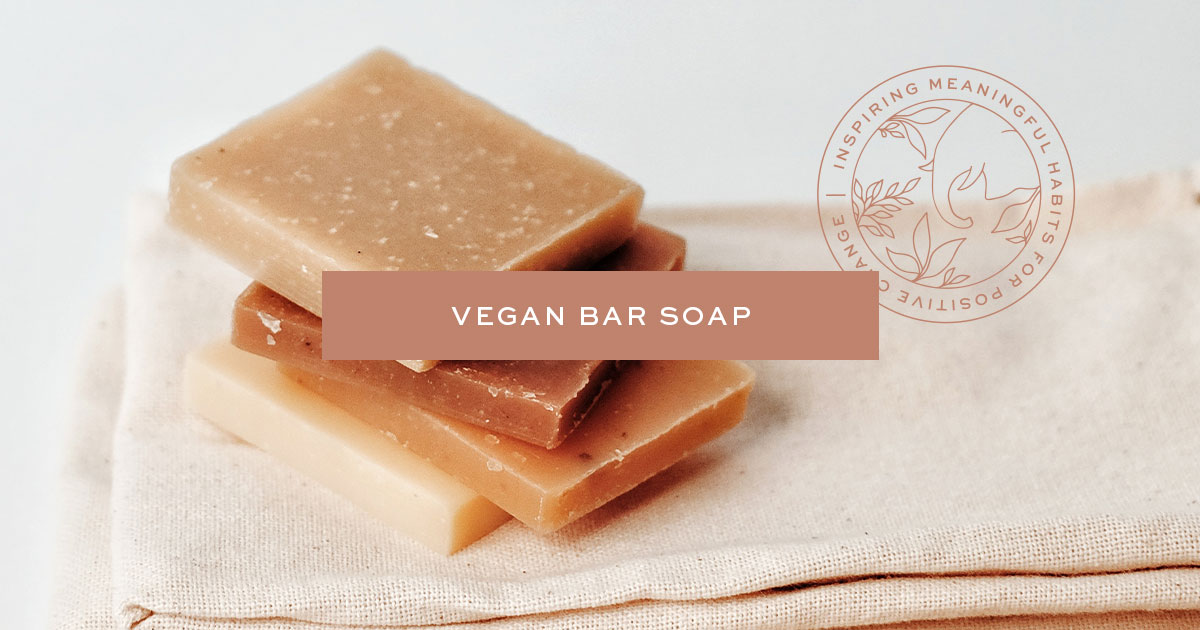 Looking for a vegan bar soap to gently yet effectively cleanse skin without drying or stripping it? In this guide, I'm sharing the best vegan bar soaps; whether you need a creamy cruelty-free soap bar for your body or an exfoliating vegan bar soap for your face, there's something for you in this list!
What To Look For:
Unfortunately, most bar soaps contain animal-based ingredients like tallow, lard, goat's milk, and/or honey.
In addition to animal-based ingredients, most bar soaps today are made using palm oil.
Palm oil production is the leading cause of deforestation in Indonesia and Malaysia. It destroys entire ecosystems and harms endangered animals, like orangutans, Sumatran tigers, and elephants, that live amongst these palm plantations.
Although not perfect, there are Certified Sustainable Palm Oil committed to ensuring its palm oil is produced in a socially and environmentally responsible way.
However, some consumers have criticized these sustainable palm oil certifications for their issues with traceability and lack of enforcement. While others believe it's an essential first step.
Ingredient transparency is of the utmost importance to me when it comes to supporting ethical brands. If a company does not disclose how and where it sources its palm oil and palm derivatives, I have contacted them to ask about its ethical and sustainable palm oil sourcing policy.
In this post, I share 10 vegan bar soaps from brands I believe have been transparent about their sustainable palm oil sources.
Best Vegan Bar Soaps in 2023
Below is a list of some vegan body bar soaps made with sustainable palm oil.
If you prefer a palm oil-free vegan bar soap instead, check out Ethique, Attitude, Kiss My Face, Kirks, or see a full list here.
All of the bar soaps mentioned in this post are from brands that have been verified as being truly cruelty-free and don't test on animals. Note that I've included some options from cruelty-free brands that are owned by an animal-tested parent company. If you choose not to purchase from these brands, avoid the ones marked with an * asterisk.
And all of the bar soaps have been verified as being vegan-friendly and don't contain any animal-derived ingredients. However, always check the manufacturer's website for the most up-to-date information as ingredients and formulations may change.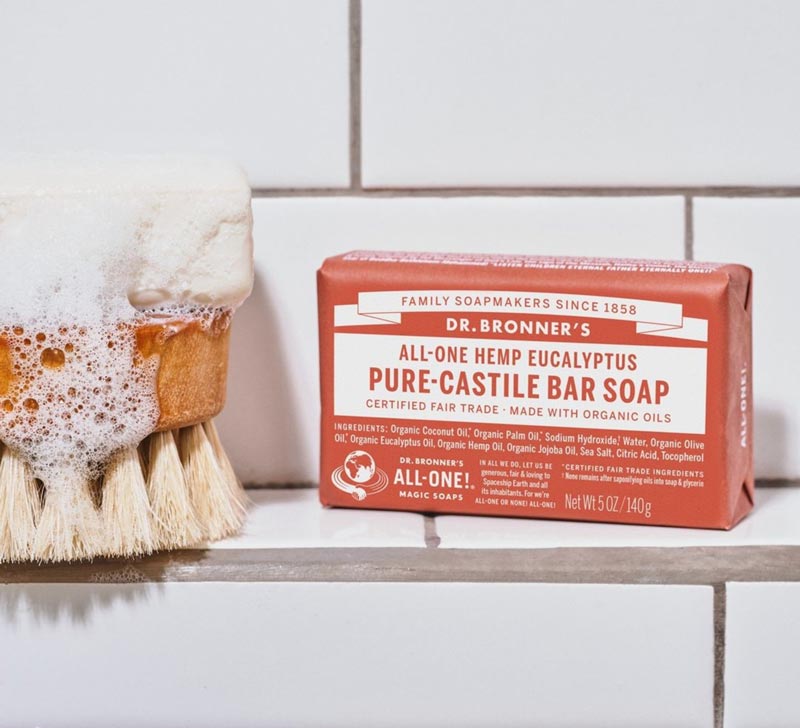 Dr. Bronner's
Dr. Bronner's Pure-Castile Vegan Bar Soaps are formulated to be gentle and versatile. You can use it to wash your body, face, and hair. Made with certified fair trade ingredients and organic U.S.-grown hemp seed oil. It also comes packaged in 100% post-consumer recycled wrapper.
Dr. Bronner's Palm Oil Policy: "The company's palm oil is produced ethically from sustainably-harvested palm fruits in Ghana's Eastern Region. The project is owned and coordinated by Serendipalm, Dr. Bronner's sister company in Ghana. The company buys palm fruits exclusively from 500 small organic family farms. These farms were developed without the widespread clear-cutting of rainforest and resulting devastation to local primates that are common nowadays with many of the newer, larger-scale palm oil plantations."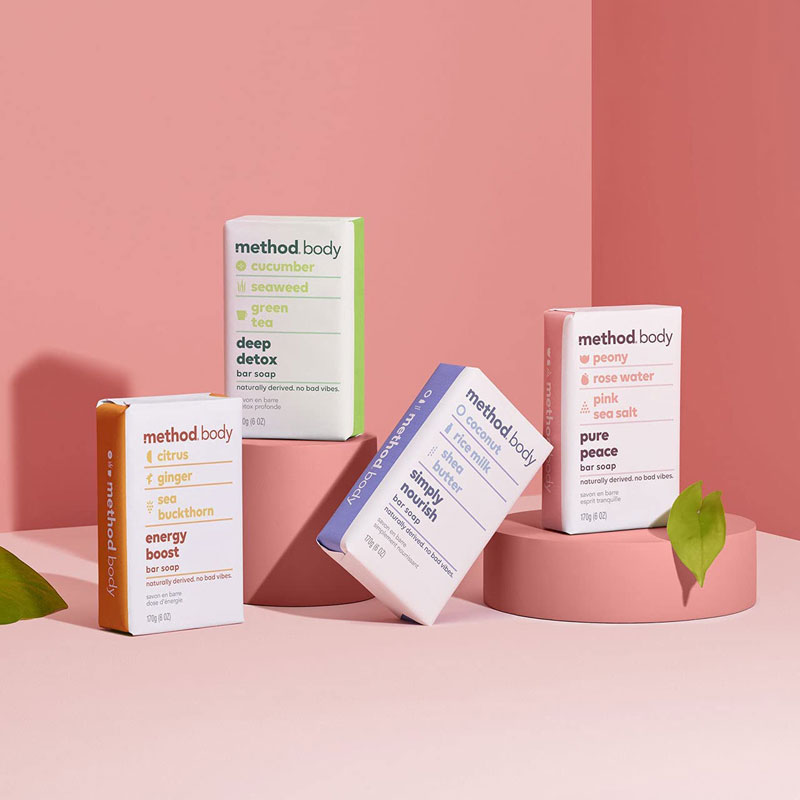 Method* – Simply Nourish Bar Soap
Method (SC Johnson) currently has three scented vegan bar soaps containing a biodegradable formula, plant-based cleansers, and a wrapper made with 50% recycled paper. Method claims their Simply Nourish bar soaps will leave skin feeling soft, moisturized, and smelling delightful.
Method's Palm Oil Policy: "we are addressing sourcing for palm derived ingredients in two ways. first we work with suppliers to source ingredients derived from coconuts instead of palm oil. many cleaning agents such as surfactants can come from either palm or coconut sources, and most of our suppliers have switched to coconuts for these materials. for the ingredients that come from palm oil, we work with suppliers that are part of the RSPO – the Roundtable for Sustainable Palm Oil (http://www.rspo.org/). RSPO ensures that palm is harvested with minimal environmental impacts and supports local livelihoods."
*Note: Method is cruelty-free, but Method is owned by SC Johnson, a parent company that is NOT cruelty-free.
---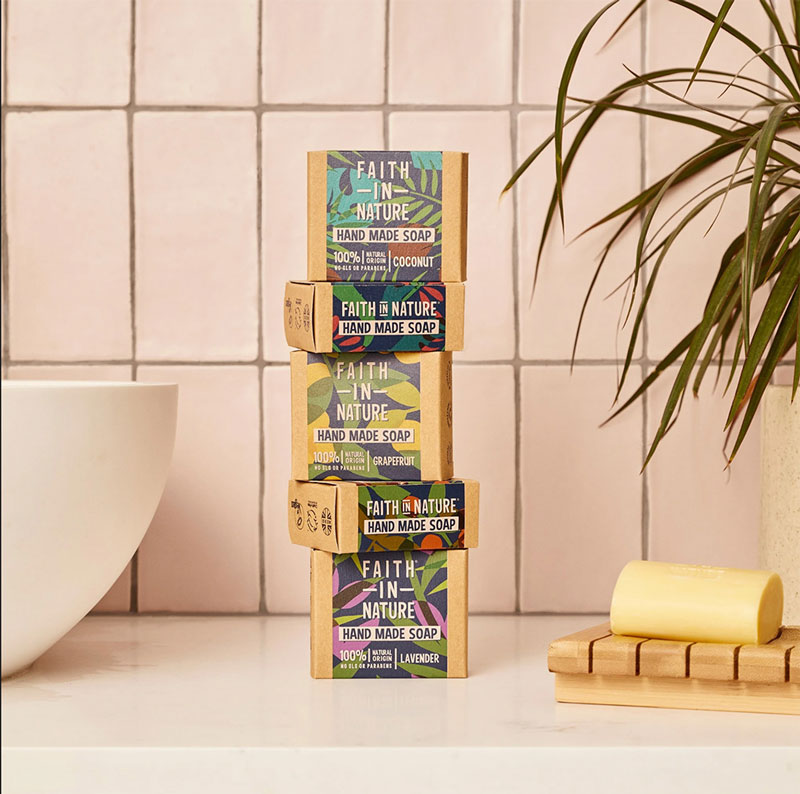 Faith in Nature – Natural Hand Soap
Looking for a natural vegan hand soap bar? Faith in Nature has a great collection of natural and environmentally-friendly bar soaps made with 100% natural fragrance and essential oils. It also comes in zero-waste and plastic-free packaging.
Faith in Nature states on its website, "As an ethical business at Faith in Nature we work tirelessly to ensure that any Palm Oil used within our products is sustainably sourced and approved by the Roundtable of Sustainable Palm Oil (RSPO), a certification that understands the ever-urgent need and growing global concern that products are produced without causing harm to the environment or society. After lengthy consideration of the alternatives, we feel that the sustainable Palm Oil derivative is both the best ecological and ethical solution for our business and the planet."
---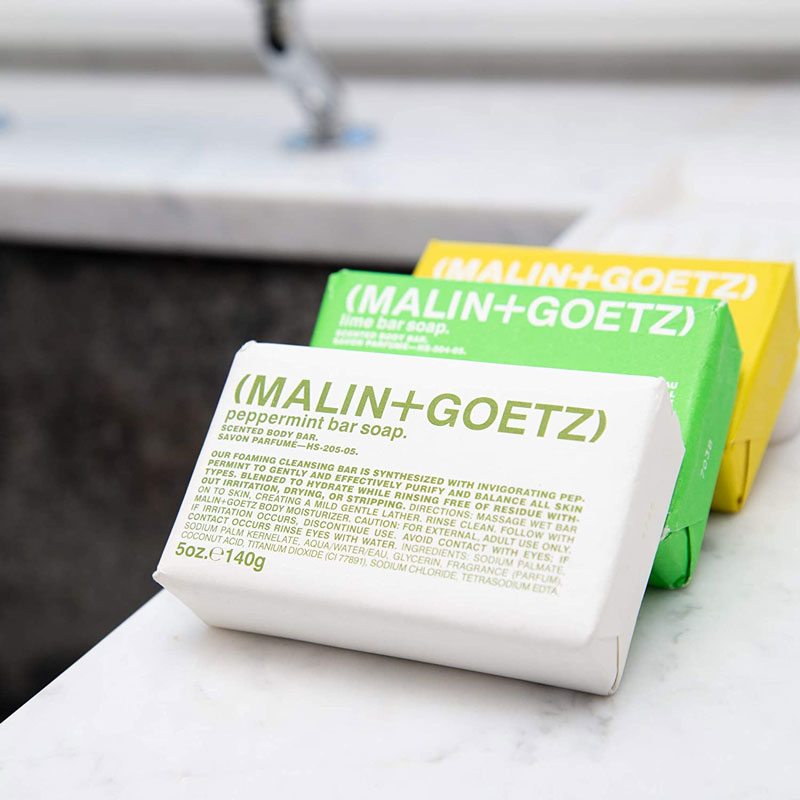 Malin+Goetz Vegan Bar Soap
Malin+Goetz has three scented vegan body bar soaps that gently yet effectively purifies all skin types, including sensitive skin, and rinses residue-free without drying or stripping. Malin + Goetz offers triple-milled foaming cleansing bars infused with refreshing and invigorating scents like Peppermint, Lime, and a Signature Dark Rum scent.
Malin+Goetz Palm Oil Policy: "The palm oil derivative we use is sustainable derived from RSPO certified palm oil that is internationally recognized as the 'gold standard' by which sustainable palm oil is judged. RSPO certified products are guaranteed to be ethically-sourced and environmentally sustainable."
---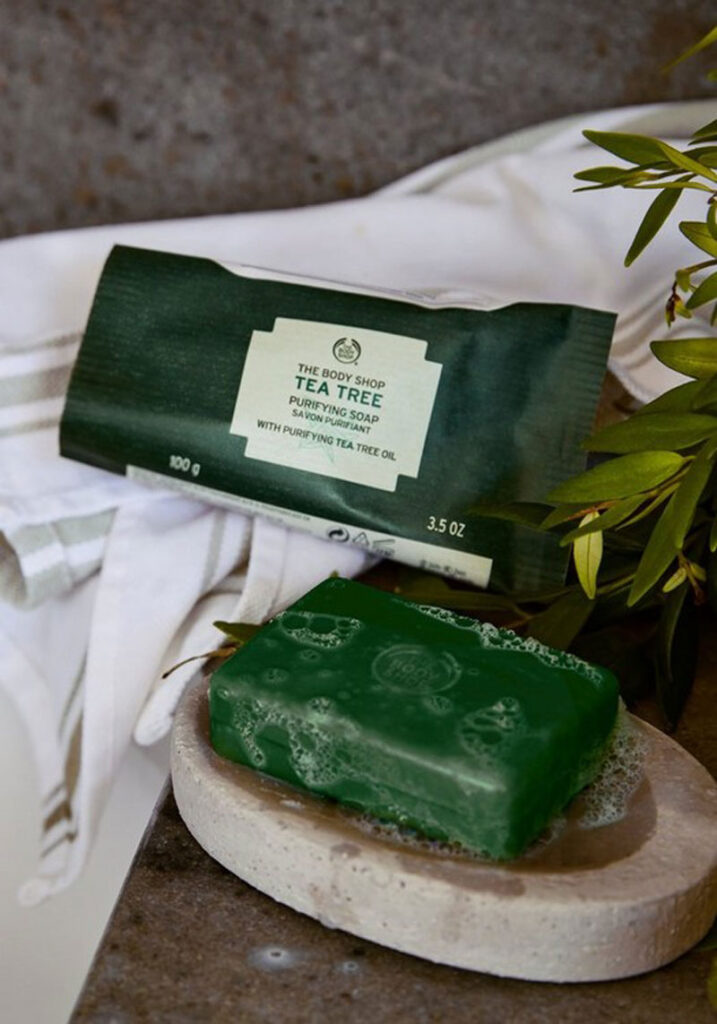 The Body Shop Soap Bars
The Body Shop offers a range of soap bars and exfoliating soaps, all of which appear to be labeled as vegan-friendly. Choose from their selection of fruity, green, floral, nutty, or citrus scented bar soaps to help your skin feel revived, energized, and cleansed.
The Body Shop states on its website, "The Body Shop International is committed to the principles of the Round Table for Sustainable Palm Oil (RSPO). Today 100% of The Body Shop purchases are made according to the RSPO standard. If we include palm oil in our products we purchase only RSPO certified palm oil. In the case of palm oil derivatives we are also certified as sustainable by the RSPO, in some cases using the "book and claim" model as an interim solution until a critical mass of certified segregated materials becomes accessible on the market."
---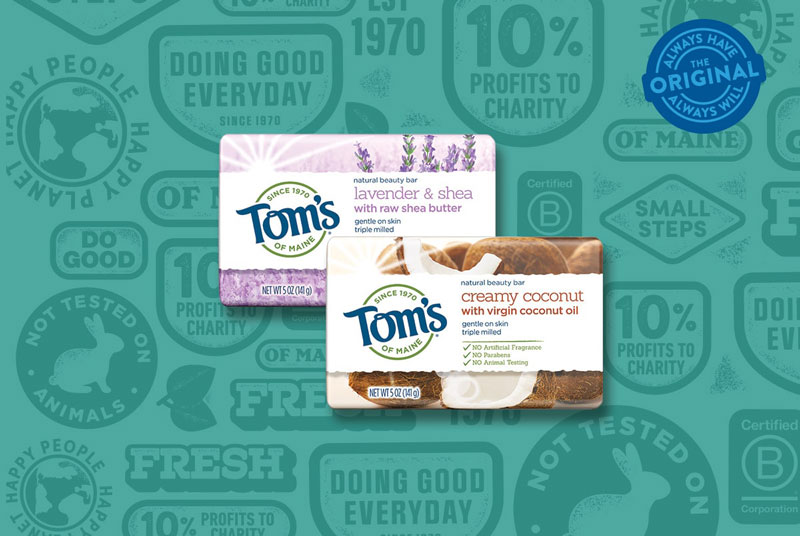 Tom's of Maine* – Natural Beauty Bar
Tom's of Maine (Colgate-Palmolive) has a selection of natural body bar soaps that are paraben-free and vegan. Available in a variety of amazing smelling scents like lavender, eucalyptus, and shea. Tom's also has a fragrance-free vegan bar soap for sensitive skin.
Tom's of Maine states on its website, "And because we care about the sustainability of our ingredients, for added peace of mind these bars also use Rainforest Alliance Certified™ palm oil."
*Note: Tom's of Maine is cruelty-free, but Tom's is owned by Colgate-Palmolive, a parent company that is NOT cruelty-free.
---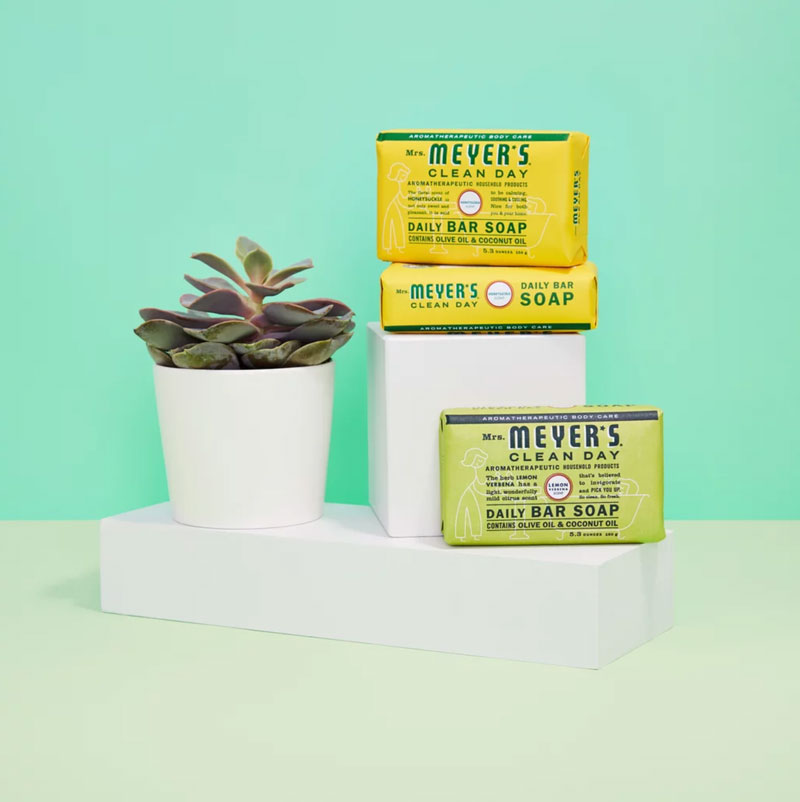 Mrs. Meyer's* Daily Bar Soap
Mrs. Meyer's (SC Johnson) Daily Bar Soap is a rich and creamy, triple-milled bar soap made with a special formula of almond oil, coconut oil, and essential oils to leave skin feeling clean and fresh. Available in their best-loved scents like Lavendar, Rain Water, Plum Berry, and Oat Blossom.
*Note: Mrs. Meyer's is cruelty-free, but Mrs. Meyer's is owned by SC Johnson, a parent company that is NOT cruelty-free.
Mrs. Meyer's Palm Oil Policy: "All suppliers of Mrs. Meyer's Clean Day ingredients derived from palm oil are members of Roundtable on Sustainable Palm Oil (RSPO). Mrs. Meyer's Clean Day supports sustainable practices in eco-sensitive areas throughout Asia, Africa and South America, like the Brazilian rain forests."
---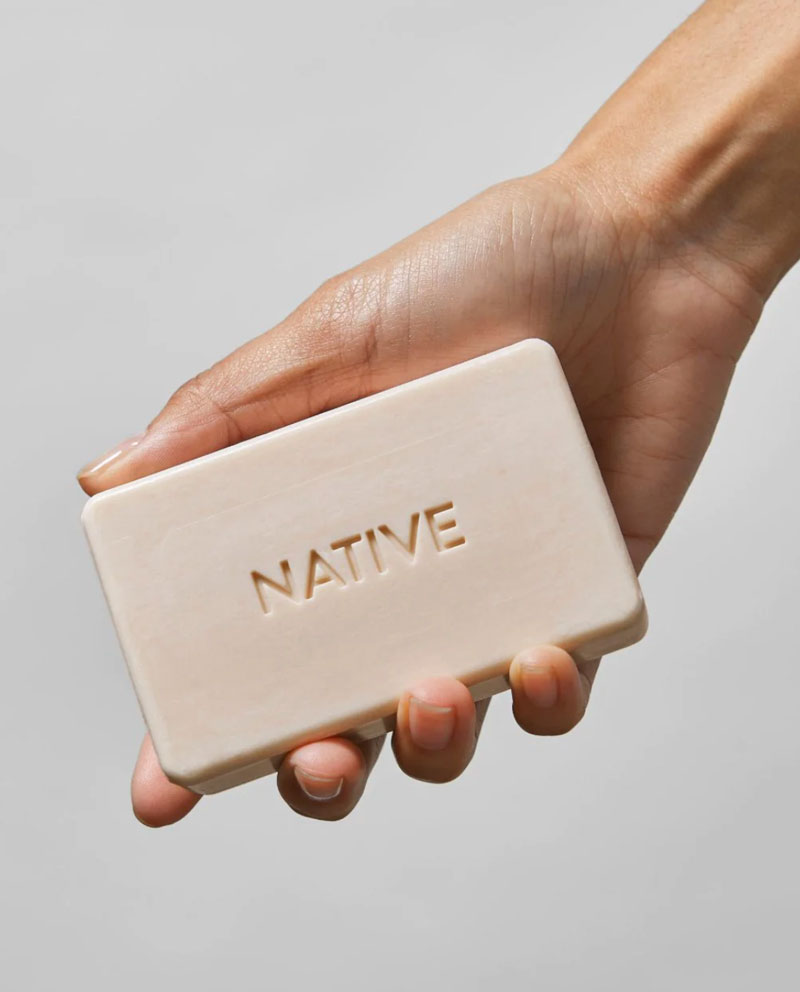 Native* Body Bar Soaps
Native (P&G) offers a range of body bar soaps in delightful scents like Cucumber & Mint, Lavender & Rose, and Coconut & Vanilla. Their bar soaps are vegan, sulfate-free, and paraben-free. It also comes in plastic-free packaging. Native claims their vegan bar soaps are ultra-hydrating and offer a residue-free sud.
Native states on its website, "Our palm ingredients are responsibly sourced in Malaysia, and our supplier is mixed RSPO-certified."
*Note: Native is cruelty-free, but Native is owned by P&G, a parent company that is NOT cruelty-free.
---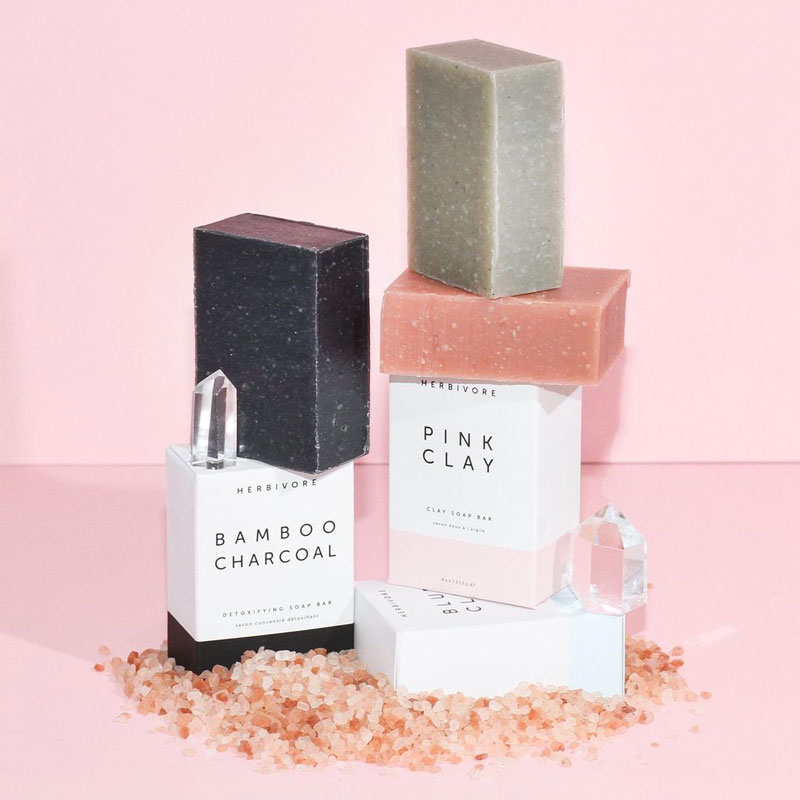 Herbivore – Cleansing Bar Soap
Whether you need a gentle bar soap for your face or body, Herbivore's Fresh Pink Clay and Bamboo Charcoal bar soaps works well to clean and care for your skin without stripping or drying it out. The company recommends the Pink Clay bar soap for dry and sensitive skin and their Bamboo Charcoal for oily, combination, and blemish-prone skin types.
Herbivore states on its website's FAQ page, "We use multiple sources for sustainable Palm Oil. However, we only use this ingredient if they have the RSPO certification. For more information regarding this certification, please click here. This certification is recognized and supported by environmental organizations such as Sumatran Orangutan Society and World Wildlife Fund."
---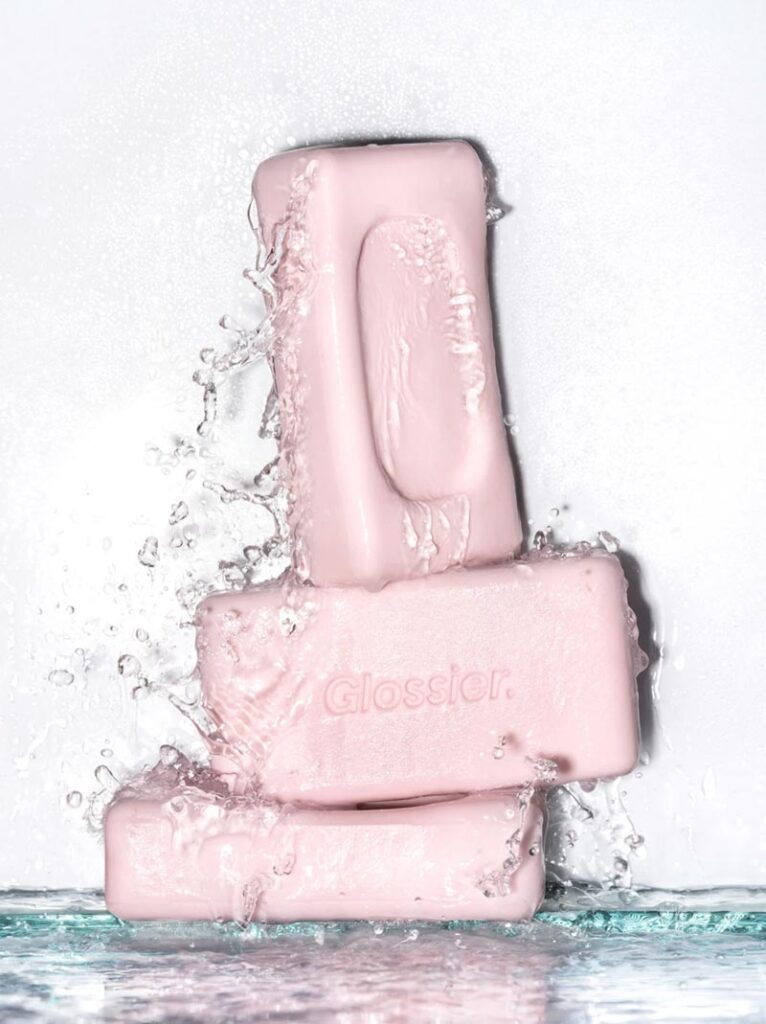 Glossier's Body Hero Exfoliating Bar
If you can't be bothered with dipping your hands into a jar of body scrub, give Glossier's exfoliating bar a try! It's super easy to use and creates virtually no mess. The vegan body exfoliating bar soap contains finely milled, biodegradable Bamboo Powder to create a powerful scrub action that exfoliates skin for instantly softer and smoother skin.
Glossier's Palm Oil Policy: "We work with our suppliers to seek ethical sources for our ingredients, and use RSPO-certified palm-derived ingredients whenever possible. We do use palm oil and palm-derived ingredients whenever they bring superior efficacy. We carefully choose our partners, not only based on quality of service, but also based on the efforts and results that partner shows in working in an ethical way—from their sustainability approach, to their employment policies and guidelines."
---