This post may contain affiliate links that at no additional cost to you, I may earn a small commission.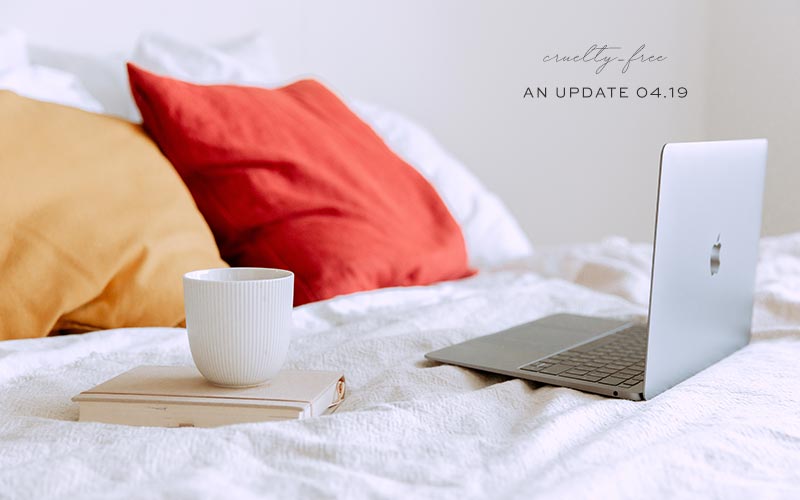 I used to do a series of Cruelty-Free Monthly updates sharing a round-up and summary of what's new in the cruelty-free space at the end of every month. This was back in 2016!
I don't remember why I stopped doing the series but I'm bringing it back to try and keep you all updated with changes to brands' cruelty-free & vegan statuses, as well as, some of the changes that are going to happen here on ethical elephant in the coming months!
This month so far, I learned that a couple of brands are now 100% vegan, as well as, some self-proclaimed "100% vegan" brands are not actually all-vegan as they claim.
Yardley London is Now 100% Vegan!
Last year, Yardley London told me that all of their products are vegan but a reader said they spotted "sodium tallowate" in one of their soaps that were sold on Amazon. Since they don't list their ingredients on their website, I emailed them to ask for clarification and if animal-derived sodium tallowate was an ingredient in their current soap formula. But they never got back to me so I had to remove the "100% Vegan" label from Yardley London's listing.
Then earlier this year, I noticed Yardley London posted on their IG that all of their products are 100% vegan formulas. I confirmed with the brand and they told me it's true, they're 100% vegan now and they don't use animal-derived ingredients or by-products in any of their formulations.
I also asked if they're still selling some of their non-vegan items or if other retailers still have stock of their non-vegan products. They told me it's best to look for their 'Vegan and Cruelty-Free' logo on the back of their products. And if you have any questions about an old product of theirs to contact them directly to ask.
Eva NYC is Now 100% Vegan!
Last year, cruelty-free haircare brand, Eva NYC noted on their website that all of their products are vegan, except select last-call items. It sounded like they were working on reformulating and discontinuing some of their non-vegan products in order to be a 100% vegan brand.
And that's exactly what happened as Eva NYC has confirmed that all of their formulations and product lines are now certified vegan!
And have you seen Eva NYC's new recyclable aluminum bottles yet? Hello, sustainability! 👋🏻
China Glaze is NOT 100% Vegan As They Claim
Last year, China Glaze told me and others all of their nail lacquers are vegan and don't contain animal ingredients. But last week, a reader had brought to my attention that some of their red shades contain carmine, a red dye derived from the crushed bodies of insects and clearly not a vegan ingredient.
When this reader asked China Glaze for clarification, they apologized for the "confusion" and confirmed carmine is in their other red shades as well.
"We are very sorry for the confusion. We have verified that the ingredients listed are correct. In short, you will most likely find these animal derived ingredients in our other red shades as well. Please let us know if you have any other questions."
This was incredibly frustrating to read as China Glaze shouldn't be telling customers all of their nail polishes are vegan when some contain carmine. In fact, some people are allergic to carmine! They also did not address whether their products will continue to be formulated with carmine nor did they offer the customer a refund since China Glaze mistakenly provided us with the wrong information.
Not cool, China Glaze. 👎🏻
R+Co is NOT 100% Vegan, According to Us
I was so excited when haircare brand, R+Co announced that they were now a 100% vegan brand. The brand had been working on reformulating its non-vegan products in order to be a fully vegan line. And in 2019, they announced they finally updated all of their formulas to be vegan.
And since then, the brand has been claiming and marketing its line as being vegan. But I noticed their hairbrushes are made with natural boar bristles! I was so sad when I discovered this and unfortunately, I can no longer list R+Co as being a "100% Vegan" brand.
Although R+Co states their *formulas* are vegan (see below what's stated on their website) which is technically the truth, but it should be noted that their hairbrushes are NOT vegan.
"All our formulas are color-safe, heat and UV protective, vegan, cruelty and gluten-free, and without harmful ingredients such as parabens, sulfates (SLS or SLES), mineral oil and petrolatum."
Adesse New York is NOT 100% Vegan
Adesse New York states "PETA and Leaping Bunny Certified Cruelty Free, Vegan, Paraben and Fragrance Free. Made in the USA." on most of the product pages of their website.
And last year, they told me "Adesse products are vegan and do not contain animal ingredients." So I have always thought Adesse was 100% Vegan and had labeled them as such on my site and guides.
But then I recently noticed their lipsticks and lip products contain beeswax and carmine and they continue to state they're "vegan" in the product descriptions.
See below for a couple of examples.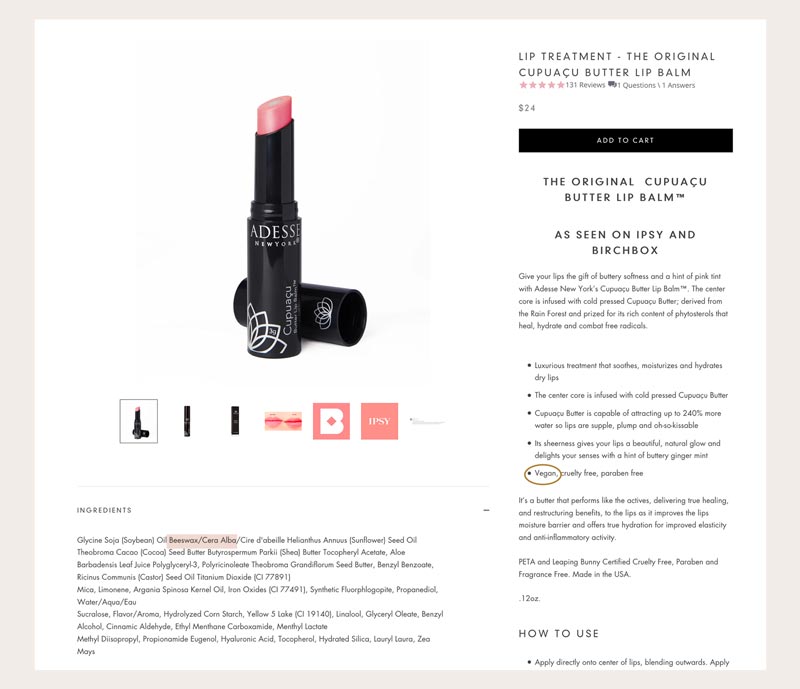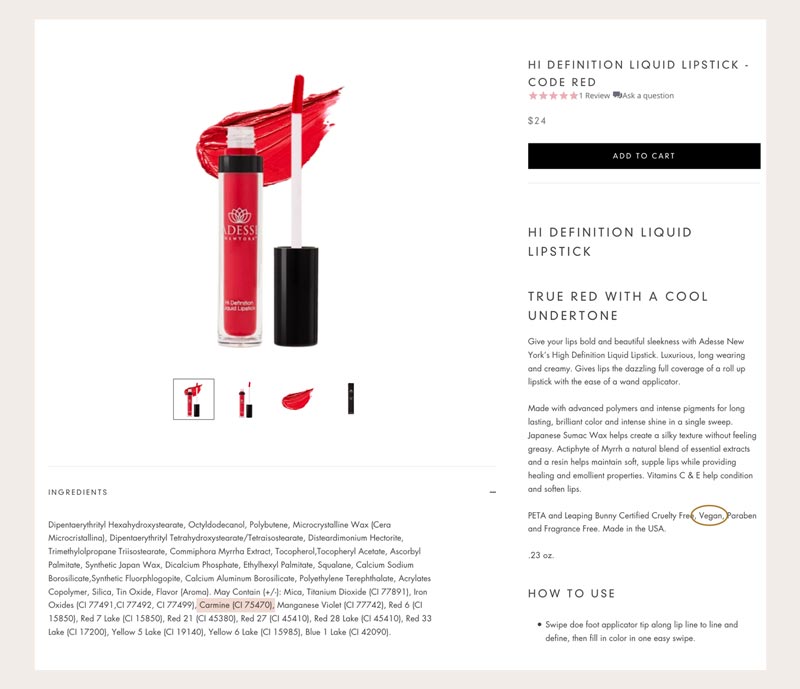 This was a reminder for me to always check the ingredient list before I just take a brand's word that they're vegan. *sigh 😔
---
If you're asking how is it legal for brands to label their products as "vegan" when it's not the case?
Unfortunately, the "vegan" label for cosmetics is unregulated and there is no legal definition. So, brands can call their products "vegan" and if a customer calls them out, they can retract their claims without any consequences or legal ramifications.
This makes it frustrating as customers because we rely on what's stated on a brand's website to make an informed decision. And whether it's intentional or an honest mistake, brands should be held accountable for mislabelling their products.
If you ever bought something that was specifically labeled as "vegan" by the brand, but it turns out that it wasn't and it actually contains some animal products or by-products, I advise you to reach out to the brand to let them know and if necessary, ask for a refund. If it's the brand making these false claims, they should 100% be held accountable.
Most brands are understanding and sometimes, it can be an honest mistake or a human error in typing the wrong description where they will accept full responsibility for it by correcting the information and offering customers a refund.
But for brands that aren't willing to change their marketing claims and/or give you a refund, feel free to email me and I'll try my best to find a resolution for you. And if necessary, I'll call out any brand that thinks they can get away with continuing to falsely claim their products as "vegan" and dismissing customers' feedback.