This post may contain affiliate links.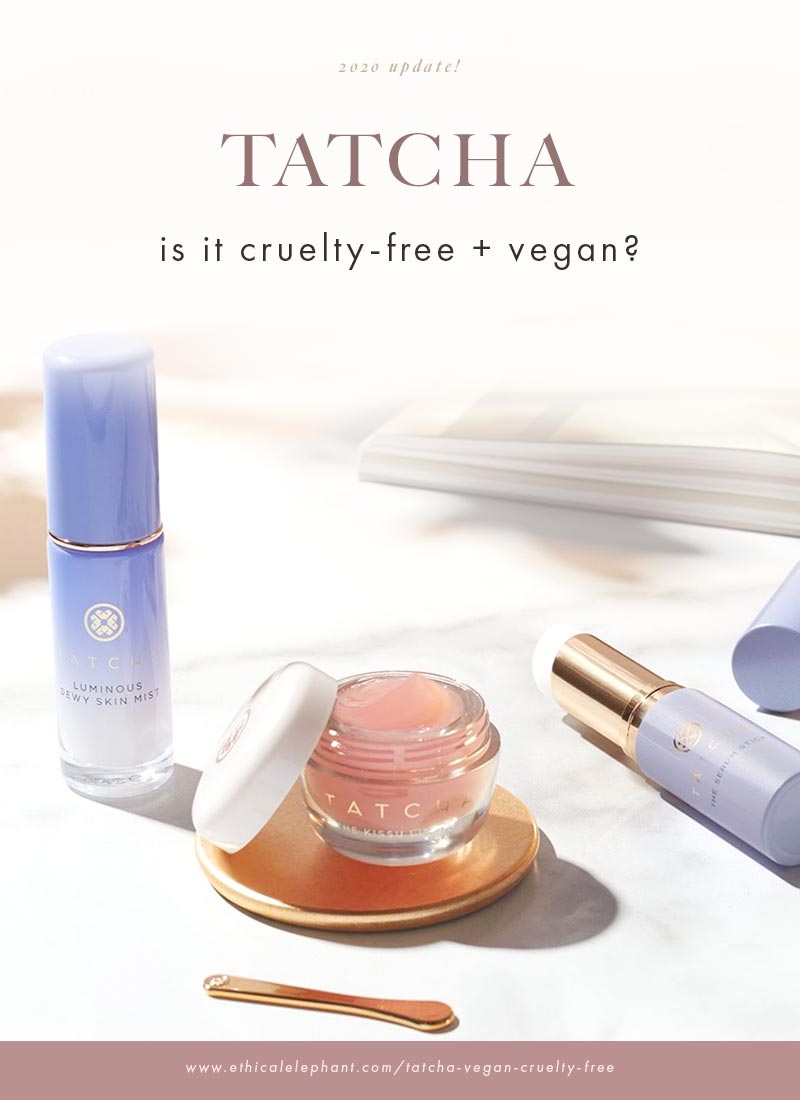 Is TATCHA cruelty-free in 2020?
Tatcha is cruelty-free; none of their products or ingredients are tested on animals anywhere in the world. However, it should be noted that Tatcha is owned by Unilever, a parent company that does test on animals when required by law in 2020.
TATCHA's Animal Testing Policy
In an email response, Tatcha states:
"I am proud to tell you that our collection is not tested on animals. We do extensive 3rd party safety and efficacy testing on voluntary human subjects but never with our furry friends.

Our collection is currently available in select Barneys New York locations and select Joyce Beauty Hong Kong locations. Hong Kong does not require the same animal testing as mainland China, so please do rest assured that we stand by our policy in every country.

We are officially a part of PETA's Beauty Without Bunnies program. This is a voluntary pledge that we have taken to clear animal testing from all stages of product development, certifying us as a cruelty-free organization."
Is TATCHA Vegan?
Not all of Tatcha products are vegan as they do use beeswax, honey, carmine, royal jelly, pearl, and silk derivatives in some of their products. However, TATCHA does offer some vegan skincare products that do not contain animal ingredients or by-products.

Please reference below for a list of TATCHA vegan products.
TATCHA Vegan Product List (2020)
The following products are considered to be suitable for vegans according to TATCHA:
This vegan product list is updated as frequently as possible, please be aware that formulations may have changed since the publication of this post. If you have new information to suggest one of the above products isn't vegan, please email me at info@ethicalelephant.com to let me know.
NOT VEGAN – TATCHA
Below is a list of products from Tatcha that contain some sort of animal-derived ingredients like royal jelly, sericin (derived from silkworms), honey, beeswax, pearl (conchiolin protein), or carmine.
Ageless Revitalizing Eye Cream (contains beeswax) – not vegan
Ageless Revitalizing Neck Cream (contains beeswax) – not vegan
Cherry Blossom Silk Lipstick (contains sericin) – not vegan
Deep Brightening Serum (contains sericin) – not vegan
Indigo Soothing Silk Body Butter (contains sericin) – not vegan
Indigo Soothing Silk Hand Cream (contains sericin) – not vegan
Indigo Soothing Triple Recovery Cream (contains sericin) – not vegan
Kyoto Red Silk Lipstick (contains sericin) – not vegan
Luminous Body Mist (contains silk extract) – not vegan
Luminous Deep Hydration Firming Eye Serum (contains sericin, royal jelly) – not vegan
Luminous Deep Hydration Firming Serum (contains royal jelly) – not vegan
Luminous Deep Hydration Lifting Mask (contains sericin) – not vegan
Luminous Deep Hydration Revitalizing Eye Mask (contains sericin) – not vegan
Luminous Dewy Skin Mist (contains sericin, royal jelly) – not vegan
Luminous Dewy Skin Night Concentrate (contains royal jelly, sericin) – not vegan
Peony Blossom Silk Lipstick (contains sericin) – not vegan
Plum Blossom Silk Lipstick (contains sericin) – not vegan
Pure Exfoliating Camellia Soap (contains honey) – not vegan
Pure Signature Camellia Soap (contains honey, sericin) – not vegan
Silken Pore Perfecting Sunscreen (contains sericin) – not vegan
Soothing Rice Enzyme Powder (contains hydrolyzed conchiolin protein) – not vegan
The Dewy Skin Cream (contains gelatin, sericin) – not vegan
The Liquid Silk Canvas (contains silk powder, hydrolyzed silk, sericin) – not vegan
The Pearl (contains pearl, silk powder, hydrolyzed silk, sericin, conchiolin protein, royal jelly extract) – not vegan
The Satin Skin Mist (contains silk powder) – not vegan
The Silk Canvas (contains sericin, hydrolyzed silk, silk powder) – not vegan
The Silk Cream (contains sericin, hydrolyzed silk, hydrolyzed conchiolin protein, royal jelly extract) – not vegan
The Silky Peony (contains beeswax, sericin, hydrolyzed silk) – not vegan
The Water Gel (contains sericin) – not vegan
Violet-C Radiance Mask (contains carmine) – not vegan
---