This post may contain affiliate links.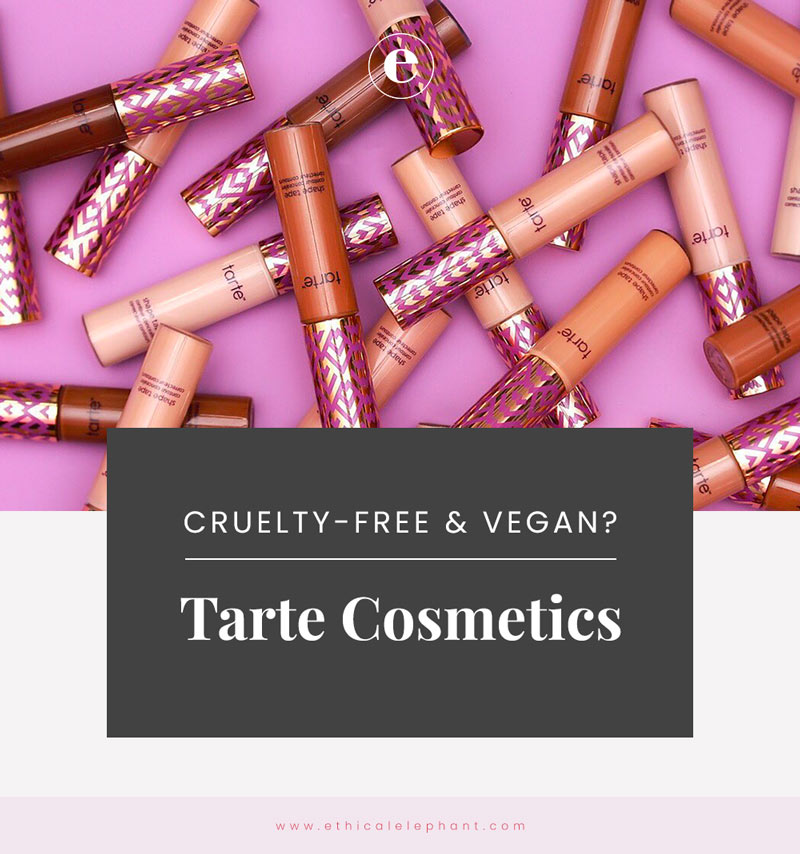 Tarte Cosmetics offers an array of high-performance makeup, skincare & beauty products. But is, Tarte cruelty-free in 2019?
Is Tarte Cruelty-Free?
Tarte is cruelty-free; none of their products or ingredients are tested on animals, anywhere in the world. But it should be noted that Tarte is owned by Kose, a parent corporation that is still testing on animals when required by law in 2019.
Some cruelty-free shoppers may wish to boycott brands that are owned by a parent company that test on animals as they feel their money is indirectly supporting and funding animal tests done by the parent company. Learn more about some of the reasons consumers choose to support or boycott such brands in this article here.
Is Tarte Vegan?
Not all of Tarte cosmetics is vegan as some contain beeswax, carmine, lanolin, and/or other animal-derived ingredients or by-products however, Tarte does have some vegan products.

Please reference the below list of Tarte vegan products.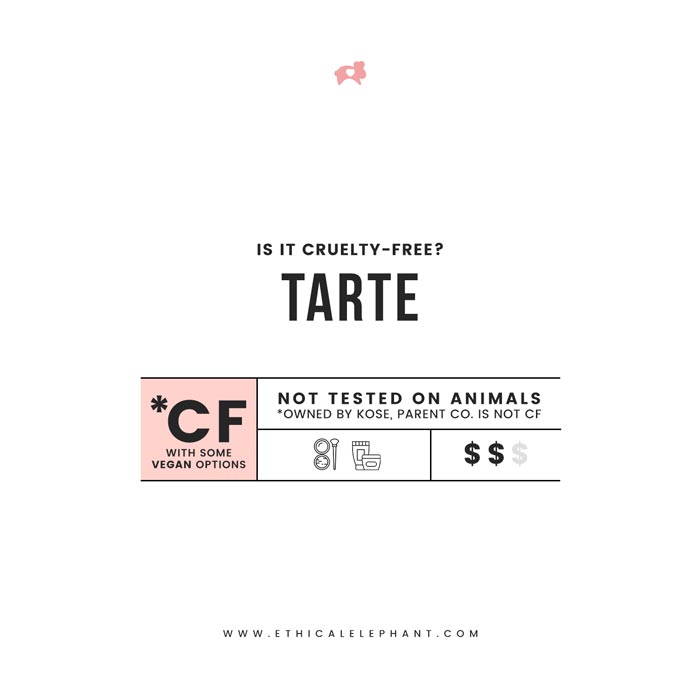 On Tarte's website, they do label which of their cosmetics are vegan but if you want a list to use on the go or you just want to know which of Tarte cosmetics are vegan, then this list will come in handy for you!
Tarte Vegan Product List (2019)
Face
Foundation Tarte Vegan
Concealer Tarte Vegan
Prime & Set Tarte Vegan
Blush, Bronze, Highlight Tarte Vegan
Eyes
Mascara & Lashes Tarte Vegan
Brows Tarte Vegan
Eyeliners Tarte Vegan
Eyeshadow Palette Tarte Vegan
Lips
Brushes
Skincare
This vegan product list is updated as frequently as possible, please be aware that formulations may have changed since the publication of this post. If you have new information to suggest one of the above products isn't vegan, please email me at info@ethicalelephant.com to let me know.