This post may contain affiliate links that at no additional cost to you, I may earn a small commission.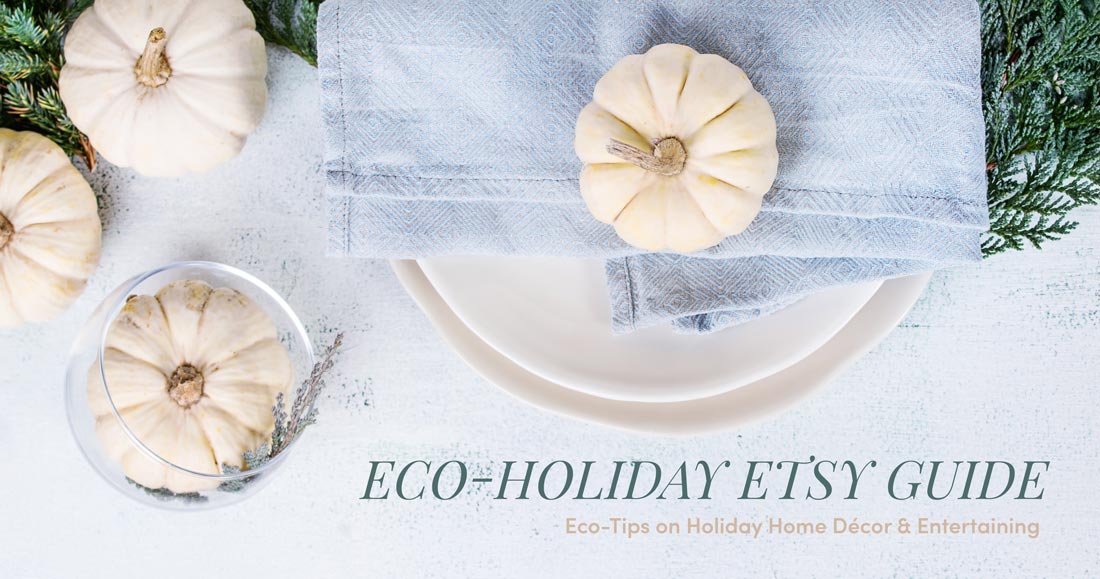 I collaborated with Etsy to give you some helpful tips on decorating and hosting the holidays as ethically and sustainably as possible!
Etsy is an online marketplace where you can find an endless selection of unique handmade and vintage items to fill your cozy and festive home during the holidays. I especially love shopping on Etsy because I get to support talented and creative independent artists from around the world.
It's also a great place to find truly unique and original items that were made consciously and ethically. So if one of your goals is to go green for the holidays, here are some of my tips on how to sustainably and ethically decorate and host for Thanksgiving and the Holidays, as well as, some of my favorite Etsy eco-finds!
Sustainably Decorating For An Eco-Holiday
The first order of business is stating the obvious when living sustainably, use what you already have! As tempting as it is to buy new holiday decor every year, you may find items or decor you forgot you had and intended to use this year, I'm definitely guilty of this. Do a quick inventory of what you currently have and its condition. Take the time to repair any items to give them another life before buying anything new.
Next, if you need to buy new decor, look for items that can be used more than a handful of times or find multi-purpose items that can be used after the holiday season too.
Now, look for home decor and entertaining items made from conscious or natural materials like reclaimed wood, recycled paper, and natural fibers like linen, flax, organic cotton, or hemp. And always keep in mind how many uses you can get out of an item to reduce consumer waste.
Luxury of Linen
Linen is a beautiful natural material that is also organic, biodegradable, and recyclable. Linen is derived from the flax plant and requires less water and pesticides than cotton and many other natural fibers. I love the rustic look of linen when used around the home and it's super easy to incorporate into your holiday decor.
I am feeling these shabby chic Christmas linen stockings featuring a cheesecloth trim. I absolutely love the different textures of these gorgeous farmhouse-inspired stockings!
This handmade linen & eco hemp advent calendar is such a neat idea! You can move the little adorable bear from day to day or insert a treat of your choice in each pocket! Best of all, you can reuse this year after year.
Replacing paper napkins with cloth napkins is probably the easiest thing you can do to living a zero or less waste lifestyle. I especially fell in love with these soft pastel pink linen napkins! They're so elegant and chic, and you can use them throughout the entire year.
---
Without Waste
Reduce plastic and waste in your home this holiday season with reusable kitchenware and decor that can be used all year round. Look for high-quality and durable items that were made to last more than a couple uses. I especially like to look for items made of metal or steel instead of cheap or single-use plastics.
I really like this handmade brass serving spoon and fork set. This elegant set will complement any side or serving dish all year round.
Want to spruce up your wreath this Holiday season? Check out this creative modern Himmeli wreath made from real brass tubes! It's so modern and stylish that you'll want to keep it up after the holidays!
Step up your hors d'oeuvres and cocktail game with these sleek and sophisticated reusable picks! You can also get the adorable glass penguin holder because why wouldn't you!? It's so cute!
---
Simply Natural
The holidays are all about bringing the greenery inside a cozy home with wood-burning fireplaces, lush evergreen Christmas trees, and the great smell of the outdoors! That's why I love decorating my home with different wood elements and textures.
I simply love this sustainable wood coaster set made from hand-picked driftwood logs that are carried off of the beach, reducing danger to passing marine traffic.
Want an alternative to the traditional Christmas tree? Check this unique eco-friendly 5 or 6 ft. beaded wood Christmas tree that can be recycled year after year, promising to be the last tree you'll ever have to buy!
And looking for something structurally original? This Origami wood vase instantly caught my eye, it's made from a vegetable, biodegradable, and eco-responsible material (a mixture of recycled wood and bioplastic made from corn). Perfect for displaying dry flowers all year long!
---
Conscious + Vintage
If you're looking for some new table or kitchenware for the holidays, be mindful of the materials and opt for items made from natural and plant fibers.
I am living for this rustic hand-dyed cotton cheesecloth table runner in a gorgeous muted soft pink color. It will add a touch of elegant boho texture to any festivities including Thanksgiving dinner or the Holidays!
Speaking of texture tableware, I'm also obsessed with these handmade table mats made from an eco-friendly and natural material, flax! They bring a rustic and earthy feel to the table. Available in different sizes and can be used as a multi-purpose and durable rug.
When in doubt, go vintage! Check out your local thrift store or shop online. Etsy is a treasure trove of unique vintage finds from all around the world. I especially love looking for vintage glassware on Etsy, including this vintage set of pink depression style sherry wine glasses.
---
I hope I was able to give you some eco-tips and ideas on how to sustainably decorate and host during the holidays! I'd love to hear from you, comment below and let me know which of these handmade items caught your eye? or if you also had some helpful tips on decorating sustainably?
Disclaimer: This post was part of a sponsored opportunity. I received free products and/or payment in return for my honest review. I was not required to write a positive review nor was I compensated in any other way. All opinions expressed are always 100% my own.