This post may contain affiliate links that at no additional cost to you, I may earn a small commission.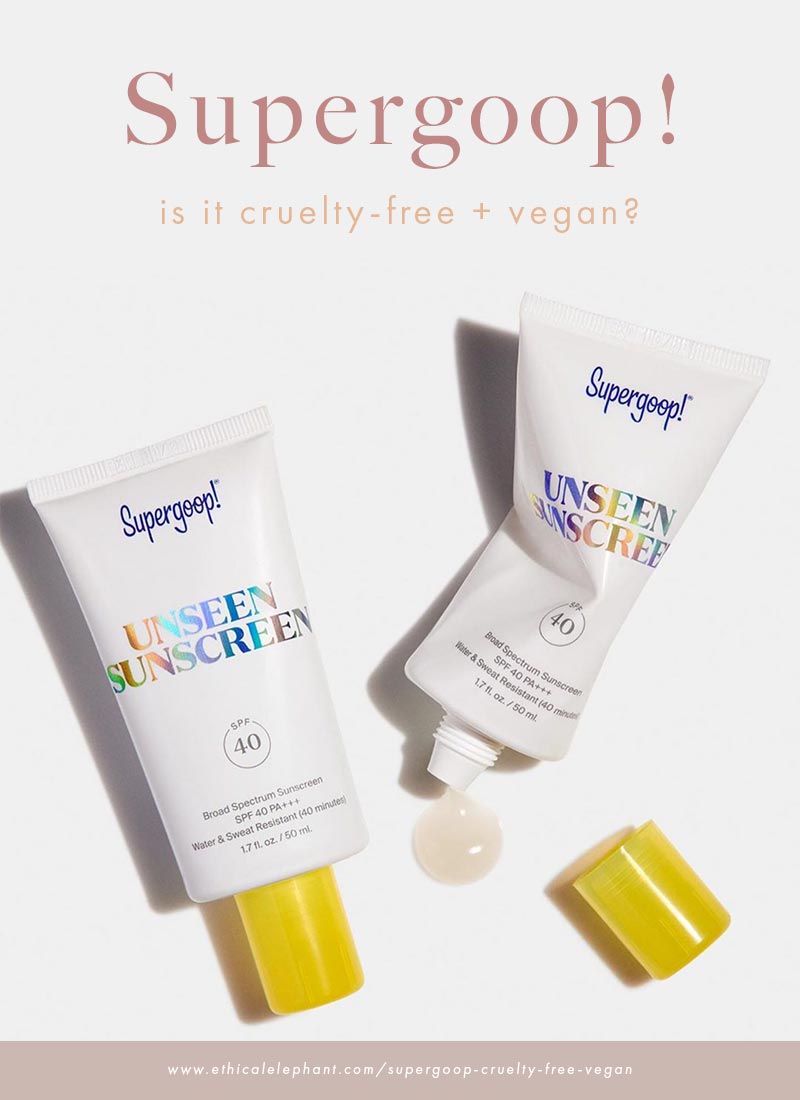 Supergoop! is the only prestige skincare brand 100% dedicated to suncare, making it easy to incorporate UV protection into your daily routine. But is Supergoop cruelty-free, vegan, or sustainable? I've got the answers here!
Is Supergoop Cruelty-Free?
Supergoop is Cruelty-free! None of Supergoop's ingredients, formulations, or finished products are tested on animals, anywhere in the world.

Supergoop is also certified cruelty-free by Leaping Bunny.
Supergoop Animal Testing Statement
On Supergoop's website, they claim Supergoop does not test their products; they do not test their ingredients on animals; they do not hire or ask others to test their products/ingredients on animals on their behalf; and they have contractual agreements with their raw material suppliers to ensure they're also not testing on animals.
Below is a screenshot of what's currently stated on Supergoop's website:

Is Supergoop Sold in China?
Most imported cosmetics sold in mainland China are required by law to be tested on animals in 2021. However, Supergoop has confirmed they do not sell their products in retail stores in mainland China and therefore they are not required to test on animals. Supergoop only sells through cross border e-commerce channels in China which do not require animal testing.
Supergoop has met all of our criteria in our Cruelty-Free Checklist and is included on our List of Cruelty-Free Brands.
You can find Supergoop cruelty-free products at supergoop.com, Sephora, and Amazon.
Is Supergoop Vegan?
Almost all of Supergoop's products are vegan with the exception of two of their products that contain beeswax.
Below is a list of Supergoop non-vegan products.
NOT VEGAN – Supergoop
The following Supergoop products are NOT suitable for vegans and contain animal-derived ingredients or by-products.
100% Mineral Sunscreen Stick (Beeswax) – not vegan
Sunnyscreen 100% Mineral Stick (Beeswax) – not vegan
Several Supergoop products have been reformulated and no longer contain animal-based ingredients, making them vegan now! But I'll keep the below list of Supergoop's reformulated vegan products just in case you find yourself purchasing from a third-party that is selling their old non-vegan formulas:
Handscreen SPF 40 (previously contained Lactoperoxidase- enzyme from bovine milk)
Play Lip Balm SPF 30 with Acai (previously contained Beeswax, Honey)
Play Lip Balm SPF 30 with Mint (previously contained Beeswax, Honey)
Play Lip Shield SPF 30 with Shea Butter (previously contained Beeswax, Lanolin)
---
Is Supergoop's Mica Ethically-Sourced? Supergoop claims their mica is ethically-sourced without the use of child labor.
"Our mica is ethically sourced from the US, Brazil and India. We've confirmed with the supplier that they don't use child labor. The supplier is also supporting health care and educational projects in the Indian mining villages to improve the living conditions for the families that live there."
---
I hope this article helped you to understand Supergoop's cruelty-free and vegan status and by choosing cruelty-free together, we can help end animal testing for cosmetics once and for all!