This post may contain affiliate links.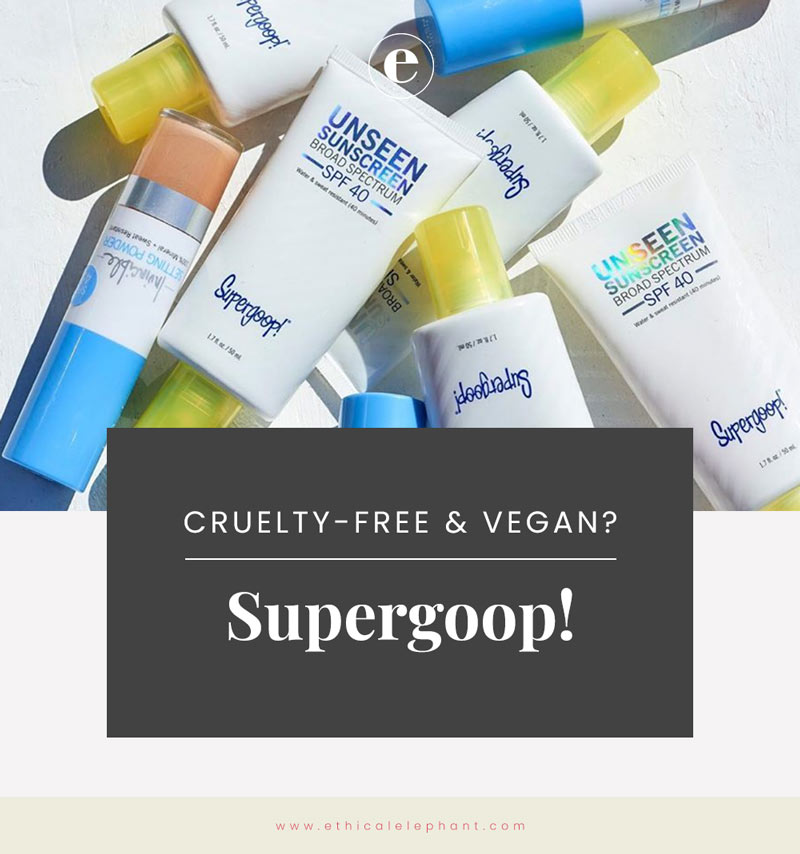 Supergoop is a luxury skincare brand focusing on sun care and protection products, but is Supergoop cruelty-free or vegan?
Is Supergoop Cruelty-Free?
Supergoop is cruelty-free; none of Supergoop's products or ingredients are tested on animals, anywhere in the world. In addition, Supergoop is certified cruelty-free by Leaping Bunny.
Supergoop Animal Testing Statement

On Supergoop's website, they claim Supergoop does not test their products; they do not test their ingredients on animals; they do not hire or ask others to test their products/ingredients on animals on their behalf; and they have contractual agreements with their raw material suppliers to ensure they're also not testing on animals.
Supergoop is also Leaping Bunny certified cruelty-free.
Therefore I am happy to add Supergoop our list of cruelty-free brands!
Is Supergoop Vegan?
Not all of Supergoop products are vegan as some contain beeswax, honey, and/or milk derivatives. However, Supergoop does have a lot of products that are suitable for vegans that don't contain any animal-derived ingredients or by-products.

Supergoop claims almost all of their products are vegan with the exception of a few products, please reference below for a list of Supergoop's non-vegan products.
You can find Supergoop products sold at Sephora.
NOT VEGAN – Supergoop
The following products from Supergoop contain animal products or by-products and therefore are not suitable for vegans:
Acai Lip Balm (contains beeswax and honey) – not vegan
Hand Cream (contains lactoperoxidase- enzyme from bovine milk) – not vegan
Mint Lip Balm (contains beeswax and honey) – not vegan
Mint Lip Shield (contains beeswax and lanolin) – not vegan
Mineral Stick (contains beeswax and lanolin) – not vegan
Sunnyscreen 100% Mineral Stick (contains beeswax) – not vegan