This post may contain affiliate links.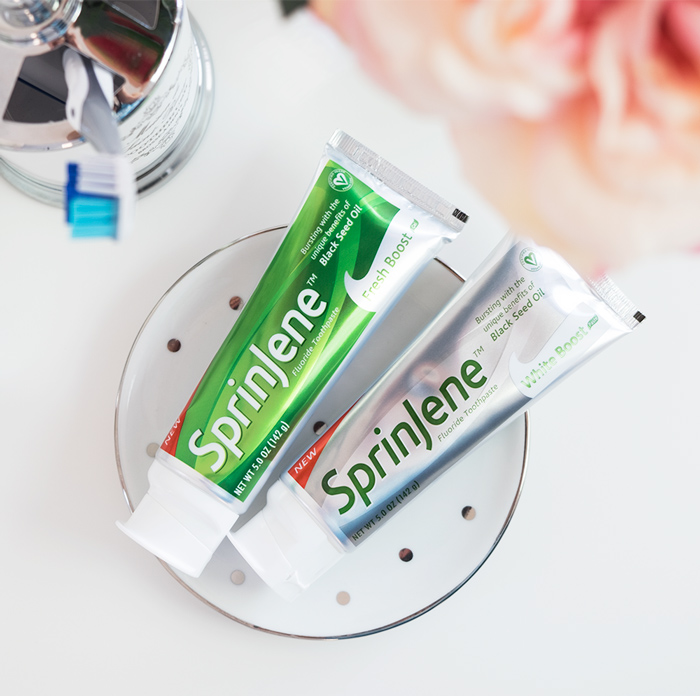 If the very thought of brushing your teeth with animal by-products terrifies you then you'll be relieved to hear that vegans don't have to give up brushing their teeth to help save animals!
I'm stoked to share with you all a cruelty-free and certified vegan toothpaste brand that I recently discovered called SprinJene!
SprinJene Toothpaste
Finding a toothpaste can be a bit personal because we all have our own opinions and expectations in a toothpaste, considering we use it 2 or more times in a given day!
Now if you're like most people and didn't grow up using natural or vegan toothpaste, it can be hard finding and making the switch to a brand of toothpaste that you're unfamiliar with.
After using SprinJene toothpaste for a week now, I am blown away by how comparable their toothpaste matches up to the stuff I was using before going vegan. If you're just making the switch to vegan toothpaste or you miss the consistency and taste of your childhood toothpaste, I highly recommend trying out SprinJene!
What You Need To Know About SprinJene Toothpaste
Enjoy our great-tasting, premium toothpaste that are uniquely engineered to provide safer, gentler, more natural care for your entire mouth.
Price: $5.95/5 oz
Contains fluoride
Certified Vegan
Not tested on animals; cruelty-free
Two options available: Fresh Boost & White Boost
Preservative Free, Gluten Free, Kosher and Halal
Made in the USA
The Power of Black Seed Oil in Toothpaste
What really sets SprinJene's toothpaste apart from other vegan options is its unique formula consisting of all-natural, cold-pressed, black seed oil. "[…] scientific studies have documented remarkable results supporting black seed's antioxidant, antibacterial and anti-inflammatory benefits."
This is totally new to me and I'm intrigued about the health benefits of using black seed oil as a key ingredient in toothpaste! Brush up (haha, get it?) on the health benefits of Black Seed Oil here!
SprinJene certified vegan and fluoride toothpaste comes in 2 options; Fresh Boost and White Boost.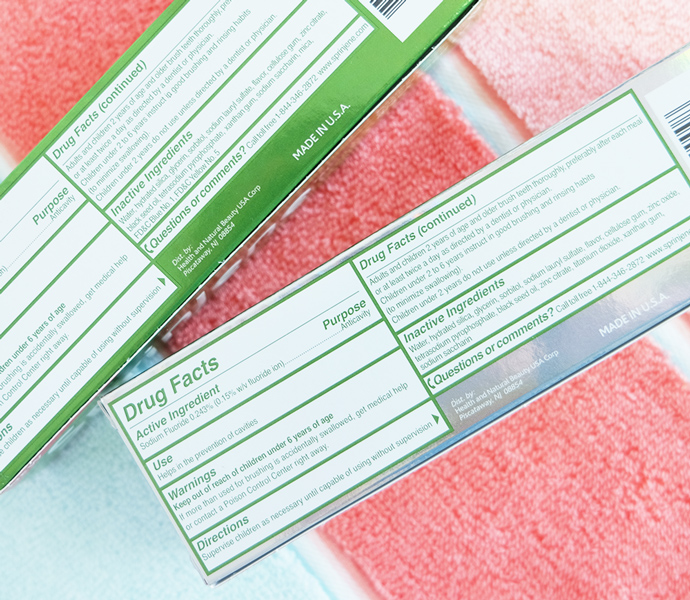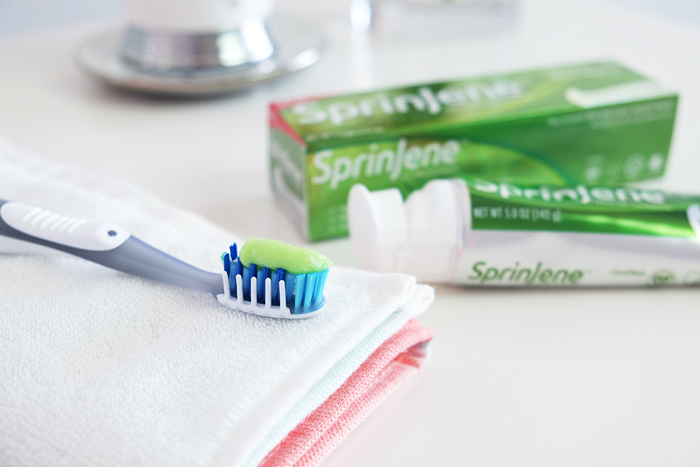 Fresh Boost SprinJene Vegan Toothpaste
The Fresh Boost fluoride toothpaste by SprinJene comes out of the tube in this vibrant green gel consistency and at first, I found the smell of mint to be on the stronger side (I'm sensitive to smell) but the taste and flavor of mint is mild and pleasant.
The toothpaste has very tiny pearlescent in it that not only looks really pretty (imagine unicorns and glitter!) but the micro-pearls of fine silica claim to be gentler on our tooth enamel compared to conventional toothpaste that uses larger and harsher silica.
The formula is quite thick so you don't need nearly as much as shown in the picture to easily build up to a foam.
White Boost SprinJene Vegan Toothpaste
SprinJene also has another variety of vegan and fluoride toothpaste called White Boost. This one has a white paste consistency which is what I'm used to using!
The White Boost toothpaste has a more subtle scent of mint but the same mild taste and flavor as the Fresh Boost option. If you're sensitive to smell (like me!), I think the White Boost option will be more suitable.
I was expecting the black seed oil to give off a distinctive taste but I can't even taste it in there!
And is it just me or every time I switch to a brand new formula or brand of toothpaste… I feel that my teeth are noticeably whiter? It may totally be a placebo effect but nonetheless, since using SprinJene's toothpaste… I've noticed my teeth are whiter!
For the purpose of this review, I used the Fresh Boost and White Boost on alternating days for a week so I'm not entirely sure which one of the two I should be giving kudos to for helping to brighten up my smile! =)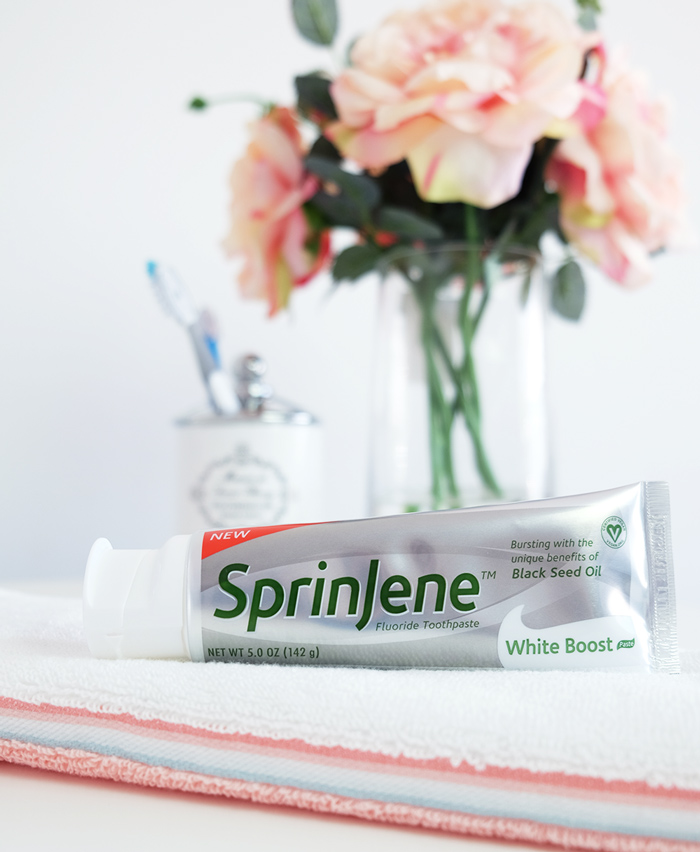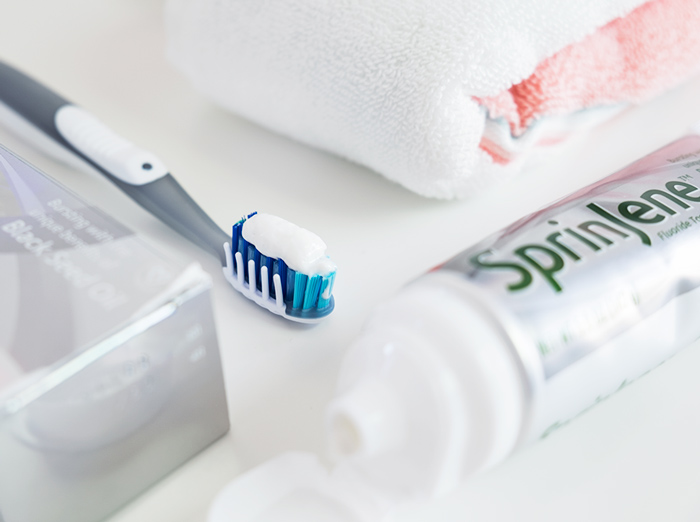 Final Thoughts on SprinJene Vegan & Fluoride Toothpastes
Now to be honest with you all, I'm not too picky when it comes to my toothpaste. It's just gotta leave my breath smellin' fresh and my teeth looking clean! Which I feel SprinJene has easily accomplished.
To put SprinJene's toothpaste to the test, I got my oh-so-very picky boyfriend to try it out. I've been trying to get my boyfriend to convert to a cruelty-free and vegan toothpaste for years now but he keeps going back to his coveted Crest toothpaste. He doesn't like the consistency of any of the vegan toothpaste options I've got him thus far.
The texture of SprinJene's vegan toothpaste is comparable to the Crest toothpaste that he's been using for years and I'm so happy to have finally found him a vegan option that he is willing to use and switch to!
Not to mention, SprinJene's ingredients are a whole lot more natural than any of the mainstream toothpaste he's been using! So, additional thumbs up to SprinJene's toothpaste!
Does SprinJene get the boyfriend's approval? It's a resounding YES!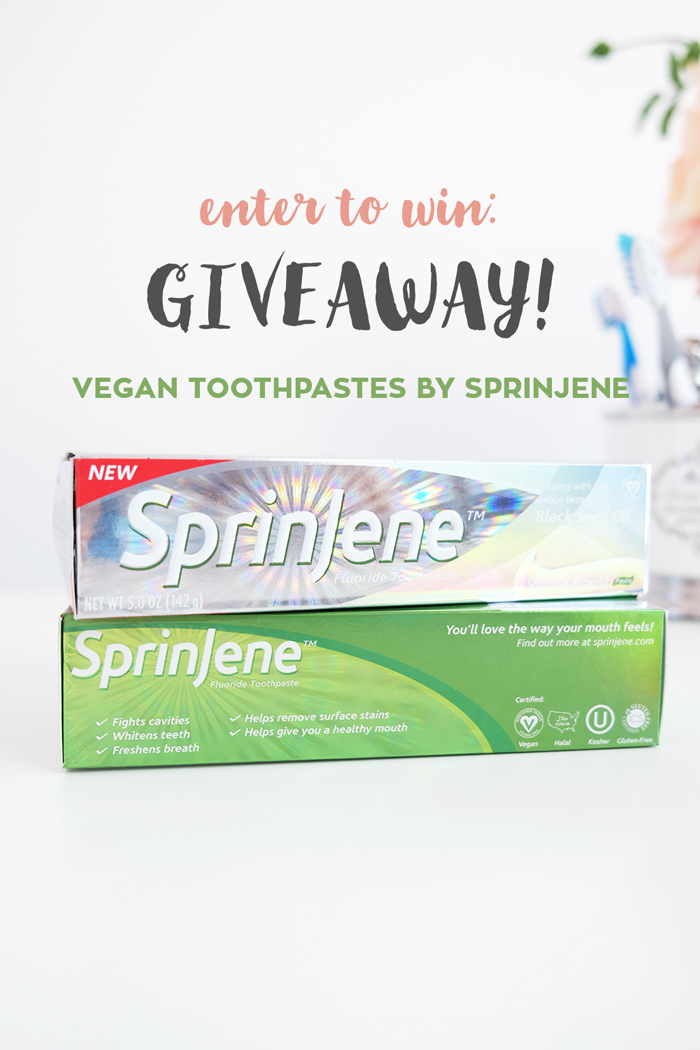 Enter to Win SprinJene Vegan Toothpaste!
Alrighties, I know how hard it is to find a vegan toothpaste option so the amazing folks at SprinJene have agreed to give both of their Fresh Boost and White Boost certified vegan and fluoride toothpaste to five of you!
Giveaway is open to US residents only, with a US mailing address.
Giveaway ends May 24, 2016 11:59pm PST.
To enter, all you gotta do is type in your email address in the widget below! For more entries, follow SprinJene and ethical elephant on social media =)
5 randomly selected winners will be notified by email and will have 24 hours to respond to claim prize.
---
Disclaimer: This post was part of a sponsored opportunity. I received free product and/or payment in return for my honest review. I was not required to write a positive review nor was I compensated in any other way. All opinions expressed are always 100% my own. This post contains affiliate links which, while they don't change the cost for you, earn me a small commission.