This post may contain affiliate links that at no additional cost to you, I may earn a small commission.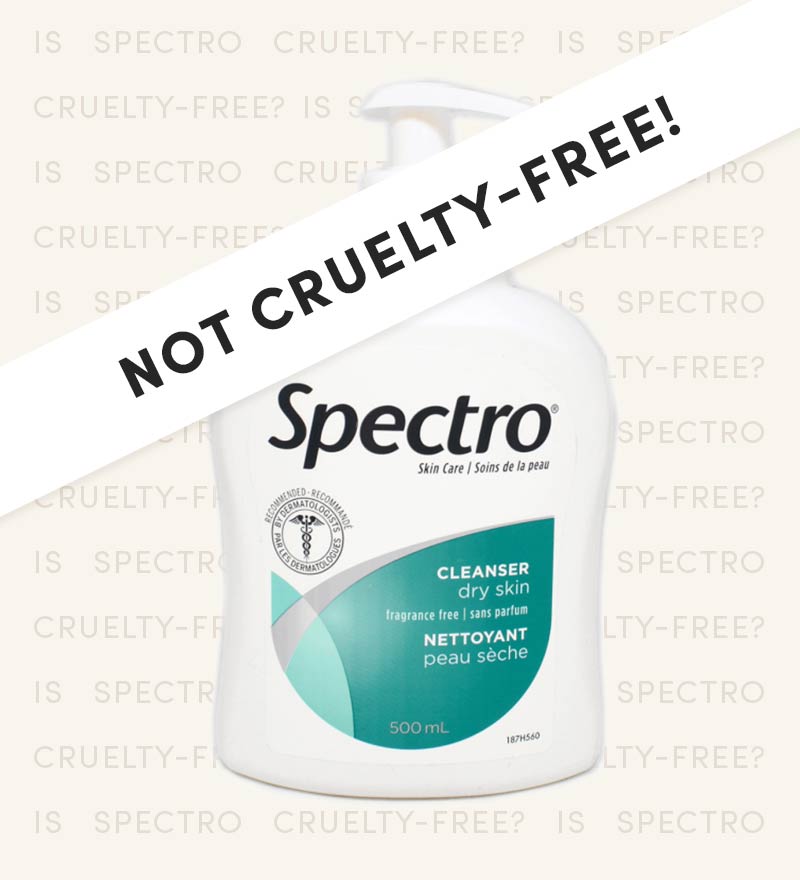 Spectro is a Canadian brand mostly known for their acne-fighting facial cleansers and moisturizers, but is Spectro cruelty-free?
Is Spectro Cruelty-Free?
Spectro is NOT Cruelty-free. Spectro pays and allows their products to be tested on animals when required by law.

In addition, Spectro is owned by GlaxoSmithKline, a parent company that is also not cruelty-free.
Spectro Animal Testing Policy
Upon researching Spectro's cruelty-free status, I couldn't find any mention of the company's official animal testing policy anywhere on their website, which is never a good sign.
So I emailed the brand asking if any of its products or ingredients are tested on animals. Either by the company itself, commissioned to a third party to test on its behalf, or by any of its suppliers. They responded saying,
"We appreciate and understand your concern regarding our policies on animal testing.

GSK CH is dedicated to developing novel therapeutic agents and drugs for use in the prevention, management, and cure of human ailments and diseases. GSK CH is an OTC(over-the-counter) organization; therefore most of the products we market are unlikely to be new chemical entities.

Most of our products' ingredients have a well-established medicinal use with recognized efficacy and an acceptable level of safety as detailed in published literature. Therefore animal testing would be largely unnecessary.

Animals are only used when no alternative is available. GSK supports and participates in an ongoing program to develop alternatives to the use of animals in safety testing, and ensure the humane treatment of laboratory animals.

We are alert to all developments and are eager to implement alternative testing that is accepted by scientific, legal, and regulatory experts.

Our policies are not only established in accordance with Canadian regulations and the regulations of the companies with which we do business but also with a number of company wide policies. These policies are made freely available online at www.gsk.com. In summary, we are very sensitive to the issue. We take seriously our obligation to respect animal life and will continue to support efforts to develop alternative testing methods."
Spectro is owned by GlaxoSmithKline. And by their email response, it looks like Spectro follows the same animal testing policy as GlaxoSmithKline.
Unfortunately, GlaxoSmithKline and Spectro admits they allow their products or ingredients to be tested on animals when no alternatives are available.
Summary: Spectro is NOT Cruelty-Free!
To sum up, Spectro allows its products to be tested on animals when no alternative is available. Therefore I would not consider Spectro to be a cruelty-free brand.
Currently, Spectro is on our List of Brands to Avoid – Animal Tested.
Is Spectro Vegan?
Since we would not consider Spectro to be cruelty-free, we also wouldn't consider anything sold or manufactured by Spectro to be vegan.
Cruelty-Free Alternatives to Spectro:
Looking for a cruelty-free option to Spectro, here are some of our recommendations:
---