This post may contain affiliate links that at no additional cost to you, I may earn a small commission.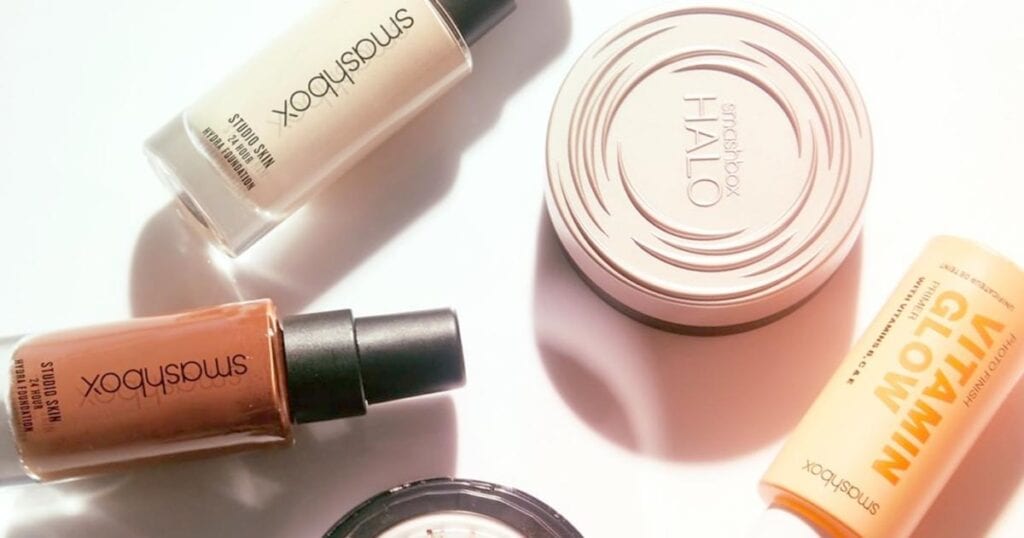 Smashbox is a popular luxury makeup brand, known for its high-performing face primers. But is Smashbox cruelty-free, vegan, or sustainable? I've got the answers here!
Is Smashbox Cruelty-Free?
Smashbox is Cruelty-free! None of Smashbox's ingredients, formulations, or finished products are tested on animals, anywhere in the world.
However, it should be noted that Smashbox is owned by Estee Lauder, a parent corporation that does test on animals when required by law.
Smashbox's Animal Testing Policy
Smashbox has confirmed they do not test their products or ingredients on animals or ask others to test on their behalf. Their suppliers also do not test on animals nor do they allow their products to be tested on animals when required by law. And finally, their products are not sold in stores in mainland China or any other country that may require animal testing.
Below is what is currently stated on Smashbox's website: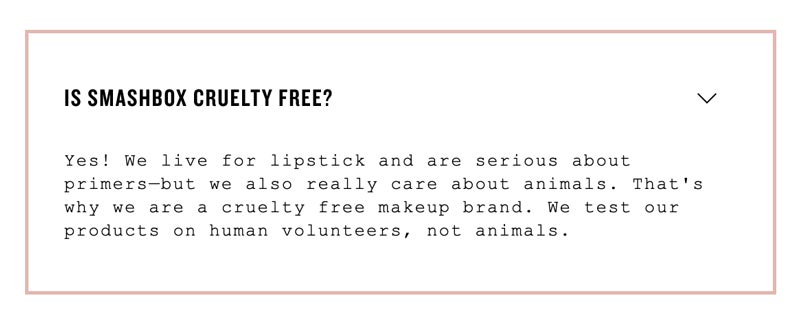 Smashbox Acquired by Estee Lauder
In 2010, Smashbox was acquired by Estee Lauder, a corporation that does test on animals when required by law.
Although Smashbox is owned by Estee Lauder, the brand has remained committed to being a cruelty-free brand.
Smashbox has met all of the criteria in our Cruelty-Free Checklist and is included on our List of Cruelty-Free Brands.
You can find Smashbox products at smashbox.com, Sephora, Ulta, and on Amazon.
Is Smashbox Vegan?
Not all of Smashbox's products are vegan as some of their products contain animal-derived ingredients or by-products. However, Smashbox does have some vegan options.
Please reference below for a list of Smashbox vegan products.
Smashbox Vegan Product List
Below is a list of Smashbox products that are suitable for vegans and do not contain any animal-derived ingredients or by-products.
You can also find out which of their products are vegan on Smashbox's website.
Primers
Foundation, BB + CC Cream, Concealer
Blush + Contour + Highlighter
Lips
Eyes & Brows
Others
---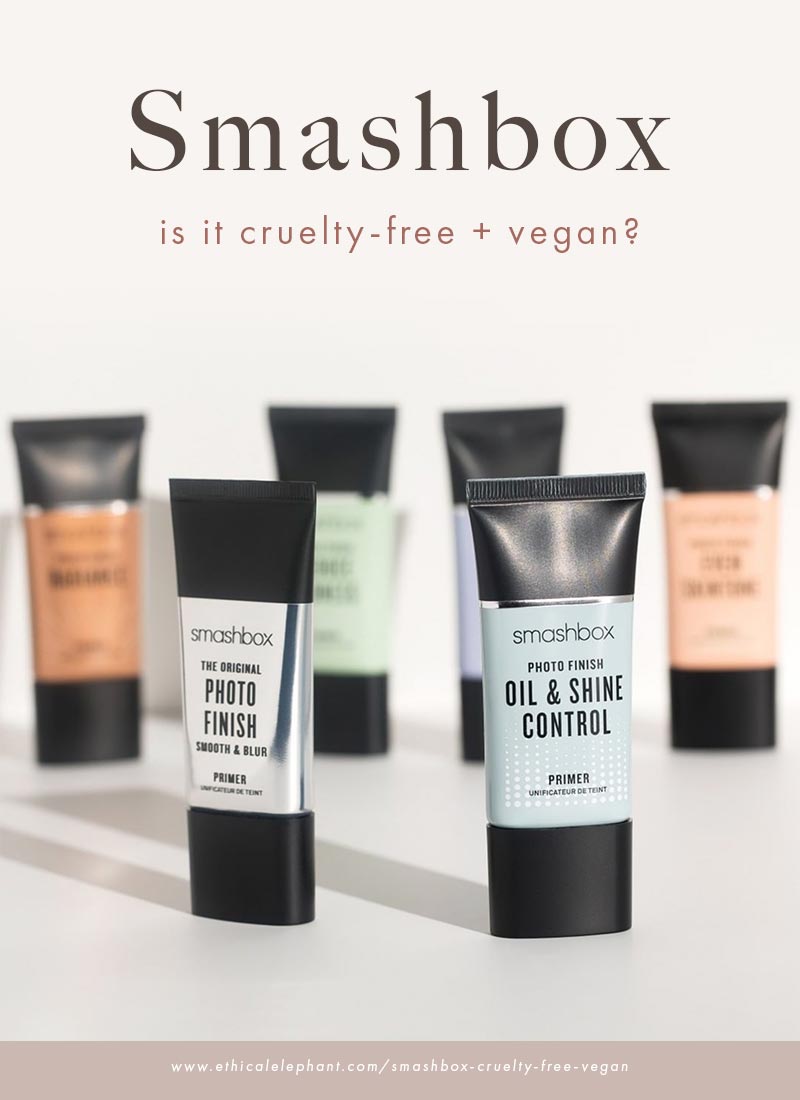 ---
Is Smashbox Sustainable?
Smashbox's headquarters is based in: USA
Smashbox's products are manufactured in: They won't disclose where their products are made stating, "As a global organization, our products are produced in various facilities worldwide."
"SmashBox, a brand of The Estée Lauder Companies Inc., does business in over 150 countries and territories around the world. As a global organization, our products are produced in various facilities worldwide. You can be assured that, regardless of the place of manufacture, all of our facilities follow stringent manufacturing practices and follow our Global Quality Assurance procedures and policies."
Smashbox does not claim to be a sustainable company.
Additionally, I wasn't able to find any available information on Smashbox's sustainability, environmental, and social initiatives.
Ingredients and Formulations Claims: Some of Smashbox's products claim to be formulated without Parabens, Sulfates, Phthalates, Oil, Fragrance, Talc, Hydroquinone, Triclosan, Triclocarban, Petrolatum, or Silicone, but each product differs with their claims. You can find each product claims under the description.
Is Smashbox's Mica Ethically-Sourced? Smashbox referenced their parent company, Estee Lauder's mica sourcing policy when I asked if their mica is ethically-sourced without child labor.
Estee Lauder's statement claims their mica is globally-sourced and they work with NGOs to improve living conditions where child labor is widespread in the mica industry.
However, it's not clear where their mica is mined or sourced from and how they trace or audit to ensure no child labor was involved.
"The Estée Lauder Companies formulates with mica that is globally sourced. While our ingredient supply chains are complex and multilayered, ELC has proactively partnered with local NGO Bachpan Bachao Andolan (now the Kailash Satyarthi Children's Foundation or KSCF) to help address child labor in the mica mining industry by promoting education as an alternative to work for children in mica-sourcing communities. For more information, please reference our CR Report."
---
I hope this article helped you to understand Smashbox's cruelty-free and vegan status and by choosing cruelty-free together, we can help end animal testing for cosmetics once and for all!