This post may contain affiliate links that at no additional cost to you, I may earn a small commission.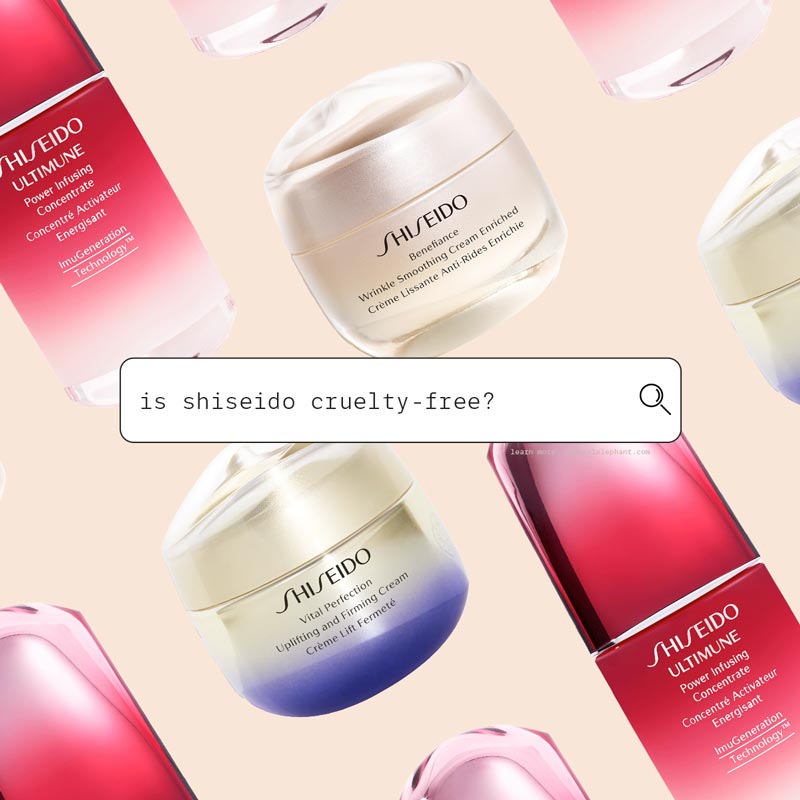 Based in Japan, SHISEIDO is an internationally-recognized makeup and skincare brand available in 88 countries and regions around the globe, but is SHISEIDO cruelty-free in 2022?
Is SHISEIDO Cruelty-Free?
SHISEIDO is NOT Cruelty-free. SHISEIDO pays and allows their products to be tested on animals when required by law. Shiseido also sells its products in stores in mainland China where animal testing is mandatory for most imported cosmetics.

Note there is Shiseido Company, a multinational corporation that owns numerous brands and several subsidiaries worldwide and then there is SHISEIDO, one of the brands they own which is their founding label.
SHISEIDO Animal Testing Policy
SHISEIDO states on their website's FAQ that they have ended animal testing for cosmetic products since April 2013 by establishing internal safety regulations based on alternative methods.
Below is a screenshot of what's currently stated on SHISEIDO's website:

The part in their animal testing policy that caught my attention was the word internal. Animal testing for cosmetics can happen at various stages of product development and manufacturing. And animal tests can also be done by a third party, external from the company.
So I emailed the brand asking if they commission or allow others to test their products or ingredients on animals on their behalf. They responded saying,
"Thank you for the email and interest in Shiseido.

Shiseido does not test its cosmetic products or ingredients on animals except when absolutely mandated by law, or where there are absolutely no alternative methods for guaranteeing product safety. Shiseido's mission is to provide safe and effective products to customers, and to comply with the cosmetics regulations in force, while understanding and respecting the principles behind animal protection."
SHISEIDO now claims they allow their products or ingredients to be tested on animals when it is absolutely mandated by law.
This implies that SHISEIDO may be selling their products in stores in mainland China where most imported cosmetics are required by law to be tested on animals.
Is SHISEIDO Sold in China?
I did some digging and discovered that SHISEIDO is indeed selling their cosmetics in stores throughout mainland China.
Below is a couple of screenshots I took from SHISEIDO's Chinese website clearly showing several retail stores carrying SHISEIDO products: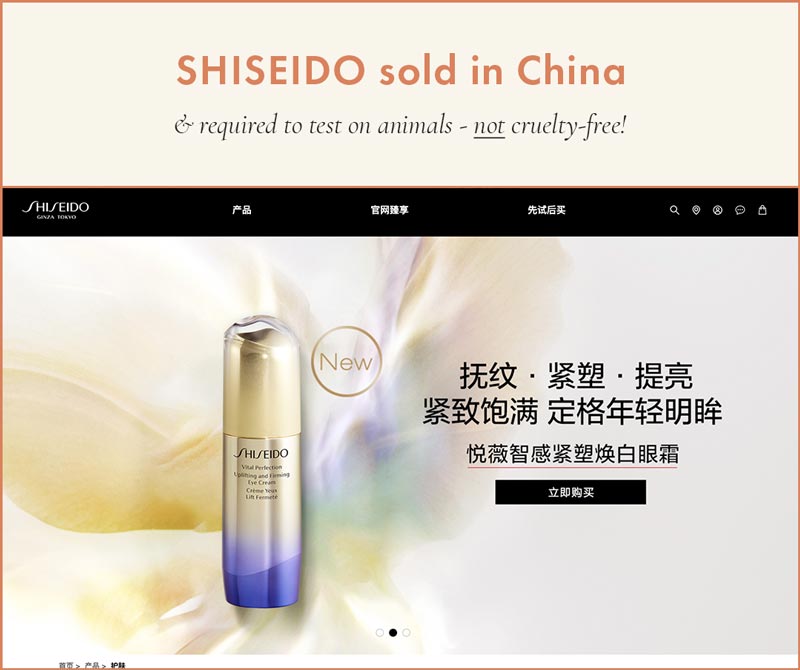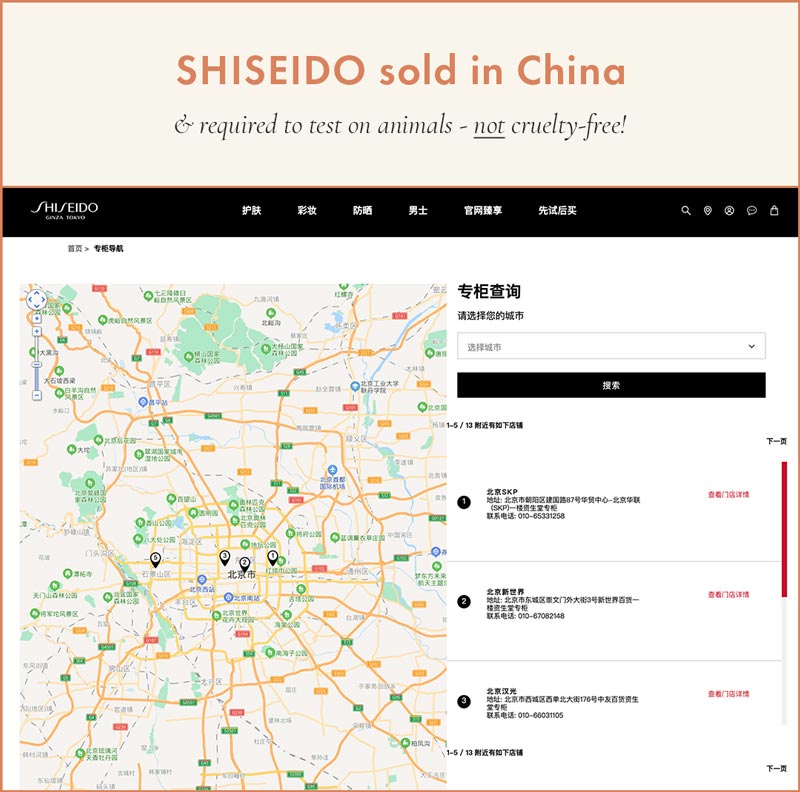 Although SHISEIDO may not be conducting or adminstering these animal tests internally, but in order for them to sell in mainland China stores, they must allow and consent Chinese officials to test their products on animals first.
Many truly cruelty-free brands choose not to sell their products in China because of their animal testing requirements, unfortunately SHISEIDO refuses to do the same.
Summary: Shiseido is NOT Cruelty-Free!
By choosing to sell in mainland China, Shiseido must have their products tested on animals. Therefore I would not consider Shiseido to be a cruelty-free brand.
Shiseido is on our List of Brands to Avoid – Animal Tested.
In case you're curious, below is a screenshot I took from the Shiseido Company's website back in 2015 where the company admits they comply with China's animal testing requirements.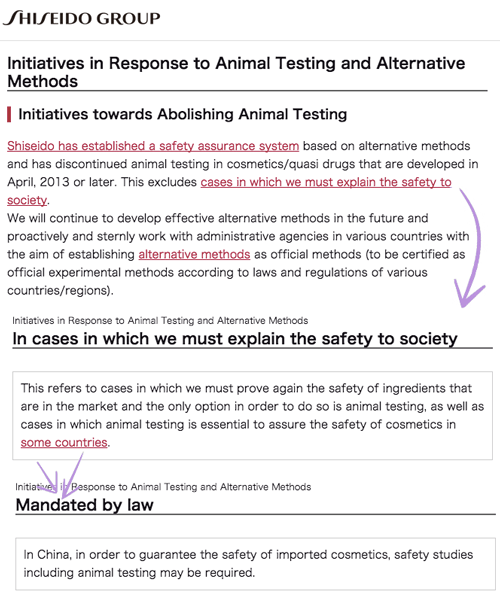 Is Shiseido Vegan?
Since we would not consider Shiseido to be cruelty-free as their products are tested on animals when required by law, we also wouldn't consider anything sold or manufactured by Shiseido to be vegan.
Cruelty-Free Alternatives to Shiseido:
Looking for some cruelty-free options to Shiseido, here are some of our recommendations. Including some of Shiseido's
---