This post may contain affiliate links that at no additional cost to you, I may earn a small commission.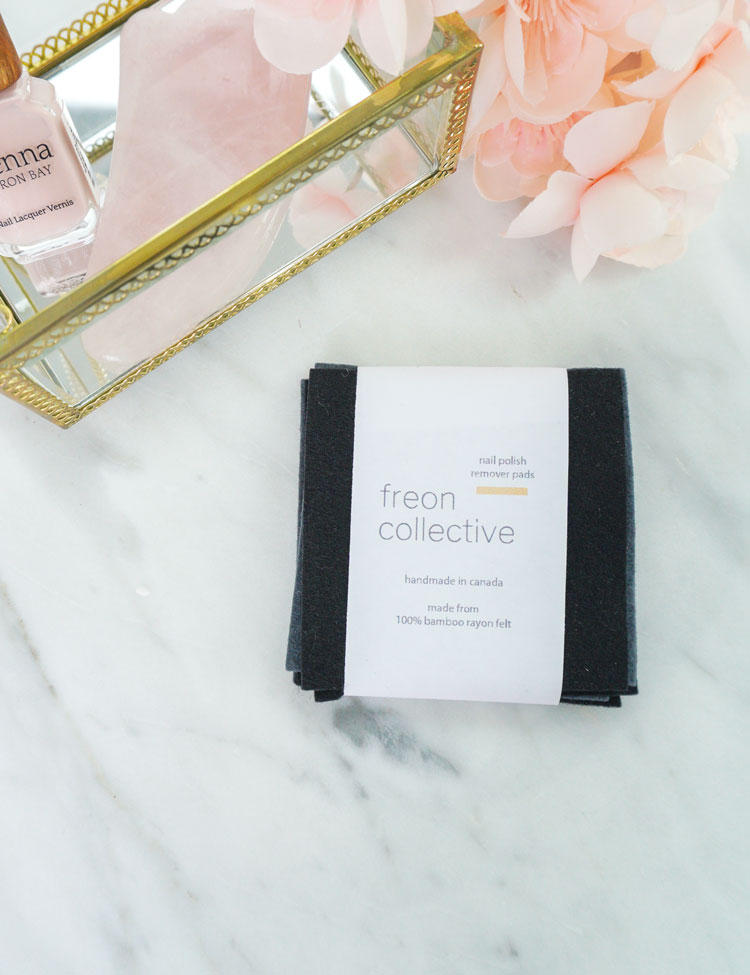 I recently bought some reusable nail polish remover pads from a Canadian Etsy seller called Freon Collective. They have lots of lovely low-waste beauty and lifestyle goods including reusable 100% organic cotton rounds and scrunchies. But it was their reusable nail polish remover pads that really caught my attention.
If you've been following me for awhile now then you know I'm a vegan nail polish addict and I do my nails every 3-5 days.
I find it so therapeutic and love the way my nails look afterward! Unfortunately, doing my nails so often has become quite wasteful. I try my best to use as few cotton rounds as possible to save money and reduce waste but I'm going through at least 2-3 cotton rounds every time I do my nails.
I have switched over to using certified organic cotton rounds which is a slightly better option than conventionally grown cotton rounds but doesn't solve the issue of reducing my consumer waste.
That's where I was hoping Freon Collective's reusable nail polish remover pads will be my solution!
In this post, I will be sharing my review and experience with using them for the first time, as well as, my general thoughts on what I think of these reusable nail polish remover wipes and whether I recommend them.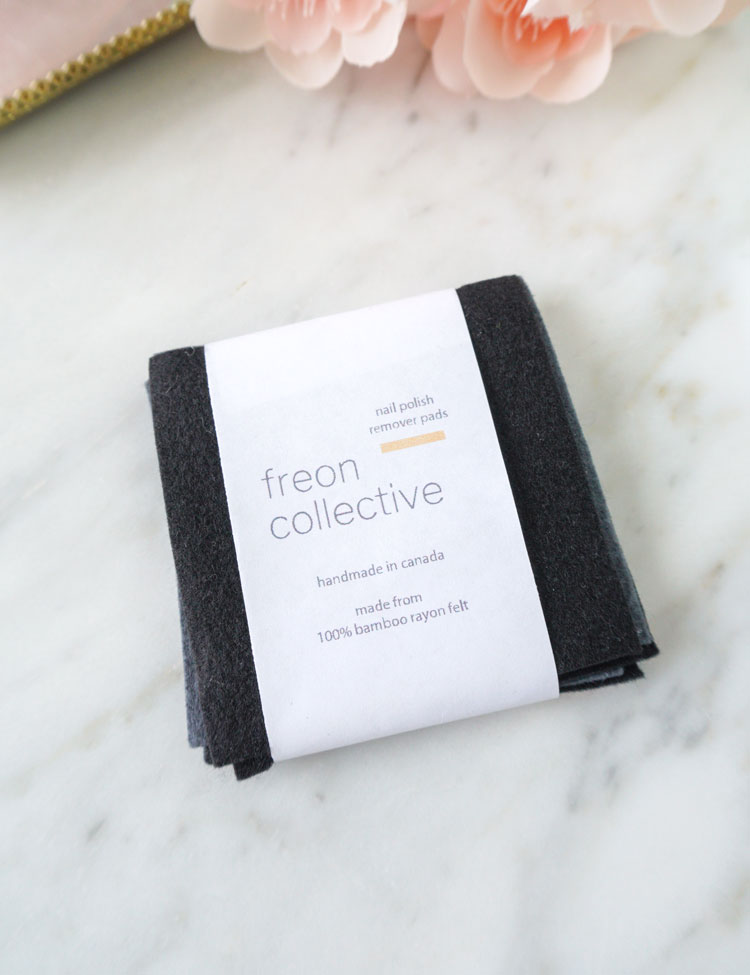 Reusable Nail Polish Remover Pads
These reusable nail polish remover pads from Freon Collective are made from 100% Bamboo Rayon Felt.
Some fabrics of felt are made from a blend of wool but when I messaged Freon Collective, they said theirs are made from bamboo and polyester, making them vegan-friendly.
Packaging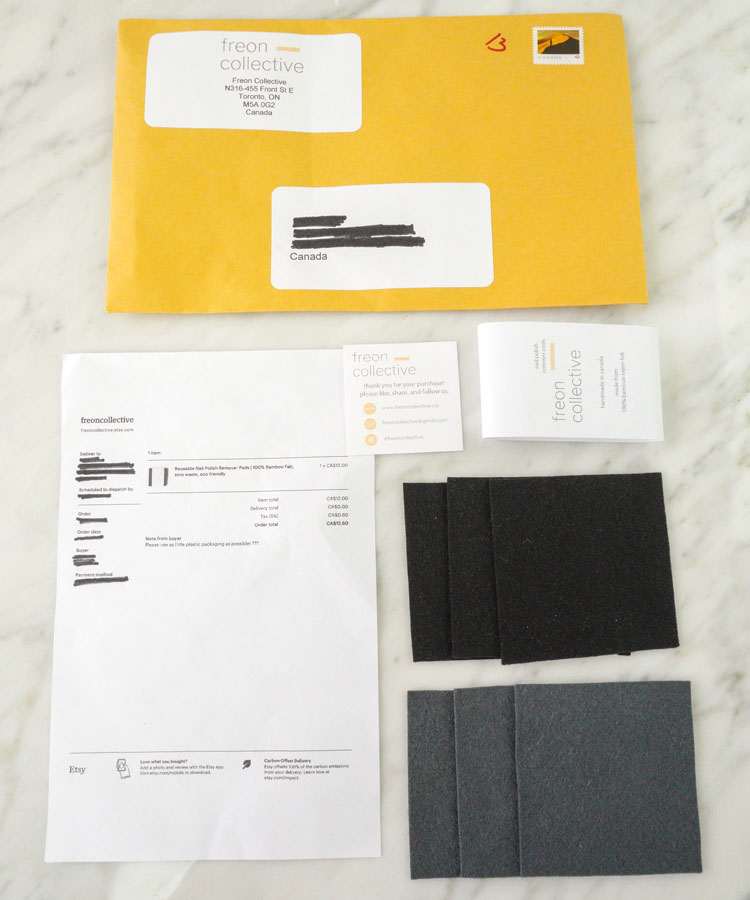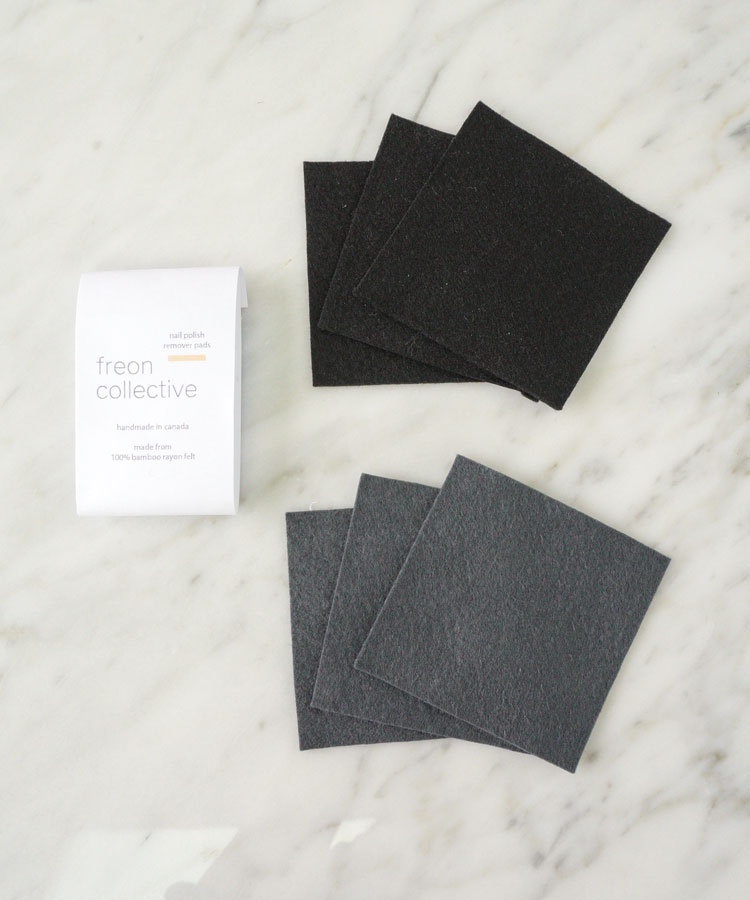 As far as packaging goes, I was happy to see all shipping and packaging materials were recyclable. I also made a note when I placed my order requesting to use as little plastic packaging as possible.
It costs CA$12 for a pack of 6 reusable nail polish remover pads and includes 3 black and 3 grey wipes. They're 3×3 or about the same size as my palm.
The material feels soft, flexible, with a little bit of a stretch. The finish on almost all of the pads was good, except for a couple that had some raw and unfinished corners.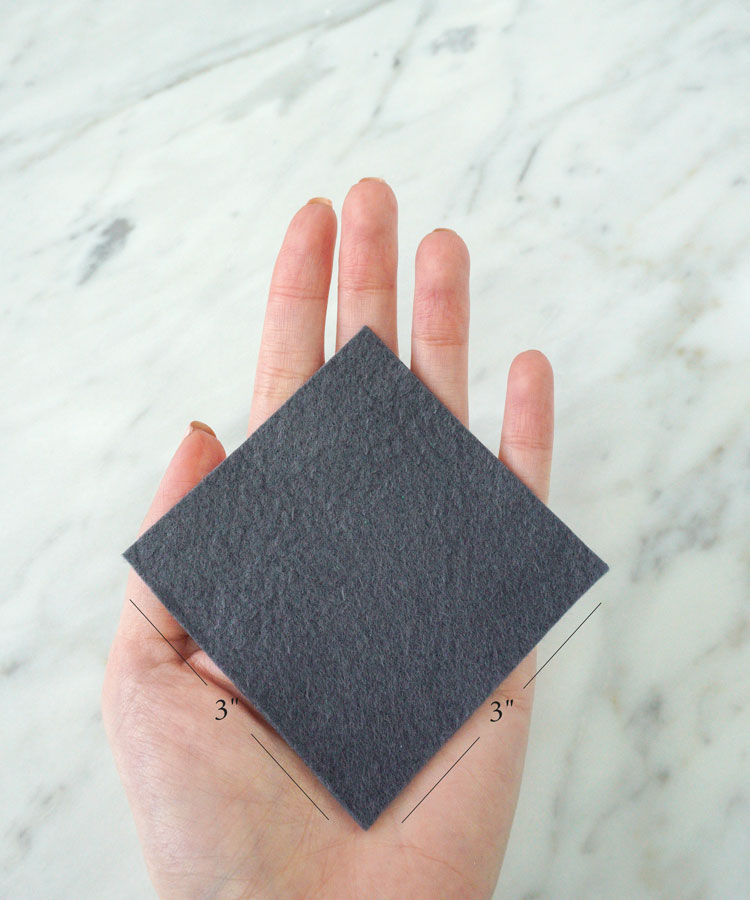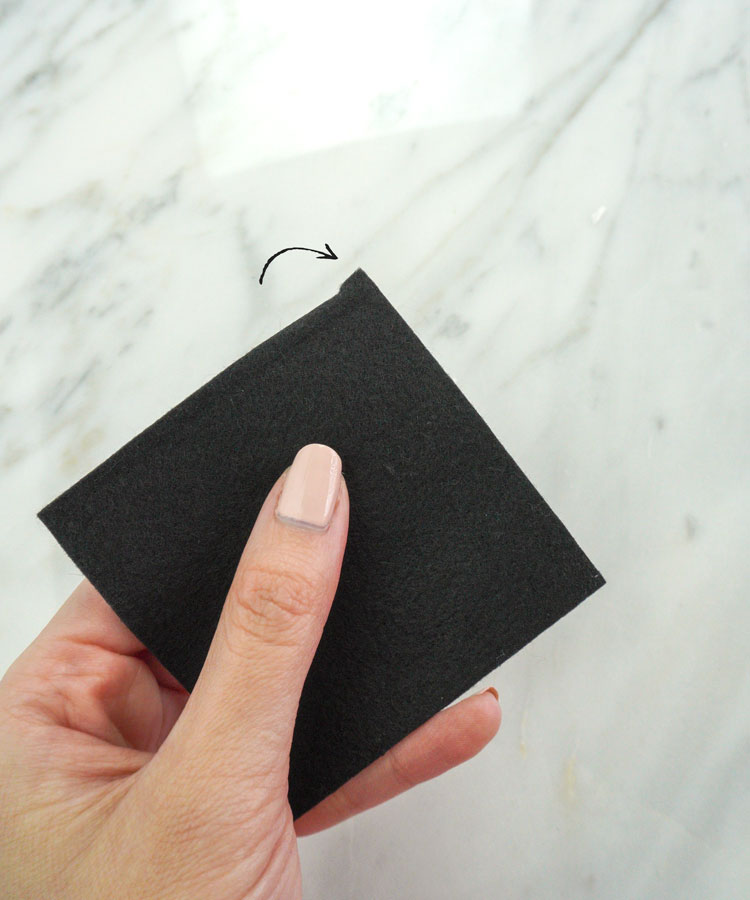 How To Use
The instructions says "Use these pads as you normally would with regular nail polish remover. Rinse while pads are still wet under warm water and leave them to air dry and reuse for next time!"
When it was time to remove my nail polish (I was wearing Serenity by Sienna Byron Bay), I used my soy nail polish remover from 786 Cosmetics and saturated a section of the pad and then I removed my nail polish as I normally would.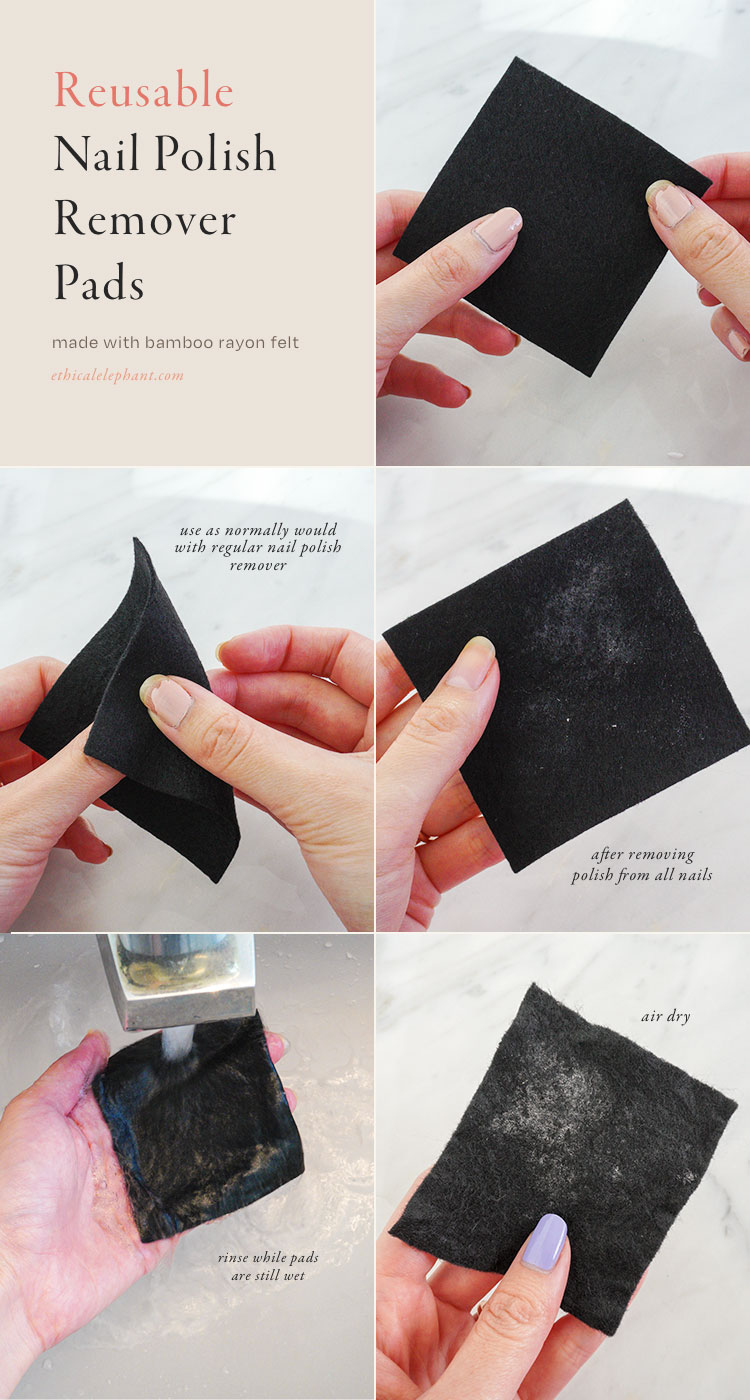 First Impression
When using these reusable nail polish remover wipes, I found that I used about the same amount of nail polish remover as I do when using cotton rounds and that they surprisingly didn't soak up the nail polish remover solution. I would also just pour a little more nail polish remover onto the pad when I felt like it was drying up.
These pads are soft to the touch but they do have a little bit of an abrasive texture which makes them effective at removing nail polish.
There was a little bit of lint that did come off but it was minimal and when I reused the pad the second time after washing, I didn't have any issues with lint.
After removing all my nail polish color off both hands, there didn't appear to be any extreme staining or color transfer onto the pads, as you can see in the third image above. But as soon as I washed the pads and let them air dry, the staining was really noticeable then.
To wash them, I just rinsed them under some cold water without soap. I scrunched up the pads to try and squeeze as much water out and then laid them flat on my table to air dry.
Once they were dried, I can see some staining and the reusable pad was wrinkled with some areas that had hardened.
My Thoughts on Reusable Nail Polish Remover Pads
I love the idea of switching from disposable cotton rounds or nail polish remover wipes to reusable pads as a sustainable and environmentally-friendly alternative. I think it's too early for me to tell whether or not these reusable nail polish remover pads are worth it and how they will hold up after multiple uses.
I've only reused mine three times and they're holding up well so far where I haven't had any issues with reusing them. I also haven't tried using an acetone nail polish remover with these reusable pads. I normally use a non-toxic soy or water-based nail polish remover but I will have to borrow some acetone remover from someone to test it out with these pads.
I can also tell by parts of the reusable pads that had hardened that these probably won't last indefinitely. I suspect that I'll probably get a few uses out of them and therefore reduce my waste of disposable cotton rounds but I don't think they're a solution to completely eliminating my waste where I will probably have to replace these. But only time will tell so I'll continue to use these reusable nail polish remover pads and will update you all on what I think after a month or so!
Update: I tried using the reusable nail polish remover pads with acetone nail polish remover and they worked great but they stained the pads pretty badly where it has hardened and got a little crusty. They still work afterwards and can be reused but if you're using acetone remover, the pads probably won't last as long compared to if you're using soy-based nail polish remover.
It's also been 3 months since I started using these reusable pads and they're still holding up quite nicely!