This post may contain affiliate links that at no additional cost to you, I may earn a small commission.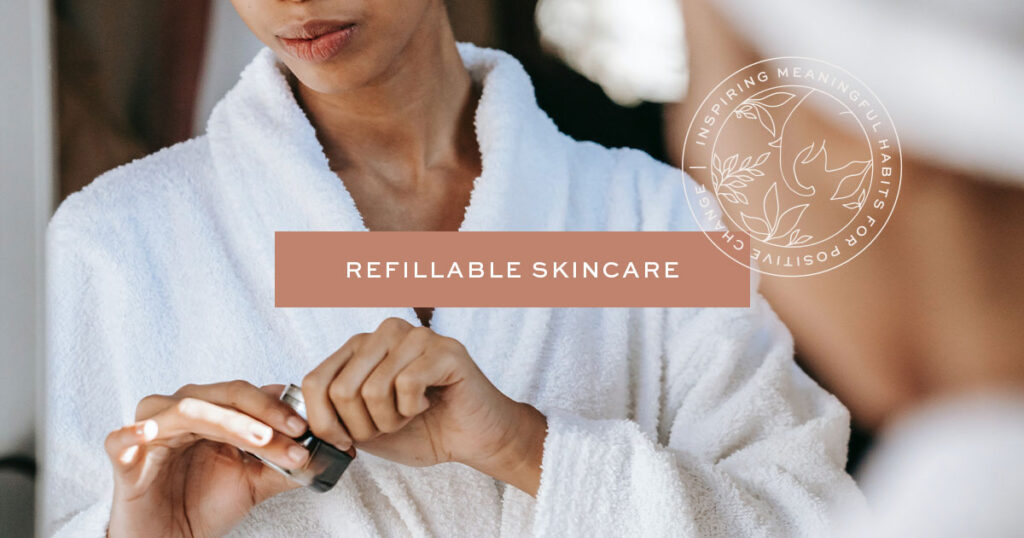 To reduce single-use plastic packaging in our skincare, I've rounded up some of the best cruelty-free, vegan, and refillable skincare products to try in 2021.
All of the cruelty-free brands mentioned in this post don't test on animals and are either 100% vegan or offer some vegan options.
To make it easier to find sustainable packaging and refillable beauty products, I've kept this list exclusively for skincare products. See here for a list of sustainable packaging and refillable Makeup products. (A list for refillable hair and bath & body products coming soon!)
Refillable Skincare Packaging
Starting off with some cruelty-free brands that have designed reusable and refillable packaging for their skincare products. Buy the primary packaging once and when it's time to repurchase, just buy the individual refill cartridges or pods. Swap out the empty container with the refill and reuse the main packaging over and over again.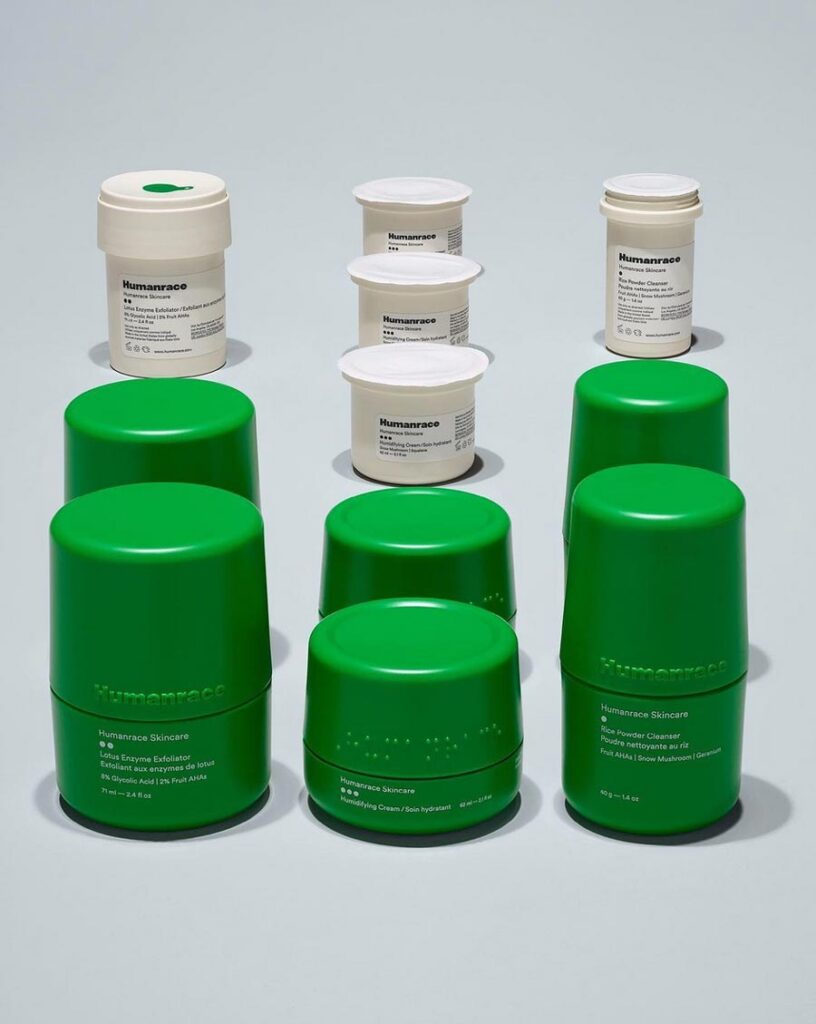 Founded by Pharrell Williams, Humanrace offers a three-step refillable skincare routine. Start with their rice powder cleanser, followed by their lotus enzyme exfoliator, and finish with the humidifying face cream. All three items are 100% vegan, and Leaping Bunny certified cruelty-free.
When you've used any item up, purchase or subscribe to receive their individual refill units. To refill your existing container, all you have to do is remove the lid, lift out the empty container, then insert the refill.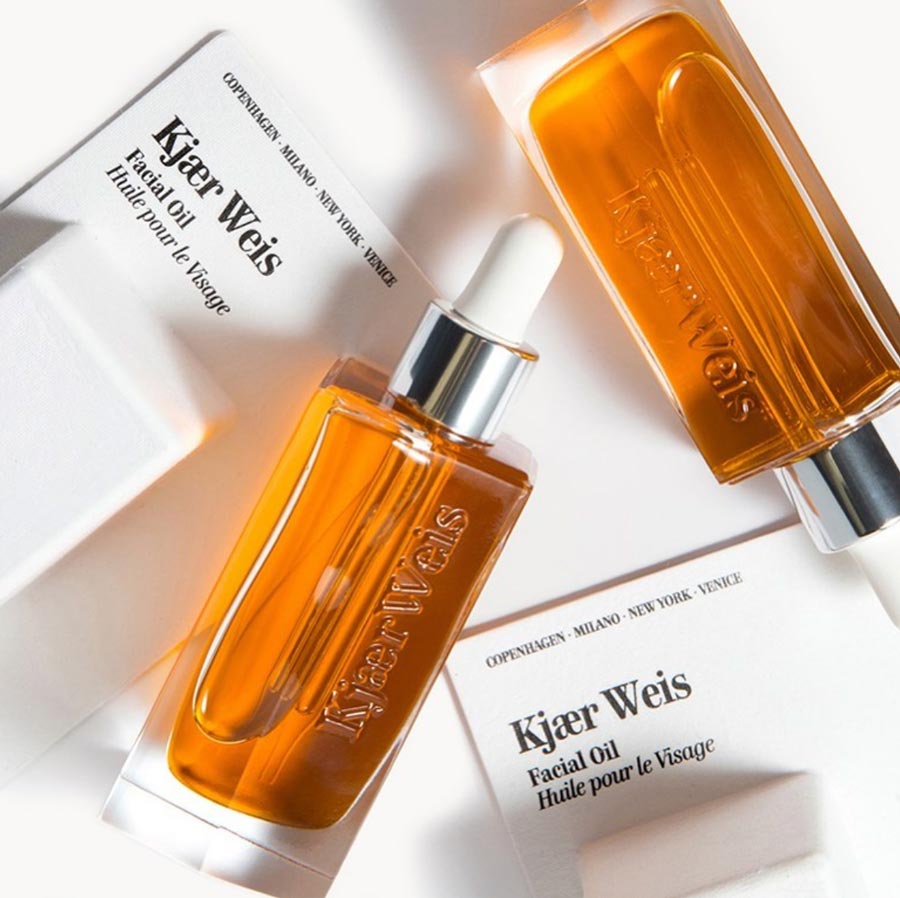 Kjaer Weis is known for their luxurious and refillable makeup system but did you know their skincare products come in refills as well?
When it's time to purchase a refill, be sure to keep the lid, dropper, spray, or pump. Then swap out the bottle with Kjaer Weis refill containers currently available for their facial oil, toner, cleanser, and body oil. Be sure to check ingredient lists and product descriptions to find which ones are vegan.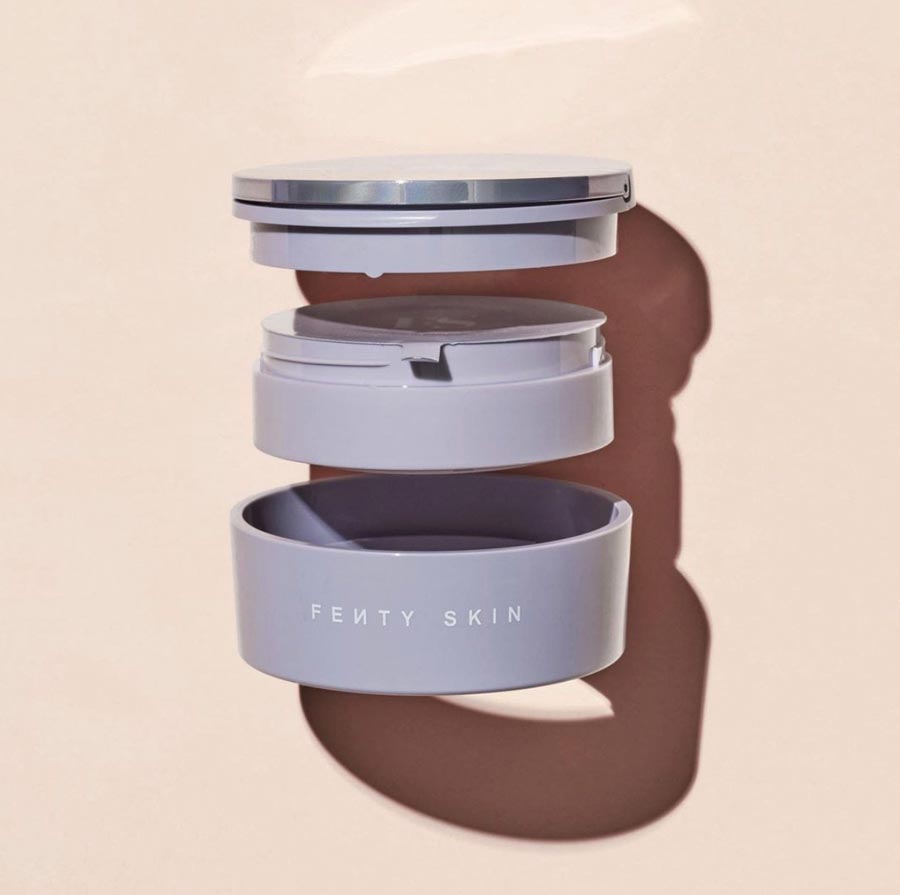 Fenty Skin's SPF 30 sunscreen and overnight recovery gel-cream come in sleek refillable packaging. Once you run out of product, get their easy-to-use refills that effortlessly snap into their refillable jars and containers. All of Fenty skincare products are 100% Vegan.
*Note: Fenty Skin is cruelty-free but they're owned by LVMH, a parent company that is NOT cruelty-free.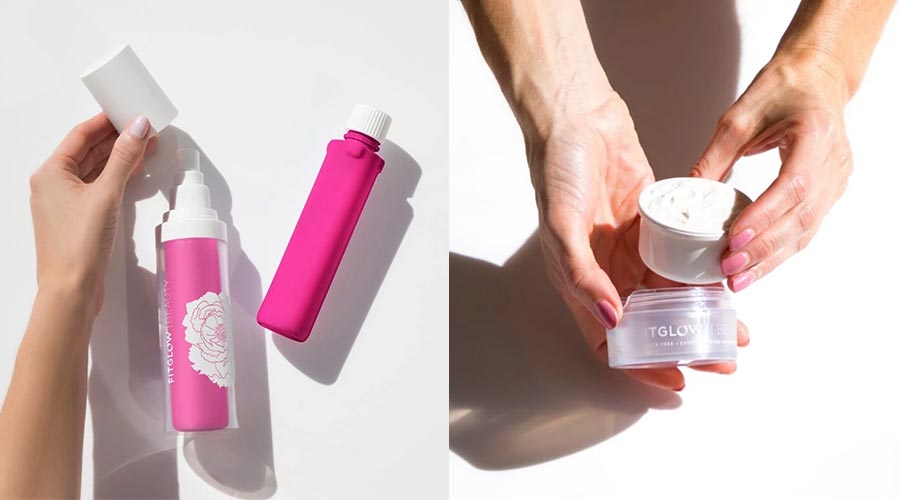 Fitglow offers a line of organic, gluten-free, and vegan refillable skincare formulated with plant-based ingredients to improve and transform skin. Currently, Fitglow refillable containers are available for their essences and cloud ceramide face balm. Both of which are 100% vegan.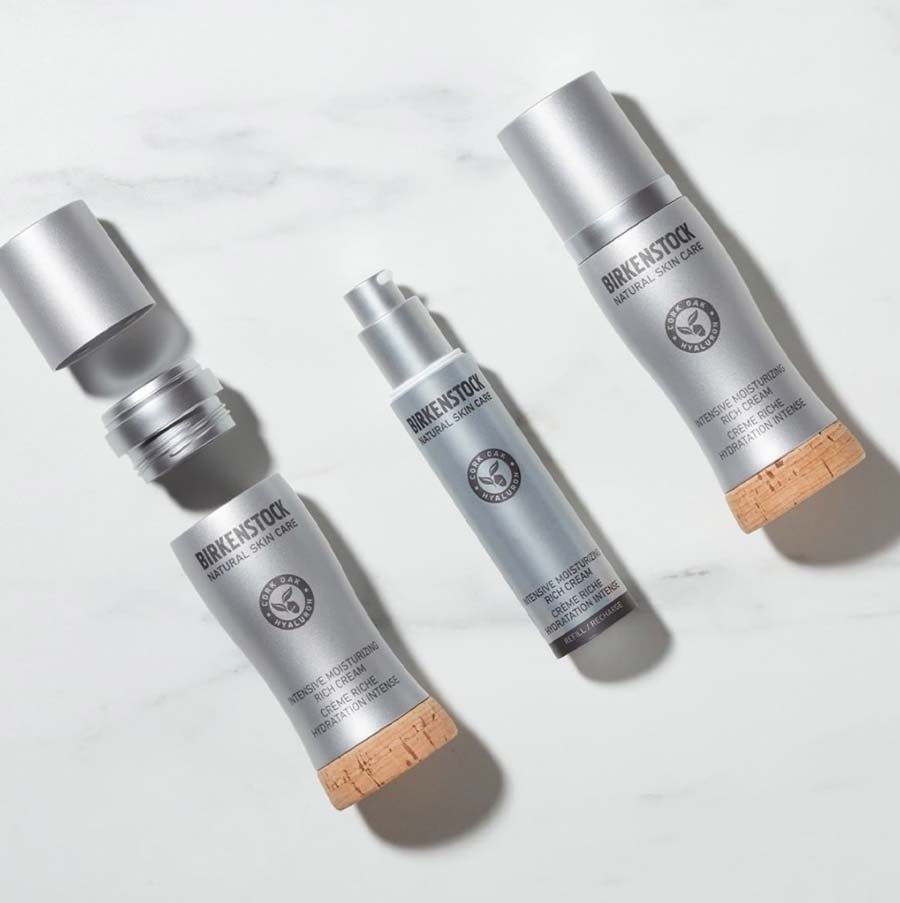 Known for its cork-based sandals, Birkenstock has its own line of natural skincare formulated with cork oak extract as its principal raw material of the product range. And they offer refill cartridges of some of their vegan face creams. Be sure to check the ingredients and product descriptions to see which items are vegan.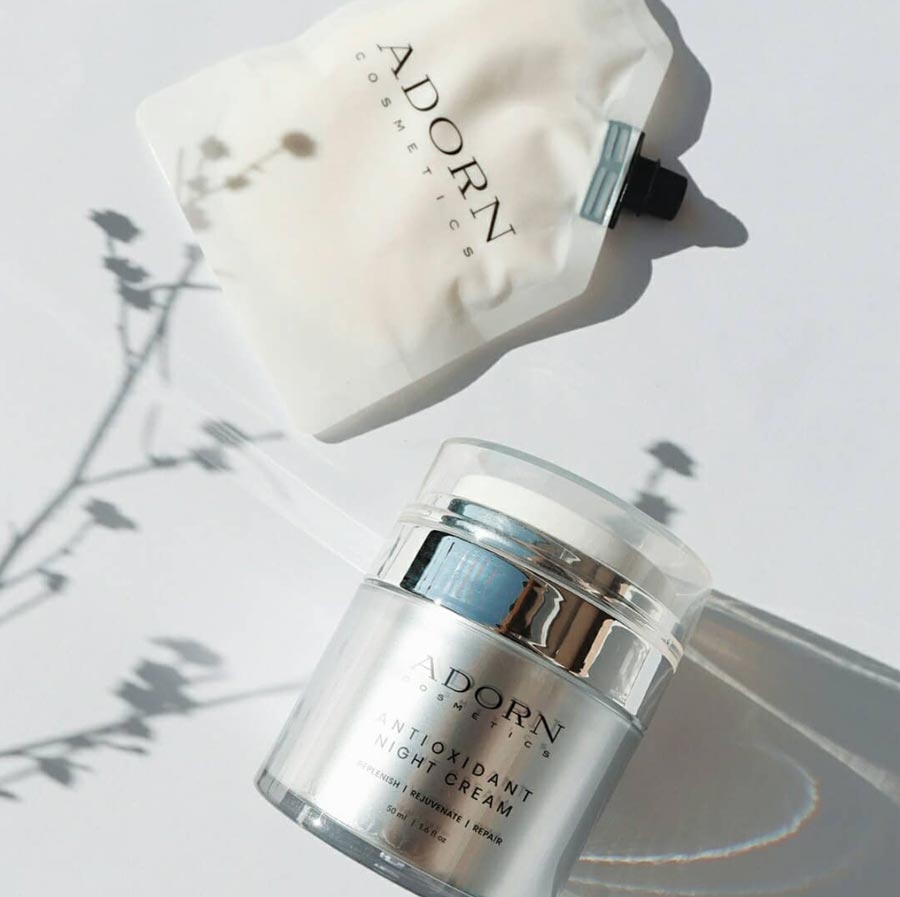 Australian cruelty-free and vegan cosmetics company, Adorn offers a range of refill pouches for some of their best-selling skincare products. Opting for one of their eco-refill pouches will have a lower impact on the environment as they claim it uses 90% less plastic, produces less waste, and consumes less energy.
From cleansing milk, hydrating finishing mist, makeup remover, facial oils, daily moisturizers, exfoliants, and night cream. Adorn has many vegan refillable skincare products to choose from!
---
Refillable Skincare Products
The following is a list of one-off sustainable packaging and refillable skincare products offered by cruelty-free brands. I'm hoping that sharing and promoting their one refillable item will encourage these brands to launch more refillable products in their collection!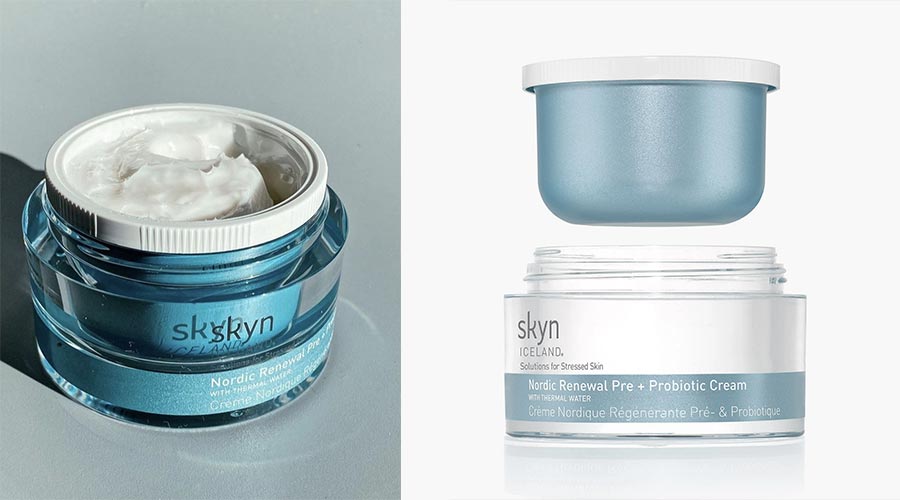 Nordic Renewal Pre & Probiotic Cream is a fragrance-free and 100% vegan face cream by Skyn Iceland that comes in a refillable jar and refill pod.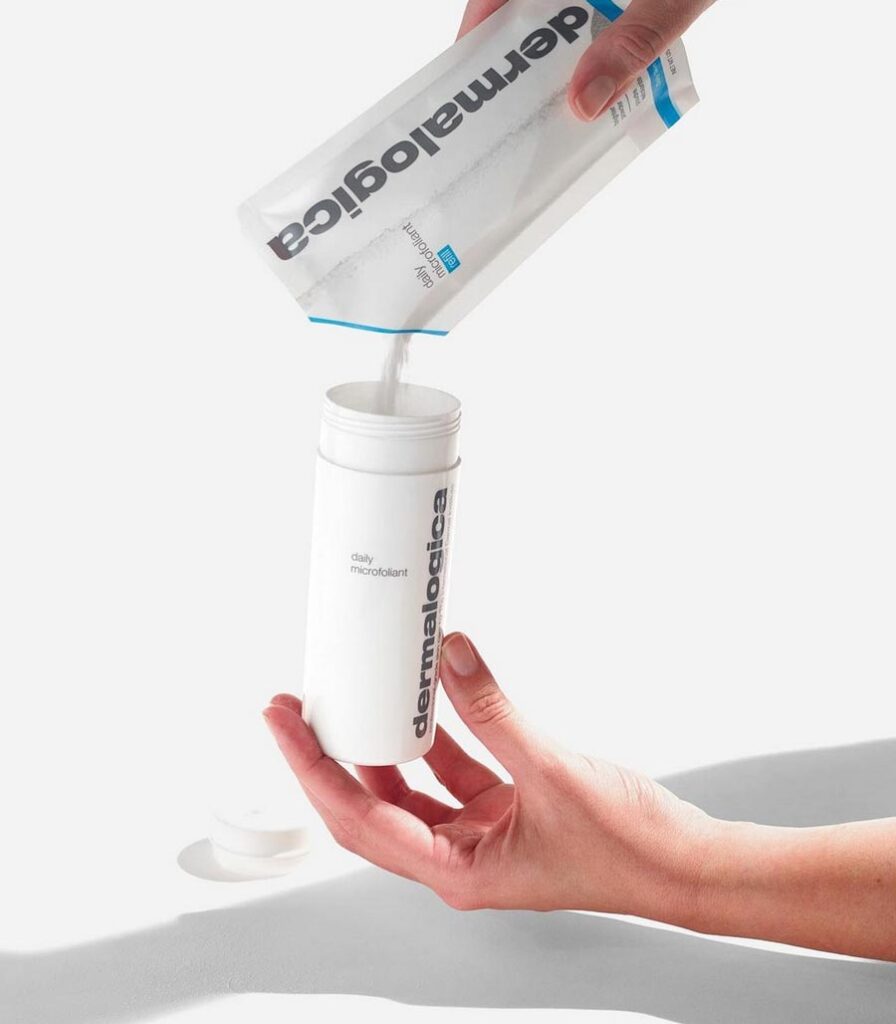 Dermalogica's Daily Microfoliant is now available in a 2.6 oz refill pouch that uses 92% less plastic!
*Note: Dermalogica is cruelty-free but they're owned by Unilever, a parent company that is NOT cruelty-free.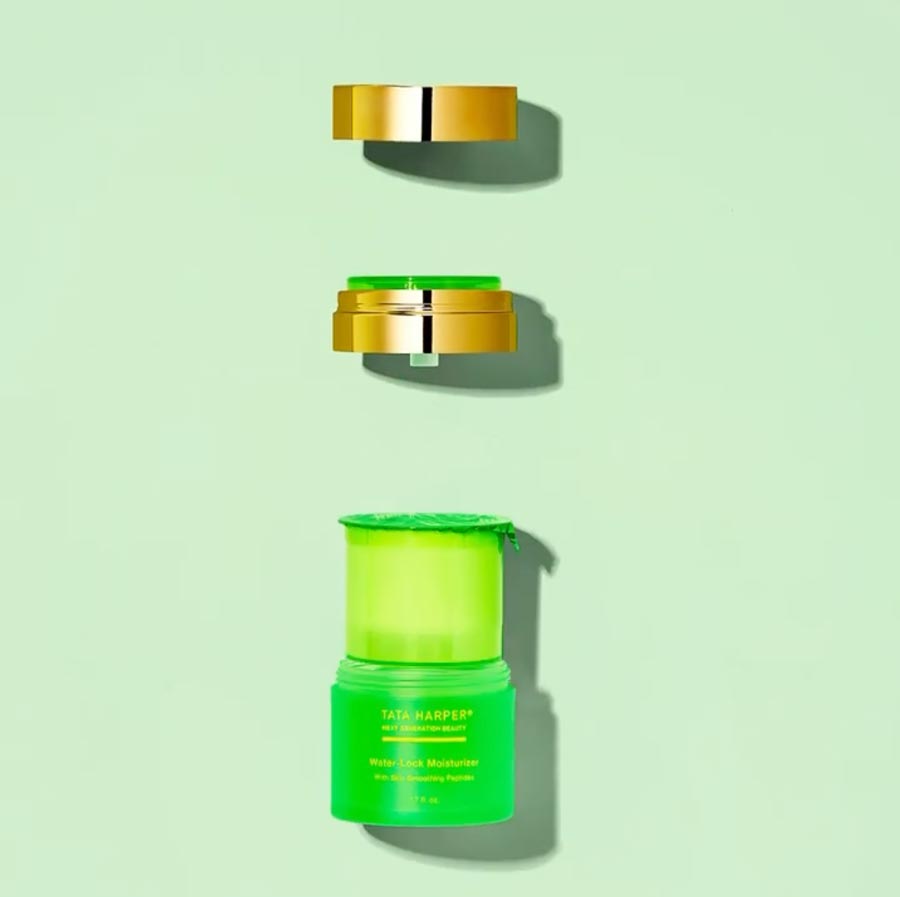 Tata Harper recently launched a recyclable refill pod for their Water-Lock Moisturizer designed to reduce overall waste.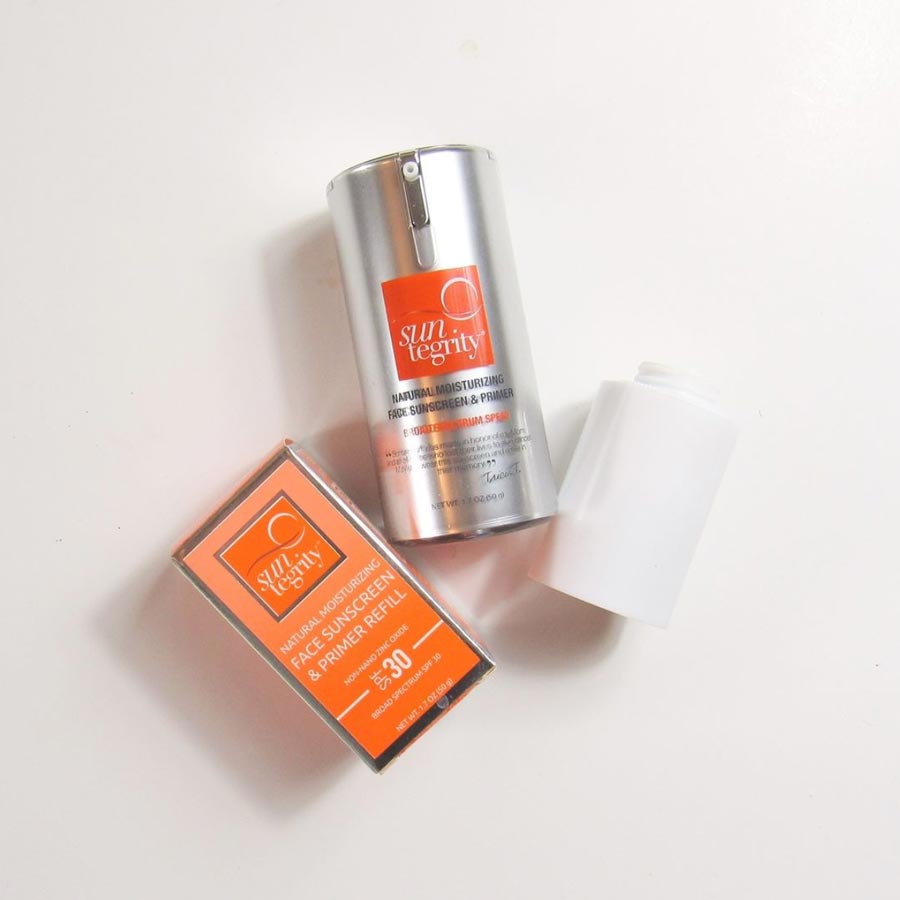 Suntegrity's moisturizing face sunscreen & primer comes in a refill now. The refill slides right into your existing canister and cuts down on plastic waste. This product is vegan.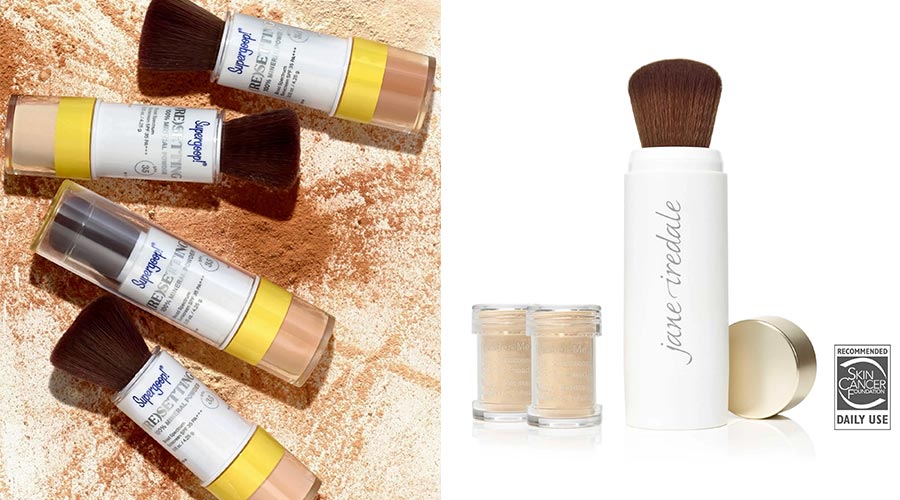 Reapplying sunscreen is important to protect your skin from sun damage. So I thought I'd include two refillable powder sunscreens from Supergoop and Jane Iredale. They're super easy to refill. Simply unscrew and insert a refill canister into the bottom of the brush.
Return & Refillable Skincare
To keep the product packaging in circulation, here are some options for return and refillable systems offered by cruelty-free skincare brands. Unlike the other refillable skincare products and brands mentioned above, you will have to send the empty containers back to the company. That way, companies can clean, reuse, and refill the bottles while keeping them in circulation.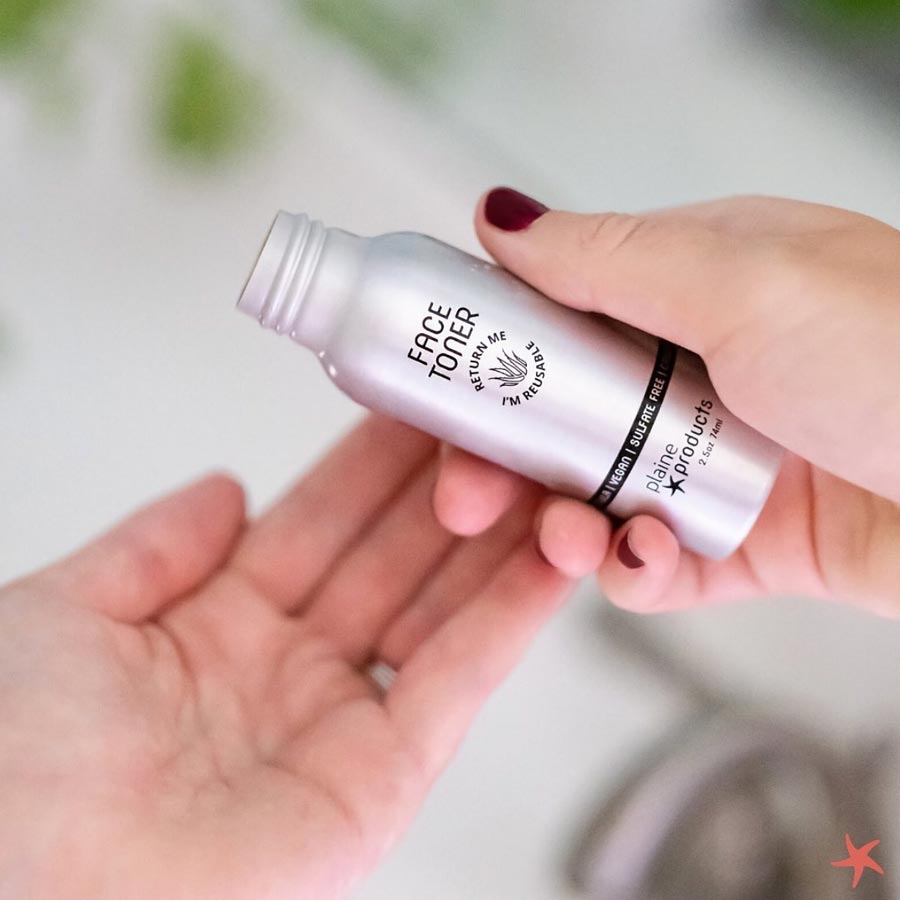 Plaine Products are known for their plastic-free & refill subscription system. In addition to hair and body care products, they also have three vegan skincare products available as part of their refill system. It consists of a face wash, moisturizer, and toner.
How does it work? Subscribe or order a refill when you're ready, but keep the spray pump from your original bottle. Swap the empty bottle with the refill bottle. Then send back your empty bottle to Plaine Products.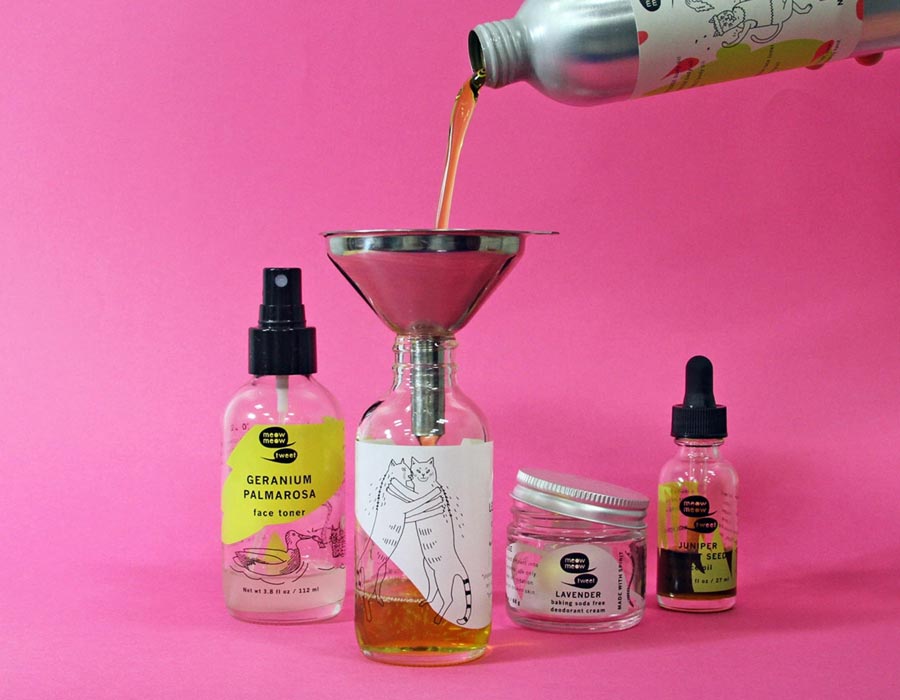 Meow Meow Tweet offers their products in bulk refills which saves you money and produces less packaging waste. Bulk refills are available for their face toner, cleansers, and face oils. All of Meow Meow Tweet's products are 100% vegan and palm oil-free.
How does it work? When you're running low, purchase from any of their bulk refills products. Reuse and refill your existing bottle. Once your bulk refill bottle is empty, send it back to the company, and they'll sterilize and reuse it.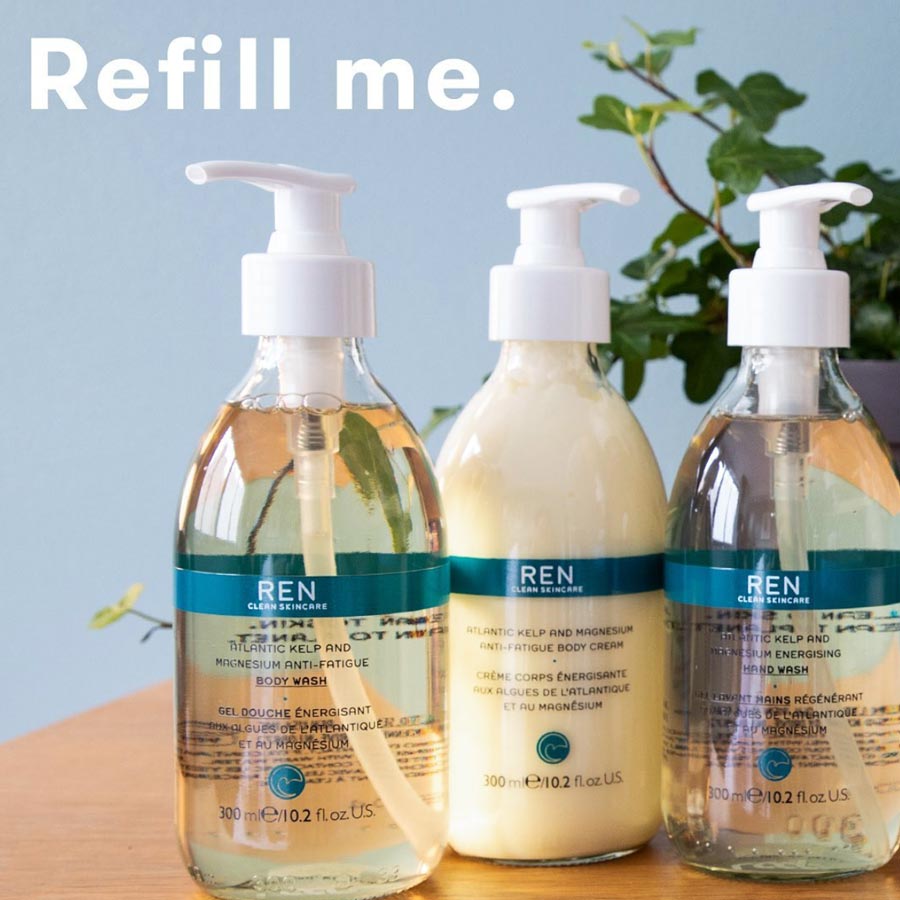 REN (Unilever)
REN has partnered with Terracycle's Loop initiative to offer an innovative refillable skincare solution. They started the program with six of their bestselling products, which include a vegan facial cleanser.
How does it work? Order from the Loop store. You'll get a specially-designed reusable glass bottle delivered in a shipping tote. Once you've used up the product, put it back in the tote and organize a collection from your home. The bottles are then sterilized and refilled with the product before it's returned to you to use again and to start the loop again.
*Note: REN is cruelty-free but they're owned by Unilever, a parent company that is NOT cruelty-free.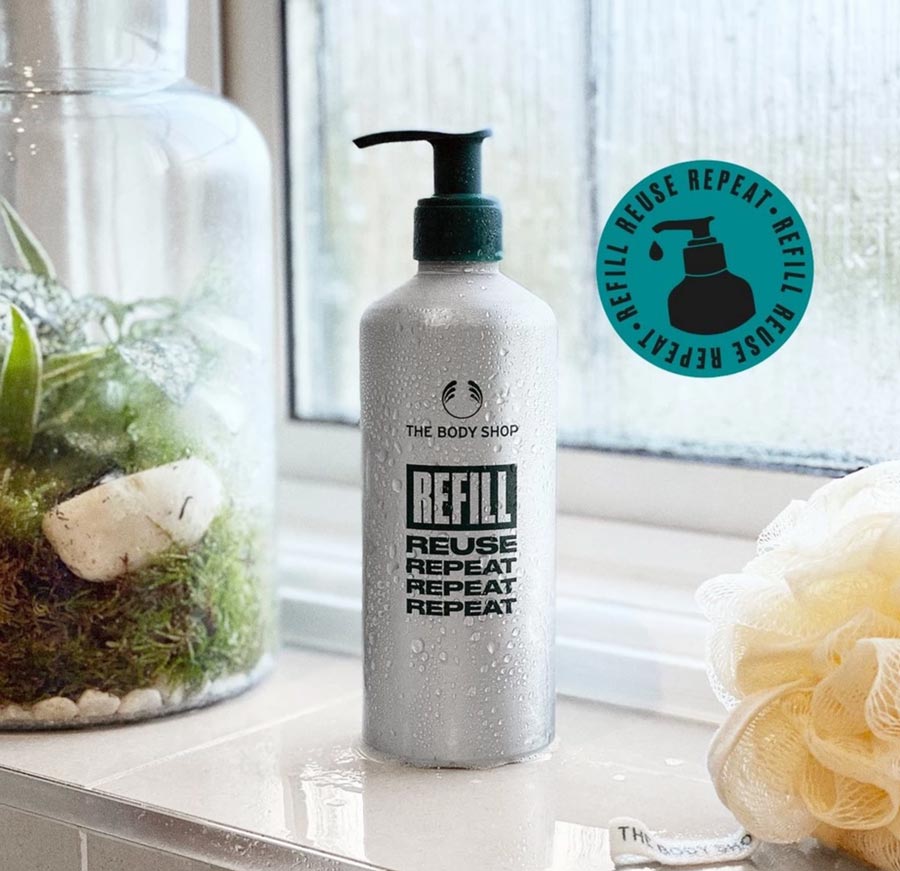 The Body Shop also has an in-store refill scheme, but it's currently only available in select stores. And I believe they only have refills for hair care, shower gel, and hand wash.
---
Let me know in the comments below if you prefer a return & refill system for your skincare or just getting refill pods or cartridges instead?
Every bit counts, and choosing skincare products that reduce single-use plastic packaging will help keep our oceans blue and our planet green!