This post may contain affiliate links.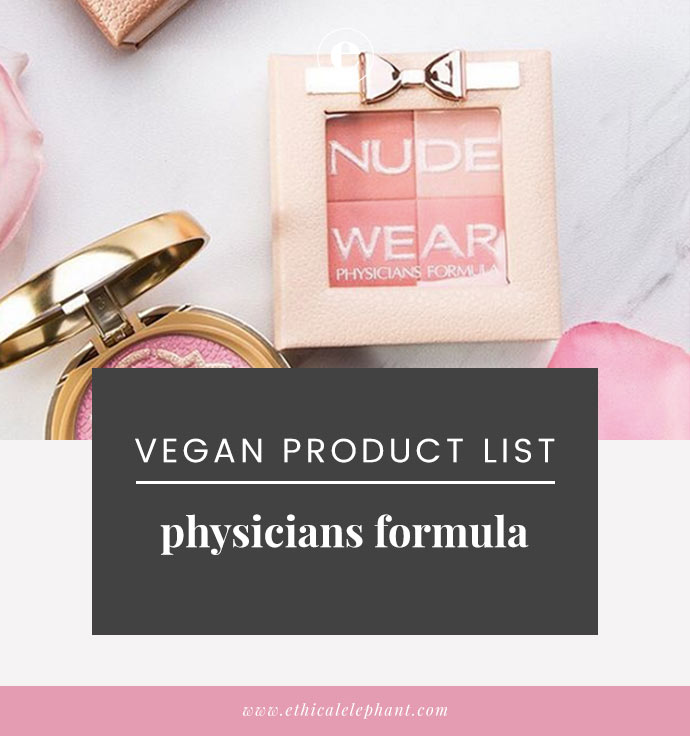 Physicians Formula has been known to be a cruelty-free brand for years and until recently, they never claimed any of their cosmetics to be vegan as some of their products contain ingredients like beeswax, carmine, and lactic acid (from milk).
After years of trying to get Physicians Formula to verify and tell me which of their products are vegan-friendly, I am finally happy to report that Physicians Formula has recently started claiming and labeling some of their makeup and skincare products as being vegan!!
This is a work-in-progress list of Physicians Formula's vegan products. I will update this list as often as I can as new information becomes available. I also have a list of Physicians Formula's products that are not vegan at the end of this post, so you know which ones to avoid.
Physicians Formula Vegan Product List
Below is a list of some of Physicians Formula's vegan products that don't contain any animal-derived ingredients:
This vegan product list is updated as frequently as possible, please be aware that formulations may have changed since the publication of this post. If you have new information to suggest one of the above products isn't vegan, please email me at info@ethicalelephant.com to let me know.
Not Vegan – Physicians Formula
Below is a list of products from Physicians Formula that are not vegan as they contain some animal-derived ingredients like carmine, lanolin, beeswax, etc. The following products from Physicians Formula should be avoided if you follow a vegan lifestyle:
Butter Collection Palettes (contains carmine) – not vegan
Eye Makeup Remover Lotion (contains lanolin) – not vegan
Murumuru Butter Lip Cream SPF 15 (contains carmine) – not vegan
Organic Wear® Lip Treatment (contains beeswax) – not vegan
Organic Wear™ Organic Rose Oil Lip Polish (contains beeswax) – not vegan
Plump Potion™ Needle-Free Lip Plumping Cocktail (contains carmine) – not vegan
Powder Palette Mineral Glow Pearls Highlighter (contains pearl powder) – not vegan
Rosé All Day Tri-phase Beauty Elixir (contains carmine) – not vegan
Rosé All Stay Illuminating Setting Spray (contains carmine) – not vegan
Rosé All Night Ultra-Rich Restorative Cream (contains lanolin) – not vegan
Spotlight Illuminating Primer (contains carmine) – not vegan
The Healthy Lip Velvet Liquid Lipstick (contains carmine and beeswax) – not vegan
---