This post may contain affiliate links that at no additional cost to you, I may earn a small commission.
You can find Paul Mitchell products on Amazon and Ulta.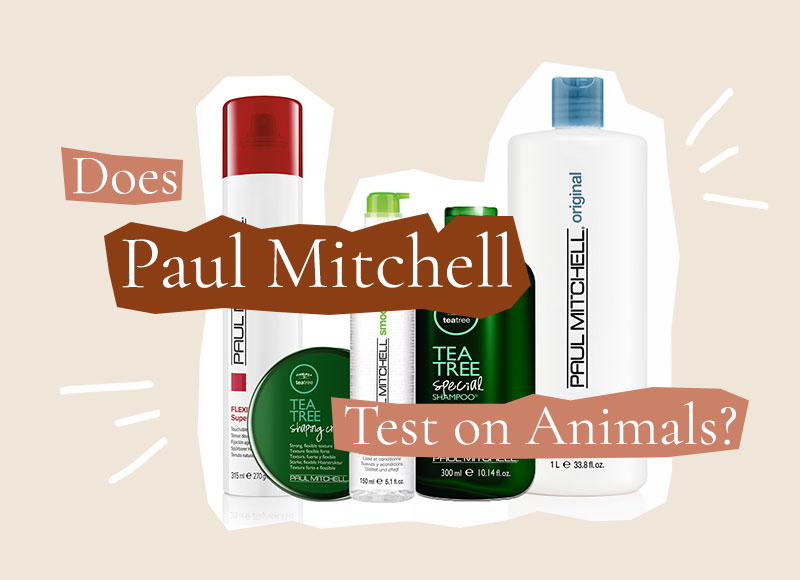 Paul Mitchell is Cruelty-Free
Paul Mitchell has confirmed they do not test their products or ingredients on animals or ask others to test on their behalf. Their suppliers also do not test on animals, nor do they allow their products to be tested on animals when required by law.
By our standards, we would consider Paul Mitchell to be Cruelty-Free.
Below is a screenshot of what's currently stated on Paul Mitchell's website about its animal testing policy: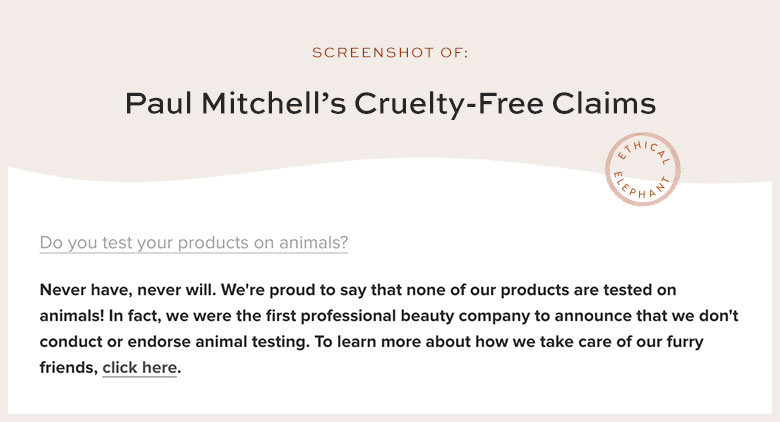 What About China's Animal Testing Laws?
As of May 1, 2021, some imported ordinary cosmetics can be exempt from animal testing under certain conditions. However, for the most part, animal testing is still legally required for most imported cosmetics in 2022.
In 2017, Paul Mitchell started selling some of their Tea Tree products in China and claims they weren't required to test on animals. But how did Paul Mitchell bypass China's animal testing laws?
Here is what's currently stated on Paul Mitchell's website: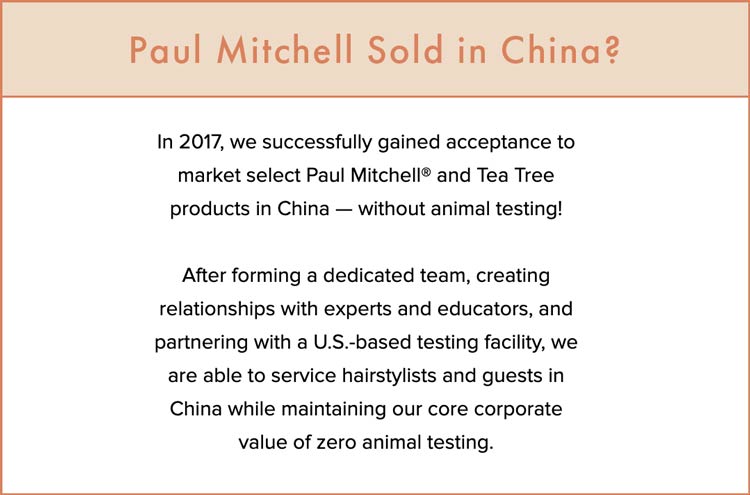 So I emailed and asked Paul Mitchell how they were able to sell some of their products in China without animal testing?
They explained to me that they've been trying to get China to approve and use the latest technology of reconstructed human tissue models as a scientific non-animal testing method for product safety.
As soon as China accepted this new non-animal test alternative, they allowed Paul Mitchell to test a selection of its products using this new method instead of normal animal testing. And that is how Paul Mitchell got approval to market some of their products in China without animal testing.
Here's a snippet of the email response I received from Paul Mitchell:
"Thank you for your inquiry. In 2012, John Paul Mitchell Systems® partnered with an American company that is at the forefront of tissue engineering and is a world leader in the production of innovative 3D reconstructed human tissue models. Their innovative use of non-animal (in-vitro) testing had the powerful synergistic effect of lower costs and significantly improved product safety.

John Paul Mitchell Systems® brought a group of respected scientists from China to work side by side and train with their team and, as a result, the China FDA accepted the impressive results and reproducibility of the non-animal test alternatives and agreed to test a small selection of products for approval without the normal animal testing required. Subsequently, we were granted approval to market a select offering of Paul Mitchell® and Tea Tree products in China—without animal testing.
Due to the hard work and dedication of the team, and in compliance with local laws, John Paul Mitchell Systems® is now able to service hairstylists and guests in China while maintaining its core corporate value of zero animal testing. Thanks to years of research and diligence, John Paul DeJoria's steadfast commitment to providing the finest-quality, cruelty-free professional products continues today.

According to co-founder and Chairman of the Board John Paul DeJoria, "Since the Paul Mitchell brand was founded in 1980, we have always adhered to our strict no-animal testing policy and will continue to do so in the future. We are proud to be the first professional beauty company to announce that we don't conduct or condone animal testing."
I then asked about the issue of post-market animal testing. Historically, Chinese officials would pull products off from store shelves and test them on animals. This was often done without the company's knowledge or consent.
Paul Mitchell reassured their products are not subject to post-market animal tests in China and stated, "As long as the products are properly registered and shipped to approved outlets, they will not test."
It's from my understanding that Paul Mitchell is only offering a small selection of their approved products to specific outlets in China, specifically for use in hair salons or by hairstylists in China. Therefore these products are not required to be tested on animals.
Cruelty-Free Policies
Note that there is no legal definition for the label 'Cruelty-Free.' It can mean different things to different people. But Cruelty-Free is generally used to imply no animal testing. More specifically, the ingredients, formulation, or finished product are not tested on animals at any stage of product development.
At ethical elephant, we always assess a company's cruelty-free policy using our Cruelty-Free Checklist. This ensures no animal testing was performed by the brand itself, its suppliers, and by any third parties.
Also, note that Cruelty-Free and Vegan don't always mean the same thing.
Paul Mitchell is Not 100% Vegan
'Vegan' in cosmetics can refer to an entire brand that is 100% Vegan or a specific product is vegan.
In the case of Paul Mitchell, not all of their products are vegan. But they have some products that are suitable for vegans.
Paul Mitchell also claims they are committed to making 10 of 12 product lines 100% vegan by 2023.
How to know which of Paul Mitchell products are vegan?
All of Paul Mitchell's vegan products are clearly marked on their website. See below for an example.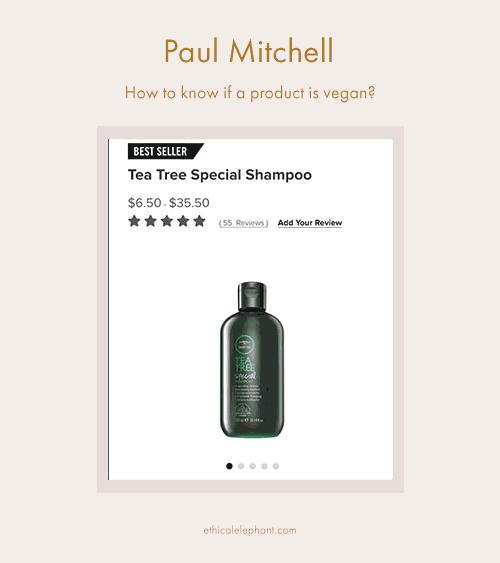 Paul Mitchell Vegan Products
Below is a list of Paul Mitchell products that are suitable for vegans and do not contain any animal-derived ingredients or by-products.
As of 2021, I will no longer be regularly updating this list of Paul Mitchell vegan products as all of their vegan products are now clearly marked. Check their website for the most up-to-date and accurate information on which products are vegan or not.
Shampoo – Paul Mitchell Vegan
Conditioner – Paul Mitchell Vegan
Hair + Scalp Treatments – Paul Mitchell Vegan
Hair Styling Products – Paul Mitchell Vegan
Skin Care + Body – Paul Mitchell Vegan
Hair Color – Paul Mitchell Vegan
All Paul Mitchell Professional Hair Color products do not contain any animal-derived ingredients and are 100% vegan, including the color XG, The Demi, and The POP XG.
---
Vegan Policies
Similar to 'Cruelty-Free,' there is no standard or legal definition for the label 'Vegan.' But it's usually used in the context to describe something that doesn't contain any animal-derived ingredients or animal by-products.
Some common animal products used in cosmetics include carmine, lanolin, snail mucus, beeswax, honey, pearl or silk-derived ingredients, animal-based glycerin, keratin, and squalene.
There are plant-based and synthetic alternatives to animal-derived ingredients. But it's sometimes difficult to know with certainty whether a product is vegan just by reading the ingredient list.
So it's best to ask the company and manufacturers to ensure the ingredients they've chosen to use were from non-animal sources.
Where are Paul Mitchell products made?
I asked Paul Mitchell where their products are manufactured and they told me:
"Our styling tools are manufactured in China and our liquid lines are manufactured throughout the United States."
*Note: Cosmetics made in China are not required to be tested on animals. Only cosmetics that are imported and sold in physical stores in mainland China are required to be tested on animals according to China's animal testing laws.
Ethical Mica Mining Policy
Mica is a mineral that's used in cosmetics to add a shimmery effect. But the mining of natural mica has been linked to child labor and human rights violations.
Unless the company discloses its mica mining policy, we have no way of knowing whether its mica is ethically sourced without child or forced labor.
So I asked Paul Mitchell if their mica is ethically sourced without the use of child labor and they responded by stating,
"We use Mica in 2 products currently, Tea Tree Grooming Pomade and Invisiblewear Pump Me Up. Our Mica source is from Germany and are both ethical and safely sourced!"
---
I hope this article helped you to understand Paul Mitchell's cruelty-free and vegan status and by choosing cruelty-free together, we can help end animal testing for cosmetics once and for all!